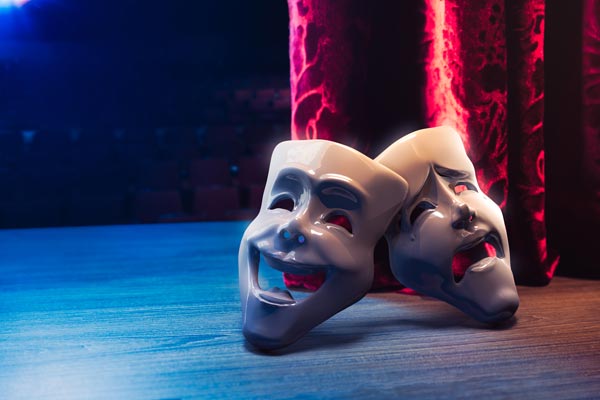 March is an amazing month for theatre in New Jersey.  There are five plays having their World Premieres take place in the Garden State.  Two of the plays began earlier in the year and will have their runs end on March 3rd, but three will run throughout the month.  In addition, Premiere Stages at Kean University holds their annual play reading series and The Theater Project's Annual Short Play Competition both take place in March as well.
Here's a look at the World Premiere plays.  For more plays taking place in New Jersey, click here.
My Very Own British Invasion from January 31 - March 3 at Paper Mill Playhouse, Millburn, NJ. A fable of young love set against the backdrop of the exploding 1960s music scene – when England launched the little dust-up that became known as The British Invasion. Based on the experiences of Peter Noone, who was just a teenager willing to sacrifice international stardom for the sake of the girl he loves, and featuring more than two dozen chart-topping hits from all the best British bands of the era. Tony Award winner Jerry Mitchell choreographs and directs.
Psychodrama by Phoebe Farber from  February 14 - March 3 at Dreamcatcher Repertory Company, Summit, NJ. Welcome to the weekly divorce group, held in the basement of the Unitarian church. The members are suddenly left stranded when Mitchell, their leader, leaves halfway through. Luckily, Barb has agreed to be the new group leader. Her unorthodox methods throw them all for a loop, but they eventually find that being off balance just might be the way to break through to a new understanding of their relationships. 
This seriocomedy has been developed over the past several years in the Lab at Luna and in readings at Writers Theater of NJ and Dreamcatcher. 
---
The article continues after this ad
---
---
Theo by Martin Moran from February 23 - March 24 at Two River Theater, Red Bank, NJ. When a family's matriarch, Margaret, is forced to acknowledge that her health is deteriorating, her son Theodore returns to their Catskills home after many years away. There, he reconnects with Abe, an acquaintance from his youth who is now his mother's home aide, and with his sister Beth, a single mother struggling to understand her teenaged child, Maddy. A warm look at the far-reaching ties of love, this new play is a moving portrait of kinship, faith, and the pursuit of one's true self.
The Source by Jack Canfora from March 7 - April 7 at New Jersey Repertory Company, Long Branch, NJ. Ripped from the headlines comes a story of the power and influence the media has over our society - and the people it destroys along the way.  Read our feature on this play here.
The Gods of Comedy by Ken Ludwig from March 12–31 at McCarter Theatre, Princeton. A young woman calls on the gods of Ancient Greece to save her love life—but it's not the gods of love who show up to help… McCarter favorite Ken Ludwig (Baskerville, Agatha Christie's Murder on the Orient Express) is back with a hilariously divine new play filled with madcap mayhem, a touch of romance, and lots of laughs.
Spring Reading Series from March 14-17 at Premiere Stages at Kean University, Union, NJ. The series features readings of 4 new plays in 4 days.
The Theater Project's Annual Short Play Competition from March 22-24 at The Theater Project, Maplewood, NJ. 2019 finalists include: Valerie Stack Dodge, Sheila Duane, Joe Godley, George Cameron Grant, Steven Haworth, John Poglinco, Mike Sockol, Eileen Walsh, and the team of Scott Cohen and Sanam Erfani.Plays can be either dramas or comedies but must be no more than 15 minutes running time.