originally published: 02/23/2019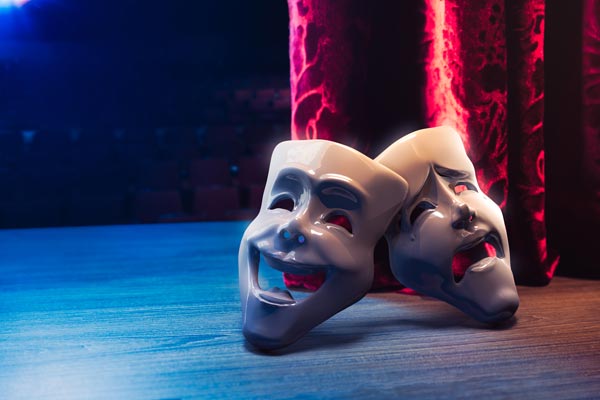 Here's a look at plays taking place across the Garden State.  We've got productions by such playwrights as David Mamet, Harold Pinter, Henrik Ibsen, and Yasmina Reza.  Highlights include a regional premiere of Native Gardens by Karen Zacarias at Eagle Theatre and a timely piece entitled The Immigrant at George Street Playhouse.
The month of March also features five World Premieres taking place in the Garden State.  Click here for info on those productions.
The Duck Variations by David Mamet & The Dumb Waiter by Harold Pinter from February 8 - March 2 at South Camden Theatre Company, Camden, NJ. In Mamet's play we are introduced to two men in their sixties discussing the ways of ducks and life in The Duck Variations. We quickly learn that people who talk the most with authority about something are the ones who know the least about the subject. This show is told in 14 different, hilarious variations with Mamet's excellent dialogue. Harold Pinter's one-act play takes us to a claustrophobic basement where two hit men are waiting for their next "assignment" to be revealed. The Dumb Waiter is the very essence of Pinter who has tapped into our desire to seek meaning, confront injustice and assert our own individuality into life. Pinter has a way of not only creating characters but also using their interactions and phrasing to create the actual emotion we feel.
The Enemy Of The People by Henrik Ibsen from February 15 - March 3 at Centenary Stage, Hackettstown. This classic play follows Doctor Thomas Stockmann, who discovers dangerous water pollution in the Springs, a highly anticipated resort that recently opened in his Norwegian town. In Tom's mind, the path to a solution is clear: inform the public and close the resort to prevent a crisis. With ripped-from-the-headlines relevance, this high-intensity drama is a powerful investigation of ambition, integrity and the price we pay for the truth.
Steel Magnolias by Robert Harling from February 23 - March 3 at Algonquin Arts Theatre, Manasquan. Concerned with a group of gossipy southern ladies in a small-town beauty parlor, the play is alternately hilarious and touching - and, in the end, deeply revealing of the strength and purposefulness which underlies the antic banter of its characters. The action is set in Truvy's beauty salon in Chinquapin, Louisiana, where all the ladies who are "anybody" come to have their hair done. Helped by her eager new assistant, Annelle (who is not sure whether or not she is still married), the outspoken, wise-cracking Truvy dispenses shampoos and free advice to the town's rich curmudgeon, Ouiser, ("I'm not crazy, I've just been in a bad mood for forty years"); an eccentric millionaire, Miss Clairee, who has a raging sweet tooth; and the local social leader, M'Lynn, whose daughter, Shelby (the prettiest girl in town), is about to marry a "good ole boy." 
---
The article continues after this ad
---
---
The Caretaker by Harold Pinter from February 21 - March 10 at Hudson Theatre Works, Hoboken, NJ. A powerful exploration of control, social class and the human condition.  Davies (Frank Licato), an aging down-and-out, is given shelter by the kindly but vulnerable Aston (Todd Hilsee).  He quickly settles in, calmly making himself at home in the squalid, junk-filled room until Mick (Tom Althouse), Aston's brother, a far more astute character, arrives.  A battle of wits begins as the brothers seek to manipulate the old man to their respective ends.  But Davies has his own agenda and not everything is as it seems.  
MAMMA MIA! - Book by Catherine Johnson, Music and Lyrics by Bjorn Ulvaeus and Benny Andersson from March 8 - 24​ at Axelrod Performing Arts Center, Deal Park. Over 60 million people worldwide have fallen in love with Mamma Mia! The revolutionary jukebox musical has played in 50 countries and inspired two major motion pictures. The singing and dancing extravaganza tells the trials of a young woman's search for her birth father—it's the hilarious story of a mother, a daughter, three possible dads, and an unforgettable trip down the aisle. ABBA's signature 1980's score, including the title song and hits like "The Winner Takes It All," "Dancing Queen," "SOS," and "Knowing Me, Knowing You," make Mamma Mia! one of Broadway's most entertaining musicals of all time.  The Axelrod production is the first on the Central Jersey shore and is being directed and choreographed by Barry Ivan.
Church & State by Jason Odell Williams from March 8 - 23 at Alliance Repertory Theatre Company, Summit, NJ. When a Republican senator makes an off-the-cuff remark 3 days before Election Day, both his wife and campaign manager scramble to contain the damage. Church & State is a political comedy that tackles the issues of religion in politics, gun control and being true to oneself.
This production is dedicated to the memory of Michael Driscoll, the Artistic Director for Alliance Repertory Theatre Company who passed away on January 25, 2019. 
The Immigrant by Mark Harelik from March 12 - April 7 at George Street Playhouse, New Brunswick. Russian-Jewish emigrant Haskell Harelik arrives at the port of Galveston, Texas in 1909 seeking refuge from his homeland.  With only his banana cart in tow, Haskell finds compassion and friendship from an unlikely couple, falls in love, and creates a pastoral life for his family.  About The Immigrant, USA Today said "the scenes evoke the rural era with the firm-handed clarity of a Jewish Horton Foote … they glow."
Curious George: The Golden Meatball with Music by John Kavanaugh, Book & Lyrics by Jeremy Desmon from March 15-31 at Growing Stage, Netcong, NJ. All You-Can-Eat Meatball Day comes just once a year. George has been waiting all month for that day, a day almost bigger than his birthday! On Meatball Day, George helps his friend, Chef Pisghetti, cook some delicious meatballs and serve them to the hungry crowd. But this year, the crowd had vanished! Something is keeping people away… something pretty big. And that something is Phinneas T. Lightspeed and his speedy Meatballs-o-Matic machine. In despair, Chef Pisghetti vows to cook no more. Determined to help his friend, George goes on a mission to enter the Chef's meatballs in the world-famous Golden Meatball Contest in Rome!   
Duke Ellington's Sophisticated Ladies by Donald McKayle from March 21-24 at New Jersey Performing Arts Center (NJPAC), Newark, NJ. The high-style music of "The Duke" is the heart and soul of this 1981 Tony-winning Broadway hit, directed with dazzle by André De Shields (The Wiz). Mercedes Ellington, granddaughter of Duke Ellington, re-creates the original show's elegant dancing and tapping as choreographer. According to legend, the great bandleader and composer Duke Ellington once told his musicians that they had to play their best because they were about to open in Newark. All those glorious numbers – "Satin Doll," "It Don't Mean a Thing (If It Ain't Got That Swing)," "Cotton Tail," "Take the A Train" and "Mood Indigo" – return to the city in full swing with the arrival of Duke Ellington's Sophisticated Ladies, a co-production of NJPAC and Crossroads Theatre Company. Presented in the year marking the 120th anniversary of Ellington's birth, Sophisticated Ladies is a first-class excursion back to the heyday of Harlem's swanky Cotton Club. For this revival, a glamorous cast of singers and dancers performs with an onstage band versed in the tradition of the orchestras of Duke Ellington and his son, Mercer. 
God of Carnage by Yasmina Reza from March 22-31 at Women's Theater Company, Parsippany NJ. Two sets of parents, one of whose child has hurt the other at a public park. They agree to meet to discuss the matter in a civilized manner.  However, as the evening goes on, the parents become increasingly childish, resulting in the evening devolving into chaos.
Native Gardens by Karen Zacarias from March 22 – April 14 at Eagle Theatre, Hammonton, NJ. Cultures clash in this brilliant new flower-flinging romp, turning well-intentioned neighbors into feuding enemies. Pablo, a rising attorney, and doctoral candidate Tania, his very pregnant wife, have just purchased a home in a historic neighborhood next to Frank and Virginia, a well-established D.C. couple with a prize-worthy English garden. But a disagreement over the property line that separates their backyards soon spirals into an all-out war of taste, class, and gardening. Chockfull of pep and poignancy, Mexican-American playwright Karen Zacarías pushes the boundaries and shatters biases one laugh at a time in Eagle Theatre's rendition of this shear-sharp modern comedy.