By Gary Wien
originally published: 08/25/2018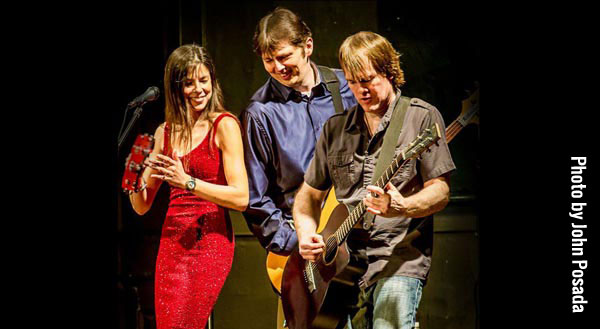 For twenty years, The Wag has been entertaining audiences with a fun and upbeat live show featuring original songs that carry the sounds and spirit of the British Invasion groups of the sixties.  They perform wherever they can - clubs, coffeehouses, festivals, benefits, you name it, and they also push the boundaries more than most bands in Jersey.  They've done this by going on tours on the West Coast, Canada, England, and even Japan.  And they're about to release their first new album in five years.
The band was started by Brian Ostering and his wife Alicia Van Sant. In the very beginning, the idea of having the couple in the band worried the other two original members (Brian Mowery and Dan Corboy).
"The funny thing is when we first put the band together, what we wanted to do was have a democratic system where we'd all vote on things together," explained Brian Ostering.  "It was either Brian or Dan who said, 'I don't know if this is going to work out because Alicia will always side with Brian on the voting."
Ostering pauses for a moment and then continues, "I think it was the first time we made a decision - Alicia was totally against what I said.  It continued for so long that I remember our drummer Brian saying, 'Well, I was wrong.  That's not going to be a problem!'"
For many years the band consisted of Ostering, Van Sant, Corboy, and Mowery, but then Corboy left and Mowery passed away shortly after the band began recording what would be a record called Continuum.  The band was left in a tailspin, wondering how to proceed. 
---
The article continues after this ad
---
---
"At that time, we didn't know what to do - should we finish it? Should we pack it in?" recalled Ostering. "Dan had left the band and we had a temporary guitarist start playing with us, but then he quit.  We asked Dan if he would come back and help us finish it.  With the help of him and our friends like Pete Andrews who played the drum parts that Brian had not recorded, it got completed.  We dedicated that record to Brian.  We tried to put as many songs on it which we had started with him at the time."
Alicia adds, "It was a difficult album to record because we weren't even finished writing it, much less recording it.  So, we had to write it, learn it, and record it all at the same time.  That's difficult in the best of circumstances, but we were still incredibly emotional and everything was still very raw.  So, it was a hard record to do, and I didn't want any part of recording after that for a long time.  I didn't want any part of my keyboard for a long time either."
Brian and Alicia discussed the idea of ending the band, but both knew they not only wanted to continue with it, but knew Brian Mowery would have wanted them to go on. "When it was hard to play music, we would just think of him saying 'Get out there and do it' and we did," said Ostering. The Wag decided to perform acoustically without a drummer and without Alicia's keyboard.  It was like that for a while until they eventually hooked up with Don Lee, who joined the band on guitar, and Arielle Strauss began playing bongos for the band.  Both of them made performing fun again for Brian and Alicia.
"Arielle is about the happiest person you would ever meet in your life," said Alicia.  "Even if we were feeling down, you can't feel down around her.  She brought a lot of happiness back into the band, but we wanted to go electric again."
Everything fell in place when Joshua Van Ness entered the picture. At first he would just sit in on drums from time to time, in between his own gigs, but then he too joined the band.
"It was a tough spot," Ostering said thinking about the period after Continuum when they didn't know what the band's future would hold.  "Either we would go down or we would come back fighting.  Music is the thing that we love to do, so we didn't want to let it go.  With the help of our friends in the music community and then finding Don (Lee) and Joshua (Van Ness), it just felt right.  It was time to make a record again."
With the lineup set once again, The Wag felt ready to move forward.  They are celebrating their 20th anniversary at The Stone Pony in Asbury Park on Sunday, September 2nd when they play after Gavin DeGraw and Philip Phillips; then as part of the Clearwater Festival on September 8th at Brookdale Community College in Lincroft; at The Stanhope House on September 14; and then off to California.
The Wag has played shows in California before, but this tour is special.  Their tour includes a show at one of the legendary music venues in America - Whisky A Go-Go in Hollywood.
"I wanted to do something special because this is our first time with Joshua as our drummer," said Ostering.  "Playing the Whisky A Go Go is one of our dreams."
"We're very excited," adds Alicia.  "It's an iconic club.  The worst thing about playing clubs far away from home is that they don't actually know your music, but the best thing is getting to bring your music to new ears.  And you can potentially make new people happy and get new fans."
One of the nice things about adding Don Lee and Joshua Van Ness to the group is that both are not only talented musicians, but have had successful music careers of their own.  So they not only help flesh out the band's sound, but bring new creative forces and experience to the mix as well.
Touring can be difficult and stressful for any band, but being able to tour with your spouse helps turn the experience into a working vacation.
"It's a lot of work, but we do have a lot of fun hanging out together and going to see the sights and everything," said Alicia.  "We make sure there's at least one or two days off where we can do a big thing - spend the whole day doing things together.  It's a lot of fun."
The band does their booking themselves.  It's a mixture of cold emailing and cold calls in an effort to develop a relationship with the booking agents for the clubs.  They show them clippings and photos of shows they've done in the past and provide links to their music.  If they like what they see and hear, they'll book the band even though they've never actually seen them perform live in person or met them.  That's the way The Wag has done it for all of their shows and tours with the exception of the tour in Japan.
"When we went to Japan, we got in touch with an actual booking agent there," said Ostering.  "Mainly because we didn't speak the language and we thought it might be easier to deal with someone who's already associated in that market. I did write a nice paragraph and used Google Translate to translate it and sent it to one club though.  The person responded back, 'I don't understand what you're saying.  Can you say it in English?'"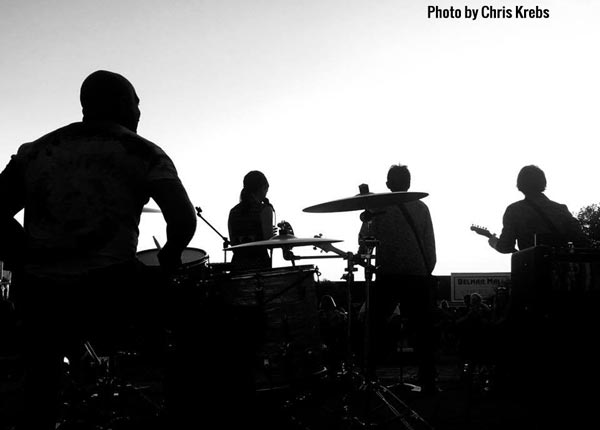 ---
Gary Wien has been covering the arts since 2001 and has had work published with Jersey Arts, Elmore Magazine, Princeton Magazine, Backstreets and other publications. He is a three-time winner of the Asbury Music Award for Top Music Journalist and the author of Beyond the Palace (the first book on the history of rock and roll in Asbury Park) and Are You Listening? The Top 100 Albums of 2001-2010 by New Jersey Artists. In addition, he runs New Jersey Stage and the online radio station The Penguin Rocks. He can be contacted at gary@newjerseystage.com.
---