By Gary Wien
originally published: 08/16/2018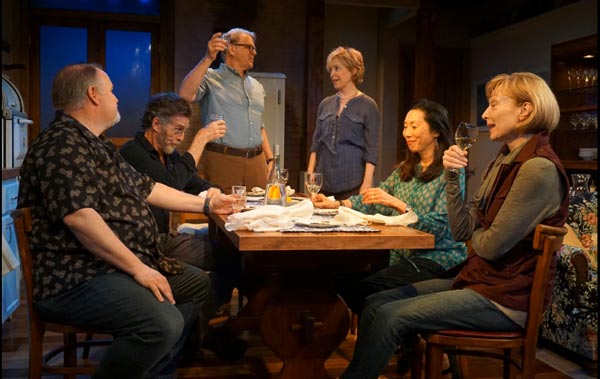 (LONG BRANCH, NJ) — The latest World Premiere at New Jersey Repertory Company is Fern Hill by Michael Tucker.  Wonderfully directed by Nadia Tass, the play features an all-star cast and a story about three couples in the latter half of their lives who come up with a rather intriguing way to avoid a retirement home.
Fern Hill is the name of a farmhouse owned by Jer (David Rasche) and his wife Sunny (Jill Eikenberry).  While the play takes place in the present, the farmhouse contains a mix of appliances like a modern stereo alongside an old fridge and stove.  The combination hits you immediately that this is a rather quaint place which is the perfect escape from city life.
Their long-time friends Vincent (John Glover) and Darla (Dee Hoty) and Billy (Tom McGowan) and Michiko (Jodi Long) are visiting.  It's a combination of academics, artists, and an aging rock and roller who loves to smoke pot.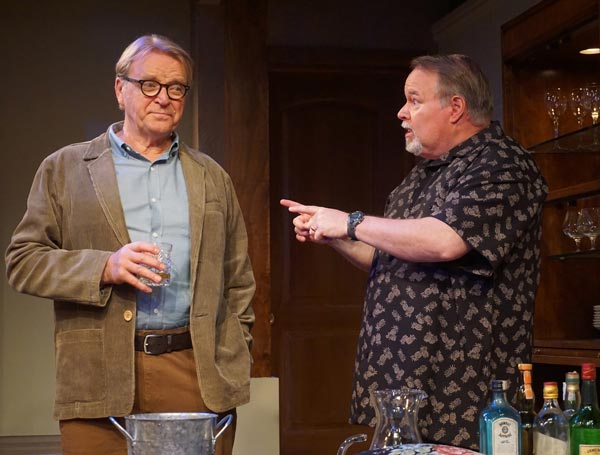 "You're not an addict, you just like to be high all of the time," Michiko says about Billy - a bass player who also loves to cook... and eat.
The trio of couples have gotten together to celebrate three special birthdays for the men.  They're each entering different decades - 60s, 70s, and 80s, but Vincent (the eldest) doesn't want to be part of the celebration since his birthday isn't for another month and he's got a hip surgery on his mind.
---
The article continues after this ad
---
---
"I will be only half a hippie," he states.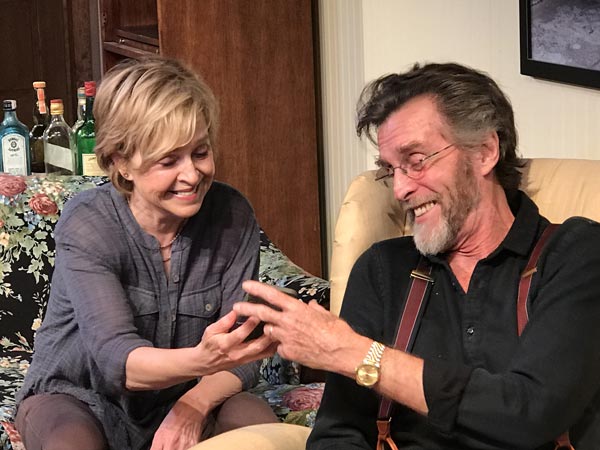 Vincent is a well known artist whose work has been shown around the world. Meanwhile, Sunny has been painting as well, but lately suffering from artist's block.  She desperately wants to know what Vincent truly thinks about her work.
When the guests tell Sunny how much they love visiting Fern Hill, she surprises them by pitching the idea that they all move in and live together.  She points out how this would be far better than moving into a retirement home with strangers and could be a great financial savings for them as well.  But, most of all, it would mean having fun together, while they grow old together.  She says they are all like orphans right now with no one to take care of them.
"The farm will be our orphanage," said Sunny.
Everyone in the group LOVES the idea of turning Fern Hill into something like a commune except for Jer.
"We all get along great," Sunny says, trying to pitch the idea.
"Yeah, that's because we don't live together," Jer replies.
At this point, it's clear that tensions between Jer and Sunny are getting a bit hot. Billy tries to help out by bringing the guys outside to smoke a little weed.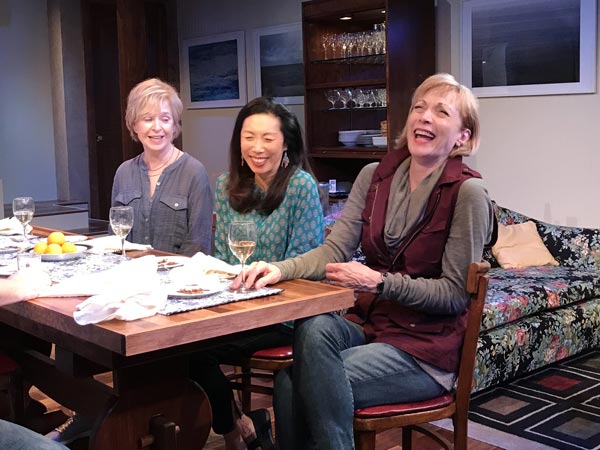 With the guys out of the room, the women begin talking among themselves - trying to see if the idea of everyone living together could actually happen or if it's just a fantasy.
"I think it's time for us to find three younger guys…"
"Where do you go for that?"
"Home Depot.  They have everything!"
The women discover that they all could see the idea of a commune feasible.  Now they have to sell it on the others.  But Sunny doesn't seem to mind if her husband is part of it or not.  And then she throws out the bombshell question.  She asks if her husband is cheating on her.  Based on the reactions she gets, she has her answer.
"What are you going to do? Are you done with him?" she's asked.
"I just might be."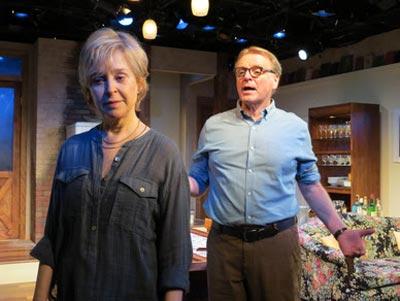 Sunny isn't content to just let things be.  She confronts her husband directly. When she asks him flat out if he's been having an affair, he remains silent.
The two go back and forth with the others watching on. He says that she changed, that somewhere down the line she stopped loving him.
"I wish I stopped loving you," said Sunny.  "I stopped adoring you because you stopped being adorable.  What happened to that guy? Where did that guy go?"
"Where did you go?" asks Jer.
And then the conversation turns to sex.  The good, the bad, and the ugly of it.
"How is we could be married all of these years and have sex 50,000 times and still be so dumb about it?" asks Sunny.
Fern Hill is a very enjoyable play about adult issues - everything from growing older to intimacy and relationships to the difficulties of the myriad levels of love.  It's about how couples change over time; how some face situations that bring them closer, while others drift farther apart. It offers fascinating insights into the conversations couples never want to have and the parts of our lives we strive to keep private - even hidden from our friends.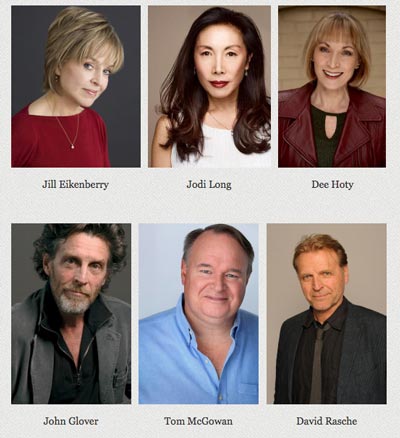 The second act features an interesting twist - one that could bring the friends closer or tear them apart. But the big questions remain: will Jer and Sunny stay together and will the commune idea actually happen? Fern Hill is a nice blend of comedy and drama within a very adult issue-oriented play.
The entire cast is outstanding, but I thought three performances truly stood out: Tom McGowan was absolutely terrific as the aging rock and roller; John Glover is brilliant as usual, portraying a character that has to showcase quite a bit of depth; and Jill Eikenberry shows strength as a woman whose world is threatened on many levels.
Fern Hill was developed during a residency at the Eugene O'Neill Theater Center's National Playwrights Conference in 2017. Executive Director, Preston Whiteway. Artistic Director, Wendy C. Goldberg.
NJ Rep's production is highly recommended.  Tickets to the remaining performances are limited, so don't wait.  The show runs now through September 9th at 179 Broadway in Long Branch, NJ.
For more information or to purchase tickets go to www.NJRep.org
Photos by SuzAnne Barabas
---
Gary Wien has been covering the arts since 2001 and has had work published with Jersey Arts, Elmore Magazine, Princeton Magazine, Backstreets and other publications. He is a three-time winner of the Asbury Music Award for Top Music Journalist and the author of Beyond the Palace (the first book on the history of rock and roll in Asbury Park) and Are You Listening? The Top 100 Albums of 2001-2010 by New Jersey Artists. In addition, he runs New Jersey Stage and the online radio station The Penguin Rocks. He can be contacted at gary@newjerseystage.com.
---