By Gary Wien
originally published: 06/16/2015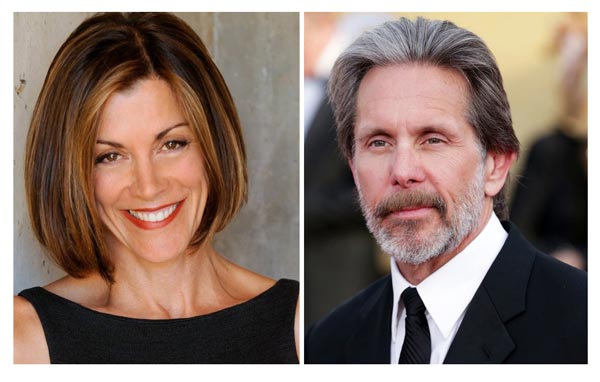 For nearly two decades, New Jersey Repertory Company has been on a mission to bring new plays to life.  To date, the theatre has produced over 100 works with many seeing their world premieres at the tiny playhouse along the Jersey Shore.  The company's dedication to new plays has always been respected in the industry, but is beginning to attract the attention of stage, film, and television stars who rarely are seen in theatres this size.
Last September the theatre had the premiere of Dinner With The Boys, which starred Ray Abruzzo (The Sopranos) and Richard Zavaglia (Donnie Brasco) alongside Dan Lauria (The Wonder Years) who also wrote the play.  In the months that followed, NJ Rep had the world premiere of The M Spot featuring Michael Tucker and Jill Eikenberry from L.A. Law.  The streak continues with the company's current production which stars Gary Cole (Office Space) and Wendie Malick (Just Shoot Me!).
So, how does a tiny theatre located in an area surrounded by boarded up buildings manage to attract such talent?  All signs points to Dan Lauria.
"Dan just raved about how kind everyone was there and I love theatres that still support new plays," explained Wendy Malick.  "I would always laugh at Dan and say I'm not going to work in the middle of nowhere and do a play and he'd say, I bet you will.  NJ Rep is a little under the radar and a good place to see what you have.  I met Gabe (Barabas) and his wife (SuzAnne) and they are just lovely people.  It's nice to be able to support the people out there who are trying to do good work who don't get a lot of attention for it."
Barabas says that the company has developed a reputation as a theater that focuses exclusively on the production of new works.  In doing so, they have been able to develop relationships with other theaters that have led to subsequent productions for the plays and which have provided broader exposure for the works.
---
The article continues after this ad
---
---
"This is especially important because most new plays, no matter how wonderful, die on the vine after the first production," said Barabas, Executive Producer at NJ Rep.  "Our receiving the National Theater Company Award in 2012 from the American Theater Wing that sponsors the annual Tony Awards for Broadway also brought us attention and wider recognition."
On stage from June 25 through July 19 is Closure by Richard Dresser.  The playwright describes the work as a thriller about parents dealing with the disappearance of their 18 year old daughter on a class trip in the Caribbean.  The mother enlists the help of a mysterious detective to find out what happened, and the story details the rather dark journey they embark on together.
"Wendie Malick has been involved with Closure from the start, when we did a workshop at Berkshire Playwrights Lab (which is run by Joe Cacaci, the director of Closure, along with Matt Penn and Jim Frangione)," said Dresser.  "Wendie has been a driving force in the development of the play as it evolved from that initial workshop through numerous rewrites.  And of course having Wendie on board was instrumental in assembling this remarkable cast."
In addition to Cole and Malick, the cast includes Biniam Tekola and Victor Verhaeghe.  With everyone working in different parts of the country, the rehearsal schedule for Closure was a bit crazy.  Malick said that the cast got together in New York for a few days to go over the script and then split up for a few weeks before getting together again at Malick's ranch in California where they actually rehearsed in her garage.
"I think we've all realized this is actually a great way to do it," said Malick.  "We just kind of go wherever we can with whoever is available and it's been pretty great.  I actually loved this process.  This is a garage troupe!"
"After all is said and done we will have had a good three weeks rehearsing together," added Cole. "And actually in the same room. It wasn't easy, and the schedule was a little more broken up than usual but we got it done. Can't rehearse a play alone. You're always playing off each other, and those moments are found in rehearsal, and continue for the run of the play."
There aren't many theatres in America as dedicated to producing new works as NJ Rep -- a mission that has helped attract talented playwrights such as Dresser to premiere their work in Central New Jersey.  
"Theatres like NJ Rep that are dedicated to new work are absolutely vital in keeping theater alive in the USA," stated Dresser.  "And there aren't enough of them.  Readings and workshops are extremely important in the development of new work, but it takes a full production with all that entails to find out if a play works.  Launching new work is a huge, terrifying risk, which is what theater should be all about."
The mission is also very attractive to actors who get the rare opportunity to define a role that has never been performed on stage before and to work alongside the director and playwright in a collaborative way that you don't have for most revivals.  In fact, in the case of many revivals, the playwrights have long since passed away.
"At this stage in my career it's exciting to be 'in on the ground floor' so to speak," explained Cole.  "There's no precedent for the character, so it's a clean slate. It's also fulfilling to be rehearsing with Rick involved with the process. It's an opportunity you don't always have."
Malick agrees.  "There is something absolutely thrilling about being the first person to tackle a character and being able to work with a playwright.  That's the most delicious part of this.  All of us have been allowed to enter this collaboration with our director and our playwright and I think that is just something you cherish because it doesn't happen all that often."
Director Joe Cacaci, who is an old friend of Cole's asked him to consider the play.  Cole said he didn't know much about NJ Rep, but once he read the play he was sold.  "For an actor to be successful, it all begins with material, and this play hooked me when I read it," recalled Cole who was a member of Steppenwolf's ensemble for many years. "Hopefully Closure can help play a part in NJ Rep's continuing commitment to new work.  Any theater devoted to new works is vital. Plays have to be realized. It's always a gamble because there is absolutely no way to know what will connect with an audience. New plays will not be produced unless certain theaters make that their primary objective. That has to be their philosophy regardless of financial considerations."
For NJ Rep, that has always been their philosophy and in 2017 they hope to open a new theater, which will house several performance spaces, an art gallery, studios, classrooms, and environments for a wide range of arts.  They are developing plans to renovate the West End School (Long Branch) property, which was purchased earlier in the year.  
"Our acquiring the West End School property for expansion is the result of 18 years of work and oftentimes struggle," said Barabas.  "We have been operating in a neighborhood where there is hardly any foot traffic and just one block away from our building thirty buildings are boarded up. Our audiences come from significant distances and represent a certain sub-set of audience that is adventurous and attracted to new work. In essence, we are a niche theater. Our 'success' has been the cumulative result of all the fine actors and directors who have gravitated to us, our design team that has worked together on over 50 plays, the vision and esthetics of our Artistic Director in selecting plays, and our involvement in championing plays that we give birth to way beyond our theater into New York City and into other regional professional theaters. All of these things are involved in broader foundation support as well as support in individual giving. We have always planned to expand at some point but did not realize that it would take 18 years. It has been a slow-build."
The theatre is proof that success can come to those who keep their dreams alive no matter what circumstances are faced.  Tickets for NJ Rep shows are becoming a rather hot item, reserve your tickets for Closure while you still can and see for yourself how this tiny theatre is growing into a major force in the region.
---
Gary Wien has been covering the arts since 2001 and has had work published with Jersey Arts, Elmore Magazine, Princeton Magazine, Backstreets and other publications. He is a three-time winner of the Asbury Music Award for Top Music Journalist and the author of Beyond the Palace (the first book on the history of rock and roll in Asbury Park) and Are You Listening? The Top 100 Albums of 2001-2010 by New Jersey Artists. In addition, he runs New Jersey Stage and the online radio station The Penguin Rocks. He can be contacted at gary@newjerseystage.com.
---