By Gary Wien
originally published: 03/01/2019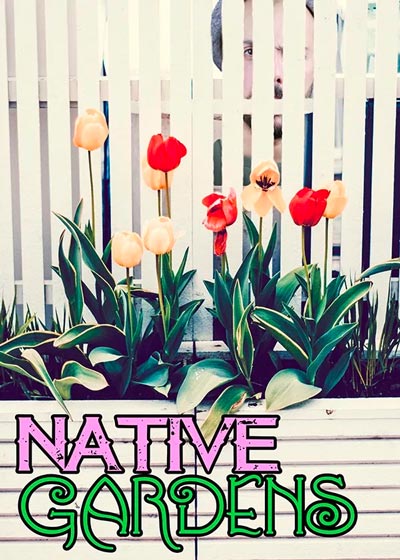 When New Jersey Stage was preparing our March theatre preview, one of the plays which stood out was Native Gardens by Karen Zacarias. Cultures clash in this brilliant new flower-flinging romp, turning well-intentioned neighbors into feuding enemies.  The play will have its Regional Premiere at Eagle Theatre in Hammonton from March 22nd – April 14th.
Zacarias, winner of the Charles MacArthur Award for outstanding new play at D.C.'s 2000 Helen Hayes Awards, rips down fences with Native Gardens, a play which seems perfect for a period in time in which a debate about illegal immigration and a border wall takes place across the country. In the play, Pablo, a rising attorney, and doctoral candidate Tania, his very pregnant wife, have just purchased a home in a historic neighborhood next to Frank and Virginia, a well-established D.C. couple with a prize-worthy English garden. But a disagreement over the property line that separates their backyards soon spirals into an all-out war of taste, class, and gardening. Chockfull of pep and poignancy, Mexican-American playwright Karen Zacarías pushes the boundaries and shatters biases one laugh at a time in Eagle Theatre's rendition of this shear-sharp modern comedy.
We reached out to the folks at Eagle and three cast members from the production to learn more about the play.
What was it about "Native Gardens" that caught Eagle's eye?

Ed Corsi (Director of Native Gardens, Senior Advisor of Eagle Theatre) - It is so smart, funny, and relevant. But, above all, it is human. And did I mention how funny it is?
The play seems timely on many levels, but the parallel between "the wall with Mexico" debate and having a fence around your yard is pretty on the mark in my opinion.  Are you ever worried about people reading too much into the play's description?  I mean, we are living in extremely partisan times...

Ed Corsi - Great question. But, I don't think that worries me with this piece. While there are definite parallels you can draw, it doesn't get political. And it truly shows both sides of every conversation and argument that these two couples experience during this 90-minute play. There is conversation, stress, arguing, and even understanding and resolve... the way it should be really. 
---
The article continues after this ad
---
---
Do you see plays like this as being a good fit for an edgy theatre company? 

Ed Corsi - I think this play is a good fit for Eagle Theatre because it is just that... good. It's brilliantly written, so comedic and sharp. I don't know if I'd call it "edgy", but it will definitely challenge our audience to think about what side they may be on in some of these conversations. And it should stimulate some conversation for their drive home. But after all is said and done, I think they are going to mostly remember how funny the writing was and the stellar performances by our 4 wonderful actors.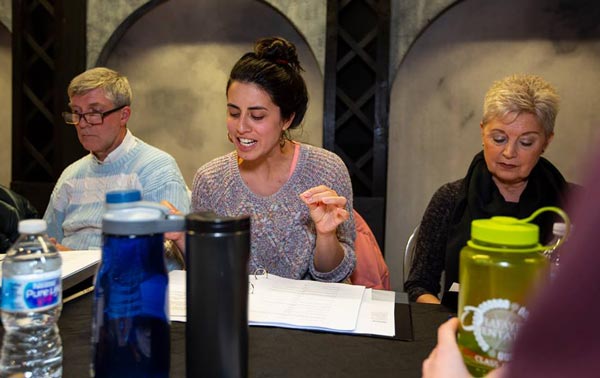 Did you have any neighbors or recall any situations growing up with neighbors like these two?

Robyn Unger (Tania) - My neighbor history has been pretty smooth lately. I feel like living in an apartment changes things a bit, and prevents some conflict. Having a yard brings people more face to face.
Paul Weagraff (Frank) - Growing up, we had a neighbor that would stand in her front yard when we washed our car in our driveway to make sure none of our hose water spritzed over into her yard. This was not the result of any prejudices that we were aware of, since we were both from western European descent. It was more a result of someone who cared meticulously for their lawn (having no children) living next to a family with 8 children.
Marianne Green (Virginia) - Nope. Lived in an apartment my whole life growing up—it was more like the movie "The More the Merrier"…
The playwright has had several plays win or be finalists for awards in the past decade. What do you think of her work?

Robyn Unger - I have only read Native Gardens, but I'm so excited to read Karen Zacarias' other works. As a Mexican American. I'm also very thrilled to be working on a play by a Mexican American playwright!   
Paul Weagraff - I think the script is very well written. The vignettes transition from one talking scene to the next quite effectively, and the characters and dialogue are very real. I'm looking forward to the adventure.
Marianne Green - I love this play – very timely and topical now.  I love that she mixes breaking down ethnic, culture, age differences with "nurturing" a garden.  I also love that is has a teaching and sweet message.  COME SEE IT!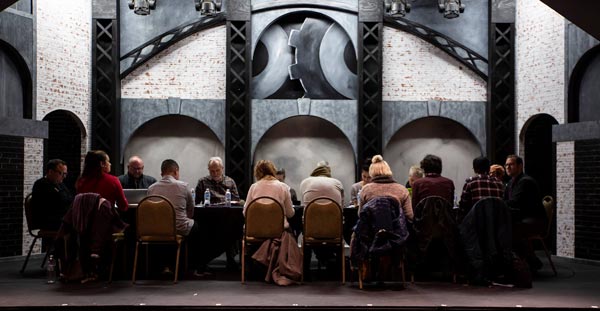 This is a regional premiere of Native Gardens. Had you seen the play performed before?  
Ed Corsi - I have not. I read it, fell in love with it, and researched past productions. I saw that the few previous productions that exist really tackled it similarly and differently at the same time. I'm excited to see our audience react to what we've concocted here at the Eagle for our version of this terrific play. I've had a lot of conversation back and forth with Karen Zacarias, the playwright. She's been wonderful, answering some of our questions about her intent, etc.
Would you say World Premieres and Regional Premieres are important to the development of where you want Eagle Theatre to go? 

Ted Wioncek III (Producing Artistic Director) – Supporting, developing, and producing new work is the bedrock of Eagle Theatre. I believe we will continue to nurture playwrights for many years to come, while continuing to create our own genres and original IP, such as our recent homegrown NOIR: The 3D/4D Semi-Cinematic Satirical Thriller, presented as a piece of Theme Park Theater.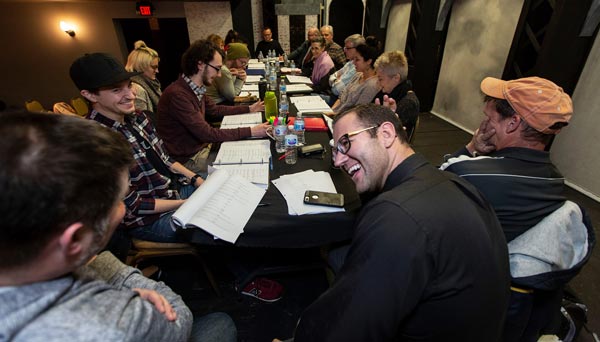 This is a very funny play that also has an important message. As an actor, does having a play with a message change your focus at all? Or is it still just acting in a comedy? 
Robyn Unger - Absolutely, I definitely believe that comedy is enhanced by having an important message. So much of comedy relies on what is relatable and recognizable in ourselves and our cultures.
Paul Weagraff - I'm not aware that plays "with a message" change my focus as an actor in any conscious way. I simply try to convey the character in as real of a portrayal as I can, within the context of the play.
Marianne Green - When I was younger doing Neil Simon comedies was my forte.  Over the past 10 years I have much preferred to be in something with a message – life experiences have contributed to how I approach and what satisfaction I get when doing something now…or should I say "being an old lady has contributed to how I approach something now…"
Finally, do you think "Native Gardens" has a chance of bringing a more diverse audience than usual to Eagle?  Are you going to promote it as from a Mexican-American playwright?
Ted Wioncek III -  We believe Native Gardens will bring a more diverse audience to Eagle Theatre. We will be promoting the play as such; a poignant and skillfully written comedy by one of the most promising playwrights in the business!
---
Eagle Theatre is located at 208 Vine Street in Hammonton, New Jersey.  For more information or to purchase tickets to Native Gardens, go to www.theeagletheatre.com.
---
Gary Wien has been covering the arts since 2001 and has had work published with Jersey Arts, Elmore Magazine, Princeton Magazine, Backstreets and other publications. He is a three-time winner of the Asbury Music Award for Top Music Journalist and the author of Beyond the Palace (the first book on the history of rock and roll in Asbury Park) and Are You Listening? The Top 100 Albums of 2001-2010 by New Jersey Artists. In addition, he runs New Jersey Stage and the online radio station The Penguin Rocks. He can be contacted at gary@newjerseystage.com.
---