originally published: 06/26/2020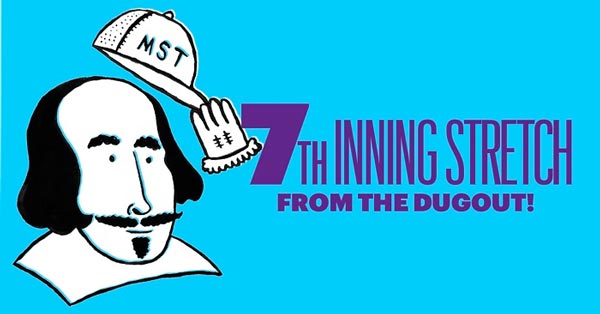 Every year, the Mile Square Theatre (MST) holds the 7th Inning Stretch. The fund raising event is named to honor the first official baseball game played in Hoboken back in 1840's. The event has become a Hoboken tradition and is in its 17th year.
It seems very appropriate this year that a collection of stories about baseball would be a good pick. After all, it is our national sport and we aren't getting any right now! So why not turn to the theater for a little pick-me-up until that shortened season begins in July.
Mile Square Theatre's 7th Inning Stretch traditionally is made up of seven new 10-minute plays which are commissioned about baseball. Although the focus of the plays is baseball, there are other things that come out as a tale is told.
This year provided a unique challenge to the theater organization as they adapted the event to make it virtual. A variety of sketches were used in the design of the program. There are split screen actors talking with each other, cartoons, monologues, and short plays. The result is a unique program that comes from the theme of baseball. However, similar to the results other years from the 10-minute plays, unique things about life are also told. The virtual video runs approximately one hour.
A few examples of presentations include one from NY Yankee Adam Ottavino that shows through his narration and pictures how he came to play for the team and acquire the number zero (0) on his shirt. Another very emotional presentation is given by Joseph Gallo who describes his friendship with AJ and their mutual admiration for Phil Rizzuto. But there is more to the story as Mr. Gallo talks about his mother and her final days in a very touching tribute.
---
The article continues after this ad
---
---
Mile Square Theatre did an outstanding job putting this year's 7th Inning Stretch together. Any baseball lover and/or theater lover can enjoy what the video shows. According to notes from the Theatre, a number of people are featured on this video including:


Matt Bittner (Present Laughter on Broadway)


Michael Emerson (Person of Interest)


Joseph Gallo (MST's My Italy Story, Long Gone Daddy)



Gary Kroeger (SNL)



Ellen Lancaster (The Visit on Broadway)


Matilda Lawler (The Net Will Appear @ MST, The Ferryman on Broadway)


Matt Lawler (Circle Mirror Transformation @ MST, ABC's "The Family")


Thomas Lennon (Reno 911)



Raymond McAnally (Daily Fiber, "Modern Family")




Ames McNamara (ABC's "The Conners")




Adam Ottavino (New York Yankees)



Barbara Pitts McAdams (MST's Vanya and Sonia, Tectonic Theatre's Laramie Project)


Catherine Porter (Next to Normal on Broadway) and Jim Vallance (Summer of '69, What About Love)


Kevin Short (Metropolitan Opera's Porgy and Bess)


Shannon Michael Wamser (Importance of Being Earnest at Orlando Shakespeare Theatre)


About Mile Square Theatre
Mile Square Theatre (MST) was founded in 2003 as a non-profit professional theatre. Their mission is to enrich and engage the region through the production of professional theatre and innovative arts education. As a 501(c)(3) non-profit, they rely on donations from generous people to keep their ticket prices and class tuition accessible for all. Donations goes toward keeping the arts alive in the community. In turn MST is able to educate, entertain, and inspire our audiences and students with professional productions and high-quality performance classes. While the 7th Inning Stretch fundraiser is over, you may still make a donation online at any time.
---
Let's Go to the Theater helps people learn more about about live theater and develop appreciation for this art form. Karen M. Nowosad is the founder of the site. The enjoyment Karen gets from going to the theater is something she wants to share with others.
---