By Taryn Venner Ashe
originally published: 01/29/2020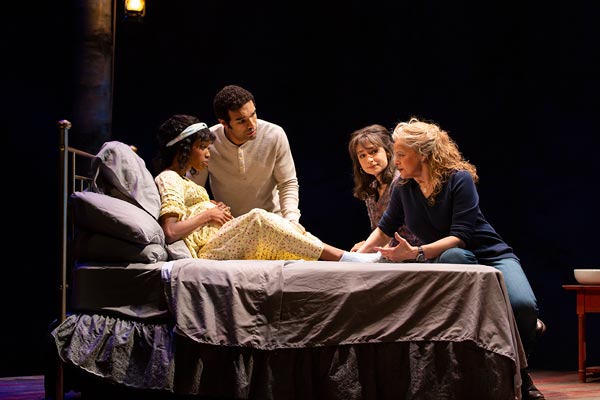 (NEW BRUNSWICK, NJ) -- Midwives by Chris Bohjalian is on stage at George Street Playhouse at the New Brunswick Performing Arts Center in New Brunswick, NJ until February 16, 2020. The production is directed by David Saint.
Readers may remember Midwives as a NY Times Bestseller and Oprah Book Club selection by author/playwright Chris Bohjalian. His new stage adaptation, which celebrated its world premiere with George Street Playhouse on Friday, is a riveting fresh story for contemporary audiences. This suspenseful drama is the result of a collaborative endeavor between Bohjalian and Artistic Director David Saint and features a stellar cast.
Upon entering the brand new theater, named for playwright Arthur Laurents, we are immediately drawn to the intimate setting created by Shoko Kambara (set design), David Lander (lighting design), and Scott Killian (music and sound design). There is a quiet simplicity to the set: the bedroom of a Vermont farmhouse flanked by birch trees in the moonlight. Soft music sets the mood as the play opens, evoking the calm before the storm.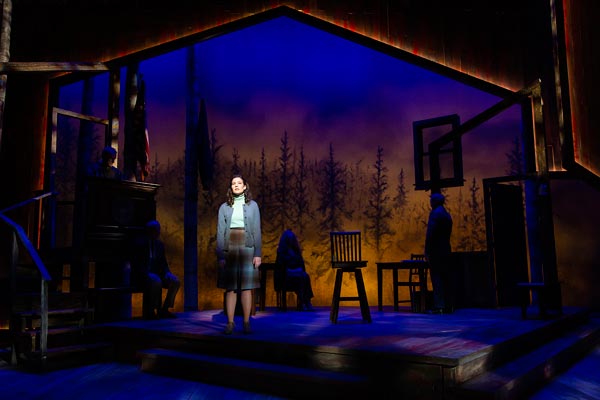 Midwives is about a routine home birth that turns terribly wrong and the court case that follows. Act I opens with Connie Danforth, played by Molly Carden, narrating the events leading up to and including the fateful night in 1985. Even though she was not in the room at the time of the tragedy, Connie has her mother's journals to piece together the story for us. Carden is an animated and bold Connie. She brings us back to the past and humanizes the characters involved, particularly her mother who is the accused midwife Sibyl Danforth, played by Ellen McLaughlin. This is not a tragedy we gawk at from afar; with Connie's narration, Bohjalian and Saint invite us into the narrative for each moment that transpires. We learn this is the second home birth for Charlotte Fugett Bedford, played beautifully by Monique Robinson. The audience marvels at Robinson's performance as a woman in labor who fully trusts her midwife. The physicality of her role is demanding and she presents it with truth and grace.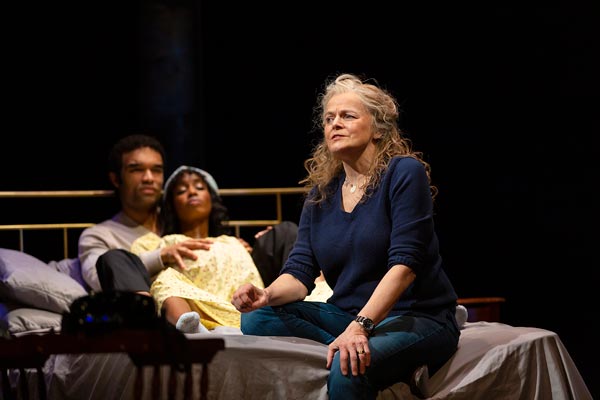 The gravitas of Ellen McLaughlin's performance is the highlight of Act I. She embodies the calm persona and confidence of the midwife. Charlotte's husband Asa Bedford, played by Ryan George, and Sibyl's assistant in training Anne Austin, played by Grace Experience, are also present in the room. Both George and Experience are gripping in their roles and the audience connects to their characters as we attempt to engage in what is happening before us. George's pathos as a husband, father, and preacher is tangible. And Experience artfully shows us an honest portrayal of someone who desperately wants to control a challenging situation. The relationships that develop among these four characters are compelling to watch. Act I moves with a pace that is slow at first and then crescendos to an ultimate choice. It is so riveting we cannot believe how intense the room is at times.
---
The article continues after this ad
---
---
Connie continues the narration in Act II but she also steps into flashbacks and scenes of the court room. We get to know Connie's father, played by John Bolger. And as the tone of this act transforms to a condemnation of Sibyl, he emerges an honorable ally. Her lawyer Stephen Hastings, played by Lee Sellars, takes turns with prosecutor Bill Tanner, played by Armand Schultz, addressing the court. The two men keep an excellent pace so that the second act is a swift moving drama. Questions emerge and characters surprise us by following unpredictable trajectories.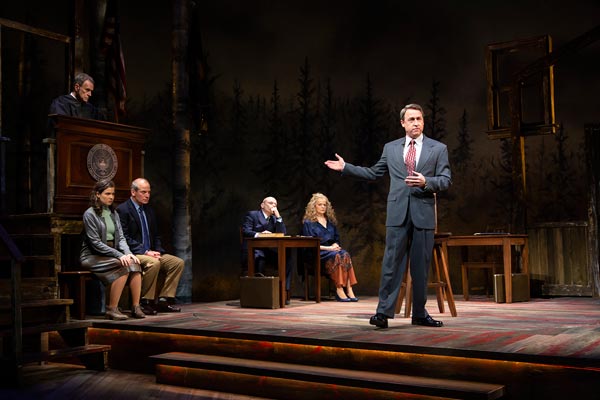 The court room drama leaves us asking, who do we blame for the tragedy that transpires? Ultimately, this is not the question that matters. Bohjalain asks of us something deeper -- to consider memory. What role does it play in our actions in the present? What vision does it give us for the future? At the core of Midwives is a deep and loving mother-daughter relationship. Bohjalian endears himself to women, who may or may not have experienced birth and motherhood, with the sheer respect he evokes in his writing.
---
"Midwives" is presented by George Street Playhouse in The Arthur Laurents Theater at The New Brunswick Performing Arts Center.  Performances run through February 16, 2020.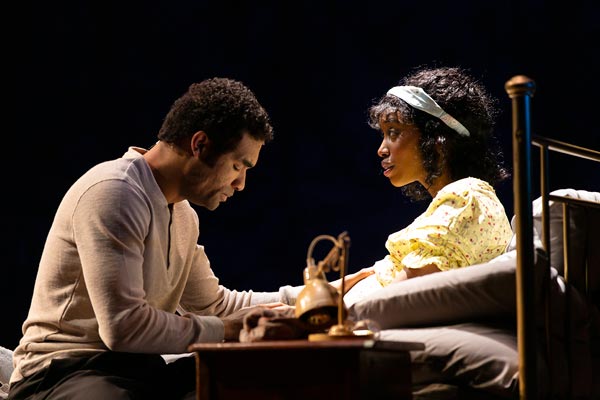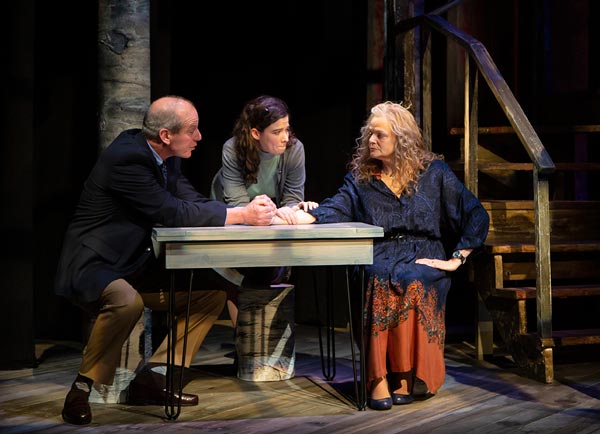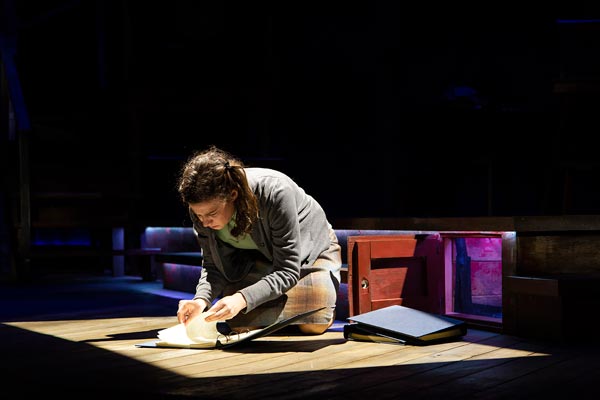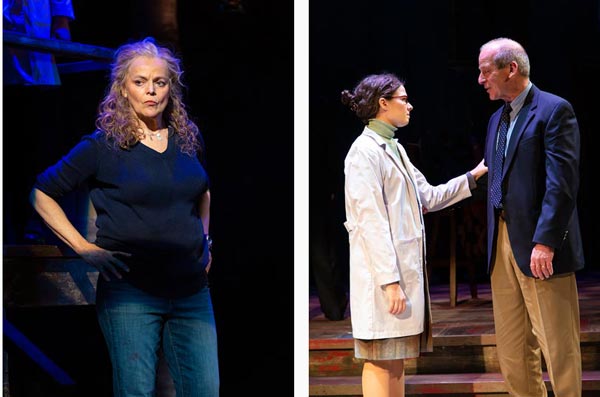 Photos by T. Charles Erickson​​​​​​​
---
Taryn teaches World Literature and Creative Writing at County Prep High School, Hudson County Schools of Technology in Jersey City, NJ. She has an M.A. in Literature and Creative Writing from Fairleigh Dickinson University. She has been published in School Library Journal in School Library Journal. She can be contacted at tarynashe@gmail.com.
---