By Taryn Venner Ashe
originally published: 01/20/2020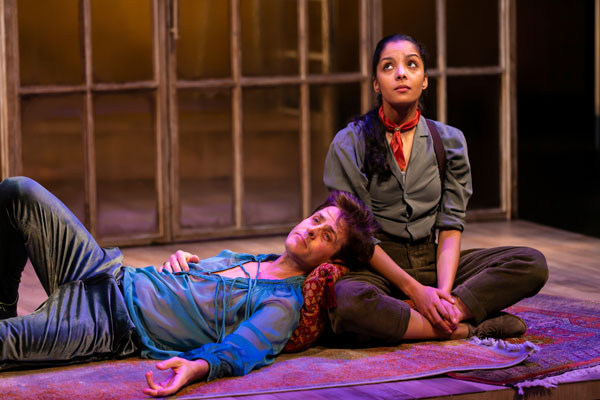 (RED BANK, NJ) -- Twelfth Night by William Shakespeare is on stage at Two River Theater in Red Bank, NJ until February 2, 2020.  The production is directed by Sara Holdren.
What is love? 'Tis not hereafter Present mirth hath present laughter. What's to come is still unsure. In delay there lies no plenty, Then come kiss me, sweet and twenty. Youth's a stuff will not endure. (Twelfth Night, Act II, Scene 3, lines 48–53)
This love song the fool Feste sings in Shakespeare's Twelfth Night has me remembering my youth. I am lucky to have enjoyed a great deal of mirth with dear friends when we were still unsure of what was to come. As teenagers living in NJ during the late 80s-early 90s, we were fans of New Kids on the Block. We could sing all of their pop songs. We saw them in concert at least three times. But by the time I graduated high school, I had packed away my cassette tapes and ditched my Teen Beat and Bop fan magazines. Now I'm a busy mom of three, but I have always cherished the fun my friends and I had following the young pop stars. So when I heard Joey McIntyre, the youngest member of the group, was going to star as Duke Orsino in Sara Holdren's production of Twelfth Night, my friend and I took a much-needed night out to Red Bank's Two River Theater. The audience was a mix of ages from 9-90, Shakespeare fans sitting next to boy band fans. This made the English teacher in me happy. As I tell my students, once you can embrace the bard's language as a kind of music, there's so much fun to be had.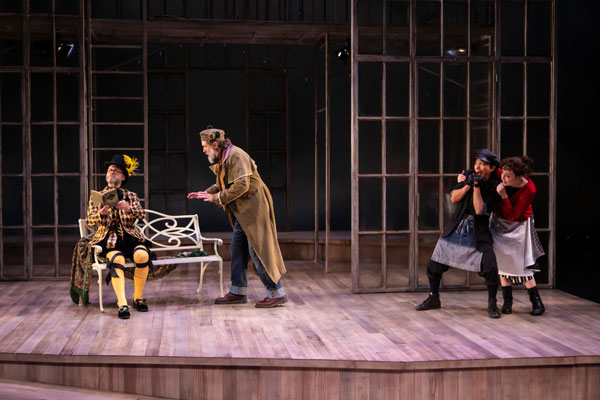 Director Sara Holdren delivers the fun in her dynamic production. Her decision to team up with the theater collective and band The Lobbyists is ambitious and rewarding. Tommy Crawford, music director and member of The Lobbyists, stars as Feste the wise fool. His ballads string together the play's events; we follow the notes of irony and sadness throughout this story of mistaken identities, intended schemes, and pure loneliness. Crawford is joined on stage by fellow members Tony Aidan Vo and Will Turner, who also play various roles in the cast. They entertain the audience with bursts of punk, folk, and rock music -- a blast to watch. With a full range of instruments -- acoustic and electric guitars, ukulele, piano, and drums -- they create a live concert wrapped within the story of the play.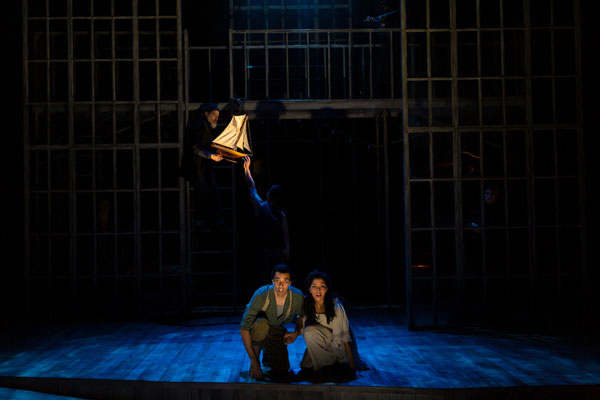 Twelfth Night opens with a shipwreck which tears apart twins Viola and Sebastian. The opening stage effects are visceral and evoke the pulling of family ties with the pulling of the ship's rigging. Claire Deliso (scenic designer) and Caitlin Smith Rapoport (lighting designer) successfully draw us in with the pre-play scene so that we land on the shores of Illyria along with Viola, played by Hannah Rose Caton. After she is saved by a local captain, Viola believes her brother to have drowned and decides to disguise herself as a man named Cesario. She offers her service to Duke Orsino. McIntyre does not disappoint. He is fabulous as Orsino from the moment he opens with the famous line, "If music be the food of life, play on!" His fans will appreciate the depth of his performance in both serious and comedic moments, particularly when he shares the stage with Caton as Cesario.
---
The article continues after this ad
---
---
Orsino employs Cesario as messenger to the beautiful Olivia, for whom the duke pines in an unrequited love affair. Kathleen Littlefield stars as Olivia, who has cast off the duke's many advances because she is mourning her dead brother. That is until she ends up falling head over heels for Cesario. The play's conflict deepens when Viola, disguised as Cesario, begins to fall for Orsino. Caton and Littlefield are brilliant together. When Cesario delivers the duke's entreaties and shouts "Olivia," we are all captivated; watching Olivia transform from her austere mourning garments to a bright dress and demeanor is lovely to watch. Littlefield's performance reminds us that we are all Olivia at some point in our lives, unraveled by the unexpected: "Fate, show thy force: ourselves we do not owe;/ What is decreed must be, and be this so."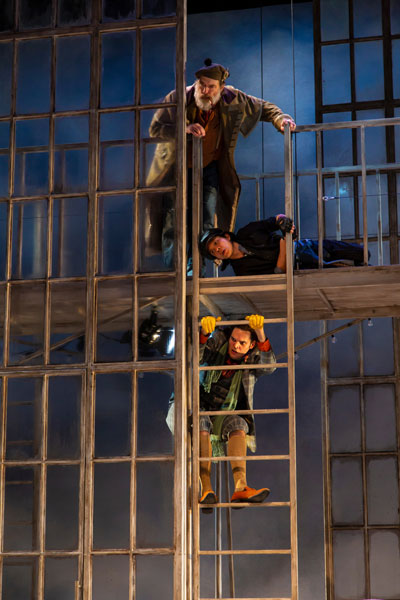 The fools in Twelfth Night unravel us in a more complex way. Oh, how great it felt to laugh at them. There were deep-in-the-belly laughs, racuous howls, and the random giggle all in the same audience. Olivia's uncle Sir Toby, played by Kurt Rhoads, is a funny drunk until he's not so fun anymore. Rhoads is a master at playing with our reactions and he keeps us anticipating what in the world he will do next. Sir Andrew Aguecheek is my favorite jokester and is played by Luis Quintero whose comedic timing and one liners had the audience in hysterics. Celeste Ciulla shines as Maria, Olivia's maid. (She also plays the violin in the show!) Each of these three characters are part of a plan to trick Olivia's steward Malvolio, masterly played by Richard Hollis, into thinking Olivia loves him.
Hollis elicits a dual response from the audience -- much of the laughter and most of the sympathy. I met him after the performance and we discussed how Malvolio is a talking point for everything we encounter with the issue of bullying today. He delivers a version of Malvolio that truly resonates with us. We want to lighten up in this world, not take everything so seriously, and when he walks on stage wearing a certain outfit we are expecting as part of Maria's prank, the audience is roaring along with the culprits. But someone has to pay in the end. In the power of their performances, Ciulla and Hollis remind us how we too have been on one side or the other of humor's fine line.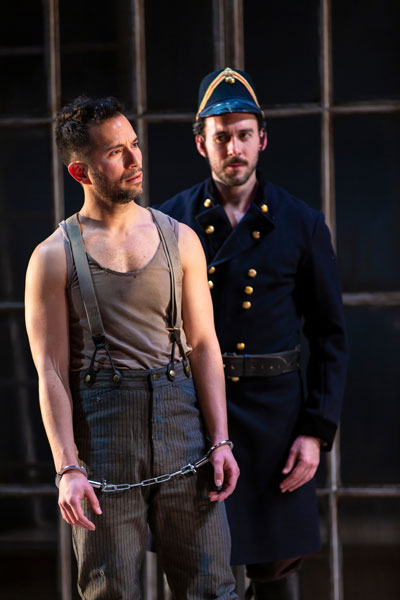 The promised happy ending of a Shakespearean comedy includes a complicated family reunion. Rudy Roushdi plays brother Sebastian, who is rescued by a pirate Antonio, played by Carman Lacivita. The two are marvelous in their own scuffles with the fools; the pair get tangled up in the twisted plot and not without a run in with the local authorities of Illyria. The physical comedy and the fighting scenes choreographed by fight director Benjamin Curns are highly entertaining. What is it about live performance? During intermission, I overheard a woman ask her partner if he was "getting it." And he was proud of himself for following along just fine. I met the youngest audience member in the room, a 9-year old girl who told me she is planning to write some fan-fiction, the continuation of Malvolio's story. In an age when we can binge watch media at an arm's length on a device the size of a hand, Holdren reminds us that being part of an audience at a live performance is to be part of something marvelous.
Two River Theater is located at 21 Bridge Avenue in Red Bank, New Jersey.  For more information or to purchase tickets, please visit www.tworivertheater.org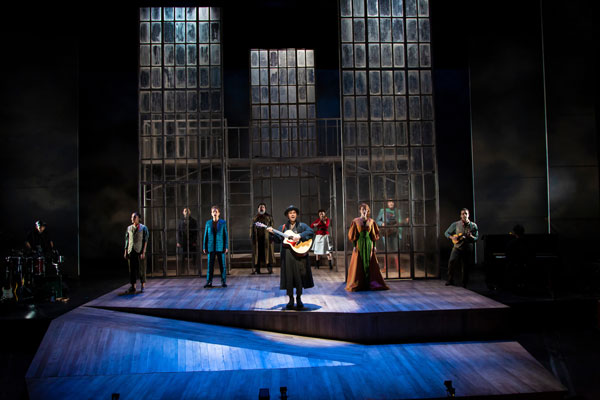 All Photos by T. Charles Erickson 
---
Taryn teaches World Literature and Creative Writing at County Prep High School, Hudson County Schools of Technology in Jersey City, NJ. She has an M.A. in Literature and Creative Writing from Fairleigh Dickinson University. She has been published in School Library Journal in School Library Journal. She can be contacted at tarynashe@gmail.com.
---