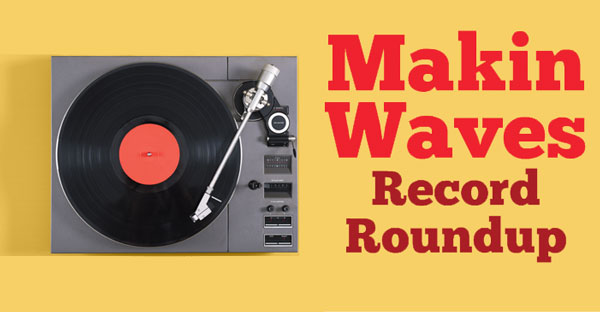 Two Jersey Shore bands who have helped keep the spirit of grunge alive with recent music are The Black Clouds and Gay Guy Straight Guy. The former's vocalist-guitarist Dan Matthews and the latter's drummer Bob Paulos have joined forces in Shut Up, a powerful trio that recalls the hard 'n' heavy end of the grunge pool in which the Melvins and The Dwarves swim. Also featuring Sex Zombies bassist-vocalist Jamie Conner, aka Scarlet Fever, Dan's wife, Shut Up recently made a video as intense as their music for their first single, "Better Luck Next Time," from their debut album, "Nope." A Makin Waves Song of the Week, "Better Luck Next Time  is an excellent example of Dan's minimalistic approach to feedback with sparse snippets of snarling spew slamming into rhythms that sound like a wrecking ball to a skyscraper. 
His lyrics also are impressive and much better than typical punk rock. In "Blood Orgy," he writes, "I don't understand it. It makes me feel sick. The people that I grew up trusting were all full of shit. I'm way past forgiveness, 'cause it's not that hard to understand the difference between selfishness and love." 
"Ramen" explores the connection between welfare and substance abuse – "I've been eating instant ramen three meals a day. Why be responsible when there's someone else to blame? Never have a problem finding cash for booze and pills, but I'll never understand why I can't afford my bills" – while "Bad Luck" looks at the truly less fortunate – "She tries to smell the roses. She tries to relax. She tries to shut her mind off. But it never lasts. Ohhhh! Bad luck! Nooooo! She's had enough! She found a three-leaf clover. Never found four. Works at three jobs, but she's still fucking poor." 
"Motherfucker Yeah!" features a great drum opening that shows why Bob was the 2017 Makin Waves Drummer of the Year within a blast of punk rock that recalls the genre's early days of The Sex Pistols and The Clash with a bit of the D.C. hard-core of Minor Threat thrown in for good measure. "Good Enough" is an unlikely unrequited love song from an extremely aggressive band that don't let up any of that aggression on this tune about a relationship that is built on a lie and is never "good enough."
Dan once told me that while on tour, his throat sometimes would bleed from screaming so intensely. The LP's violent title track likely will cause that as he screams at hypocritical American Christians who fill themselves with the hate of Trump-loving Nazis rather than the love of Jesus Christ. 
"Nope" also includes: 
• "God Needs Satan," another onslaught against religious zealots who believe they are misunderstood, yet refuse to understand those who are different from them
• "My Brain Is Controlling Me Crazy," an anti-drug anthem that looks at the mortality rate of addiction 
• "Tulip," a menacing, Black Sabbath-dripping gust of grunge through a funnel of Tool
• "Telephone," a mighty, meaty mix of Mudhoney meet MC5 in a menacing meandering of loneliness
• "Resistance," which features sing-song verses transversely pummeled on the warpath of drum 'n' bass thunder and guitar squawk
• "Ouch," a heavy interlude about the need for solitude.
Politically minded "Indifference Kills" is Sabbath-fueled furor that has the best line on the album – "we're on a sinking ship and nobody gives a fuck" -- punctuated by guitar feedback that slams into a wall of monstrous rhythm and leads into a dichotomously slow fade that brings this intense album to a quiet and peaceful close. The volatile guitar solo is by Jack Endino, a Seattle legend who recorded, mixed and mastered "Nope" and co-produced it with Dan. Endino also has produced most of The Black Clouds' albums, as well as Sub Pop outings by Nirvana, Soundgarden and Mudhoney. 
Speaking of Mudhoney, Shut Up will open for them on Oct. 4 at White Eagle Hall in Jersey City. The trio also will play Aug. 30 with Chemtrail at The Chubby Pickle, Highlands; Nov. 1 with Hidden Knives at The News Café, Pawtucket, R.I., and Nov. 2 at the Hixxgiving Festival at Midway Café in Boston. 
If you are a fan of British Invasion power pop and psychedelia and subsequently inspired acts, such as XTC, The Jam, Redd Kross, The Smithereens, The Pursuit of Happiness, The Posies and Jellyfish, you're going to love the new Anderson Council album. 
Released on Jersey-based JEM Records – home to similar Garden State acts The Weeklings and The Grip Weeds – the 14-song "Worlds Collide" may be the best thing the New Brunswick psyche-pop four-piece ever have done following four previous LPs and an anthology.  
I've been writing about them since their formation in 1999, and it does my heart good to see a band remain so vital after so many years. Led by singer-songwriter-guitarist Peter Horvath, The Anderson Council have been making their sundae of '60s-inspired psyche pop so long, they've developed their own sound and style of drums crashing into guitars with exquisite harmonies, like a cherry on top, balancing out their smash 'n' bash and cut 'n' stomp. 
Typically, I listen to an album once through before I start to write about it, but with "Worlds Collide," it took 17 seconds to jump right in the pool of whip cream of their Brit psyche-pop sundae. My favorite track is "Amazing," which lives up to its title with the LP's strongest and most earnest lyrics that seem to be about the tightrope walk of a musician parent. I especially like the second verse: "To see through the eyes of children, night time, happy time outlook. Spending days out on the playground, night time buried in a book. Absorb all your brain can handle. New thoughts wrinkle up and fold. Every bit of your grey matter, you know what the future holds." 
The amazing tune also features an infectious, yet beautiful melody, great harmonies and a soaring closing solo by lead guitarist David Whitehead that sounds like a sunburst if we could hear one. "Worlds Collide" features several equally outstanding tunes, including "Mrs. Kirkby's Refrigerator," a perfect sequel to the early Who-like nugget "Pinkerton's Assorted Colours" from the 2006 sophomore outing, "The Fall Parade," as well as the 2016 JEM debut anthology, "Assorted Colours." Two CD bonus tracks include a version of "Mrs. Kirkby's Refrigerator" sung by British Invasion legend Peter Noone of Herman's Hermits, which makes for a great battle between the power-poppin' Peters. 
Other "Worlds Collide" standouts include the fun Lennonesque rhymes and rhythms of "When I Fall," a mash-up of the stomp of "Come Together" and the trip of "Lucy in the Sky with Diamonds," and "Camden Town," a delicious folk-rooted nugget with a tasty tambourine shake at the close. Drummer Christopher Ryan's psychedelic epic "Into the Clouds" about a flirtatious but fleeing female is a treat that sounds like a cross between Lennon and early Floyd with a great ending that cuts off like the former's "I Want You (She's so Heavy)" into the next track with a four-count in a Liverpudlian accent reminiscent of Ringo. Beatles fans will have so much fun with "Into the Clouds," which features fantastic washes of psychedelic guitar by Whitehead and a great bass performance by newest Anderson Council member Simon Burke, the only one who actually is British. That four-count opens the streaming closer, "Wrong Way Out," a psychedelic skiffle that recalls every era of The Beatles from the Mersey Beat of their early days to the Beatlemania of their first EMI releases to the psychedelics of "Rubber Soul" and "Revolver" to the end of their career together when they became studio auteurs. 
The quasi-opening quasi-title cut, "Our Worlds Collide," which is preceded by a "Collision" sound effect, is a love song but in the form delicious power pop instead of a sappy ballad. A great line in the bridge – "Dizzy from a lack of oxygen. I'm giddy from the adrenaline" -- describes the excitement and breathlessness of a new relationship. 
It's interesting that the album cover depicts a black face and a white face but other than the color of the skin and hair, their features are the same. While the lyrics of "Our Worlds Collide" doesn't reflect the album cover, the Dylanesque "How Much How Long" makes a slight reference to New Brunswick's economic disparity, which for the most part, is an issue of race. As an album cover, however, "Worlds Collide" does seem related to race and perhaps is a statement about the way parts of the nation are reverting to ugly ways from barbaric times rather than realizing we're all brothers and sisters regardless of our cultural differences.  
See The Anderson Council live Aug. 31, John & Peter's, New Hope; Sept. 6, WRSU-FM's Overnight Sensations 100th Show, New Brunswick; Sept. 13, Asbury Park Brewery; Sept. 22, Main Street Highland Park, and Oct. 12 at Franklin Schoolhouse in Metuchen. 
With their pastoral, Northwest Jersey-churned improvisational roots rock, From Good Homes always have been one of the proudest points on the Garden State Music Map. And home they are coming from New Hampshire and South Carolina to reunite once again at Waterloo Village in Hackettstown. This time, it's for an Aug. 3 record release party for a great new album, "Time and the River."
The rollicking yet personal title track kicks off the meaty 11-song comeback with a bittersweet tale of love, longing and loss. The spirited fun of "Throw Up My Hands" comes next as a country-gospel romp with a frustrated political bend that both weeps and has hope for the future. In reference to making a difference, I love the line, "All you gotta do is have a heart," which also relates to the epic closing track, "Lady Liberty." 
One of the things that From Good Homes are best at is illustrating rural life with a charming vibrancy few other rock or country acts can rival. The opening of "Lady Liberty" is a great example that sets the scene for a powerful statement about immigration. Main singer-songwriter Todd Sheaffer compares the hope of the American Dream that the Statue of Liberty inspired in immigrants who came through Ellis Island to the nightmare of those being detained, neglected and abused in U.S. concentration camps on the Mexican border. Expressing history and empathy from the standpoint that all Americans are immigrants or descendants of them, "Lady Liberty" may be the Makin Waves Song of the Year. It certainly is the one to beat.
This lyric breaks my heart, and if it doesn't at least touch yours, you are inhumane: "I've come from a country torn with terror and strife, and I walk my children by the hand for a brand new life. And what's good for me is probably true for you: for a better life for your children, anything  you can do. Now I'm held at the border of the Land of the Free. I wait my days in an iron cage under lock and key." 
Also socio-political is "Homeland Security," a Dylanesque lament about our lack of care for the environment bolstered by Jamie Coan's fine fiddle playing, Dan Myers' quaint, yet powerful melodica solos, and a closing Native American chant that hammers home an important message about sustainability. Great at depicting nature and natural surroundings, From Good Homes also defend them. "Homeland Security" is an excellent example of how and why.
When originally together throughout the '80s and '90s, FGH never seemed like a jam band to me, but more a lyrical roots rock band who could improvise when they felt like it, much like Little Feat or The Band. Because many of their influences are jam bands whom their fans also greatly enjoy, From Good Homes were included in that scene. "Time and the River" will not disappoint those fans with five tracks that scratch a Grateful Dead itch on an hour-long outing whose songs average 5:30. Live, the album easily can stretch to a 90-minute opening set should the band choose. 
The first of the tasty Dead-like jams is "Sweet Spot," which also is a James Brown/Wilson Pickett-inspired groove. The delicious funk 'n' soul nugget makes great use of horns, particular Dan Myers' sax, as well as awesome performances by bassist Brady Rymer and drummer Patrick Fitzsimmons (Christopher Walken would want more cowbell). The break recalls the Dead with bubbly Jerry Garcia-like guitar licks by Jamie.
Even more Dead-like are: 
* "Tallahassee Trouble," an uplifting exploration of the sweet bye and bye as time passes away between old friends or siblings who haven't seen each other in a while within a recollection of the country and folk-rock of The Band and The Byrds, as well as The Dead's "Bertha"
* "Stick with Your Story,"a fusion of jazz and folk with a reggae tinge that fans of the Dead's "Fire on the Mountain" will enjoy, especially a great sax performance by Dan and bubble-like rhythm playing and sweet, soaring leads by Jamie
* "Don't Put off 'til Tomorrow," a warning against procrastination punctuated by a sweet slide guitar solo by Jamie
* "Bittersweet Falls," a great Fitz-sung tune featuring another great use of horns within a sweet bubbly mash up of The Dead and James Taylor that shares how and why to enjoy life more soulfully by singing through it.
It's wonderful to hear Fitz contributing songs and lead vocals. His "Back In The Day" also is an ode to the power of music, specifically the childhood soundtrack of 1973 when vinyl and 8-track recordings by Dobie Gray, Elton John, Roberta Flack, Dr. Hook and of "Me and Mrs. Jones," "Delta Dawn," "Space Oddity," Bad, Bad Leroy Brown," "Superfly," "Frankenstein" and "Monster Mash" scored such sweet memories as a first middle-school dance and fun summer nights before working papers. Kind of a cross between Jack Johnson vocally and melodically and novelist Thomas Wolfe lyrically, "Back in the Day" features a great verse that reflects on a first crush, while also remembering how bad fashion looked in 1973.  
Great as all the songs and performances throughout "Time and the River" are, I have to say that the album's star is Jamie. I always have been a big fan of his fiddle and mandolin playing, but on this album, he also shreds on guitar. Jamie is one of New Jersey's greatest musical exports. I so wish he still lived here. Our loss is South Carolina's gain also evidenced by "Sun and Rain," a gorgeous ballad by Todd that features patented FGH interplay between Jamie's fiddle and Dan's sax. Whereas that mix often melted into country-soul, on this track, it's more like chamber music, haunting in its layered beauty beneath a world-weary vocal by Todd that adds to the tale of experiential assuredness and priority.
"Time and the River" also features outstanding contributions from guest musicians. Northwest Jersey Grammy-winning music legend John Ginty adds soulful organ to "Lady Liberty" and "Tallahassee Trouble." The latter includes stellar pedal steel guitar playing by Marty Rifkin, an L.A. musician and producer who's worked extensively with Bruce Springsteen, as well as Jewel, Beck, Eric Clapton, Tom Petty, Glen Campbell, Dwight Yoakam and several movie soundtracks.