originally published: 08/12/2019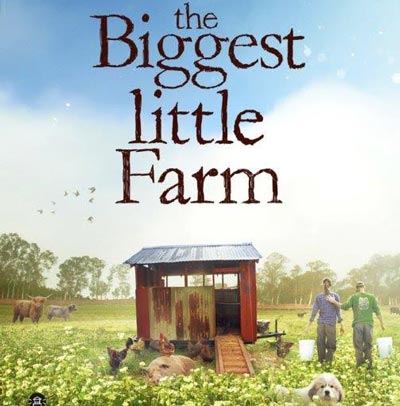 (LOVELADIES, LBI) -- The Lighthouse International Film Festival and The LBI Foundation of the Arts and Science will screen the award-winning, acclaimed documentary The Biggest Little Farm at the LBI Foundation on Friday, August 16 at 7:30pm. This is showing in theaters around the country and here on LBI ! The evening will include a Mini Farm Market presented by Sassafras Hill Farms and Soil to Soul, supporters of the evening. Admission is $5 and free for Children, Student and LIF Society members.
What would give up for the sake of your rescue dog?  Your careers? Your Home? Your lifestyle? Molly and John Chester did it all to keep a promise to Todd that he would always be the canine member of their family. Faced with eviction from their LA apartment due to Todd's constant barking, chef Molly Chester and John, her cinematographer husband, took a giant leap of faith and followed their dream of becoming sustainable farmers  and create a harmonious ecosystem. They purchased a 200 acre barren, rocky plot of land miles outside of the city that was the ghostly remains of past farms and set out create their vision literally from the ground up along with Todd. Enlisting the help of a biodiversity guru, they tackled problem after problem to successfully raise livestock and produce fruit, all organically. 
Coyotes, bug infestations, drought were all just part of the landscape they accepted as part of their new home. They discovered ways to incorporate those hardships into part of the life cycle of their farm striking an ecological balance with their environment. John directed video footage with stunning cinematography over their first eight years as farmers to create "The Biggest Little Farm" and bring it to the screen. 
Todd, the barking dog, is not the only animal star in the film. You'll meet Apricot Lane Farms residents like Emma the pig and her best friend, Greasy the rooster. There also herds of goats and sheep, flocks of chickens, ducks and guinea hens; horses, Highland cattle, and one brown Swiss dairy cow named "Maggie."
Altogether, the story captures the battle the Chesters fight every day to prove that a sustainable, organic, bio-diverse farm can be a reality. The farm now produces apricots, avocados, nuts, and variety of other fruits, along with eggs and meats sold at local farmers' markets and to restaurants. To learn more about Apricot Lane Farms you can visit them at https://www.apricotlanefarms.com.
---
The article continues after this ad
---
---
LIFF selects films that are award-winning, timely and cutting edge. Thank you to the businesses and volunteers who support the Lighthouse International Film Festival's mission to bring the best of independent films to LBI. Our business partners for Little Biggest Farm are Sassafras Hill Farm and Soil to Soul.