In an effort to promote racial and musical harmony and unity, Garden State Hip-Hop and Makin Waves have organized the Summer Rap 'n' Rock Tour with a dozen rotating rap, rock and DJ acts playing seven dates in six Mid-Atlantic cities. POSTER DESIGNED BY CHRIS ROCKWELL
Also featured this week are "Calling All Divas," Mint 400 Records, classic Sounds of Asbury Park at the Stone Pony, The Vaughns, Shred Flinstone, Art All Night, Fan Jam, and Patricia Arroyo.

Garden State Hip-Hop and Makin Waves Summer Rap 'n' Rock Tour will feature three groove-rock bands, four rap artists, three hip-hop bands or collectives and two DJs from July 12 to Monday, July 22, throughout the Mid-Atlantic.
The tour will present mixed bills to promote interracial relations, unity and harmony, while providing a great experience to deserving acts who lack the representation to schedule and promote an effective tour. Together, we have been able to do just that with very limited resources and means, but with a whole lotta soul.
The tour schedule will include: 

July 12, Asbury Park Music Foundation, co-presented by APMF and Independent Venue Week

July 13, The Fire, Philadelphia 

July 14, FM Bar, Jersey City, co-presented by The Rock-it Docket

July 19, Mill Hill Basement, Trenton

July 20, Sunnyvale, Brooklyn, co-presented by Excess dB Entertainment & Dadager Entertainment

July 21, Blackthorn, New Brunswick.

July 22, Happy Mondays@Wonder Bar, Asbury Park.
Tickets to the shows are $10, except Blackthorn and Happy Mondays, which are free. For complete lineups, set times and other details, visit facebook.com/makinwavescolumn/events. Also, hash tag #rapnrocktour on Facebook and Instagram. And for more about Garden State Hip Hop, the New Jersey music scene's premiere rap concert promoter, visit instagram.com/gardenstatehiphop/. 
Participating in the Summer Rap 'n' Rock Tour will be:
Here's what some of the participants have to say about the tour:
DBM: "The RnR Tour is a talent-rich Molotov cocktail of sound. To be on this roster, with these vivid, ground-breaking acts is a special opportunity. We will lift up everyone to a higher vibrational state. This is all about positive energy." 
Green Knuckle Material: "It's something that scene really needs. Hip-hop for some reason gets a bad reputation, but honestly, some of the most fun shows I've ever been a part of have been hip-hop shows."
Chris Rockwell: "This whole tour is gonna be fun as hell! I'm so psyched to be jumping on stage with all these phenomenal and diverse musicians. We're ready to get wild!"
Tommy Brennan, Blackthorn manager: "The Rap 'n' Rock Tour was very important for us to put on here at Blackthorn because, I personally love going to a bar where there is live music going on. Just seeing a thriving music culture and a business that cares about the artists and the music has always been a great time for me. We here at Blackthorn can't wait for this event, as it will be one of the biggest events we host here." 
Switch Mob: "This tour is what Switch Mob is all about. Combining unexpected genres is something we do, kind of like the makeup of our band.  Our different musical tastes and different ethnicities and skin colors somehow mesh in a magical way.  Just like the mixture of bands on this tour.  Come out and experience the magic!"
A special set will open the tour on July 12 at Asbury Park Music Foundation with a performance by students of the Hip Hop Institute, APMF's after-school music program for under-served teens in partnership with Lakehouse Music Academy and the Boys & Girls Clubs of Monmouth County.
"It's been an honor working with talented young up-and-coming artists at the Hip Hop Institute," Program Coordinator Myster-E said. "They've been working hard on their craft, and I look forward to seeing them share the stage with several other great musicians and artists at this Rap 'n' Rock show in Asbury Park! Let's get it!"
The tour will donate $350 to Asbury Park Music Foundation's music education programs for under-served youth across New Jersey. For more info about them, visit asburyparkmusiclives.org/programs. 
APMF also is a co-sponsor of the tour, as is Independent Venue Week, a seven-day celebration of small music venues and a nod to the people that own, run and work in them, week in, week out.
"We are pleased to be hosting the kick-off of the tour with such a great lineup of musical acts spanning across diverse genres," APMF Chairman Jim Lenskold said. "As part of Independent Venue Week, this event spotlights Asbury Park's support of diverse genres, as well as our many great independent venues."
Other Rap 'n' Rock Tour sponsors are Tito's Handmade Vodka, Massage by Design, and Karma Cartel, Chris Rockwell's company, which designed the tour poster. Tour highlights include Tito's Handmade Vodka drink specials at participating venues and chair massages from Massage by Design at APMF and Blackthorn.
The tour also marks the return of the Makin Waves July Baby Birthday Bash at Blackthorn on July 21, my birthday. In its early days in the late '80s and early '90s, Makin Waves hosted a party for everyone in the New Jersey music scene whose birthday was also in July. The free Blackthorn show marks the first time in more than 25 years that the bash will be celebrated once again with a free birthday sheet cake and other fun.
Speaking of Asbury Park Music Foundation, the invaluable music resource, once again will host free concerts three days a week for the summer. The three series bring different styles of music so there is something for everyone. Music Mondays at Springwood Park has diverse styles, including soul, funk, R&B, hip hop and jazz. The Asbury Park Live series on Wednesdays features emerging local bands and the Asbury Park Concert Band brings a big band sound to the boardwalk every Thursday. Nearly 30 shows are supported by sponsors, including Makin Waves, who bring the community together for free live music, while also raising money for APMF's youth music education.
From June 24 to Aug. 27 (final show is a Tuesday), Music Mondays will feature Dorian Parreott's All Stars, June 24; Layonne Holmes & the Motor City Review, July 1; Louis Prima Jr. Band, July 8; Mighty Kings of Soul feat. JT Bowen, July 15; Des & the Swagmatics, July 22; Al Covington Band, July 29; Waiting on Mongo, Aug. 5; Funktion, Aug. 12; Sandy Mack's All Stars' "Grateful for Motown," a the Dead and Jerry Garcia's take on the classic soul label, and Sensational Soul Cruisers, Aug. 27 (Tuesday show). This year will include a farmer's market provided by Community Greenmarket Organizers in collaboration with Interfaith Neighbors and the Mayor's Health & Wellness Committee to promote healthy food choices and living. Vendors will include Kula Urban Farm and Dean's Market. Neighboring Kula Café will provide food inside, as well as outdoor café seating and a to-go menu. Sponsors are Interfaith Neighbors, Spring Lake 5K, Asbury Park Press, Madison Marquette, NJ Natural Gas, Mullin Foundation, Arrow Limousine, Rockrete Recycling, Asbury Audio and the City of Asbury Park.
Wednesdays throughout the summer will be filled with music on the Asbury Park Boardwalk at the First Avenue Green next to Watermark and MOGO Taco stand. 
Each show opens with two sets by youth bands from Lakehouse Music Academy, many of which feature scholarship students supported by the APMF. Sponsors include Mogo, Watermark, Pepsi, Ansell Grimm & Aaron, Stone Pony, Lakehouse Music Academy, Asbury Park Food Commissary, 1st Constitution Bank, Live Music Loyalty, Asbury Park Distilling, Makin Waves, Pucker and Crepe Shop. Their sponsorship includes a donation to APMF. Last year, the sponsorships funded a Latin Experience Youth Music Camp at Lakehouse Music Academy. This year, money raised will provide under-served local youth with scholarships to the Songwriters Summer Camp, a two-week program run by Lakehouse. APMF provides access to kids who otherwise would not be able to attend.
Performing will be Sonic Blume and The Vaughns, June 26; Dark City Strings and Jackson Pines, July 3; Waiting on Mongo and Alexander Simone & WhoDat!, July 10; Black Suburbia Music Group, Blaise and Pamela Flores, July 24; Latewaves, Well Wisher and The Extensions, July 31; The Vansaders, The Tide Bends and Sunshine Spazz, Aug. 7; Rachel Ann Dobken and The Mercury Brothers, Aug. 14; Vendetta Rose and B. Wood & Co., Aug. 21, and Connor Bracken & the Mother Leeds Band and Shoobies, Aug. 28. 
Asbury Park Concert Band's 74th season will feature different themes each week, including Broadway, patriotic, and big band jazz music, as well as children's concerts during which talented students play a portion of the show. 
Mayor's Summer Concert Series in Woodbridge, the largest free municipal music program in the state, kicks off June 19 with a solo set by Jethro Tull's Martin Barrel, the first of nearly a dozen acts who will perform in the weekly Woodbridge Wednesday through Sept. 4 in Parker Press Park. Others will include Amy Helm, June 26; The Weeklings, July 31, and Remember Jones, Aug. 21. With free live music five days weekly, the Summer Concert Series also will include Country Sunday, Golden Oldies Monday, Tuesday Tributes and Local Band Thursday. 
"We have an amazing array of acts this year that will appeal to every generation of concertgoer," McCormac said. "My favorites are the Bruce Springsteen and Eagles tribute acts. They're my top 2, Bruce and Eagles."
On the lawn of Woodbridge High School, Best of the Eagles will play July 2 at Tribute Tuesdays, while B-Street Band will play Aug. 27. More than 50 free shows are happening in Woodbridge all summer. Here's a look at the entire series:
Country Sunday, 6 p.m., Parker Press Park, 400 Rahway Ave., Woodbridge: June 30, Southern Steel; July 7, Parrot Beach (Jimmy Buffett tribute); July 14, Cash Is King (Johnny Cash tribute); July 21, The Hillbenders; July 28, The Linda Ronstadt Experience; Aug. 4, Kinderhook; Aug. 11, Panama Dead (New Riders of the Purple Sage tribute); Aug. 18, The Everly Set (Everly Brothers tribute), and Aug. 25, The "The Band" Tribute. 
Golden Oldies Monday, 7:30 p.m. Woodbridge High School lawn, 1 Samuel Lupo Place: June 24, The Duprees and Gerard Esposito; July 1, The Fabulous Greaseband and Jukebox Legends; July 8, Johnny Maestro Tribute Band and Blu Lilly; July 15, Stan Zizka's Del Satins and The Belle Towers; July 22, The Capris and Nosstalgix; July 29,  Mahoney Bros.; Aug. 5, The Cameos and Stiletto & Saxman; Aug. 12, Sounds of the Street and Teresa & Emil; Aug. 19, Shadows of the 60s, and Aug. 26, The Infernos.
Tuesday Tributes, 7:30 p.m. Woodbridge High School lawn: June 25, Sail On (Beach Boys); July 2, Best of The Eagles; July 9, The Doobie Others; July 16, Starman (David Bowie); July 23, Green River (Creedence Clearwater Revival); July 30, Broken Arrow (Neil Young); Aug. 6, Guthrie Brothers (Simon & Garfunkel); Aug. 13, Back to the Garden (Woodstock); Aug. 20, New York State of Mind (Billy Joel), and Aug. 27, B-Street Band (Bruce Springsteen).
Woodbridge Wednesday, 7:30 p.m., Parker Press Park: June 19, Martin Barre of Jethro Tull; June 26, Amy Helm; July 3, Fireworks in Alvin Williams Park, Port Reading Avenue, Sewaren; July 10, Jann Klose Band and Matt Nakoa Trio; July 17, Duke Robillard Band; July 24, Daby Toure; July 31, The Weeklings; Aug. 7, Larry Campbell & Teresa Williams; Aug. 14, Tami Neilson; Aug. 21, Remember Jones; Aug. 28, Emily Duff Band and The End of America, and Sept. 4, Ed Palermo Big Band with Rob Paparozzi.
Local Band Thursday, 7:30 p.m. Tanzman Park, 437-443 Pearl St., Woodbridge (no show July 4): June 27, Blame It on Richie and the Girl; July 11, Shaman; July 18, 9 South; July 25, Black Rose; Aug. 1. Dead Cowboys; Aug. 8, Marty & the Martians; Aug. 15, Seven Stone; Aug. 22, Shore Soundz; Aug. 29, The Neighbors, and Sept. 5, Revolver. 
Academy Award-winning "Dirty Dancing" songwriter Franke Previte returns to his Jersey Shore roots this summer to present his new all-star musical, "Calling All Divas" on July 11 at Monmouth University Center for the Arts in West Long Branch. The pop, rock, soul and country hit parade joyously celebrates music, friendship and the power of sisterhood with the promise you'll "Have the Time of Your Life!" The show stars four very different women, years apart in ages and backgrounds, but whose talents have no division. The Un4gettable divas are led by Broadway performer and Radio City Rockette Lisa Sherman, Philadelphia R&B vocalist Carol Riddick (Jill Scott, Will Downing), Nashville siren Trenna Barnes (Cowboy Crush, "Ring of Fire") and newest cast member from NBC's "The Voice," Alessandra Guercio as a blossoming subway singer. The show also features Frank Dicopoulos, another Jersey Shore guy best known for his 22 years on the soap opera "Guiding Light" as the club owner.
Together, the four women reveal "there's a star in all of us," as they bring audiences to their feet through an inspiring journey of musical empowerment jam-packed with timeless hits of the past five decades, ranging from Etta James to Kelly Clarkson. Proving that everyone is a diva and every woman is special inside, "Calling All Divas" transports audiences on a musical journey as the women compete to become the world's next female singing superstar in a last-ditch effort devised by a hopeful hit songwriter, desperate to save a legendary nightclub.
The affirmation is delivered through the journey of Frankie, the struggling songwriter, as he scours the city to find that next "Un4gettable" female voice. Along the way, he finds far more than he could have imagined. True to the show's musical design, the journey of Frankie is in many ways the journey of its creator, Previte, from aspiring New Jersey songwriter to Academy Award and Golden Globe winner for "(I've Had) The Time of My Life," a song that some 30 years on, remains one of the most frequently played in the world.
"I wanted to develop a hybrid ― a concert that morphed into a play with a thread of a storyline that empowers these girls in ways that allow the audience to relate to each of them," says Previte. "We have a Broadway rocker, a country girl, a gospel singer, and a young subway singer, and it's just incredible to watch them seamlessly meld together into a group we call The Un4gettables. Each one is at the top of their own game, even this little subway singer. What blows me away, is the combination of their instant sisterhood and individual and collective power."
North Jersey indie Mint 400 Records is makin waves with new releases and upcoming shows. Sink Tapes and Tri-State have new albums out. Sink Tapes' latest is "Enough to Flood the Cow," while Tri-State have offered "Hey Pal." New label signings include The Campbell Apartment from San Francisco and Tim Carman & the Street 45s from Boston. Also coming soon from Mint 400 will be releases by New Brunswick-based The Clydes and the debut of Asbury Park-based The Extensions, who'll play together July 15 with label mate Mike Chick of Yawn Mower and Serpent Worship, a new Jersey City two-piece featuring Mint 400 artist Tony Saxon, at Mint 400's takeover of Happy Mondays at the Wonder Bar in Asbury.  
Other upcoming Mint 400 shows include 2 PiecePalooza with aBIRD, Yawn Mower, The Components and Serpent Worship, June 14, Stosh's, Fair Lawn; Scary Hours record release party, June 15, Harp 'n' Bard, Clifton; The Extensions, Finding Feebas, Fake Pockets and Bohemians, also June 15, John & Peter's, New Hope; Rosey Bengal album release party, June 20, FM Bar, Jersey City; Sink Tapes, Kate Sikora and Nick of Shithead's Rainbow, July 16, Pet Shop, Jersey City; Rosey Bengal, Pioneer the Eel, The Furies, Fairmont, and 21 Kings, July 19, Stosh's, and The Furries and Bliss, Sept. 19, Showroom, New York City.
Do you love the classic Sounds of Asbury Park? Well, The Stone Pony, the club that helped launch that sound worldwide, will be presenting several shows this summer steeped in those glory days. John Cafferty & the Beaver Brown Band will perform June 15; Max Weinberg's Jukebox, June 27; the Springsteen tribute Tramps Like Us, July 3, and Southside Johnny & the Jukes, E Street Band bassist Garry Tallent backed by his old friends The Delevantes, and Remember Jones, a popular contemporary act who helps keep the rock 'n' soul Sounds of Asbury relevant. 
Congrats to The Vaughns, who will open for Brian Fallon of The Gaslight Anthem on June 22 at New York City's Irving Plaza, one the Springfield-based band's biggest gigs to date. In support of their great new LP, "FOMO," The Vaughns then will embark on a month-long summer tour that will kick off July 4 at White Chapel Projects, Long Branch, and continue July 10, The Bowery Electric, New York City; July 14, Mac's Bar, Lansing, Mich.; July 15, Buzzbin Art & Music Shop, Canton, Ohio; July 16, The Ballet Haus, Erie, Pa.; July 18, Mohawk Palace, Buffalo, N.Y.; July 19, The Joint, Toronto; July 20, La Vitrola, Montreal, and July 27, WXPN's XPoNential Music Festival in Camden this summer with Elvis Costello, Blondie, The Wood Brothers, Low Cut Connie, Sister Sparrow & the Dirty Birds and many more.



Shred Flintstone will celebrate the release of their latest album, "Lois," on June 22 at the Meatlocker in Montclair with Spowder and Godcaster. All proceeds from downloads of the eight-song effort will go Planned Parenthood to defend the rights and choice of women. The trio produced the album at New Brunswick's In the West with co-owner Phil Connor of Glazer.
Looking for some rock 'n' roll that the entire family can enjoy? Then check out Fanwood's third annual free Fan Jam, featuring the B Street Band's tribute to Bruce Springsteen, Experiment 34, Amethyst, Three Piece Nugget, and the Fan Jam Jelly Band, plus a food truck festival, classic car show, beer & wine garden and kids zone.  All will take place June 30 in Lagrande Park. 
Congrats to the bands playing Art All Night on June 15 and 16 Roebling Iron Works in Trenton. They include Bern & the Bastards, Chalk & the Beige Americans, Cook Thugless, Experiment 34, Kahlil Ali, Love? Said the Commander, Molly Rhythm, Party Show, Pepperwine, Ruby Rainbow, Russo Music Ukulele Class, Rust N' Stardust, The Hobo Style, White Cactus, Zay the Profit and much more. Highlights also will include upcycled art bikes, live skateboard painting, live murals, live blacksmithing, a skateboard mini ramp, a recreation of Asbury Park's The Garten in memorial to the late Joe Harvard, New Jersey State Museum's kids zone, an array of food trucks, of course, works by hundreds of artists and much more.  
Asbury Park artist Patricia Arroyo is pictured with her new mural, "Day of the Dead Tillie," as well as her daughter, Alana. PHOTO COURTESY OF PATRICA ARROYO
Makin Waves Resident Artist Patricia Arroyo has some exciting news. She recently painted a new mural in her base of Asbury Park, "Day of the Dead Tillie," which she said symbolizes the rebirth of Asbury Park with the legendary Palace Amusements icon donning a Mexican sugar skull with the old carousel as a crown. Patty's works also can be seen at her next exhibit, "Mostly Blues," in the Terner Gallery of the Ocean Township branch of Monmouth County Library. The two-person show also features Patty's friend Maria Cristina Borrero. The blue-themed 40-piece exhibit will run from June 30 through mid-August. The opening exhibit will be from 2 to 4 p.m.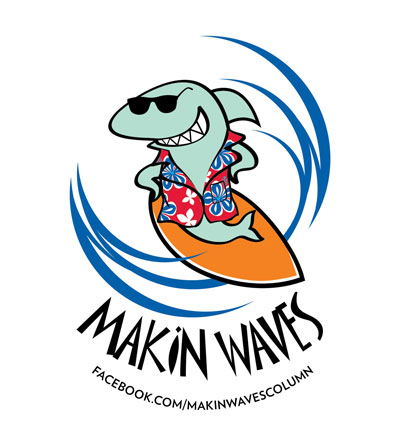 Bob Makin is the reporter for MyCentralJersey.com/entertainment and a former managing editor of The Aquarian Weekly, which launched this column in 1988. Contact him at makinwaves64@yahoo.com. And like Makin Waves at www.facebook.com/makinwavescolumn.