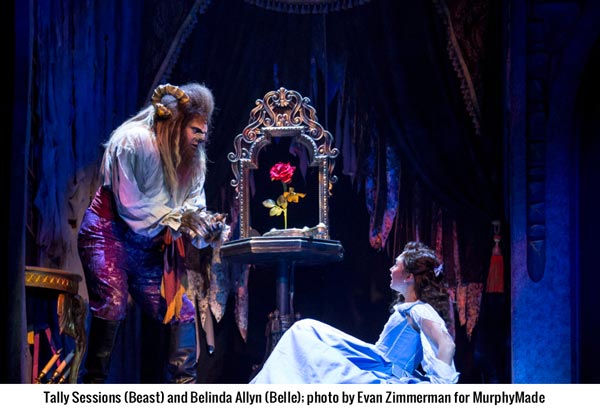 The Paper Mill Playhouse completes their 2018-2019 Season with the Disney classic musical Beauty and the Beast. In a word, this production is Outstanding! Under the direction of the Paper Mill's Artistic Director Mark Hoebee, Beauty and the Beast entertains and has something for everyone. It is a great family show that enchants the audience in a way that few shows do. If you missed seeing it on Broadway, come see this production as it is just as good as you would see in New York City.
Background Information on 'Beauty and the Beast'
The musical Beauty and the Beast comes from the 1991 Disney film of the same name. It became Disney's first entry onto Broadway stages in 1994. With music by Alan Menken, lyrics by Howeard Ashman and Tim Rice, and a book by Linda Woolverton, it was a major hit on Broadway and ran for 13 years. It continues to tour and is a favorite choice of school productions.
In his Director's Notes, Mr. Hoebee writes about his own time being a part of that Broadway production in the very early months of the show. He writes, "Though my time with that production was relatively short, I still remember it as one of the most joyful experiences I've ever had as a performer." He further writes, "I'm so happy to return to this show, more than two decades later, and to have this opportunity to see it from a different perspective. I continue to be moved by this story and its beautiful message. . ."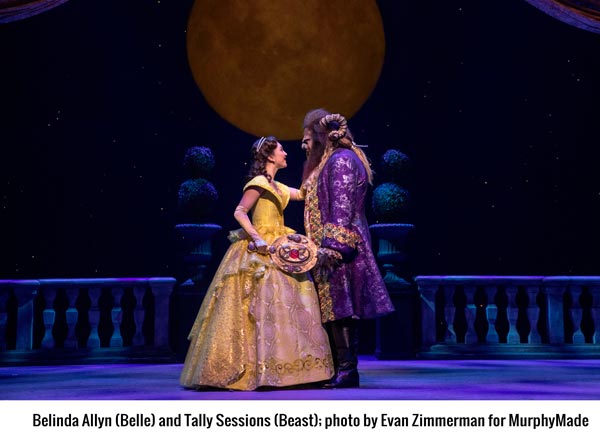 Yes, this show has a way of drawing you in and allowing you to see things from where your own interest lies. Children will be fascinated by the actual story and the unique characterizations. Music lovers will be dazzled by the songs. People who enjoy seeing special effects will be delighted with the staging of the show. And those who enjoy seeing shows with good, solid themes will also have a lot to think about. Beauty and the Beastcenters on the idea that true beauty resides within ourselves. It also shows the power of love to transform us for the better.
---
The article continues after this ad
---
---
The Fairy Tale
The story begins with a display of silhouettes on the main curtain of a young prince and an old woman on a stormy night. The old lady asks him twice for help and he is so repulsed by her looks that he turns away. Only when she transforms into a beautiful enchantress does he want to bring her in from the storm. She places a curse on him that transforms him into a hideous beast. The curse extends to the household where his servants begin to transform into objects. The enchantress gives Beast a rose and tells him the only way the spell can be broken is when he truly learns to love and is given love in return.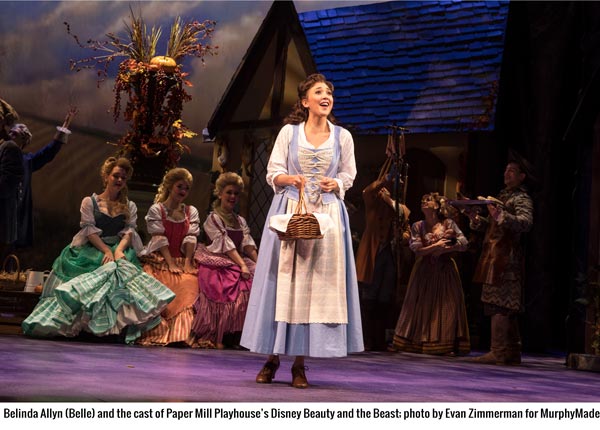 Belle enters the story as a girl who loves books and is thought of as a bit different from the rest of the town girls. Gaston meets Belle and wants to marry her but she wants no part of him. Belle's father, Maurice, is an eccentric inventor. She loves him deeply and goes to find him when he disappears in the woods. She finds him in the dungeon of the beast as his prisoner. Belle, in her love for father, agrees to change places with him if Beast sets him free. He does and rather than imprison her, he allows her free access of the house except for the area where rose is held. The servants see hope in Belle being the one Beast could love and they do their best to encourage the romance.
The rest of the story is the kind of material that fairy tales are made of. Belle and the Beast declare their love for each other. Then it's a very happy ending as the Beast returns to his human princely self and the household objects become human again. Everyone ends up happy.
You don't need to be a child to enjoy a good fairy tale. All you need is the willingness to be open to the ideas told in the tale. Along the way, there are a lot of funny moments in the show. But there are some serious times as well making it a show that has a broad appeal.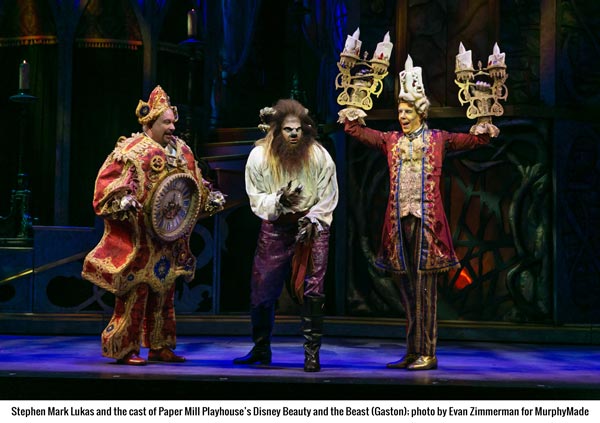 Characters
Without a doubt, the characters in Beauty and the Beast are amazing to watch. This holds especially true for the household where people are in the process of becoming objects as time goes on. However, the town people also give an interesting look at how society views people who are different. And some of it isn't pretty.
Belinda Allyn gives a wonderful performance as Belle. She is so forthright in her acting that you believe she is Belle. She also has a marvelous singing voice. Her father, Maurice, is played by Joe Blum. Mr. Blum puts a warm spin on his character as he tries to sell his inventions and yet care for his daughter too.
Gaston is the town's hunky male who attracts women easily but is really full of himself. Stephen Mark Lukas provides a fine combination of bravado and lack of humility as he struts his stuff trying to impress Belle. Kevin Curtis, plays Gaston's sidekick Lefou, who takes a lot of guff from him but also evokes a lot of laughs from the audience. Other town characters include Monsieur D'Arque and the Bookseller both played by David Michael Gerry.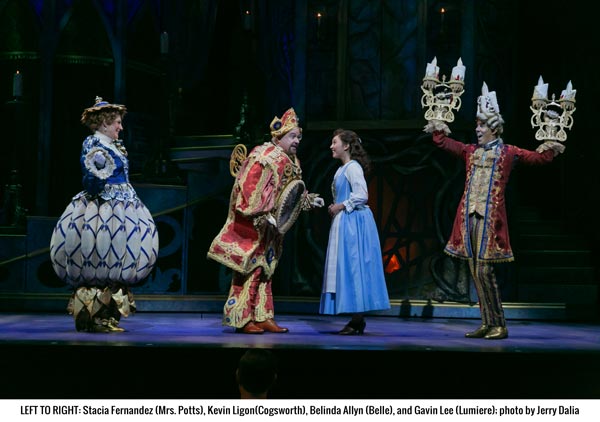 Tally Sessions plays the Beast/Prince. Mr. Sessions gives a strong performance with his singing, frightening howling and his humorous attempts to woo Belle. The Beast's household is inhabited by his servants in various states of transition to objects. Their humor and ability to move in some well designed but unusual costumes is fun to watch. The players include the following actors: Cogsworth – Kevin Ligon, Lumiere – Gavin Lee, Babette – Jenelle Chu, Mrs. Potts – Stacia Fernandez, Chip – Gianni David Faruolo (evening performances) and Antonio Watson (matinee performances). Also there is Madame de la Grande Bouche – Donna English.
Playing in the ensemble is a multi-talented group of people who play townspeople and enchanted objects. Their dancing and singing provides many delightful moments in the show. Members of this ensemble include Joe Bigelow, Monica Cioffi, Brittany Conigatti, and Justin DeParis. Also included are Stephen DiBiase, Jennifer Evans, Annie Gagen, David Michael Garry, Lauren E.J. Hamilton, Leeds Hill, Brett Michael Lockley, Michael Milkanin, Corinne Munsch, Brett Pederson, Alexa Racioppi, Taylor Rosenberger, Molly Rushing, Bronwyn Tarboton, Matthew Vincent Taylor, and Cynthia Thorne.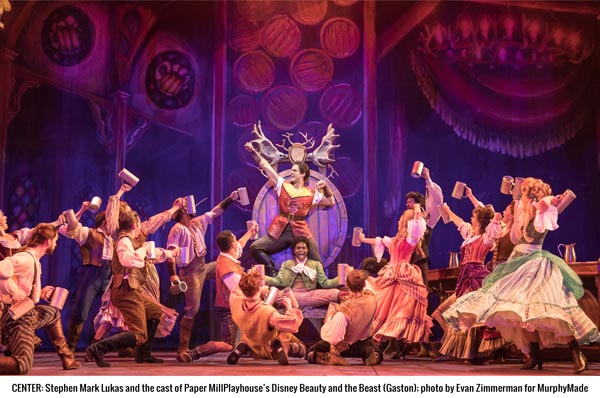 The Music
There are so many songs in this show that have become part of our culture. "Be Our Guest" is one of the highlights of the show as the enchanted objects welcome Belle to the household. Another thrilling number is "Gaston" where dancing and the clicking together of silver cups takes place. The Beast singing "If I Can't Love Her" closes out the first act on a very poignant note. And of course, the song that emerged from this show as its main theme, "Beauty and the Beast" comes in the second act as the two of them begin to fall in love. Music Direction is by Michael Borth and Choreography is by Alex Sanchez.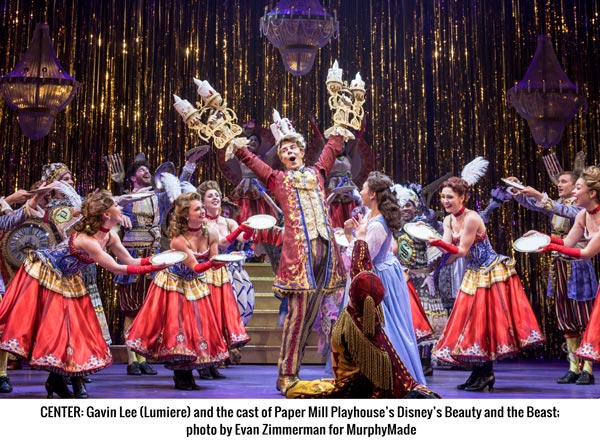 Sets, Lighting, and Special Effects
The Paper Mill Playhouse makes good use of its very large stage. It is cleverly designed to switch easily between the town, the wolf infested woods, and the home of the Beast. The lighting cleverly reflects moods by changing colors to reflect feelings as music plays during the overture. The scene where the Beast is transformed to the handsome Prince brings in a number of special effects to allow a feeling of excitement as the spell is broken.
High marks go to the creatives and production crew for this show. They include scenic design by Kelly James Tighe, costume design by Leon Dobkowski, and lighting design by Charlie Morriso. The sound design is by Matt Kraus, hair and wig design by Leah J. Loukas, makeup design by Dena Olivieri, and fight direction by Rick Sordelet and Christian Kelly-Sordelet.The production stage manager is Andrea Cibelli.
---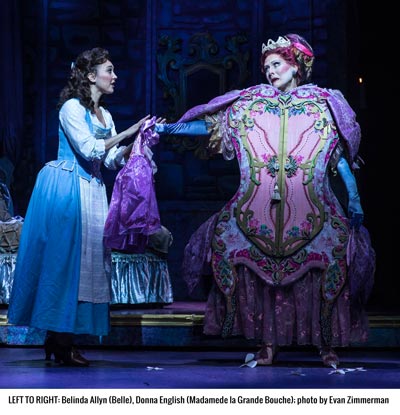 Additional Information for 'Beauty and the Beast'
Running Time: 2 hrs. 30 min. includes one 15 minute intermission
Location: Paper Mill Playhouse, 22 Brookside Drive, Millburn, NJ
Performances: Now through July 3rd. Wednesday at 7:00pm, Thursday at 1:30pm and 7:00pm, Friday at 7:00pm, Saturday at 1:30pm and 7:00pm and Sunday at 1:30pm and 7:00pm. 
PLEASE NOTE: Due to popular demand, there are four added performances: Tuesday, June 18, at 7:00pm, Tuesday, July 2, at 7:00pm, Wednesday, July 3, at 1:30pm & 7:00pm.
Contact for Info and Tickets: Tickets may be purchased by calling 973.376.4343, at the Paper Mill Playhouse Box Office at 22 Brookside Drive in Millburn, or online at www.PaperMill.org.
Suggested Audience: This show is good for all ages. It is good family fun.
Accessibility Performances:   Audio-described performances are on Saturday, June 22, and Sunday, June 23, at 1:30pm. Prior to these performances at noon, the theater will offer free sensory seminars.
There will be a sign-interpreted and open captioned performance on Sunday, June 23, 2019, at 7:00pm.
Autism-Friendly Performance: Wednesday, June 26, at 1:30pm.
Free Audience Enrichment Activities for Disney's Beauty and the Beast:
 Conversation Club: Attend Thursday evenings, June 6, 13, and 20 one hour before curtain for an informal, informative gathering. You'll learn more about the performance you're about to see. 
 Q&A With The Cast: After the matinee on Saturday, June 22.
---
Let's Go to the Theater
helps people learn more about about live theater and develop appreciation for this art form. Karen M. Nowosad is the founder of the site. The enjoyment Karen gets from going to the theater is something she wants to share with others.
---