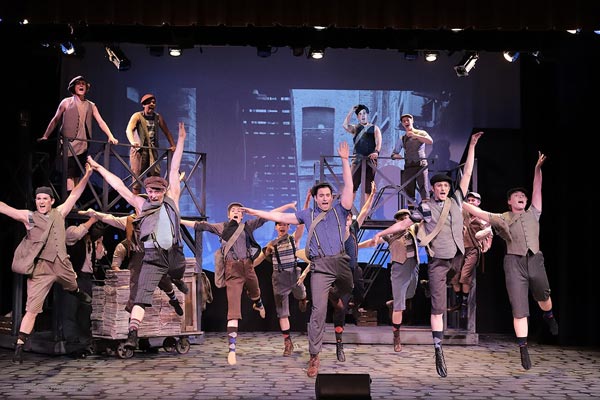 The Cranford Dramatic Club Theatre, a 2018 NJACT Community Theater of the Year, is closing out its 100th season with Disney's Newsies: The Broadway Musical. My eleven-year-old son and I attended the opening night, which was sold-out and thoroughly enjoyable. Before the performance, Assemblyman Jon Bramnick presented Joe Leo, CDC President and co-producer of Newsies, with a proclamation in honor of the theater's 100th year. It was apparent by the audience's cheers CDC Theatre has a deep history and dedicated supporters.
Newsies was originally a 1992 film produced by Disney and later a Tony Award-winning Broadway musical, which premiered at the Paper Mill Playhouse. Based on the Newsboys Strike of 1899 in New York City, the show opened with paperboy Jack Kelly, played by Shane Long, dreaming of a better life in Sante Fe. Long succesfully highlighted the young man's hard-knock circumstances in the first few notes; he gave the perfect balance of charm and trouble. In the opening number, "Carrying the Banner," he and his fellow newsies ignited the stage.
The show was full of energetic performances, especially by Long, Nate Shectman as "Crutchie," Justin Robertazzi as "Davey," and young Cole Lesser as the adorable "Les" -- who stole the show whenever he was on stage. Matt Burns was extraordinary as the villain, owner "Joe Pulitzer," who hikes the price of "papes" and sets in motion the conflict with the boys. Even though their strike has repercussions for them, the Newsies are veritable underdogs and the audience enjoyed watching them fight, sing, and dance.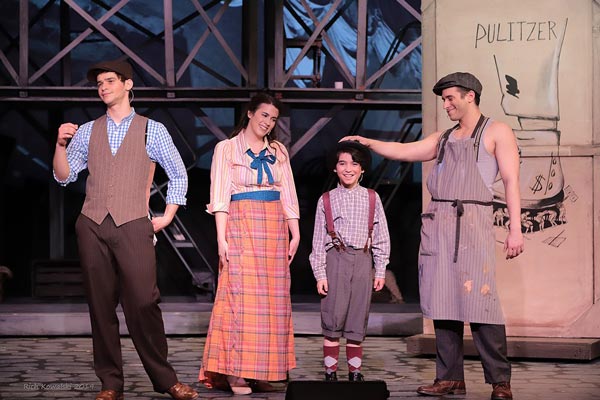 On a stage full of talented men were two women who shone in their own performances. Sandra Ward played "Medda," a theater owner and ally of Jack's. Ms. Ward's rendition of "That's Rich" was full of life. Jenna Ravenda was absolutely fabulous. She gave a stellar performance as "Katherine Plumber" the plucky news reporter and -- in true Disney fashion -- Jack's love interest. Her solo "The World Will Know," in which she outlines her pursuit of justice and debates her feelings for Jack, won over the audience. She and Long had excellent chemistry on stage throughout the show as well.
The CDC production team created a gritty turn-of-the century NYC through the props and turn-of-the century costumes. Scaffolds served as interchangeable structures: the boys' rooftop sleeping quarters, Newsie Square, and the backstage balcony of a theater. Juxtaposed against their gloomy circumstances was a liveliness in the upbeat tunes and bright lights. The audience was able to balance two sentiments: the dire straits of child labor and the hopeful efforts of youth who seek change.
---
The article continues after this ad
---
---
Newsies is a musical with catchy tunes and a family-friendly feel. This was most apparent in the dancing, which was so much fun to watch. Choreographer Amanda Grace is to be commended for her mix of acrobatics and dance combos for the nearly all-male cast. Try not to blink during the tap number, "King of New York." It was an audience favorite indeed. Ultimately, director John Menter and his team were able to tell a dynamic story about the power of youth in the face of adversity. And they proved there is a great deal of talent in community theater.
Early in Act One, Medda tells Jack, "Where better to escape trouble but the theater!" Escape your troubles this week and go see the CDC Theatre's production of Newsies. Performances are May 3-May 18; Fridays & Saturdays at 8:00pm; Sunday 5/12 at 2:00pm
CDC Theatre is located at 78 Winans Avenue in Cranford, New Jersey. For more information or to purchase tickets, click here.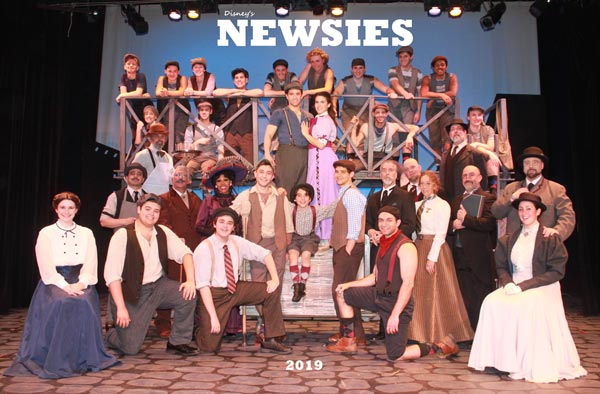 PHOTOS: Top 2 photos by Rich Kowalski.  Bottom photo by Joe Leo
---
Taryn teaches Contemporary Literature and Creative Writing at County Prep High School, Hudson County Schools of Technology in Jersey City, NJ. She has an M.A. in Literature and Creative Writing from Fairleigh Dickinson University. Recently she was published in
School Library Journal
. She can be contacted at
tarynashe@gmail.com.
---