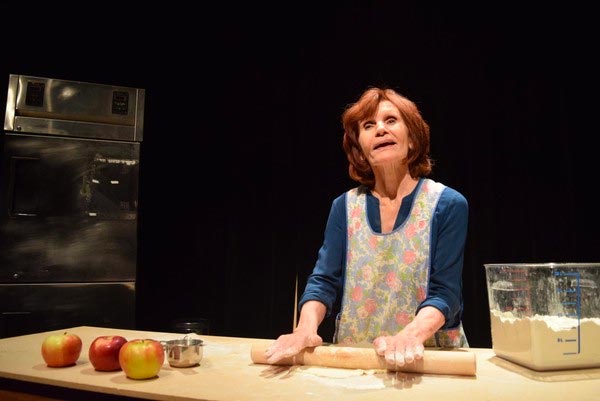 Jennifer Fawcett's new play centers around a mother in a kitchen, doing something countless people across America will take part in over the upcoming holiday season: making an apple pie.
But this pie is more ominous than most.
"Apples In Winter" — which the Centenary Stage Company in Hackettstown is staging from Nov. 8-18 — is about Miriam, whose son is on death row for murder and requests a slice of her trademark dessert as his last meal. Miriam travels to the prison's kitchen to bake it.
Fawcett calls it an "impossible situation."
"Food is something that's used for comfort and ritual," she says. "If your child asks you for food to comfort them, I feel it's very much a parent's impulse to do that — to want to comfort your child. But by doing that, she is then also taking part, essentially, in this horrendous thing."
"To me, that makes for really interesting theatre," Fawcett adds. "Because it puts us in this moral and ethical gray area."

The baking isn't faked. The actress playing Miriam makes the pie from scratch in front of the audience at the Lackland Performing Arts Center, filling the theater with the aroma of apples, cinnamon and nutmeg.
And that adds another level of conflict.
"You smell this wonderful warm pie that makes you think of home and comfort," says Mikaela Kafka, the play's director. "Yet there's an uncomfortable situation going on."
This is actually the second of three world premieres for "Apples In Winter." It's part of the National New Play Network, in which a rookie show debuts at multiple theaters across the U.S. in one year. The play was put on first at Riverside Theatre in Iowa City, Iowa, and will next come to the Phoenix Theatre in Indianapolis.
Fawcett grew up in Ontario, Canada, and started as an actress. But she caught what she calls the "playwriting bug" 20 years ago.
She later moved to Iowa, where she founded the Working Group Theatre with her husband, Sean Christopher Lewis. They now live in Albany, N.Y.
The idea for "Apples In Winter" came when Fawcett began collecting stories about food for their theater. She says her husband showed her a tale of a mother being asked to make a last meal.
Fawcett submitted a one-page proposal to the National New Play Network. Several months later, she learned she won the group's prestigious Smith prize.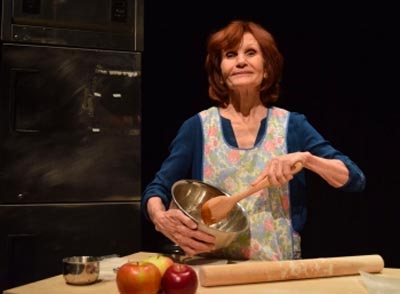 But in that time, something had changed: Fawcett became pregnant with her first child, a son.
"When you're becoming a parent, I, at least, had a lot of time thinking about: How can I be a good parent?" she says. "I had good parents. How do I help this little human become the best that he or she should be? It's kind of terrifying to be then in the position of writing this play about someone who really didn't do her best."
The result is a story brimming with complex questions. It takes place two decades after the main character's son, Robert, murders two people while in the midst of drug withdrawal.
"(Miriam) talks a lot about how she feels she did everything she was supposed to do," Fawcett says. "Her son came from a stable home. What went wrong? What did she miss?"
The play is also timely. The U.S. continues to deal with a drug epidemic. More than 72,000 people died of drug overdoses in 2017, according to the National Institute on Drug Abuse. That's more than double the number from a decade ago.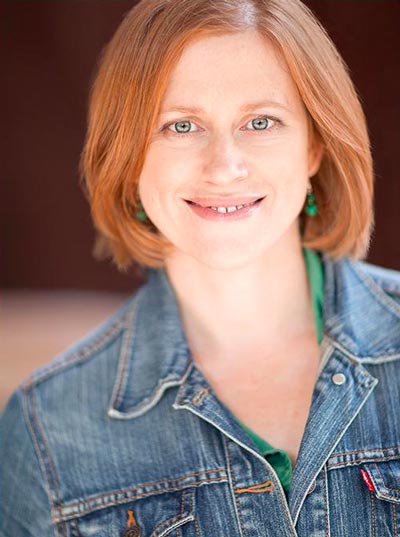 One goal of the show, Fawcett says, is to create empathy, because the families of those who are addicts or criminals are "usually invisible."
"There's a lot of focus — as there should be — on the victims and the victims' families," Fawcett explains. "But the people who are the criminals also have families, too, and they are also victims."
"And there's often questions when a young person does something," she adds. "Who are the parents? Where did this person come from? We want to understand: Where was this monster created? So here is a mother who is essentially saying, 'I guess I created a monster. I love the monster. I hate what he did. But I still love my son.'"
Making Robert apple pie was a tradition for Miriam. And the playwright says there's a simple reason she chose that dessert over something like cupcakes or cookies.
"There's something about apple pie that just feels so iconic," Fawcett says. "It's so homey. It's a very simple food."
If the whole show sounds a little dark, Fawcett agrees.
"But there's also a tremendous amount of love in it," she says. "It's also about the depth of love between a parent and child, and how that love can and sometimes has to withstand the complexities of that relationship. And how you can love somebody but not their actions."
Kafka, the show's director, says it all reflects how life isn't black and white.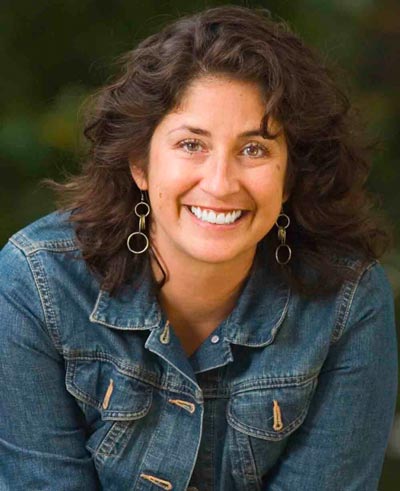 "So many people have been looking at (life) as black and white," she says. "And we're losing our empathy due to that. I think watching somebody go through this and step into their shoes just for a little bit, you don't know what that person has gone through that day and what their actual story is until you've been there."
Fawcett says she was also inspired to write a strong role for an older actress.
"There's not a lot of great roles for older women," the playwright says. "And yet the women who are still acting who are in the 50s and 60s and 70s are amazing actresses. If they've lasted that long, they've got chops. It's such a pleasure and an honor to be able to work on this piece with actresses who bring so much experience and depth to the role."
Like Colleen Wallnau, who plays Miriam at Centenary Stage. The actress not only had to develop the character — she had to learn how to bake, too.
"Now I'm actually proud of myself that I am able to make a pretty decent pie," she says. "My husband, he keeps eating them, encouraging me. I've been giving them to neighbors. We've been eating a few here at rehearsals."
"By the time this is over," Wallnau adds, "I may not touch another one for a good long time."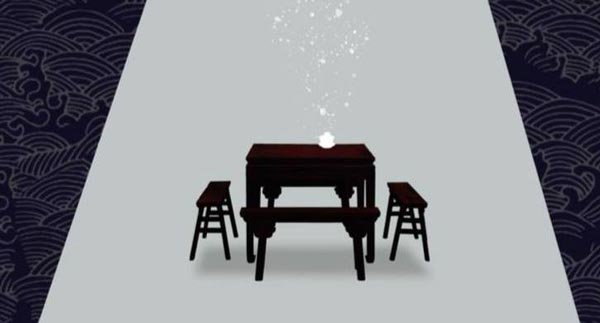 Princeton Chinese Theatre in collaboration with the Lewis Center for the Arts' Program in Theater present Teahouse by Lao She
(PRINCETON, NJ) --Princeton Chinese Theatre in collaboration with the Lewis Center for the Arts' Program in Theater at Princeton University will present Teahouse by Lao She on November 16, 17 and 18 at 8:00pm and November 17 at 2:00pm in the Donald G. Drapkin Studio at the Lewis Arts complex on the Princeton campus. Teahouse is considered a masterpiece of contemporary Chinese theater, spanning 50 years in modern Chinese history from the collapse of the Qing dynasty and the Republican Revolution to the birth of the People's Republic, bringing together over sixty characters who represent all walks of life. The production is directed by senior Changshuo Liu.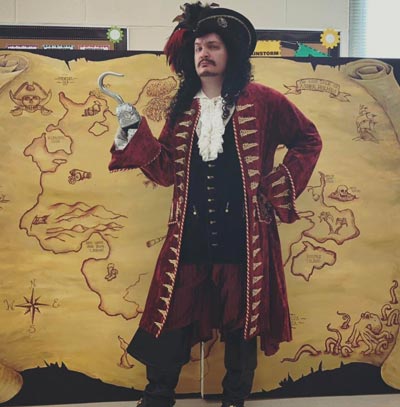 Axelrod's Rising Stars Youth Performing Arts Program Presents "Peter Pan"
(OCEAN TOWNSHIP, NJ) --  A family musical that's perfect for the holiday season, "Peter Pan" is flying onto the Axelrod stage December 8-16. Axelrod's award-winning Rising Stars Youth Performing Arts program presents one of Broadway's timeless classics in a fully staged production directed by Lisa Goldfarb with musical direction by Randy Hurst and choreography by Wendy Roman.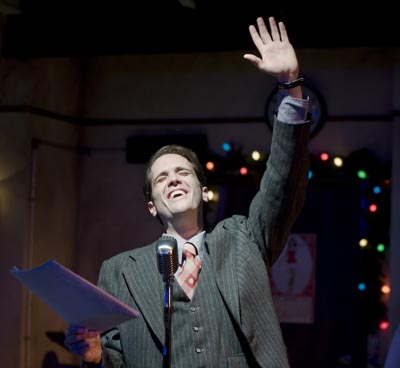 Mile Square Theatre Presents It's a Wonderful Life: a live radio play
(HOBOKEN, NJ) --  Mile Square Theatre, Hudson County's leading professional theatre, revives its beloved production of It's a Wonderful Life: a live radio play by Joe Landry. Mile Square Theatre becomes a live recording studio in the golden age of radio, and MST theatre goers become the studio audience as WMST "goes on air" to broadcast Frank Capra's popular holiday story. The production begins performances on Thursday, November 29 and runs till Sunday, December 23.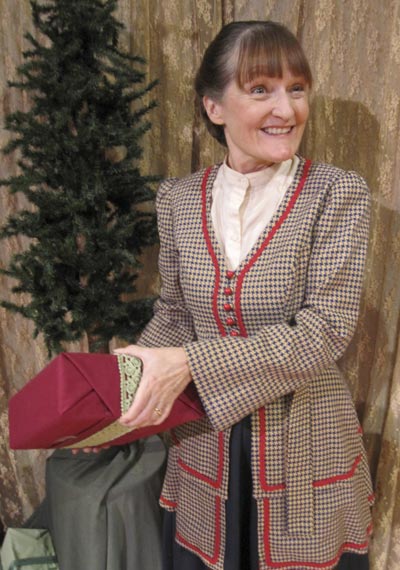 East Lynne Theater Company presents "O. Henry's Christmas Tales"
(CAPE MAY, NJ) -- "One dollar and eighty-seven cents. That's all I have, and tomorrow is Christmas," sighed Della in "The Gift of the Magi," just one of the O. Henry stories adapted and performed by Gayle Stahlhuth, who brings to life thirty-plus characters in her memorized, unique tour-de-force storytelling style. For seven times only, the award-winning Equity professional East Lynne Theater Company will present "O. Henry's Christmas Tales."  With the exception of "Gift of the Magi," these stories have never been performed before by Stahlhuth.  Performances take place on Friday and Saturday, November 23 and 24, Sunday, December 2, Thursday through Saturday, December 6 – 8, all at 8:00 p.m. with a 2:00 p.m. matinee on Saturday, December 8.