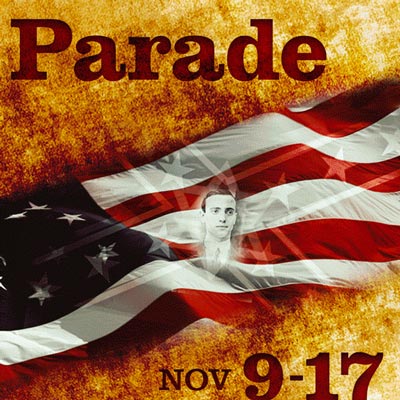 (UNION, NJ) -- Kean Theatre Conservatory presents Alfred Uhry and Jason Robert Brown's musical Parade from November 9 - 17. In 1913, Leo Frank, a Brooklyn-raised Jew living in Georgia, is put on trial for the murder of 13-year-old Mary Phagan, a factory worker under his employ. 
Already guilty in the eyes of everyone around him, his only defenders are a governor with a conscience and, eventually, his assimilated Southern wife, who finds the strength and love to become his greatest champion.
Based on the actual trial of Leo Frank, Parade is directed by Daniel Kutner, associate to the legendary Broadway producer and director, Harold Prince, who conceived and directed the original production in 1998. Kutner is also teaching the musical theatre class at Kean as a guest artist. Guest artists are key to the professional development of students in the Theatre Conservatory and Kutner's class and production are first-rate examples of student achievement.
Performances take place in the Wilkins Theatre (WT), 1000 Morris Ave in Union, New Jersey.  Tickets are available for purchase online.
---