---
For great Jersey music and much more, tune into our radio station at AsburyMusic.com
---
Belmar Arts Center Presents "Escapism" by Brittany James
originally published: 11/19/2017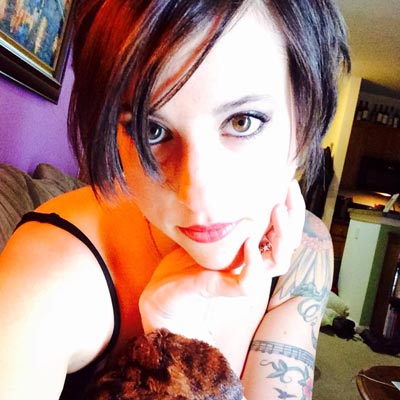 (BELMAR, NJ) -- The Belmar Arts Center presents a solo exhibit by Brittany James titled "Escapism"  from November 24 through December 14.  The exhibit is a a showcase of oil paintings completed by James in the past 3 years. The gallery is open Wednesday through Saturday from 1:00pm-5:00pm.
Brittany James lives and makes her art on Cookman Avenue in Downtown Asbury Park. She has been the resident art teacher at art629 gallery for the past 3 years where she teaches both oil and acrylic painting classes. She also oversees the open studio sessions hosted by the gallery which are open to the public, and teaches at Inspired Minds Fine Art School in Lincroft.
James graduated from Montclair State University with a BFA degree concentrated in oil painting in 2009 and has been a fulltime artist and muralist ever since. As a Jersey Shore native, James began painting in Island Heights and was inspired by the beauty of her surroundings. Nature has always been a big influence in her work. All of James' paintings are derived from a combination of photo references and imagined scenes to create the images she paints today. Most of her paintings are of surreal or fantasylike subject matter. In addition to painting, James is experienced in oil painting, acrylic murals, performance art, charcoal drawing, pastel, life drawing, printmaking, and sculpture.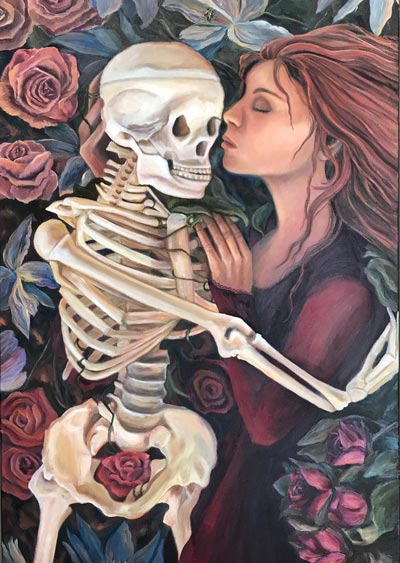 "Painting is my way of escaping reality," explained James.  "With a brush in my hand all of my surroundings and thoughts disappear, and my mind enters a new world within the canvas. For those hours that I am painting, I am temporarily existing in a dreamlike state. I often paint my dreams and am inspired by imagery that evokes emotions. The purpose of my paintings is to make the viewers feel as if they are escaping by looking at my art, the same way I feel while creating it. This has been my source of inspiration for over the past decade. I have represented the theme of escapism in forms of flying, floating, sleeping, dying, dreaming, disappearing, and being born. I enjoy making art that tells a story, and I especially like when that story can be interpreted in different ways by each viewer."
She has painted live on stage at the State Theater in New Brunswick and the Paramount Theater in Asbury Park during Glen Burtnik's British Invasion shows, and was part of a performance art piece during the Summer of Love concert at Count Basie Theater in Red Bank. She has been a muralist and featured artist for the Asbury Underground Art & Music Crawl, and has shown her work in several New Jersey galleries including Torche Gallery in Belmar, Art629 Gallery in Asbury Park, and George Segal Gallery in Montclair. She was recently commissioned to paint a very large mural in Keansburg New Jersey, which can be seen on Main Street.

"Artists are seekers, always trying to understand the underlying, hidden truths," continued James. "Nothing is exactly as it seems and reality is often hidden behind illusions. I am currently focused on the struggle some women face trying to find the delicate balance between wanting to be feminine and domestic, versus wild and free, and trying to be both at the same time. This is some of the most surrealistic work I have created so far in my ever evolving artistic career."
---
The article continues after this ad
---
---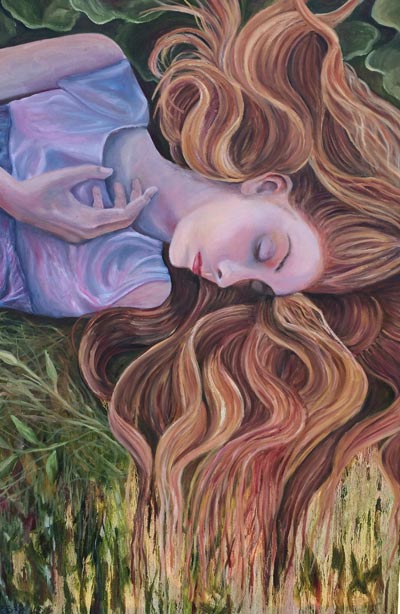 On Saturday evening, November 25, Belmar Arts Council will host an opening reception featuring the work of local artist Brittany James. James will be in attendance, and this event is free and open to the public.
"The healing therapy of art-making and self-expression has been very important to me throughout my life as well, and is something I continue to share with others through painting," said James. "I could not be who I am today without the ability and freedom to channel my thoughts onto a canvas. Whether it be through creating or teaching, I want to continue to make an impact on others lives through art. That makes me feel like I am doing my job as an artist."
Belmar Arts Center is located at 608 River Rd, Belmar NJ. The Belmar Arts Council was founded in 2004 as a non-profit organization that is dedicated to improving the quality of life for residents, visitors and neighbors by helping the arts to flourish. They offer diverse and exciting experiences in both the visual and performing arts for people of all ages, year-round; and promote public participation in and support for the arts. The Belmar Arts Mission is to bring people together to discover, create, learn and celebrate the arts. 


Marion Thompson Wright Lecture Series Presents "The Erotic as Power: Sexuality and the Black Experience"
(NEWARK, NJ) -- The erotic is often seen as a realm of oppression and danger. But, as Audre Lorde argued 40 years ago, it also contains the potential for empowerment and struggle. This tension will be explored as the 39th annual Marion Thompson Wright (MTW) Lecture Series brings together eminent scholars and performers to examine the poltical and social lives of the erotic in the African American experience.
---
West Windsor Arts Council presents Faculty Student Show
(PRINCETON JUNCTION, NJ) -- Every day students of all ages come to the West Windsor Arts Center to expand their knowledge and experiment with art and creativity. Whether they are adults or children, they take classes in order to try something new or hone their skills by learning from some of the best teaching artists in the region. Classes are offered in many artistic media including painting, drawing, and sculpting as well as fashion design, photography and the literary and performing arts. The annual Faculty Student Show aims to provide the experience of submitting and preparing their work for a professional exhibition as well.
---
Monmouth University Hosts Artist Talk with Sherrill Roland about "The Jumpsuit Project"
(WEST LONG BRANCH, NJ) -- The Center for the Arts at Monmouth University will host artist Sherrill Roland  on Tuesday, January 29 at 4:30pm in Wilson Hall Auditorium, to discuss his socially engaged artwork The Jumpsuit Project — that he uses to ignite conversations around issues related to mass incarceration.
---
Art House Productions Presents 13th Annual Snow Ball Gala
(JERSEY CITY, NJ) -- Join Art House Productions and presenting sponsor SILVERMAN for their 13th Annual Snow Ball Gala on Saturday, January 26th, 2018 from 7:00pm- 12:00am with VIP beginning at 6:00pm (Snow date: Saturday, February 2nd) at Art House's location at the Cast Iron Lofts, 262 17th St, Jersey City, NJ.  This year's Snow Ball features live music from Cook Thugless ("Cook Thugless are one of the coolest bands in New Jersey." -Bob Makin, My Central Jersey), live and silent auctions from Grandstand Sports, including sports memorabilia, local art pieces, and exclusive weekend getaways.
---
Palette ArtSpace Presents "Cold Pop!" with Robert Piersanti and Faustine Badrichani
(ASBURY PARK, NJ) -- Palette ArtSpace presents "Cold Pop!" by Robert Piersanti, now through January 27. The exhibit brings a touch of summer to a cold January with paintings of mermaids, surfers and more. Piersant's work features 1950s and 1960s pop culture with locals as subjects. He's shown work from the local area to Miami and Milan.  The exhibit also features new paintings of women by Faustine Badrichani, a French artist in New York who has shown at Palette previously. Admission to the gallery is free and open to the public.
---


Inside New Jersey Stage Magazine Issue 54
(BELMAR, NJ) -- The latest issue of New Jersey Stage magazine contains something for every arts fan.  Rock and Roll Hall of Famer, John Oates, is the cover story in an issue packed with music, film, theatre, and art coverage.  The issue is available for free at www.NJArtsMag.com 
---
Nick Kiefer In Iceland
Nick Kiefer is an award winning graphic designer and photographer based out of Asbury Park, NJ. He is currently the Art Director at Netwave Interactive - a branding and advertising agency in Point Pleasant. NJ. Nick has also been designing and photographing in the NJ music scene for more than half his life. He has designed dozens of record covers and gig posters for local musicians in the Asbury Park area. After a heavy year packed with work, he and his fiancé Kristina, decided to roam around Iceland for a few weeks back in October of 2018. Here are some photos from the trip.
---
Peter Max Remembers Frank Sinatra
(HOBOKEN, NJ) -- As fans of Frank Sinatra across the world remember the legendary entertainer on what would have been his 103th birthday (December 12th), pop artist Peter Max provides a series of portraits of 'Ol' Blue Eyes' at different points throughout his career. Max, with a 5 decades-long career of his own, created these signature, vibrantly colored portraits, working with the Sinatra family to celebrate the Sinatra Centennial in 2015. They remain a fan favorite at gallery shows across the country.
---
Jerry Gant 1961-2018
Jerry, There is no bio that will seem complete for you. Where would it be listed, amongst your numerous and diverse accomplishments, that you talked to people, always seemed to find time for the younger artists, to talk to them and look at their sketchbooks? Your use of language as a material, testing limits, associations, and possibilities.
---
PODCAST: An Artist Asks "The 20 Most Important Scientific Questions Of The 21st Century"
In this podcast, we speak with them about art, activism and how women invented Postmodernism. "The 20 Most Important Scientific Questions of the 21st Century" runs through December 14th at Douglass Library.
---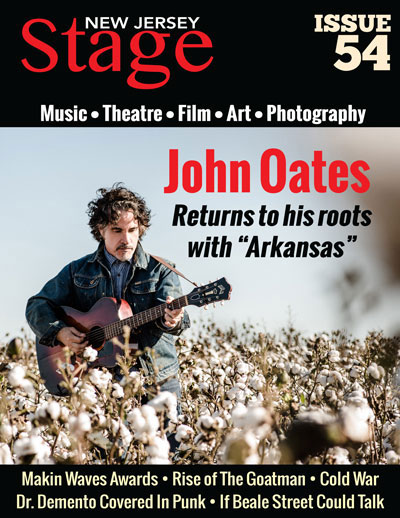 Inside New Jersey Stage Magazine Issue 54
(BELMAR, NJ) -- The latest issue of New Jersey Stage magazine contains something for every arts fan.  Rock and Roll Hall of Famer, John Oates, is the cover story in an issue packed with music, film, theatre, and art coverage.  The issue is available for free at www.NJArtsMag.com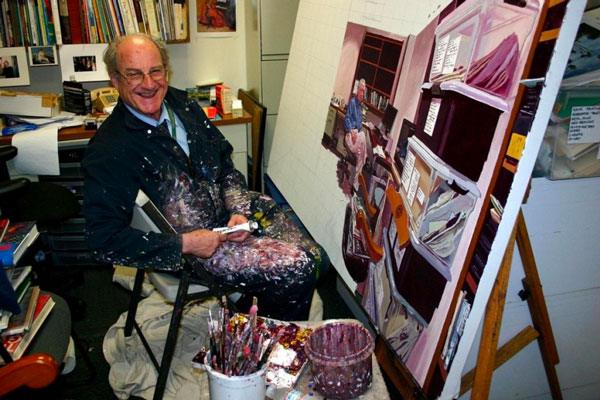 Artist Mel Leipzig At 83
We recently met up with artist Mel Leipzig at Artworks in Trenton. He was there to do what he does every day – create big paintings of people he likes. While the Artworks staff went about their business getting the space ready for this year's Art All Day event, happening this Saturday, Mel pulled a few of them aside to capture them in their natural habitat in acrylic.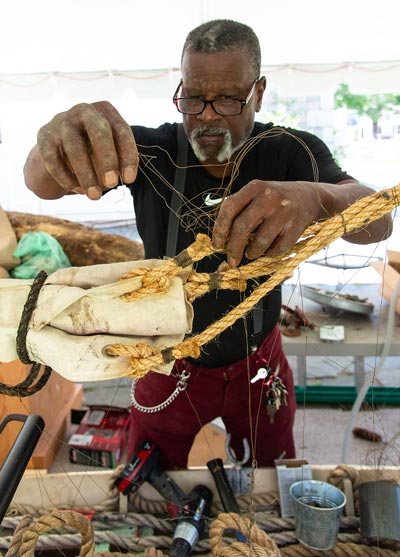 Kevin Sampson: Solo Exhibitions In New Jersey and Beyond
"I'm a Civil Rights baby. I grew up laying across picket lines and blocking traffic." Artist Kevin Sampson's father, Stephen, was a well-known Civil Rights leader in New Jersey, and he instilled a commitment to community that his son still honors.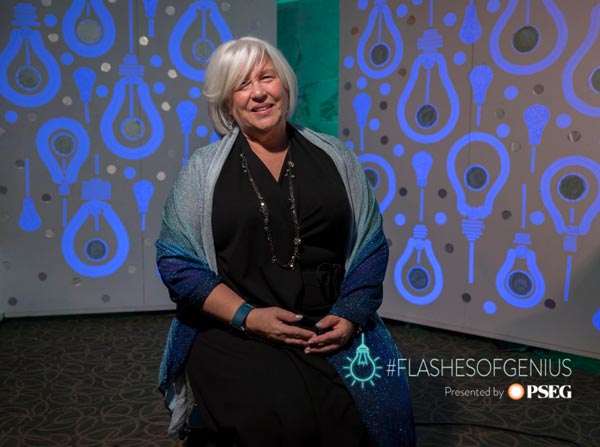 Basking Ridge Resident Returns to Matheny to Help Assist in Strategic Planning for 'This Amazing Place'
When Ellen Lambert was director of development at the Matheny School and Hospital in Peapack, NJ, from 1993 to 1995, one of her major achievements was the formation of a fundraising plan for what would eventually become the Robert Schonhorn Arts Center. The concept of Matheny's Arts Access Program  -- which enables people with disabilities to create art, assisted by professional artist-facilitators  -- was emerging in '93, and the arts center was eventually built in 2000.



Event calendar
Tuesday, Jan 22, 2019
Sorry, no events listed for today.
Here are some upcoming events.
---
2019-01-23
Rechnitz Halls DiMattio Gallery, Monmouth University @ 10:00am
West Long Branch
---
2019-01-23
Pollak Theatre @ Monmouth University @ 7:30pm
West Long Branch
---
2019-01-24
New Jersey Repertory Company @ 8:00pm
Long Branch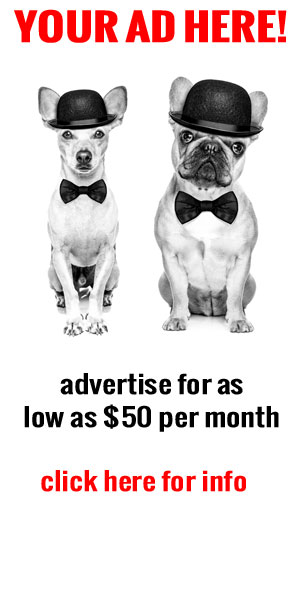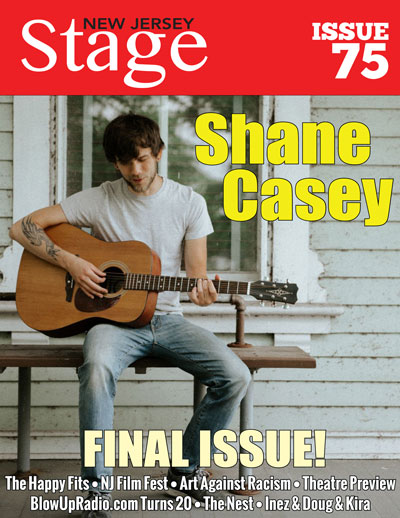 For more on our awards, click here
New Jersey Stage © 2019 by Wine Time Media, LLC | PO Box 140, Spring Lake, NJ 07762 (732) 280-7625 | info@newjerseystage.com

Images used on this site have been sent to us from publicists, artists, and PR firms.
If there is a problem with the rights to any image, please contact us and we will look into the matter.