By Gary Wien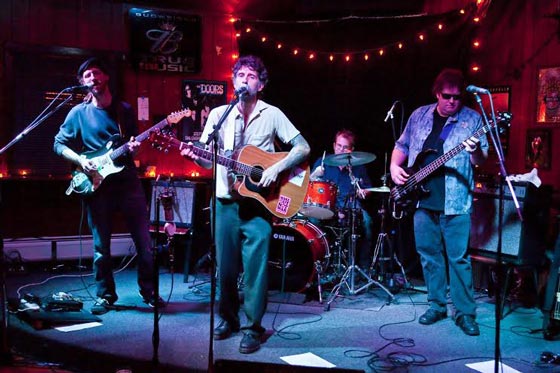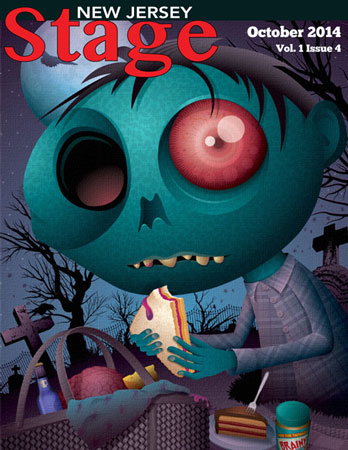 This article was originally designed to be read in the October 2014 issue of
New Jersey Stage magazine. To read it in its original format, click here
Many bands complain that there aren't enough places to play in New Jersey. The Porchistas aren't one of those bands. They not only developed a great relationship with a local club, but they did the ultimate DIY thing and turned their own home and backyard into venues as well. They're proof that sometimes artists can control more than they think they can.

On Saturday, November 1, the Porchistas will celebrate the release of their latest CD "Shoot It At The Sun" with a space-themed Halloween party at Tierney's Tavern in Montclair.
"The first song is called 'The Garbage Corridor' and it explores a future elevator into space that shoots garbage at the sun," explained Alan "Sucia" Smith, a former Newark police officer and firefighter who plays guitar in the band. "The whole record is 13 songs relating to or exploring outer space in some way or another. A lot of the songs are connected to each other; many are pretty serious and deep, and some are just silly and fun.
Along with Smith, the band includes Adam "Devil Hands" Falzer, Gerry Griffin, and Jonathan Riordan. Together, they've found a home away from home at Tierney's, a landmark in Montclair that has been run by the same family for 80 years. Smith says the family's investments in the sound system over the years has turned it into a very good sounding room. But it's the arrangement the club offers bands that makes it a truly unique venue.

"One of the great things about Tierney's is that the bands take the whole door and the bar takes the bar," said Smith. "It's one of the few places where if you put a good show together - say a 3 band show where we charge $10 a head and are able to get 150 people, that's $1500 we can split for the bands. It's a very rare thing in independent rock to be able to do that."
Successful shows at Tierney's have led to bands across the state contacting them for gigs, but Smith warns that bands have to be honest. If they aren't going to be able to bring a crowd - and a crowd that will drink alcohol - they won't be a good fit.
"Fortunately or unfortunately, that's the only way the bar can make money," said Smith. "To their credit they give us the entire door. It's the epitome of the local saloon. It's Montclair's local bar."
The Porchistas see music and art as community building endeavors. They describe their sound as lyrically driven folk, punk, throwback, rock with a strong hippy spirit. They've often performed as part of fundraisers or benefits for various organizations over the years. You don't have to visit Smith's Sustainable Living Education Center in Costa Rica to see how important social and environmental causes are to the band. Despite hoping to keep their schedule clear so they could finish the CD and get ready for their own party, the band couldn't say no to playing a trio of benefit shows in October.
On October 11th, they were part of "Dog Walk of the Dead" at Erie Park in Montclair. This was to help raise money to keep a local animal shelter open. On Saturday, October 25th, they will be part of "The Ghost of Uncle Joe's Masquerade Rock & Roll Ball" at Harsimus Cemetery in Jersey City.
"They have an annual Halloween party where they ask different original bands to come do a cover set," explained Smith. "Jim Testa (a writer with Jersey Beat) asked us to do a Bob Dylan set with him. I wouldn't turn that down."
Prior to becoming a cemetery in 1829, Harsimum Cemetery was the site of Revolutionary War skirmishes in the 1700s and an active ammunition bunker during the War of 1812. Thousands of soldiers from the Revolutionary and Civil Wars, the War of 1812, the Spanish-American War, WWI and WWII are buried there. In order to maintain the grounds, the cemetery has come up with rather creative ways to raise money - the annual Halloween fundraiser being one example.
The Porchistas also will be lending a hand to BlowupRadio.com's Annual Spondylitis Benefit which runs October 17 to 20. The benefit features live performances by more than 70 bands on the internet radio station.
But on November 1st, the focus will be on The Porchistas and their latest release. The band considers it to be their most ambitious project to date. It's also their first recorded in a professional studio as opposed to their living room.
The night will include a space-themed costume contest (for the most artistically creative costume) and a couples' dance contest (one song from each band so get there early). The entrance fee is $5 to enter either or $8 to enter both. Cash prizes from all proceeds will go to the winners who will be chosen by Tierneys' staff.
Bone & Marrow, a duo comprised of Daimon Alexandrius and Jennifer Mustachio (formerly of the popular band Elevator Art) will open the show. Following The Porchistas will be The Defending Champions - a Montclair-based band whose unique combination of Ska, Pop, Gypsy, catchy, horn driven dance numbers will keep the party going all night.
For more information on the band visit www.ThePorchistas.com


---
Gary Wien has been covering the arts since 2001 and has had work published with Jersey Arts, Elmore Magazine, Princeton Magazine, Backstreets and other publications. He is a three-time winner of the Asbury Music Award for Top Music Journalist and the author of Beyond the Palace (the first book on the history of rock and roll in Asbury Park) and Are You Listening? The Top 100 Albums of 2001-2010 by New Jersey Artists. In addition, he runs New Jersey Stage and the online radio station The Penguin Rocks. He can be contacted at gary@newjerseystage.com.
---