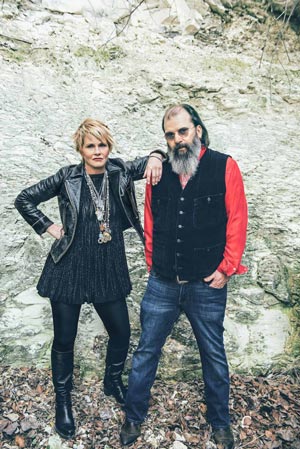 New Jersey Stage is fortunate to have many writers contributing to the magazine and our daily site.  Among them, one of the hardest working writers is Danny Coleman who writes "Rock On! This Week's Sound Bites" - a weekly column found on the website.  Danny is known throughout the New Jersey music community for his weekly radio show and recently added a video talk show as well.  While those shows largely promote independent artists from the tri-state area, his weekly column promotes local artists as well as national ones.
Here is a look back at a few interviews by Danny over the last half of 2016.  Be sure to check out his column every Thursday at NewJerseyStage.com!
Steve Earle - published in July 2016
"You write about what you know," said a seemingly taken aback Steve Earle when asked about what many would consider a "Chequered Past." "I got married a lot back in the '80's if that's what you're talking about. I'm retiring from that; defeated. All of those experiences and more can't help but creep in to your work."
Once called the "new face of outlaw country," Earle took a four year hiatus during the mid-nineties amidst what many consider to have been the prime of his career. Intravenous drug use, jail time and recovery ruled his life during this period and all became fodder for his ingenious songwriting capabilities.
Seven marriages to six different women and the dissolution of those units in the decade of the '80s proceeded his success and his disappearance in the '90s but yet Earle somehow has managed to produce 16 studio recordings.
---
The latest effort, "Colvin & Earle," is not a solo album but a duo work with current touring partner Shawn Colvin and they'll be performing in support of that release on July 20 at BergenPAC in Englewood, NJ. "It was just released on June 10 on Fantasy Records," explained a now enthusiastic Earle. "It's been number one on the Americana charts the last couple of weeks. It took us about a week to do it and we both kinda needed to do this. We got Buddy Miller to produce it, who is a tremendous songwriter and he makes great records; he was in the last season of "Nashville" when he came available so we reached out. Buddy and I have worked together before on the show so we are familiar with each other."
Perhaps no greater compliment can come to a songwriter than that of when one of their peers asks to record their work. Earle has had his material recorded by Johnny Cash, Waylon Jennings, Travis Tritt, Vince Gill, Patty Loveless, Emmylou Harris and more as well as current stage mate Colvin. "Well," he started with some hesitation. "We think it's kinda fun. I don't mind hearing the song she's done the way she does it and we think it's a lot of fun to share a stage together. The way we sing together; there's just something special about it and the two of us have a great connection on stage. The others? Well, I was never able to make a living at it but it is definitely a big deal when you hear a song you wrote on the radio for the first time no matter who has recorded it."
The self titled debut disc has 10 tracks and Earle says that they will be on the menu. "We only have one album," he said with a laugh, "So, we'll be playing that plus our own solo material and maybe a bonus track here or there; they won't be disappointed (laughs)."
A renewed sense of purpose seems to have Earle motivated as his plans include this current tour and a new release come the fall. 
"I'm putting out a new record in November and recording it in Austin, TX; I've never recorded there and I'm from Texas. This one is going to be a country record. I'd like to think that this would've been the record I'd made after "Guitar Town" had Jim Boggio not pissed me off; I think it'll be more of a country record this time."
As his voice trailed off, so did the time. Earle had more interviews and rehearsals to prep for. However, this incredibly talented man, along with his beautiful  partner Shawn Colvin, is ready to take over the Bergen PAC; who is to say they won't succeed?