By Gary Wien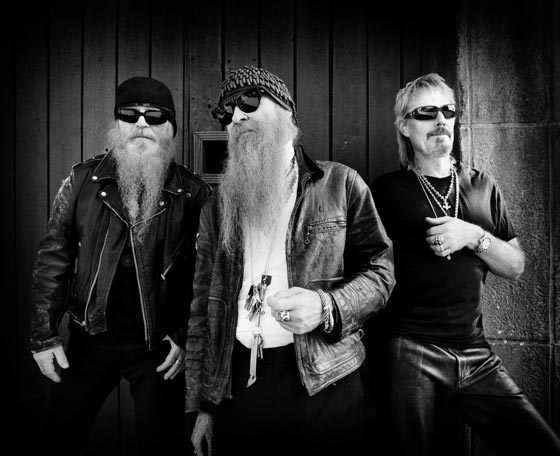 For over forty years, ZZ Top has been recording, touring, and residing on classic rock stations. The trio of Billy Gibbons on guitar, Dusty Hill on bass, and Frank Beard on drums has remained the same since first forming in Houston back in 1970. They're instantly recognizable thanks to the long beards of Gibbons and Hill and their trademark sunglasses. Meanwhile, over 25 million records sold and a steady stream of hits earned them an induction in the Rock and Roll Hall of Fame in 2004.

In the seventies, the hits included songs like "La Grange", "Tush", and "Cheap Sunglasses", but the band soared to new heights with the emergence of MTV in the eighties.

In the midst of rising stars like U2, Duran Duran, and Madonna, videos by ZZ Top were among the most played and most memorable of the day. Videos for "Legs", "Gimme All Your Lovin" and "Sharp Dressed Man" carried a simple formula: shots of the band, shots of beautiful women, and shots of the Eliminator - one of many cars in Billy Gibbons' collection. The formula worked each time and the band became bigger in one year than they had in the previous decade.

All total, ZZ Top has had 11 records go gold and 7 go platinum with Eliminator being their most successful, selling over 10 million units itself. The band continues to tour and hasn't missed a beat. On March 10th they will perform at the Bergen Performing Arts Center (bergenPAC) in Englewood. New Jersey Stage caught up with Billy Gibbons (once named the 32nd best guitarist of all-time by Rolling Stone) to talk about the band and his love of cars.

From the early days of rock and roll to today there's been a strange connection between music and cars. You've been collecting cars for a long time, do you notice a connection between the two?
Absolutely! It even pre-dates rock 'n' roll: Robert Johnson's "Terraplane Blues," Hank Williams had a "hot rod Ford and a two-dollar bill." Then, of course, there was Chuck Berry who "motorvated" over the hill only to find his dear Maybelline in her (Cadillac) Coupe de Ville. Of course, we always caution not to get "Arrested For Driving While Blind." Cars and girls are the big topics as far as we're concerned and we've done our best to pursue both… of course, with abject loudness at the core.

Why do you think cars have inspired so many great songs?
Initially, that's where so many great songs were heard. On a car radio, away from one's parents - the mobility afforded by the automobile combined with a rockin' soundtrack was a recipe for spiritual liberation. Play loud and drive fast - these things go hand in glove. It's really not a coincidence that the popularity of hot rods and custom cars was concurrent with the rise of rock 'n' roll - they're really about the same thing.

When did you start collecting cars? Tell me about your collection.
Started by sharing a car - a Dodge Dart - with my sister Pam. The sound of that car's motor is what you hear at the start of "Manic Mechanic." Still have it, along with a mess of others acquired over the years. Of course, the Eliminator, the '33 Ford three-window coupe gained celebrity status having starred in those videos and it's currently back on display at the Rock and Roll Hall of Fame in Cleveland. And there's "CadZZilla", a very significant custom car that's been flown around the globe and remains completely roadworthy. Other favorites are "The Mexican Blackbird", named after an early ZZ Top song that's a '58 Ford Thunderbird done up super fine. There are, literally, too numerous to mention but we did a book that covered most a while back. It's called Rock + Roll Gearhead and you can still pick up a physical copy or download it digitally. We think the New York Times review pretty much nailed it. "The cars and music are part of the same enterprise; creating a shared landscape of mind, a fantasy land where Mr. Gibbons' music provides a soundtrack for imagined journeys in fantasy cars. Many will be happy to ride along."

There are three things that probably come to mind when people think of the legendary ZZ Top videos of the 80s: the beards, the women, and the car. Was the idea to use your Eliminator the plan from the beginning?
Keep in mind that MTV didn't really exist when we recorded the album and decided to use the car for the cover image. By the time it was released videos had come into play and when we were asked to come up with something. We wondered why anybody would want to see three gnarly whiskered dudes so we suggested those pretty girls and that pretty little car. Serendipity!

Did you ever imagine you three would have such an amazing run on MTV or that it would boost your profile so much?
We had no actual thoughts about it. Frank, our drummer, and the only one of us without a beard though his last name is Beard, actually happened into the early MTV while channel surfing. He was delighted to find music on TV and stayed up for 10 more hours, not wantingto miss any of it, not knowing it ran 24 hours. We had some catching up to do, obviously, but it did work out for the best.

You've said many times that all you guys wanted was a hot rod. Did you ever race cars as a kid?
Let's just say that the kind of racing we did as kids was not the kind authorized by any sanctioning body. We're happy we made it out of there mostly intact and, as they say, "don't try this at home" - or on the roads.

In addition to being in some of the biggest videos of the MTV age, the band was also in one of the biggest movie trilogies. What was it like being part of Back To The Future 3?
We loved being part of that flick. You know it was typecasting. They wanted a three piece band fronted by two geezers with chin whiskers so the role was a lock for us from inception. We're still interested in time travel - we made it all the way from our start in 1969 into the 21st century and, one hopes, beyond.

What are some songs that die-hard fans might be surprised to hear in a ZZ Top set these days?
We like to throw a Jimi Hendrix song like "Foxey Lady" or "Hey Joe" into the set list as an homage to our greatest inspiration and much missed friend. We like to go back to our earliest albums for material and even before - we sometimes do Willie Brown's "Future Blues" which is definitely from the past - it was first recorded in 1930. We also like including material from La Futura - do you sense a theme here? - our most recent album release.

Finally, why do you think you three have been able to stay together for 40 years while so many bands break up?
We're always asked this and the answer is always the same. We're having a good time so nobody's come up with a reason to stop. It's true that most bands break up after a while and then there's that inevitable reunion tour so, if you like, you can think of the last, say, four decades as our reunion tour. Our plan is a simple one: keep on keepin' on, turn it up and let it rock!


---
Gary Wien has been covering the arts since 2001 and has had work published with Jersey Arts, Elmore Magazine, Princeton Magazine, Backstreets and other publications. He is a three-time winner of the Asbury Music Award for Top Music Journalist and the author of Beyond the Palace (the first book on the history of rock and roll in Asbury Park) and Are You Listening? The Top 100 Albums of 2001-2010 by New Jersey Artists. In addition, he runs New Jersey Stage and the online radio station The Penguin Rocks. He can be contacted at gary@newjerseystage.com.
---