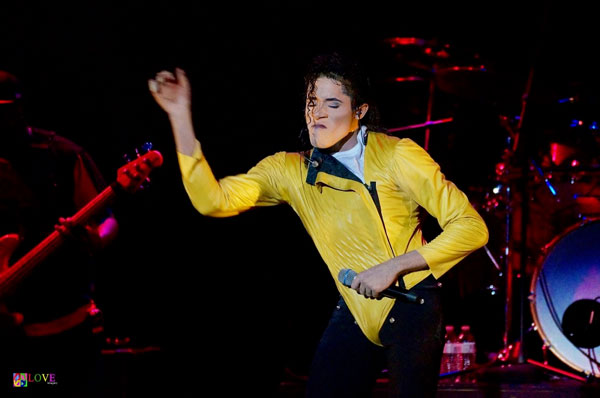 As we make our way toward Lakewood, NJ's Strand Theater this gorgeous Sat. Sept 9, 2017 evening, in addition to middle-aged folks, young adults, and senior citizens, we also see lots and lots of young people — many of whom are dressed like Michael Jackson — making their way into the theater for tonight's performance of Who's Bad: The Ultimate Michael Jackson Experience!
Inside the lobby, we come upon Christopher, 12, from Forked River, who is sporting a Michael Jackson Thriller shirt. Christopher, a seventh grader, tells us he's been a fan of Michael Jackson since 2015 when he first saw Jackson's "Bad" video on the internet.
"I love his music — his singing and his dancing," explains Christopher. Revealing, "I own every one of his albums on vinyl," Christopher acknowledges his favorite song is "You're Not Alone" and his favorite album is Bad.
Never having seen the real Michael Jackson in concert, Christopher tells us he is especially looking forward to tonight's show because, as he explains, "I heard this tribute artist can really sing."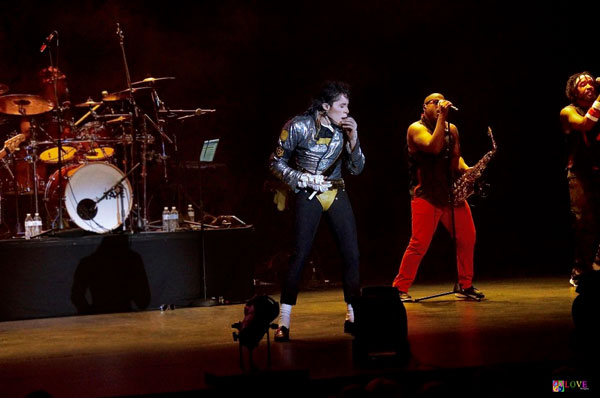 Also looking forward to tonight's performance is Christopher's mom, Tara, who says, "I like Michael Jackson's music, too — especially 'Thriller.'"
---
The article continues after this ad
---
---
In the lobby, we additionally chat with Nick, 20, from Manchester who is wearing a Michael Jackson sequined jacket.
"I've been a fan of Michael since third grade," explains Nick, noting that his favorite Michael Jackson song is "Man in the Mirror."
"I like everything about him," says Nick, "him as a person — and the fact that he's so open minded," going on to exclaim, "and — you know — he's just MICHAEL!"
Nick's friend, Aiden, 19, from Toms River, is also a devoted Michael Jackson fan.
Nick and Aiden each admit that neither ever had an opportunity to see Jackson in concert, but, as Aiden explains, "I have a friend who's part of the Invincible Michael Jackson tribute, and I've seen that show multiple times."
As a result, he's excited to see tonight's Who's Bad: The Ultimate Michael Jackson Experience tribute calling Jackson "a one-in-a-million artist."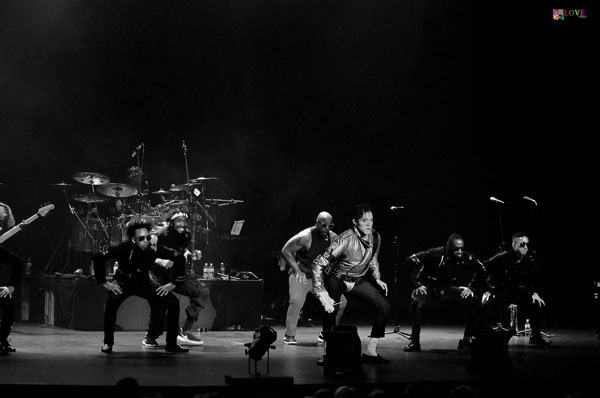 Soon the lobby lights blink, signaling it's time for the show, and everyone makes their way out of the lobby and into the historic Strand auditorium just in time to hear the announcer state, "Get ready for Who's Bad!"
As the sound of a keyboard swirls to beating drums, the Who's Bad guitar, bass, and sax players dance while the crowd cheers. The keyboard player picks up a trumpet and he starts dancing, too.
"MJ" — portrayed by James Times III — enters into the spotlight dancing.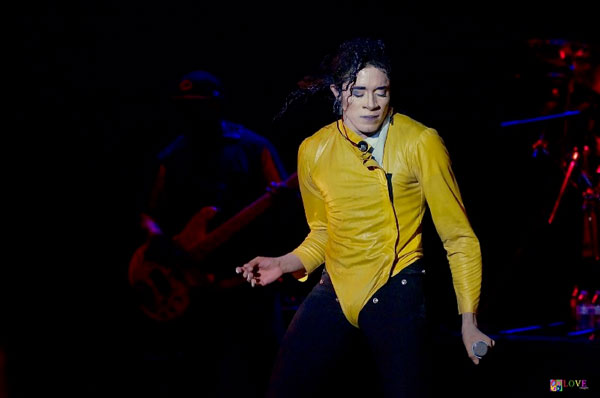 Doing the famous Michael Jackson moonwalk to "Jam," the talented group of Who's Bad dancers move in sync to the music as spotlights shine and smoke rises.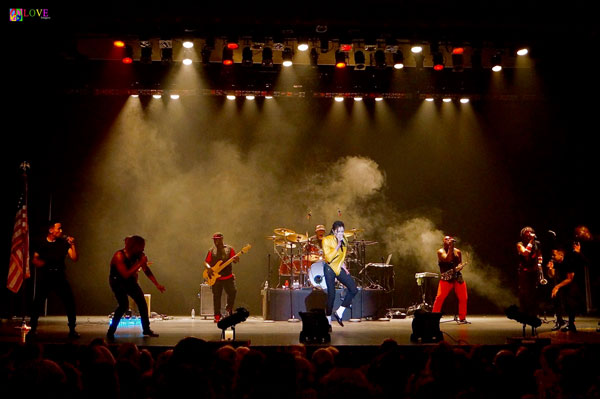 Seguing into "Wanna Be Startin' Somethin'," "MJ"'s moves create the essence of the real Michael Jackson.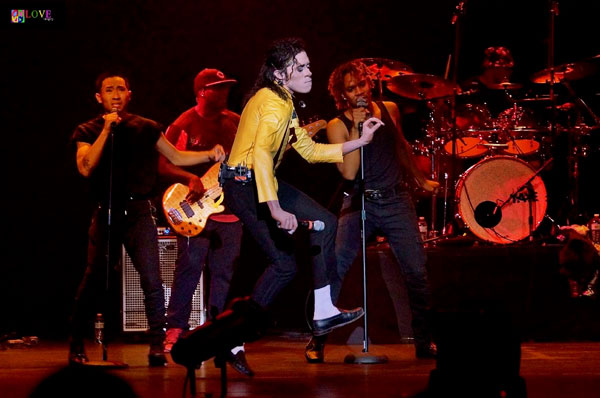 Heads bop as the crowd claps along to the infectious beat.
"Rock With You" features the vocals of "MJ" as audience members happily sing along. Ladies go crazy as "MJ" blows kisses to the front rows.
On "Love Never Felt So Good," the feel-good vibe really comes through and the rowdy crowd starts to call out Michael's name.
Putting on a white hat, the dancers shadow "MJ" hopping to the music as the steady drum beat drives the dance troupe with their stylized Michael Jackson moves — hat taps, high kicks, moon walking, slow motion moving, hip swaying, and strutting.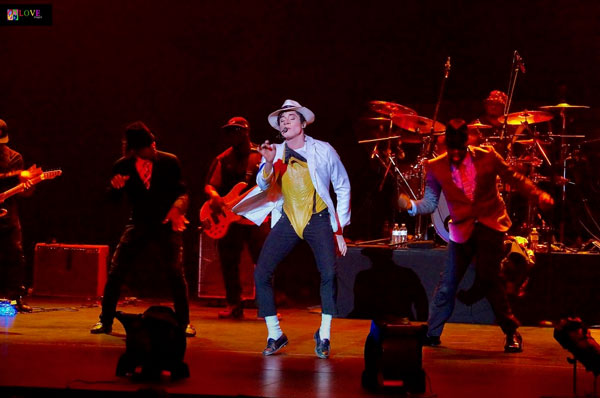 "MJ" feigns knocking his dancing opponents out of the way before exiting the stage.
The band vamps on a slow groove as the sax and trumpet players beckon "MJ" back into the spotlight. Here, he takes a moment to speak to the audience saying, "We are here to celebrate the life of Michael Jackson."
Moving on to a polished version of "Human Nature," the audience cheers. Then, "MJ" performs "The Way You Make Me Feel," he and the saxophonist playing it up to the cheering concertgoers in the front row.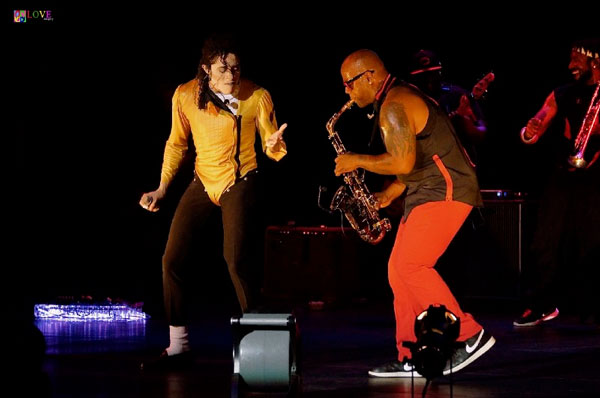 During the number, "MJ" even holds the microphone out for the audience to sing the lyrics, "The way you make me feel."
"MJ" invites audience members — especially those celebrating a birthday — to come up and join him on stage. Fans from young children to senior citizens make their way on to the stage to dance with "MJ," singing along, clapping, and grooving to the music as part of this one-of-a-kind dance party with Michael Jackson.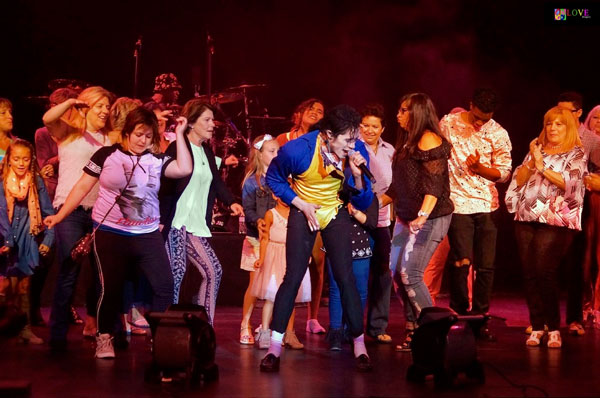 The dancers sway and clap with the singers on "Workin' Day and Night." The rockin' bass and drums move this high-energy song along and a smokin' guitar solo elicits audience cheers.
During intermission, we meet Genesis, 16, from Brick, a true Michael Jackson fan sitting in the front row wearing her "Thriller" varsity jacket.
"I have a shrine to Michael in my room," says Genesis. "I have every album on vinyl, in addition to videos of his concerts."
Never having had a chance to see Michael Jackson in person, Genesis says she was thrilled to be able to go up on stage and dance with "MJ" stating, "This is the closest I'll ever get to Michael, so I'm happy to be able to make the most of it."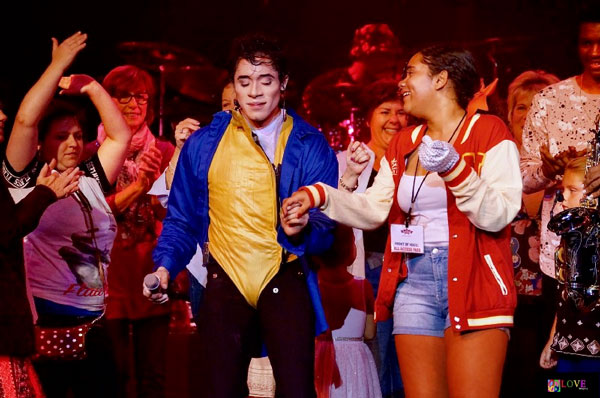 "My heart aches for a time I wasn't born into," she continues. "I'm emotional if I even start talking about Michael — he's everything to me. I've loved him since I was five years old. The name 'King of Pop' is limiting. To me, he is the King of Music! I want to do things to make Michael proud."
During intermission, we also happen to come upon Nick and Aiden, the two friends we met before the show.
Aiden makes it a point to tell us, "So far this show is really good! The band is incredible — the horns are great. And I really like the dancers — they're phenomenal — and how they get the whole audience into it."
Nick agrees, stating, "'MJ' sounds so much like Michael!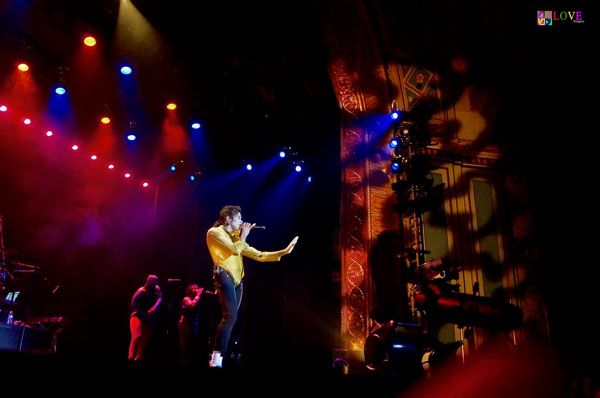 "The horns are incredible!" adds Nick. "My eyes actually hurt from not blinking — I'm too busy watching the show!"
The lights dim and Act II opens with the Who's Bad dancers lying on the floor of the stage. Then, MJ makes his entrance to "Dangerous," a number which features stylized dancing to the infectious beat.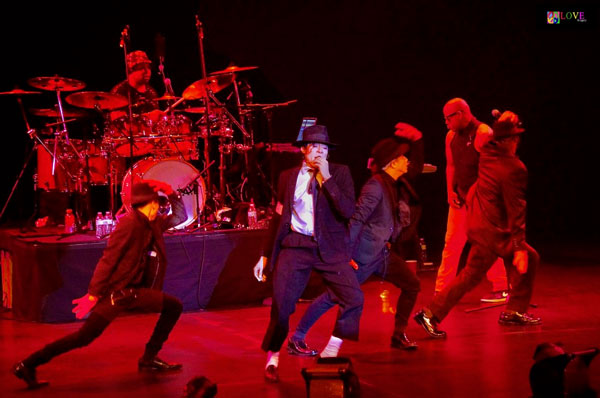 As lights flash, the audience cheers!
Changing into his gold lame jacket, "MJ" sings "Don't Stop 'Til You Get Enough," dancing with the horns to the feel-good beat and inviting the fans to get up and dance.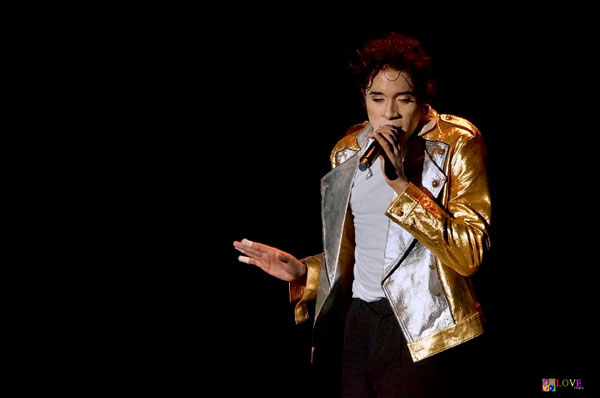 Turning back the clock, Who's Bad performs a nostalgic medley of Jackson 5 tunes including "I Want You Back," "The Love You Save," and "Dancing Machine," all featuring classic Motown-style moves.
Moving on to a true audience pleaser, "I'll Be There," "MJ" sways his arms back and forth in the air and the audience happily joins him singing along in unison.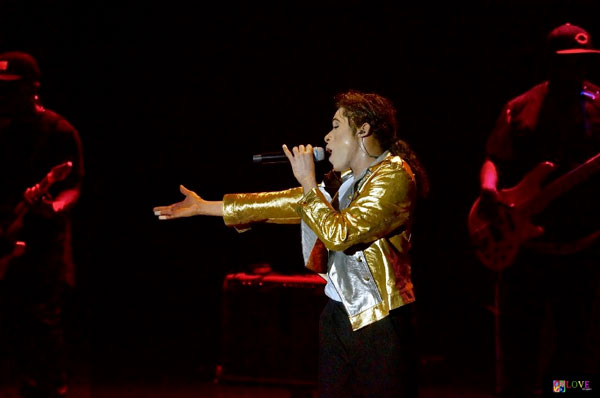 After a short interlude where the Who's Bad horn players and rhythm section pump up the audience announcing, "If you're havin' a good time, say 'YEAH!,'" "MJ" returns in his blue sequined jacket and white glove.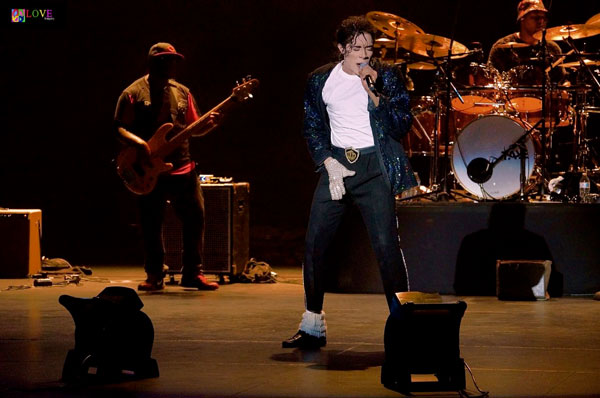 Performing a soulful rendition of "Billie Jean," "MJ" does all of the patented Michael Jackson moves — sliding, floating, gliding, and moonwalking — recreating the presence of the actual Michael Jackson.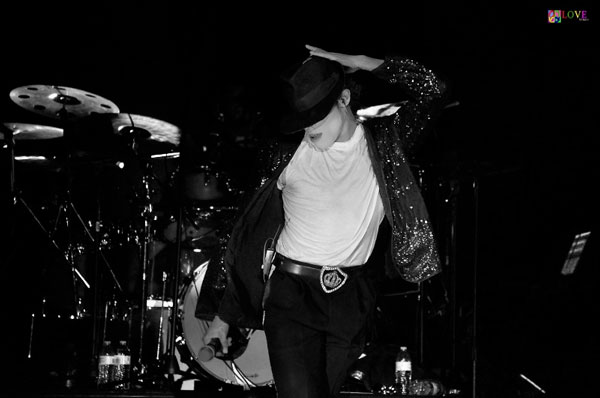 Ending by throwing his hat into the audience, "MJ" tosses on his red jacket for a dynamic rendition of "Beat It."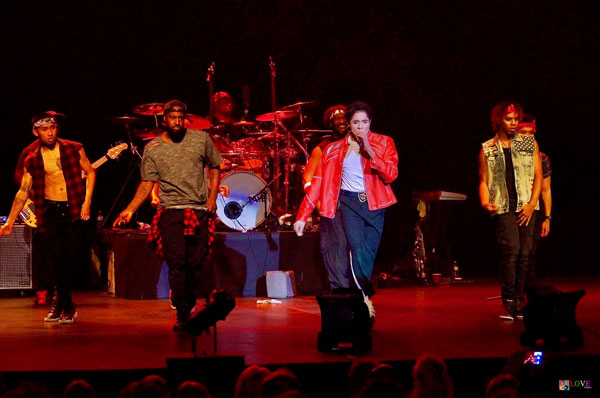 The audience can't help but clap and move to the dancers' precision choreography.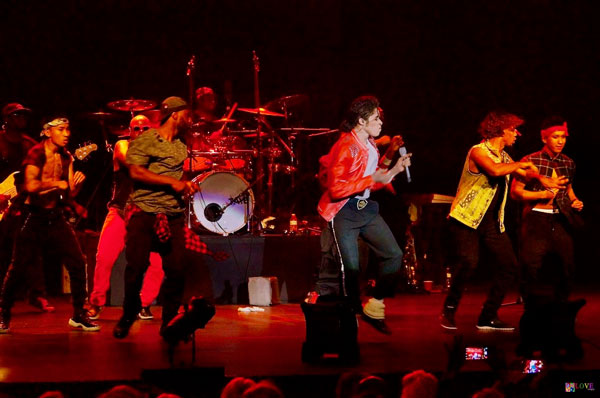 "Beat It" also features an electrifying Eddie Van Halen-esque guitar solo which gets the jacked-up crowd applauding wildly!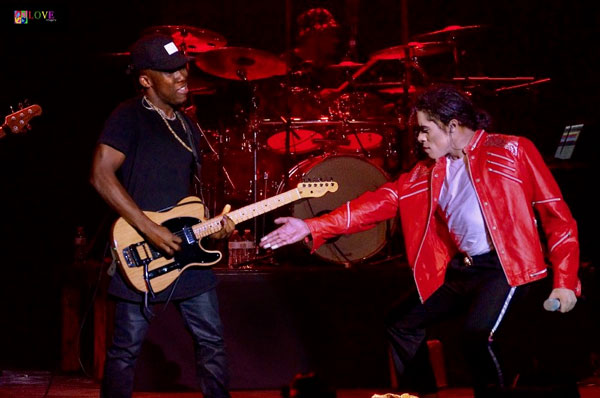 A mighty noise fills the theater and "MJ" and the Who's Bad dancers return to perform the famous dance from "Thriller."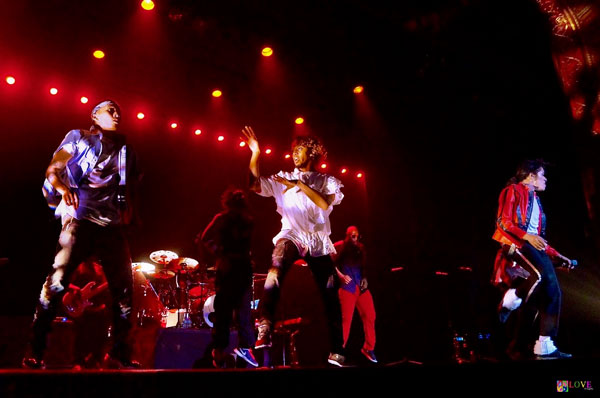 As the dancers creep across the stage, a mother and her daughter happily dance along in the aisle!
By the end of the song, "MJ," the band, and the dancers have the audience howling for more.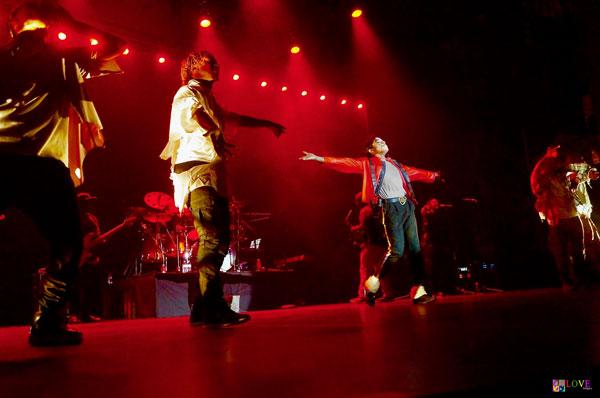 At this point, "MJ" and the group launch into an energizing rendition of their namesake Michael Jackson song, "Bad," with "MJ" making his way down into the audience to shake hands with the King of Pop's fans.
The audience responds to "Bad" with a good standing ovation, cheering for Who's Bad to perform one more song tonight, at which point the group comes back to perform "Man in the Mirror."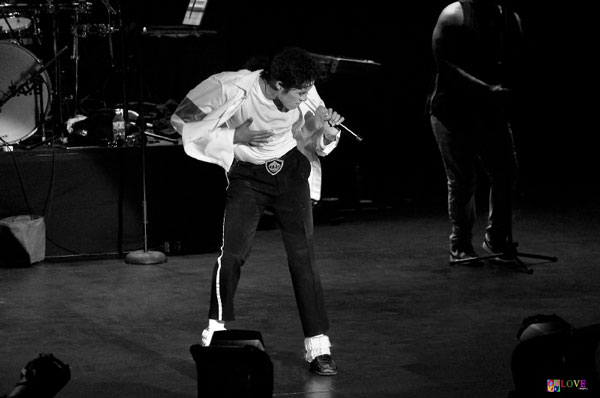 As "MJ" sings and dances he pleads, "If you want to make the world a better place, take a look at yourself and make a change!" to cheers and another standing ovation.
Requesting a second encore, Who's Bad performs a dynamic rendition of "Black or White," the entire audience on its feet dancing and celebrating the music of Michael Jackson.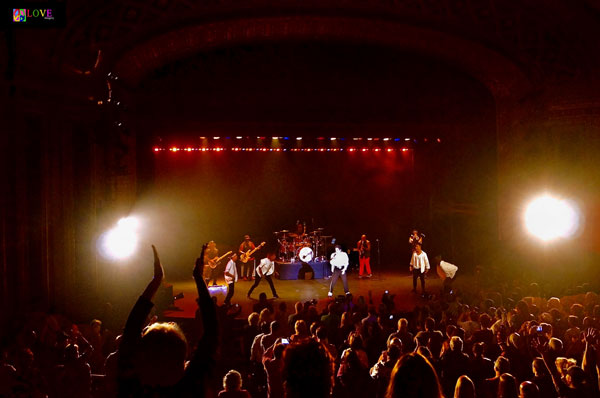 As the crowd exits the auditorium, we chat with several audience members who share their thoughts regarding tonight's Who's Bad: The Ultimate Michael Jackson Experience performance.
First, we chat with a group of young actors who, we're told, often appear here at The Strand as part of a community theater program from Brick, NJ.
Alysa, 12, from Jackson calls the show "amazing," adding, "I like the music choices." Likewise, her friend, Ella, 13, from Brick exclaims, "It was really exciting," "fantastic," "a lot of fun," and "cool!"
Will, 13, from Toms River tells us, "Before tonight, I really wasn't a Michael Jackson fan, but I was pleasantly surprised with 'Jam' being my favorite." Gianni, 9, from Toms River says, "It's inspiring that people continue to carry on the legacy of Michael Jackson," going on to add, "my favorite song was 'Thriller.'"
Next, we take a moment to chat with a family of three generations of Michael Jackson fans.
Dad Joseph from Ocean Township comments, "This show is incredible — the horns are so energetic!" further noting, "Even on the slow songs, you could still feel the energy."
Mom Kate says, "It's so great. The horn players are amazing. This is what I think it would have been like to see Michael Jackson in person."
Daughter Lily calls the show, "so cool!"
And even grandma Cindy from Howell chimes in referring to Who's Bad's performance as "a walk down memory lane," recalling, "I can even remember when The Jackson 5's song, 'ABC,' came out on AM radio."
Next, we chat with Michele and Collette — two sisters — who shared a "girls night out" enjoying Who's Bad with a group of friends, both taking an opportunity to dance on stage tonight with "MJ."
Exclaims Michele from Beachwood, "You only get to dance on stage with 'Michael Jackson' once, so you you gotta do what you gotta do!"
Adding, "'Man in the Mirror' was my favorite number," Michele notes, "We really need to think about that song today," revealing, "that song makes me very emotional."
Michele's sister, Collette from Lanoka Harbor, agrees, calling the production "energetic and fun," and acknowledging, "I enjoyed the whole show."
And, lastly, we chat with Gerald from Middletown who wholeheartedly agrees with what's already been said commenting, "This was one great show," and likely summing up the feelings of many others in the crowd tonight when he happily exclaims, "I had an awesome time!"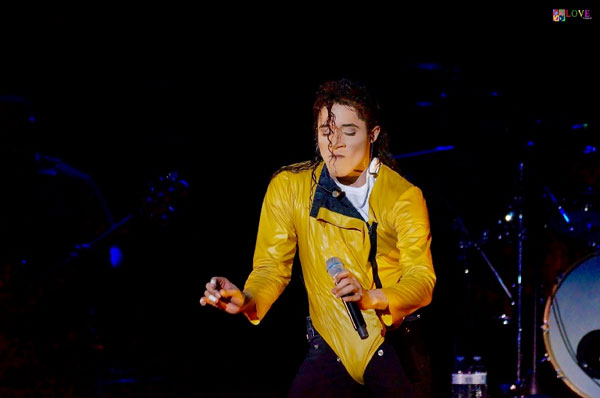 To learn more about Who's Bad: The Ultimate Michael Jackson Experience, please go to whosbadmusic.com. For information on upcoming performances at The Strand — including The Lovin' Spoonful and Gary Puckett on Oct. 13; The Hit Men on Oct. 21; and a Golden Oldies Spectacular with The Shirelles' Shirley Alston Reeves, The Happenings, The Platters, The Crystals' La La Brooks, and more on Oct. 29 — please click on strand.org.
Photos by Love Imagery
Spotlight Central. Your source for Jersey entertainment news and reviews
Love Imagery Fine Art Photography. all you need. peace/love/flower/power