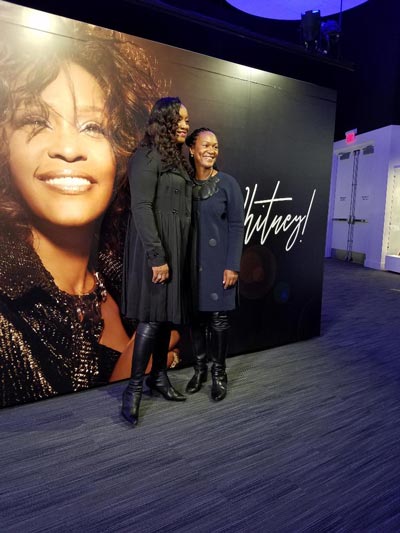 PHOTO: Pat Houston & Donna Houston present the Whitney! Exhibit at the Grammy Museum Experience Prudential Center.
Whitney Houston fans rejoice!
On Friday, October 19, 2018, the GRAMMY Museum Experience at the Prudential Center in Newark, NJ opens its doors to Whitney!, the latest temporary exhibit in the Experience honoring the legacy of Newark's own Whitney Houston.
It was quite a musical day at the media blitz event. Students from the Whitney E. Houston Academy of East Orange, NJ were bussed in to preview the collection of Whitney's artifacts on view, including stage costumes worn by Houston, scrapbooks from her early career and numerous awards and accolades Houston received throughout her career.
---
The article continues after this ad
---
---
With microphones placed in a small room off the exhibit area, the students felt as if they were in a recording sound booth, and that's when magic filled the air. The students' started singing songs and their beautiful voices were a great compliment to the exhibit.
VIDEO: Students from the Whitney E. Houston Academy greet Pat Houston and Donna Houston at  Whitney! -- the GRAMMY Museum Exhibit Prudential Center on October 17, 2018.
The exhibit is tastefully done, with items such as Whitney's high school diploma and her Bible, all placed behind glass. A short film with clips of Whitney's achievements, up to the Grammy Awards speech and prayer by LL Cool J the day after Whitney's death, is on a loop for easy viewing.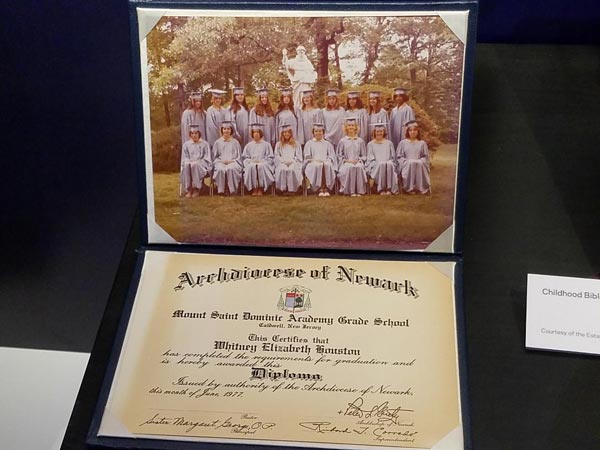 Whitney Houston's school diploma is on display.
One of the photos presented is of Clive Davis, the founder and president of Arista Records, to which Whitney Houston was signed. It was at Arista, under the guidance of Clive Davis, that Whitney flourished and became one of the biggest selling artists in music as we know it.
Pat Houston, the President of The Estate of Whitney E. Houston, discussed the exhibit with New Jersey Stage:
What is it like for you to exhibit Whitney Houston's life? It must be hard.
No, it's not difficult. You're seeing all of her timeline in one place, and it's amazing to see -- from childhood to the day that she passed. You're seeing artifacts from when she was a young girl to a woman. It's amazing to see it all in one place AND in Newark, NJ, where she was born and raised. To celebrate her here at this particular time for her legacy is a wonderful feeling.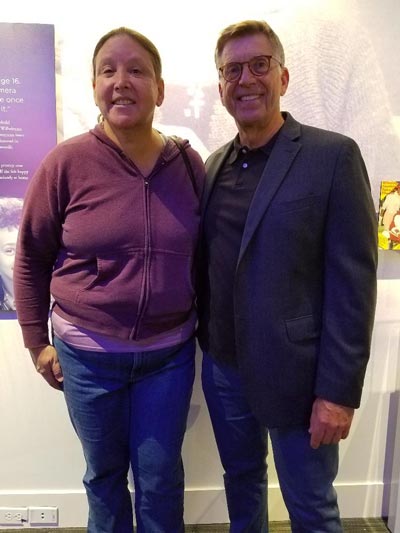 PHOTO: Bob Santelli,  Founding Executive Director of the Grammy Museum, with Mama Lisa of The Green Planet band.

 
Bob Santelli, Founding Executive Director of the Grammy Museum, stood by one of the cases carrying Whitney's tour dresses as he spoke to us. The Whitney E. Houston Academy children's singing distracted Bob in the best of ways. With all smiles, Bob gave New Jersey Stage great insight to the programs offered by the Grammy Museum:
You went to Monmouth University so coming back to Jersey must be a lot of fun.
Yes, actually, I was born just a few miles from here in Jersey City, NJ and raised in West New York. Coming back to NJ and helping share the great stories of some of our greatest artists is not only professionally rewarding for me but personally as well.
Monmouth University, as well as 13 other universities are affiliated with the Grammy Museum. What comes with the affiliation?
When a university becomes a Grammy Museum university affiliate, it means that they have a tie to us now that is deeper, and hopefully mutually beneficial. Interns from different universities come to work at our museums, professors are allowed to use some of our archives and oral history programs in their classes, we run songwriting camps and we do education programs. They are able to take some of the exhibits if they have the actual space to do it. So basically we become first cousins. The hope is that the relationship is good for the faculty, the students, as well as for us because it keeps us connected to young people, and young people are the soul and breath of American popular music.
Is there a difference between today's youth versus 30 years ago?
The interesting thing about today's youth as opposed to 30 years ago is that they listen differently; they have music in their ears almost 24/7. My hope is that they listen more intently, more deeply, if you will, so that they can have a lifelong emotional connection to the music that they loved in their youth.
So that delves into understanding how music operates. On a technical basis, what would the perfect song be for you.
Wow, that's interesting -- to try to figure out one song that you can deconstruct and basically point out everything. I don't have one song, but I can tell you that I want to dance with somebody because of the kids singing in the background. I would say any song really. The goal is to be able to take any song and deliver to a young person, or even a fan, how that creative process resulted in this beautiful work of art, whatever song it may be. That's really our goal.
The Whitney! exhibit runs through June 2019 at the Grammy Museum Experience Prudential Center, 165 Mulberry St, Newark, NJ 07102.
---
Ilana Rapp is a media-savvy Generation Xer with instinctive wit, quick humor and a taste for deep human emotions. As a former (child) actress with Broadway, film and television credits, she is adept at, well, lots of things.

She has blogged on The Huffington Post and writes entertainment pieces for NYCastings.

She is a huge fan of the television show V. Ask her why her favorite number is 22.

Follow Ilana on Twitter @LizardLadyNJ