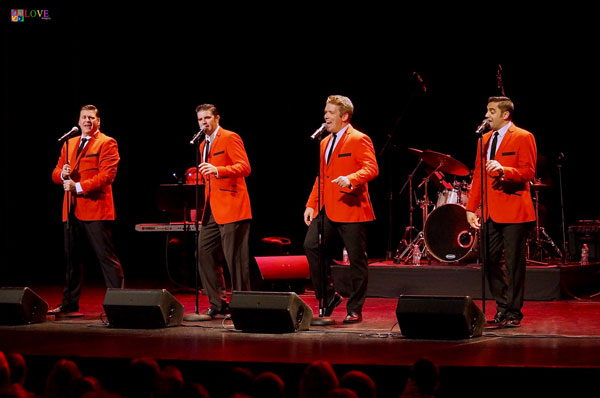 The corner of Clifton Ave. and 4th St. in Lakewood, NJ, is bustling this beautiful Friday, August 18, 2017 evening as concertgoers make their way to the historic Strand Theater for a special concert performance. Produced by James D'Amico, tonight's concert features "America's #1 Frankie Valli tribute show," Let's Hang On, in a benefit performance for the charity known as Tommy's House.
Tommy's House was created by D'Amico in 2011 in remembrance of his late brother, Tommy. The charity provides temporary emergency housing, clothing, and referral services for homeless men and women in Passaic County and neighboring Bergen County, NJ.
It's heartening to see the great wave of people as they enter the Strand Theater lobby tonight to support this worthwhile cause while enjoying an evening filled with solid gold music.
The lobby lights start to blink, signaling it's time for patrons to take their seats inside the beautiful Strand Theater auditorium.
D'Amico takes the stage to welcome the capacity crowd to The Strand, thanking them for their support and introducing tonight's warm-up act, comedian Uncle Floyd.
---
The article continues after this ad
---
---
The audience howls and cackles with laughter at Floyd's raucous humor.
Immediately following Uncle Floyd's set, a four piece band takes the stage and begins to play an instrumental overture of well-known Frankie Valli tunes.
Soon, the four members of Let's Hang On — Rich Bresenhan, Jared Slater, Josh Eleazer, and Chris Barletta — join the band on stage dancing in sync and singing Frankie Valli and The Four Seasons' 1963 hit "Walk Like a Man" in rich four-part harmony.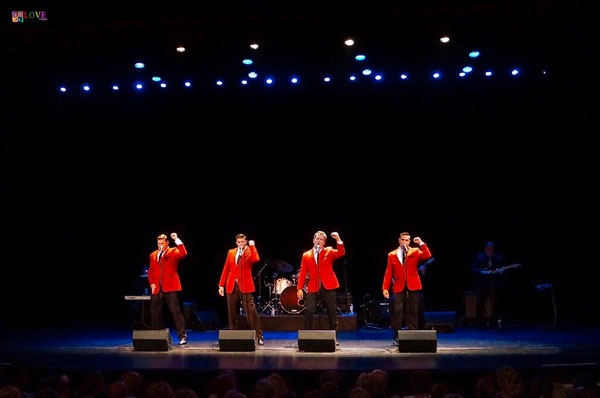 Their bright red blazers and white shirts reminding the audience of a time of early 60's innocence, the quartet segues into 1966's "I've Got You Under My Skin," the vocalists stopping every so often in order to enable audience members to happily sing on their own.
The crowd really grooves to Let's Hang On's rendition of the upbeat Four Seasons' 1967 tune, "C'mon Marianne."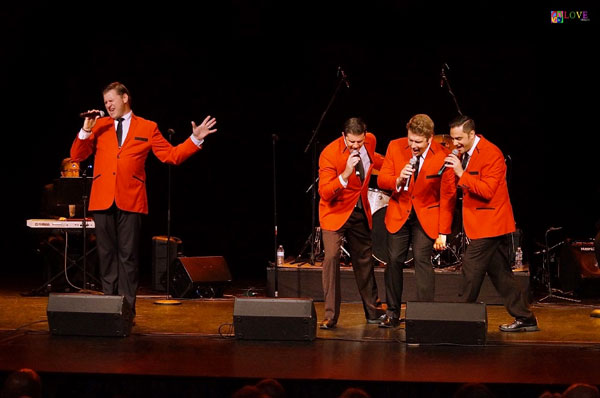 The audience claps and sings along and the guys trade lead vocals as they dance. At least one couple in the audience stands up to dance in the aisle as they sing, continuing to do so for the remainder of the show!
Inviting the audience to "sing along when you recognize a song," Let's Hang On performs a selection of classic '60s hits including a finger-snapping rendition of "Silhouettes," a toe-tapping version of "I Can't Give You Anything but Love," a crooning and swooning interpretation of "Earth Angel," and a spirited performance of "Why Do Fools Fall In Love" — walking, strolling, clapping, and turning around on the instrumental interlude.
Frankie Valli's 1975 solo hit, "My Eyes Adored You," starts out as a solo number, but progresses with each of the Let's Hang On vocalists returning to the stage, one by one adding their voices until the number ends with all of four singers singing in four-part harmony.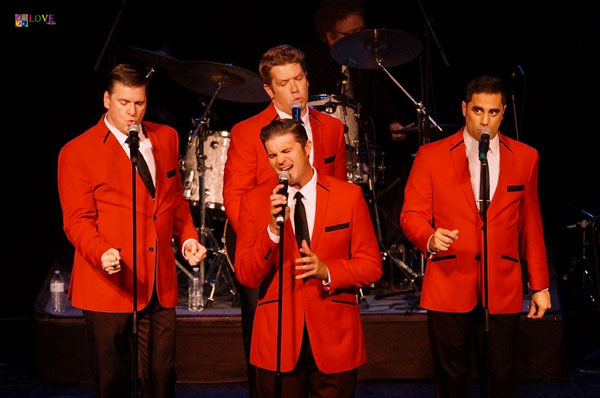 Moving on to a trio of classic Frankie Valli and the Four Seasons' numbers, the members of the quartet effortlessly sing and dance on 1964's "Dawn," and follow that up with a lively version of another tune from 1964, "Big Man in Town," before the audience happily joins in singing and clapping along on 1962's "Big Girls Don't Cry."
Taking a moment to introduce the various members of the group, we first meet Let's Hang On Tenor #1, Rich Bresenhan from Erie, Pennsylvania.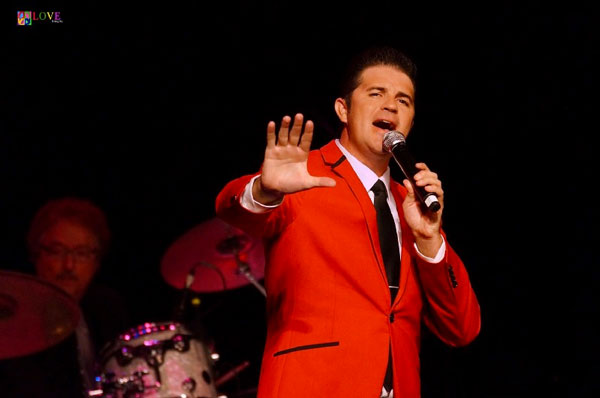 Next up is Tenor #2 Jared Slater from Oahu, Hawaii.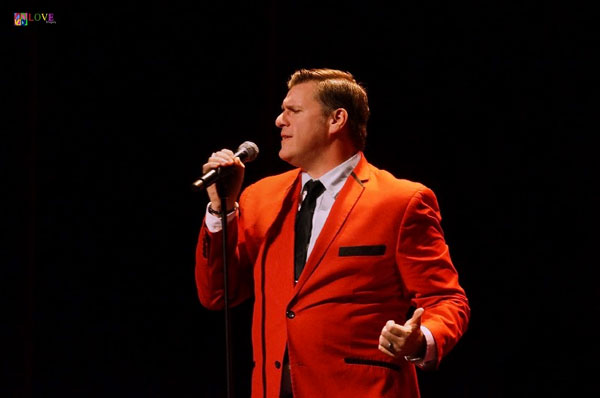 On baritone is Josh Eleazer from Knoxville, Tennessee.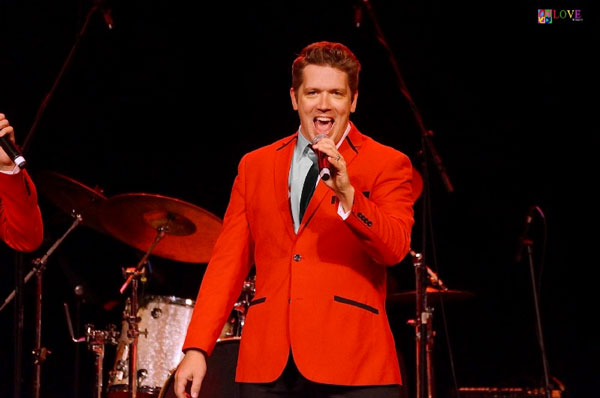 Lastly, we meet Chris Barletta, bass, from Boston, Massachusetts.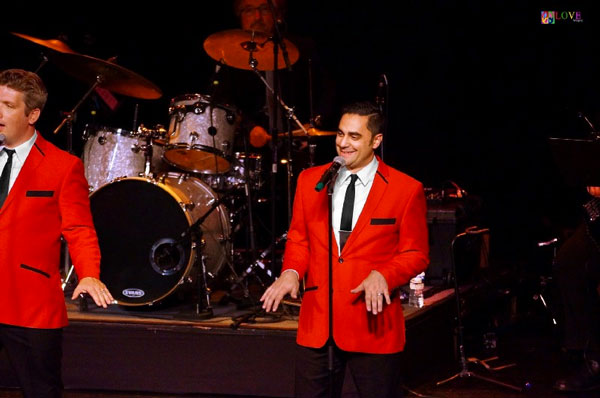 Josh has the crowd smiling when he shows his age by announcing, "Someone recently told me that records used to have a 'B' side where you could play both sides of a record — I think I'll have to try that sometime."
Going on to introduce an unexpected 'B' side hit for Frankie Valli, he and the band perform a compelling rendition of 1967's "Can't Take My Eyes Off Of You."
Following huge applause, the boys wrap up Act I of their set with lively renditions of The Four Seasons 1962 smash "Sherry" and 1975's "December, 1963 (Oh, What a Night)," the crowd loving every note.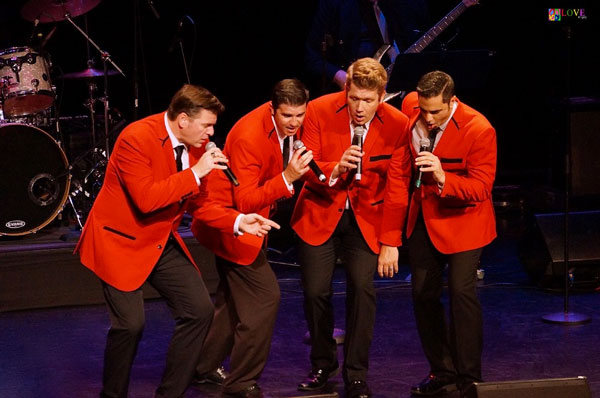 During intermission, we get a moment to chat with Josh, a Tennessean, who talks to us about performing here in the Garden State.
Exclaims Josh, "New Jersey is phenomenal! It's at the top end of the responses we get. Crowds have a more energetic vibe up here, making this a really easy audience to play for!"
Act II begins with all four members of Let's Hang On — Rich, Jared, Josh, and Chris — in black and silver suits humorously proclaiming, "Welcome to the evening wear portion of the show."
Harmonizing beautifully together on an a cappella version of Frankie Valli and the Four Seasons' 1964 recording, "Silence Is Golden," the singers' voices fill the theater with good vibrations, eliciting cheers from the crowd.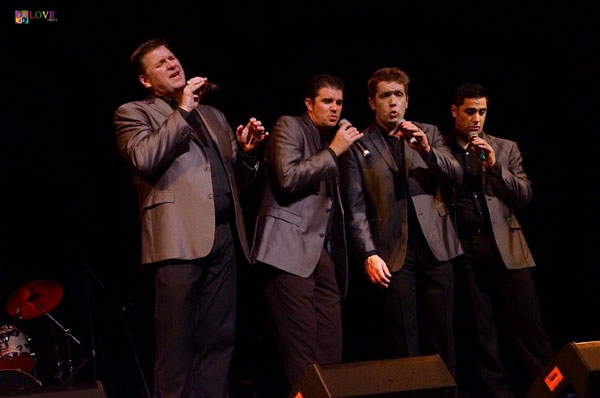 Announcing, "This next song was a #1 hit in 1967 and again 40 years later in Europe as a techno-dance song," Let's Hang On launches into a rockin' version of "Beggin'" which features smooth dance moves and a wailin' guitar solo.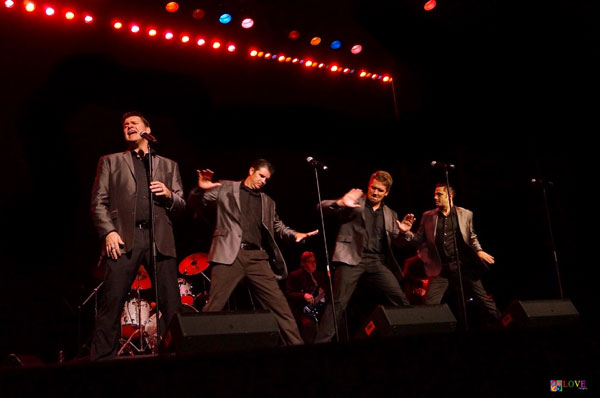 Taking a moment to chat with the crowd, the guys ask, "Are you still havin' fun?"
When the audience happily replies in the affirmative, the men joke, "Well, it's about to get even more fun as we give away a copy of our CD which is currently #1 on the Top 40 chart of the Active Adult Communities of Florida," adding, "We're really huge in The Villages."
Moving on to energetic renditions of 1965's "Bye Bye Baby (Baby Goodbye)" and 1963's "Opus 17 (Don't You Worry About Me)," the boys have the audience joyfully clapping along.
Feet stamp to the iconic bass drum beat of the Four Seasons 1964 #1 hit, "Rag Doll," as the guys sing and dance around with their microphones, perfectly performing every single "ooh" and "ah."
After a knock-out rendition of Frankie Valli and the Four Seasons' '63 recording, "Stay," the guys perform a real crowd pleaser — 1966's "Working My Way Back to You" — before entertaining the crowd with their fancy footwork and choreography on their namesake tune, 1963's "Let's Hang On."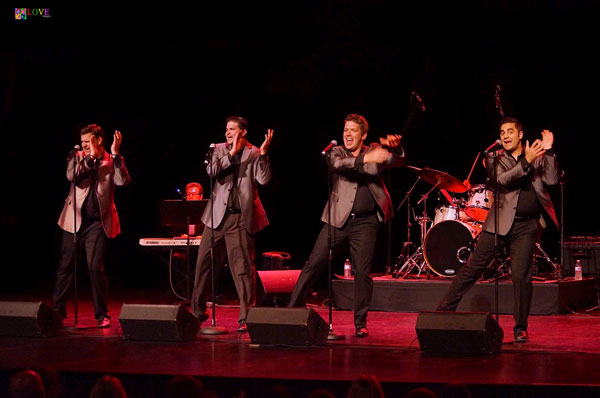 Asking who had more fun tonight, the guys have an impromptu contest between audience members seated on the right and the left sides of the auditorium to see which group can contribute more applause. Ending with a tie, the quartet comments, "We love this gig! We travel all over the United States and we've never heard better singing than we've heard tonight!"
Concluding their show with 1975's "Who Loves You," the audience stands and cheers for Let's Hang On. After which, the group reciprocates with a stellar encore of 1964's "Ronnie," the crowd continuing to cheer and applaud as the quartet exits the stage.
Following the performance, we get a chance to chat with several audience members who share their reactions to Let's Hang On with us.
Says Joann from Manchester, "We love this show. Let's Hang On sounds just like the Four Seasons!"
Andrea from Manchester comments, "They have fantastic voices. It's just amazing that all four members of Let's Hang On come from different states and not one of them is from Jersey!" adding, "I saw Jersey Boys on Broadway, and these guys are even better!"
Tom from Manahawkin reveals, "If I close my eyes, I hear the Four Seasons," adding, "I brought my 19-year-old daughter with me tonight because she likes Frankie Valli. In fact, I'm going to be taking her to see Frankie Valli when he performs in Red Bank in November," joking, "Then I'll really be the 'best dad!'"
Tom's daughter Sofia laughs and comments, "These guys are good!" disclosing, "I heard Frankie Valli's music one day and I really liked it — especially the high parts. After tonight, I'm looking forward to seeing the real Frankie Valli!"
Val from Brick says, "What a terrific concert by Let's Hang On and it's also great to see everyone here to support such a wonderful cause — Tommy's House!"
Lori from Point Pleasant agrees, stating, "Let's Hang On is great! I love the old music. I love Frankie Valli. And I love the Strand Theater — I'm so glad to be here."
And, lastly , Gene from Point Pleasant comments, "Let's Hang On is amazing — they have great vocals. And Frankie Valli set the standard for his era — so with Let's Hang On's talent and his music, what's not to love?"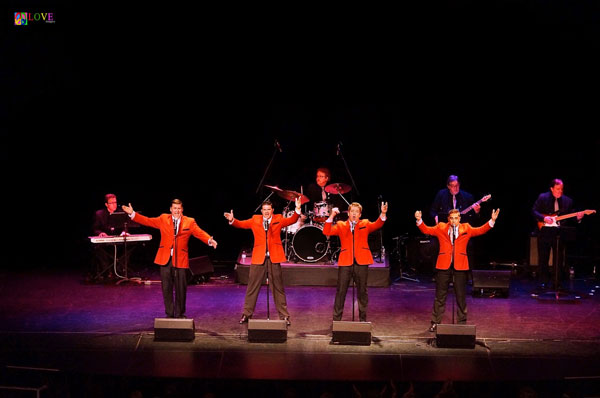 For more information on Let's Hang On, please go to frankievallitributeshow.com. To learn more about Tommy's House, please go to tommyshouse.com. For future James D'Amico Productions events at The Strand Theater — including Who's Bad? The Ultimate Michael Jackson Experience on Sept. 9 and country music superstar Travis Tritt on Sept. 23 — please go to strand.org
Photos by Love Imagery
Spotlight Central. Your source for Jersey entertainment news and reviews
Love Imagery Fine Art Photography. all you need. peace/love/flower/power