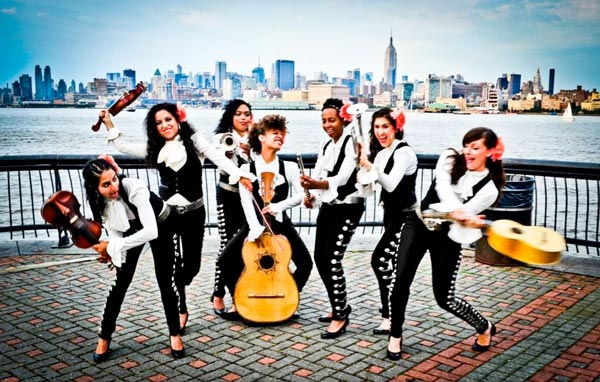 (PRINCETON JUNCTION, NJ) -- Summertime abounds with opportunities to see outdoor concerts, but when the rain comes, it is not a producer's friend. Since two of its four concerts were rained out last year, the West Windsor Arts Council has decided to try a different approach. On Saturday August 5 (raindate Aug 6) at the Nassau Park Pavilion, the West Windsor Arts Council and its major supporter, DDR Corporation, will offer a full-day of free music and performance-based acts on two stages under tents at the surprisingly bucolic Nassau Park Pavilion in the shopping center on Rt. 1 behind Panera. Featuring a variety of musical genres as well as craft vendors, food trucks, and fun for everyone! Please visit www.westwindsorarts.org for a full schedule.
As of the writing of this release, the day will start with performances designed for families featuring instructors from The Circus Place demonstrating aerial feats and acrobatics. Then Lolly Hopwood and friends will offer their positive and interactive show for kids. A singer/songwriter showcase will present 5 up-and-coming artists who have been selected from a call for entries to perform. Dance performances with Donia Salem will provide fusion dance. Next the stylings of Entity featuring Daniel Johnson and Craig Ebner will fill the air with sounds of tabla percussion and guitar.
Attendees of WWAC's Speakeasy Soiree will be eager to get another chance to see the talented musicians of Darryl Yokley and the Sound Reformation playing their brand of polished jazz. They will be followed by Pyrenesia  from Lambertville, NJ with their fresh, crowd-pleasing blend of bluegrass and gypsy jazz.
Gracing the stage at the end of the night will be the amazing Latin Grammy Award nominees, Mariachi Flor de Toloache. An all female mariachi band hailing from New York City, Mariachi Flor de Toloache is lead by singers Mireya I. Ramos (founder) & Shae Fiol (original member). The members hail from diverse cultural backgrounds such as Mexico, Puerto Rico, Dominican Republic, Cuba, Australia, Colombia, Germany, Italy and the United States. This defines their unique flavor and sound. The result of this cultural bouquet is an edgy, versatile and fresh take on traditional Mexican music.
They coalesce as would a band of sisters, with a grace and vibrant beauty that casts a spell over their audiences not unlike the legendary Toloache flower still being used in Mexico as a love potion. While working to preserve centuries old traditions of Mariachi, their melange of the traditional and the modern pushes the boundaries of the genre and brings Mariachi music to new audiences.
---
The article continues after this ad
---
---
Over the course of the last few years, Mariachi Flor de Toloache's performances have illuminated world-renowned stages in Europe and India. In November 2015, the group embarked on an extensive European and U.S tour as the opening act of Black Keys' singer Dan Auerbach's new band, The Arcs. After performances to sold out audiences in the UK, Germany, Holland, Italy, France, they continued to captivate crowds in the U.S. at legendary venues such as First Avenue in Minneapolis, The Vic in Chicago, Terminal 5 in New York, DC 930 Club and Nashville's Ryman Theater (The Grand Ole Opry).
Mariachi Flor De Toloache's critically acclaimed self-titled debut album received a Latin Grammy nomination for "Best Ranchera Album" of 2015. Sharing the podium with legends Pedro Fernández and Aida Cuevas meant an embrace from the Latin Music Community. The group's live performances were praised by Rolling Stone, Billboard Magazine, The New Yorker, GQ Magazine, The New York Times. Following a highly praised NPR's "Tiny Desk Concert", their collaboration with rock supergroup The Arcs landed them on the Late Show with Stephen Colbert, and BBC 2's Later with Jools Holland.​
WwacFest Summer Music is made possible by the generous sponsorship of DDR Corp. (Nassau Park), Title Village Company, Hamilton Law, the West Windsor Arts Council, and with support of the New Jersey State Council on the Arts, Mercer County Cultural & Heritage Commission/New Jersey State Council on the Arts. Check West Windsor Arts Center website for event details and weather contingencies at www.westwindsorarts.org