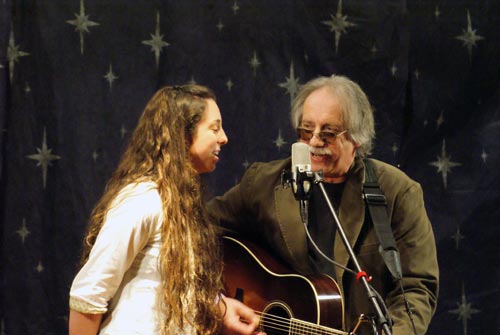 (ASBURY PARK, NJ - MARCH 12, 2011) -- George Wirth, Matt Kay, and Emily Grove each took home two awards in the 2nd Annual Jersey Acoustic Music Awards. Held at the Atonement Lutheran Church Hall, the night provided an excellent look inside the state's coffeehouse scene with live performances by 19 artists. Hosted by Anton Daub, the award show attracted a standing room only crowd.
The night featured live sets by Bobby Strange, Michael Brett, Jenny Woods, Keith Monacchio, Sheli Aarden, Michael Dante Summonte, we are, George Wirth, Kacie Baker, Whitney Kelly, Don Lee, Matt Kay, Gerald Edward, Mike Butler, Danny DeFonza, Jim Crawford, Cat Cosentino, and Beannacht. Cara Salimando (Universal/Motown Records) made a special appearance as well.
Many of the artists normally perform in front of small crowds with espresso machines running during their set, but tonight they were the stars of the stage. The crowd was reported to be twice as large as the initial award show held last year. Members of the media including Jim Testa of the Star-Ledger, Jeff Raspe from 90.5 "The Night", and Danny Coleman of "Rock On Radio Show" were among those in attendance. Helen Chantal Pike, editor of "Asbury Park Where Music Lives" signed copies of the recently published book, which was available for purchase at the show.
The night featured great performances from all of the artists. Among the highlights was George Wirth doing the title track off of "The Last Good Kiss" (voted Album of the Year), Matt Kay's "The Very Last Day" (voted "Song of the Year"), and Kacie Baker (voted Top Female Act) assisting George Wirth on a song.
Here is the complete list of winners:
Male Act -- Matt Kay
Female Act -- Kacie Baker
Under 18 Years Old -- Michael Butler
Band/Group -- Thomas Wesley Stern
Male Vocalist -- Gerald Edward
Female Vocalist -- Emily Grove
Rock/Pop/Blues -- Don Lee
Folk/Country -- Michael Brett
Male Songwriter -- George Wirth
Female Songwriter -- Emily Grove
New Act 2010 -- Beannacht
Song Of The Year -- The Very Last Day
Album Of The Year -- George Wirth