This article is from our magazine. To view it in its original format, click here
Theatre Preview: January 2018
originally published: 12/26/2017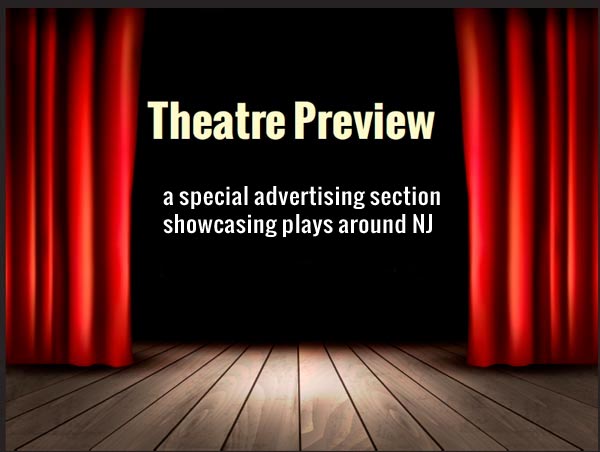 Each month, New Jersey Stage Magazine presents a special advertising section promoting shows around the Garden State.
The Calling @ New Jersey Repertory Company, 179 Broadway, Long Branch
Warm up your winter with a heart-pounding, mind-bending psychological thriller, peppered with comic relief and served up by award-winning playwright, Joel Stone. In an empty church following Mrs. Callahan's funeral, a man of faith and a burned-out ICU nurse wage a battle of wits and deep convictions about life and death, conscience and faith, that culminates in a shocking resolution. Commissioned by NJPAC's Stage Exchange in Association with NJTA and NJ Rep. Directed by Evan Bergman, this World Premiere includes Ames Adamson and Jared Michael Delaney. On stage from January 4  through February 4.
El CoquÍ Espectacular and the Bottle of Doom @ Two River Theater, 21 Bridge Avenue, Red Bank
In Sunset Park, Brooklyn, a masked figure has been spotted: the Puerto Rican superhero, El Coquí Espectacular. In reality, it is out-of-work comic book artist Alex, who has been secretly dressing up as his favorite creation. As Alex learns that fighting crime is harder than it looks, his older brother Joe wants Alex to join him at his advertising agency, selling sugary soda to Latino consumers. Can El Coquí defeat his own self-doubt and be a hero for his neighborhood? Written by Matt Barbot and directed by Jose Zayas, this World Premiere production is on stage from January 6 through February 4th.
A Good Farmer @ SOPAC, One Sopac Way, South Orange
A Good Farmer takes place in upstate New York and focuses on two women: Bonnie who owns a farm with her husband; and Carla, a recent immigrant from Mexico who works the farm along with members of her family. Ripped from today's headlines, this is the story of a farming community and its struggles with issues of immigration, loyalty, family, survival and compassion. Sharyn Rothstein has artfully managed to reveal the humanity behind some of today's contentious political issues. This World Premiere play is presented from January 24 through February 4th.
Harvey @ Algonquin Arts, 173 Main Street, Manasquan
To avoid future embarrassment for her family - and especially for her daughter, Myrtle Mae - Veta decides to have Elwood committed to a sanitarium. At the sanitarium, a frantic Veta explains to the staff that her years of living with Elwood's hallucination have caused her to see Harvey also, and so the doctors mistakenly commit her instead of her mild-mannered brother. The truth comes out, however; Veta is freed, and the search is on for Elwood, who eventually arrives at the sanitarium of his own volition, looking for Harvey.  This Pulitzer Prize-winning comedy is presented from January 27 through February 3.
---
The article continues after this ad
---
---
American Hero @ George Street Playhouse, 103 College Farm Road, New Brunswick
An Iraq war hero's perfect life starts to unravel when a fellow soldier seeking justice shows up threatening to expose a hidden past. From Christopher Demos-Brown, the author of last season's American Son, this probing drama shines a light on how America honors its veteran soldiers as well as the corrupting effect of awards and commendations, and questions what it truly means to be a hero. American Hero is directed by David Saint and presented at George Street Playhouse's temporary home from January 30th through February 25th.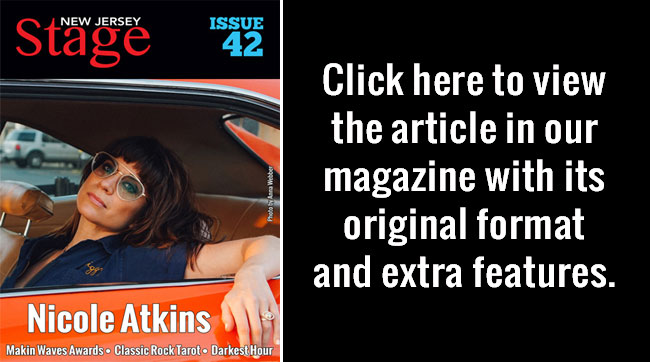 Center Players Presents "The Emperor's New Duds"
(FREEHOLD, NJ) --  Center Players Dessert Theater will present a family-friendly production of "The Emperor's New Duds" at Center Playhouse, 35 South St, in downtown Freehold, NJ from December 7 – 16. A musical adaptation of Hans Christian Anderson's the "Emperor's New Clothes," the play was written by Bernice Garfield-Szita, who co-directed the production with Enid Bush.
---
Centenary Stage's Young Performers Workshop presents 2018 Winter Festival of Shows
(HACKETTSTOWN, NJ) -- Based on the Gospel According to St. Matthew with music and new lyrics by Stephen Schwartz, Godspell is composed of various musical parables from The Gospel. Jesus Christ recruits a group of followers and teaches them various lessons through song and dance. Toward the end of the second act, the show begins to follow a more linear narrative as Jesus is betrayed by Judas and eventually crucified. Performances are Sunday, December 9 at 5:00pm; Saturday, December 15 at 8pm and Sunday, December 16 at 7:30pm.
---
The Shakespeare Theatre Presents "The Winter's Tale"
(MADISON, NJ) -- The Shakespeare Theatre of New Jersey's concludes its 56th season with its sixth and final Main Stage production, The Winter's Tale. Last seen at The Shakespeare Theatre in 2008, Artistic Director Bonnie J. Monte directs this production of Shakespeare's tragicomedic romance. Veteran company members Jacqueline Antaramian, Jon Barker, Erin Partin, John Keabler, Raphael Nash Thompson,Seamus Mulcahy, Patrick Toon, and Ames Adamson are among a cast of 20 actors. Performances run from December 5 to December 30. 
---
American Theater Group Announces Full Cast & Creative For "Tell Them I'm Still Young"
(SOUTH ORANGE, NJ) -- American Theater Group has announced the full cast and creative team for its World Premiere production of Tell Them I'm Still Young, a new play by Julia Doolittle, which will run at the South Orange Performing Arts Center from January 24 - February 3, 2019. Joining the previously announced Andre Braugher (Homicide: Life on the Streets, Men of a Certain Age, Brooklyn Nine-Nine) andMichele Pawk (Hollywood Arms, Hairspray, Mamma Mia) are Janice Amaya (Seen/Unseen) and Seth Clayton (The Madrid).
---
Holmdel Theatre Company Presents 'ART'
(HOLMDEL, NJ) – The Holmdel Theatre Company (HTC) will present 6 performances of Yasmina Reza's 'ART'  from December 7th through December 16th. Translated from French by Christopher Hampton, the play tells the story of what happens when Serge buys an expensive painting, and the reactions of his two closest friends, Marc and Yvan, to his purchase. As what begins as a discussion about the quality of the painting that Serge has purchased quickly devolves into petty jabs and personal attacks, the three men border on destroying their friendships.
---


Broadway's Mandy Gonzalez LIVE! at Toms River's Grunin Center
Broadway is in the house at Toms River, NJ's Grunin Center for the Arts with a Fearless live concert performance by Broadway star, Mandy Gonzalez!
---
"The Spitfire Grill" and Caitlin Geisser Return To Their Roots
"I saw something in her that you rarely come across," recalled Ted Wioncek III, Artistic Director at Eagle Theatre in Hammonton. "She's more than wise beyond her years; I believe she's going to be a game-changer and a trendsetter for this art form."
---
Broadway's Next H!T Musical LIVE! at Toms River's Grunin Center
It's Friday, October 26, 2018, and the Broadway's Next H!T Musical cast is just about ready to take the stage at the Jay and Linda Grunin Center for the Arts, located on the campus of Ocean County College in Toms River, NJ.
---
The Last Apple Pie: "Apples In Winter" Opens At Centenary Stage
Jennifer Fawcett's new play centers around a mother in a kitchen, doing something countless people across America will take part in over the upcoming holiday season: making an apple pie.
---
See Andrea McArdle LIVE! in Annie at Deal Park's Axelrod PAC!
Leapin' Lizards! Annie's finally made it to the Axelrod Performing Arts Center in Deal Park, NJ, and it stars Broadway's original Annie, Andrea McArdle, as Miss Hannigan!
---
Event calendar
Saturday, Nov 17, 2018
---
MUSIC

---
---
---
---
---
---
---
---
---
---
---
THEATRE

---
Annie

@ Broad Street United Methodist Church, Burlington - 8:00pm
---
---
Annie

@ Axelrod Performing Arts Center, Deal Park - 2:00pm and 8:00pm
---
Apples In Winter

@ Centenary Stage Company - Kutz Theater of the Lackland Center, Hackettstown - 8:00pm
---
---
---
Kiss Me Kate

@ Broadway Theatre of Pitman, Pitman - 2:00pm and 8:00pm
---
---
---
---
---
Into the Woods

@ Studio Playhouse Upper Montclair, Upper Montclair - 8:00pm
---
---
COMEDY

---
---
DANCE

---
---
KIDS

---
---
LECTURE

---
---
View all events
---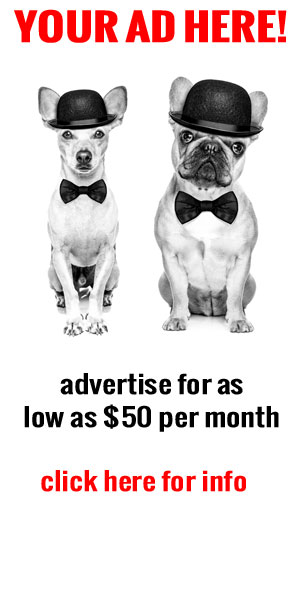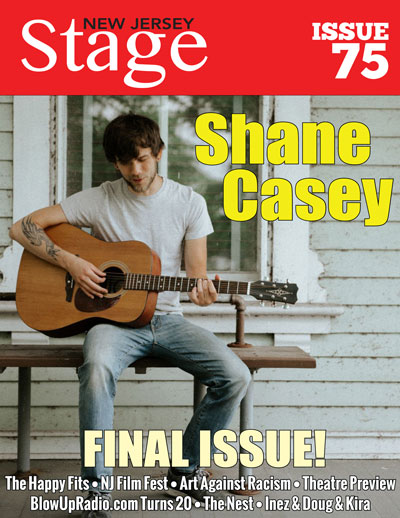 For more on our awards, click here