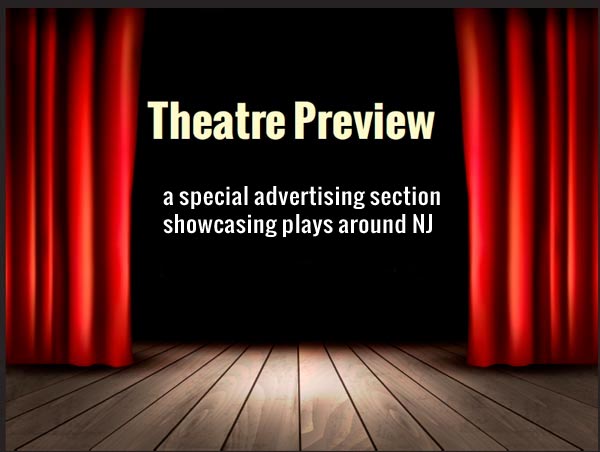 Each month, New Jersey Stage Magazine presents a special advertising section promoting shows around the Garden State.
The Calling @ New Jersey Repertory Company, 179 Broadway, Long Branch
Warm up your winter with a heart-pounding, mind-bending psychological thriller, peppered with comic relief and served up by award-winning playwright, Joel Stone. In an empty church following Mrs. Callahan's funeral, a man of faith and a burned-out ICU nurse wage a battle of wits and deep convictions about life and death, conscience and faith, that culminates in a shocking resolution. Commissioned by NJPAC's Stage Exchange in Association with NJTA and NJ Rep. Directed by Evan Bergman, this World Premiere includes Ames Adamson and Jared Michael Delaney. On stage from January 4  through February 4.
El CoquÍ Espectacular and the Bottle of Doom @ Two River Theater, 21 Bridge Avenue, Red Bank
In Sunset Park, Brooklyn, a masked figure has been spotted: the Puerto Rican superhero, El Coquí Espectacular. In reality, it is out-of-work comic book artist Alex, who has been secretly dressing up as his favorite creation. As Alex learns that fighting crime is harder than it looks, his older brother Joe wants Alex to join him at his advertising agency, selling sugary soda to Latino consumers. Can El Coquí defeat his own self-doubt and be a hero for his neighborhood? Written by Matt Barbot and directed by Jose Zayas, this World Premiere production is on stage from January 6 through February 4th.
A Good Farmer @ SOPAC, One Sopac Way, South Orange
A Good Farmer takes place in upstate New York and focuses on two women: Bonnie who owns a farm with her husband; and Carla, a recent immigrant from Mexico who works the farm along with members of her family. Ripped from today's headlines, this is the story of a farming community and its struggles with issues of immigration, loyalty, family, survival and compassion. Sharyn Rothstein has artfully managed to reveal the humanity behind some of today's contentious political issues. This World Premiere play is presented from January 24 through February 4th.
Harvey @ Algonquin Arts, 173 Main Street, Manasquan
To avoid future embarrassment for her family - and especially for her daughter, Myrtle Mae - Veta decides to have Elwood committed to a sanitarium. At the sanitarium, a frantic Veta explains to the staff that her years of living with Elwood's hallucination have caused her to see Harvey also, and so the doctors mistakenly commit her instead of her mild-mannered brother. The truth comes out, however; Veta is freed, and the search is on for Elwood, who eventually arrives at the sanitarium of his own volition, looking for Harvey.  This Pulitzer Prize-winning comedy is presented from January 27 through February 3.
---
The article continues after this ad
---
---
American Hero @ George Street Playhouse, 103 College Farm Road, New Brunswick
An Iraq war hero's perfect life starts to unravel when a fellow soldier seeking justice shows up threatening to expose a hidden past. From Christopher Demos-Brown, the author of last season's American Son, this probing drama shines a light on how America honors its veteran soldiers as well as the corrupting effect of awards and commendations, and questions what it truly means to be a hero. American Hero is directed by David Saint and presented at George Street Playhouse's temporary home from January 30th through February 25th.