By Candace Nicholson
originally published: 04/16/2018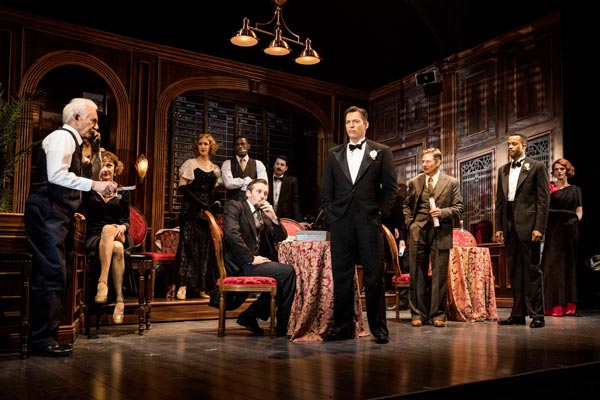 (MILLBURN, NJ) -- With a Tony award for Best Regional Theatre under its belt and numerous productions finding their way across the Hudson, it should be no shock when the Paper Mill Playhouse lands yet another hit musical headed to the boards of Broadway. That was the general consensus from the crowd after Sunday's opening night performance of The Sting starring Harry Connick Jr. and J. Harrison Ghee. 
But rest assured, the limited run of this period piece isn't just another film-to-stage adaptation, a trend so popular in commercial theater, some might say it deserves its own category at the Tonys. No, The Sting does more than translate a cinema classic heist story for today's audiences with a few song-and-dance numbers added in. Instead, it's a fitting tribute to the spirit of the musical theater formula while captivating us with the tell-tale "I betcha you didn't see that one coming!" surprise we expect from our stories of grand capers and confidence men. 
If you're a fan of the 1973 film starring Paul Newman and Robert Redford, then alas, you probably will see it coming. But if you're a stranger to the plot, you're guaranteed to have at least one moment of shock and "Wait, what?" as you watch The Sting come to life.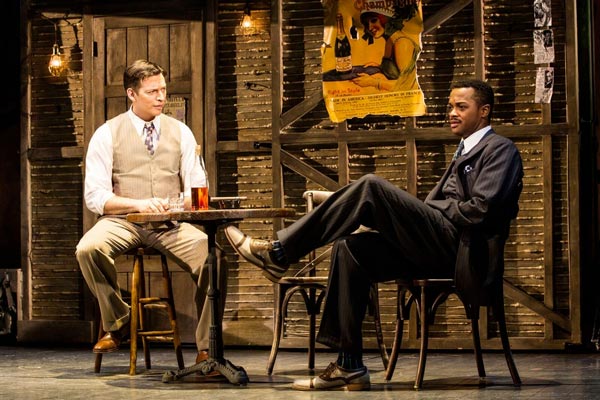 Here's the breakdown: Connick plays crafty Chicago con man, Henry Gondorff, lying low after a job gone wrong. But before he enters the story, we meet Ghee's young whippersnapper, Johnny Hooker, learning at the elbow of small town grift legend, Luther, played by Kevyn Morrow. An easy con goes sideways, when Luther, Hooker, and The Erie Kid, brought to life by Peter Benson, run a job on a bag man for a powerful crime boss, and we're off to the races. 
The racketeer calling the shots – literally – is Doyle Lonnegan, played by Tom Hewitt, and he's out to teach a lesson to Hooker and anyone who gets in his henchmen's way. Sometimes, including the henchmen themselves. On the run, Hooker makes way for Chicago, seeking help from Gondorff. With Gondorff's expertise and a team of grifting virtuosos (J.J. Singleton, Kid Twist and Billie) with their proteges, our "heroes" work to take down Lonnegan with a con for the ages.
---
The article continues after this ad
---
---
Now, if you're someone drawn to The Sting for the name centered on the marquee, rest assured, Connick's smooth New Orleans-drawl and nimble piano fingers don't disappoint. But note, the cast carries on effortlessly before his introduction, and bring a wealth of talent and timing with them that will remind you why ensemble pieces are the magic of theater storytelling.
From the razor-sharp one-liners of Christopher Gurr's J.J. to the rich and heavenly voice of Janet Dacal's Loretta to the devilish scene-stealing of Peter Benson's The Erie Kid, The Sting has assembled a fearless crew -- much like Gondorff's -- who create a brilliant dose of comedy, drama and musical prowess. For the connoisseurs who need a big showstopper to find a musical worthy of its orchestra, The Sting comes ready with "This Ain't No Song and Dance" at the top of Act 2. But have no fear, "You Can't Trust Nobody" opens the show with a mighty spectacle of what's to come.
Unfortunately, if there's one area where The Sting stumbles it's surprisingly in the song-and-dance department. Mark Hollmann's and Greg Kotis's music and lyrics do justice to Bob Martin's book and theatrical adaptation, but I fear it's the sheer number of songs that may stall this production's engine. With a top-heavy first act, in terms of story and set changes, the second act suffers from a tale of too many numbers. Each song serves a purpose, but at times, only retells what's already been shared in the dialogue or action. If the production can tighten up the timing on the banter and the entrances and exits in Act 1 (of which there are many), the songs of Act 2 may not feel so uneven on the music side. Otherwise, the show can do without Gondorff's short solo "Tough Guy" and Billie's "Sometimes."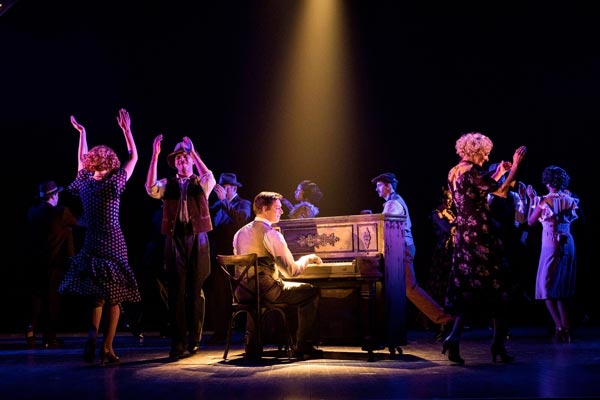 But there are definitely moments where the show needn't mess with perfection. Numbers like "The First Race" and "Show Me The Man" will easily become audience favorites as the run continues (whether here in New Jersey or across the river). Connick's introduction with the "Ragtime Rip" gives the people the man they came to see in a spotlight only he could fill. Ghee delights as a fresh-faced hopeful trying to figure it all out, while insisting he's figured it all out. Hewitt's Lonnegan is a clever cocktail of imposing calm and explosive volatility. And whatever Richard Kline is doing with Kid Twist, for the love of God, let him keep doing it. 
Although audiences may be more familiar with Scott Joplin's "The Entertainer" than any other composition in the score, I'd say that's all the more reason we need this revival of Joplin's ragtime legacy. Whether it serves as incidental music or the root of Connick's melodious additions, Joplin's work sets the tone for the story and the cast's spirits straight from the top, helped in no small part by Lucien Barbarin on trombone.
Granted, The Sting has a few sore thumbs sticking out -- such as the resolution of Loretta and Hooker's "relationship" -- but, ultimately, they serve to remind the audience that something isn't quite right for a reason. It's possible with more time, the chemistry of the cast will fix the snags and smooth the edges that may leave some wondering "Was that supposed to be like that?" And perhaps with time, Connick's upper body will also loosen up a bit more during that big dance number. But for now, we'll forgive him and the clear effort he's putting in to keep up with his extremely limber and more experienced ensemble.
Albeit, in need of fine tuning, Paper Mill Playhouse's The Sting is easily a winner for casual fans and diehard theatergoers alike. The humor, music and thrill-of-the-heist melodrama is the wonderful escape so many seek for a night out at the theater, and The Sting delivers this unapologetically. Ghee and Connick have a rapport that's surely to grow and blossom with time. And if the Paper Mill has anything to say about it, the show will certainly earn that time for audiences to enjoy a great Broadway run.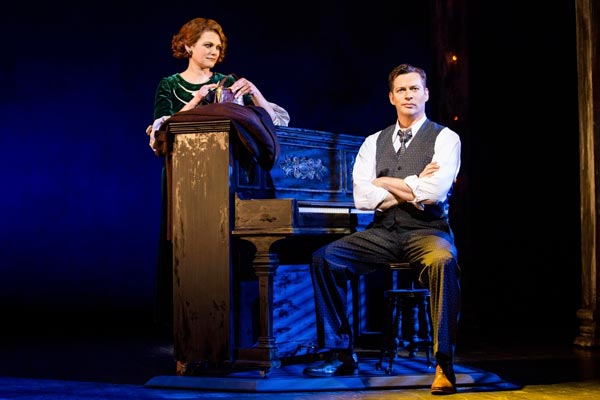 The Sting runs now through April 29th at Paper Mill Playhouse, 22 Brookside Drive in Millburn, NJ.
Photos by Evan Zimmerman
---
---

Candace Nicholson is a freelance writer, editor and blogger covering arts & culture, small business and community. When she's not pitching magazines, editing creative genius or penning blog posts, she's a regular contributor to LAFRA's Widows, Orphans & Disabled Firemen's Fund. Visit her blog at www.incandescere.com
---