By Gary Wien
originally published: 02/23/2019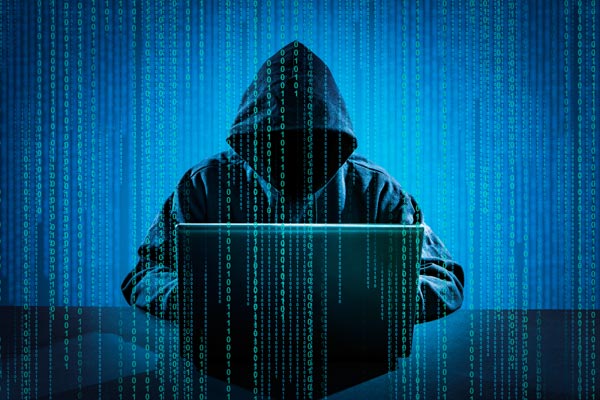 Ever since our lives became intertwined with cellphones, the issue of privacy has moved to the forefront.  Just imagine someone hacking into your phone, seeing or stealing your photos, text and voice messages, and contact information.  It's a scenario that can keep you up all night.  And rightfully so, because hackers have already shown the ability to do this.  
The concept of privacy, and the invasion of privacy, inspired playwright Jack Canfora to create The Source.  It's the latest World Premiere play at New Jersey Repertory Company and one of five World Premieres to take place in March throughout the Garden State.
"A few years ago there was a big scandal involving some of the newspapers in England owned by Rupert Murdoch," explained Canfora.  "They had hacked people's voice mails and used them in the service of getting scoops.  When they were eventually caught doing it, it raised a lot of questions about privacy and the role of the media has in shaping our understanding of the world around us.  So, I set off to write something loosely based on that."
In his play, media czar Roland McCabe owns dozens of newspapers around the globe, not to mention the most powerful and influential cable news network in the world: and his empire is about to grow. But when a controversy from the past threatens to topple it all, he summons his son as well as his most trusted protege to diffuse the crisis, regardless of how they might feel about it.   
The Source will be presented from March 7 to April 7 at NJ Rep in Long Branch.  The play, which won an Edgerton Foundation New Play Award, is Canfora's fourth to be produced at the theatre.  As with the others, The Source will be directed by Evan Bergman.  The cast includes Eleanor Handley, Conan McCarty, and Andrew Rein.
---
The article continues after this ad
---
---
"The entire team at New Jersey Rep is not only highly professional and skilled, but also nice which is a rare combination," said Canfora.  "It is incredibly gratifying and I think I owe a lot of my career to the support I've gotten at NJ Rep."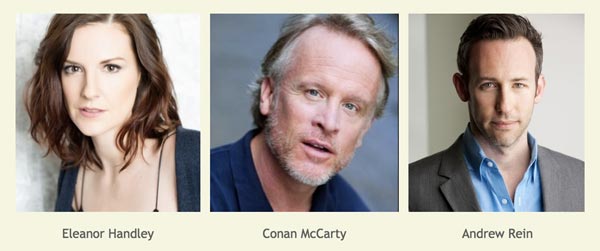 Canfora said he gets very involved with the World Premieres of his work.  He has a very good relationship with the director (Bergman), is part of the casting process and attends most rehearsals.
"I tend to be involved pretty heavily," said Canfora.  "But I don't want to ever be in a position where I'm stepping on anyone's toes creatively."
For one of his last plays, Fellow Travelers, Canfora said he did a fair amount of rewriting.  He recalls rewriting right up until opening night.  For The Source, it's almost the opposite.  Instead of changing text or adding text, he's been trying to find places to cut.
"When I'm at rehearsal, it's very useful for me to hear what the actors are doing," explained Canfora.  "Very often they can communicate something behaviorally that I was communicating through text, so the text becomes redundant. I may hit a snag and have to do some rewrites along the way, but, by and large, for me it's been figuring out what I can cut."
Even though audience members may picture Murdoch when they see the Roland McCabe character, the play is a fictional account.  Canfora says he took the actual news account as the inspiration, but it's very much a work of fiction.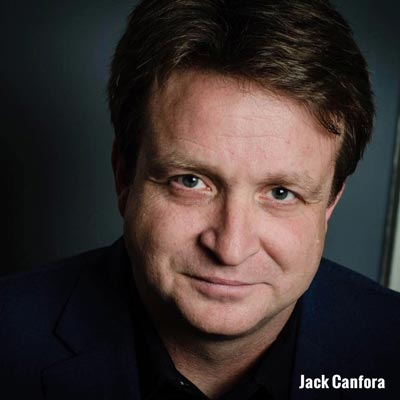 Canfora originally set out to be an actor, receiving training at the London Academy of Music and Dramatic Art. He acted in regional theatre and was part of sketch groups before concentrating on writing.  Canfora believes his acting experience has helped him as a playwright.
"I think it gives me a good sense of structure for plays," he explained.  "Having been in a lot of them, you sort of see how they're built.  Also, I try to be very sensitive to the actor's needs - as much as possible. By that I mean, I try to always write characters that have enough meat on the bone for an actor to pry his or her trade as well as deeply as possible."
In addition to his acting background, Canfora's work is also inspired by music.  Described as a Beatles addict on his Twitter feed, he has mentioned inspiration from artists like John Lennon and Elvis Costello in the past.
"In terms of someone like Lennon or Costello or Dylan, it's in the relationship with language that I find pretty intoxicating," said Canfora.  "They've shaped my tastes in terms of what I find compelling linguistically and conceptually.  I try to draw inspiration from wherever I can.  I was raised not with show tunes or Broadway shows, I was raised listening to Elvis Costello and The Beatles and stuff like that.  So they shaped the lens from which I view things artistically.  I think it brings more of a rock and roll aesthetic to my sense of what makes a good play.  It's got to have a good beat, you know."
The Source runs March 7 - April 7 at New Jersey Repertory Company, 179 Broadway, Long Branch, NJ
---
Gary Wien has been covering the arts since 2001 and has had work published with Jersey Arts, Elmore Magazine, Princeton Magazine, Backstreets and other publications. He is a three-time winner of the Asbury Music Award for Top Music Journalist and the author of Beyond the Palace (the first book on the history of rock and roll in Asbury Park) and Are You Listening? The Top 100 Albums of 2001-2010 by New Jersey Artists. In addition, he runs New Jersey Stage and the online radio station The Penguin Rocks. He can be contacted at gary@newjerseystage.com.
---