By Gary Wien
originally published: 01/28/2011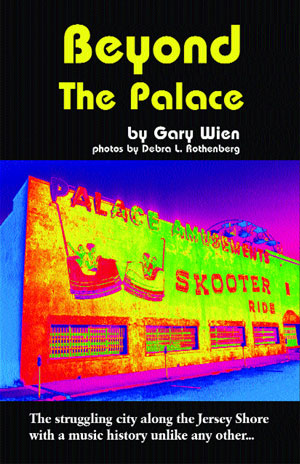 The Smithereens are one of the most successful bands to come out of the Jersey Shore scene.  Based in North Jersey, the band played some of its first gigs at the Stone Pony in Asbury Park. Lance Larson, a favorite of the Shore crowd, invited the band to open his shows there.  With influences ranging from the Kinks to the Who to Buddy Holly and the Clash, the Smithereens developed a sound  a bit like punk mixed with Beatlesque melodies.  Deemed "alternative music,"  it was very different from what the Asbury Park crowds were used to but the band ultimately won crowds over.
It's been over 20 years since the release of their first record, an EP called Girls About Town.  Since that time the band has had a string of hits including "Blood & Roses," "Behind The Wall Of Sleep," "Only A Memory,"  and "A Girl Like You."  They were one of the first rock bands to form a bond between the New Brunswick and Asbury Park music scenes.  The band continues to stay busy, touring the country and releasing new records.  Pat DiNizio, the band's lead singer even ran for the New Jersey Senate a few years ago.  I was able to interview the band's drummer, Dennis Diken, via email to get his thoughts on the band's history and its incredible longevity.
How did the Smithereens first get together?
I met Jimmy Babjak in Earth Science class on the first or second day of freshman year in September of '71 at Carteret High School. I introduced myself after spying color pictures of the Who that he'd plastered on the inside cover of his looseleaf notebook. We became fast friends and began playing together that very week. We explored all the possibilities and limitations of our drums/guitar lineup during our high school stint. We were hard-pressed to find a compatible bass player and vocalist. All of the other players we met in the area were more into the Grateful Dead or fairly pedestrian fare. We were pretty determined to form a band in the spirit of the Who, the Kinks, the Beatles, etc. As popular music was becoming more slick and formulized, we dug deeper into the likes of Chuck Berry, Eddie Cochran, Buddy Holly and other seminal rock'n'roll for our inspiration.  Jimmy and I clung to our original vision and waited for the right guys to make themselves known to us.
Shortly after we graduated high school in June of 1975, our schoolmate Mike Mesaros picked up on the bass guitar and got real good on the instrument in short order. Our group was now a trio but we lost some momentum when Mike attended college in Maine. Plus we were still in search of a lead singer.  We eventually did some gigs (at Mike's apartment in Perth Amboy and at Carteret Park) with Paul Mulligan (also from Carteret) on vocals.
We ran an ad in the Aquarian in search of a lead singer. At the same time I answered another ad in the Aquarian and teamed up with Pat Dinizio's combo called the Like. We rehearsed for several months in Scotch Plains and played one gig in New Brunswick. Mike, Jimmy and I continued to play together sporadically. Then Mike and I joined Mark Mazur & the Targets (Mark was formerly in Holme, a popular Jersey Shore band).
---
The article continues after this ad
---
---
After the Like split up Pat started to write songs. He and I kept in touch and he eventually asked me to go in the studio with him to play on some of his original tunes. When we talked about starting a new band together I brought Jimmy in and Mike eventually joined up with us. The Smithereens first gig was at Englander's in Hillside in March of 1980.
Who were some of your musical influences while growing up?
There were so many, mostly what was played on WABC and WMCA. the Beatles, the Beach Boys, the Four Seasons, Motown, Stax, the Lovin' Spoonful, the Turtles, the Kinks, the Who, the Rascals, millions of one hit wonders. I can go on and on...
Do you remember the first band you ever played in?  The first time you ever performed in public?
The first musician I ever played with was John Hornak, a classmate at Lincoln School in Carteret who was learning the guitar. This was early '69, I think. We played an all-Creedence repertoire in my basement. I believe we had one or two sessions.
My first real band didn't have a name. We got together in 1971 during summer vacation between my 8th grade graduation and the beginning of freshman year of high school. Our family newspaper delivery boy heard me practicing in the basement of our Carteret home and asked me if I wanted to join him and his bandmates who were seeking a drummer. We played around town that summer, and one gig was an outdoor political function. I forget if it was Democrat or Republican! I think that was my first public performance. I quit this band later that same year.
What were the names of the bands you played in before the Smithereens? Did any of the bands include future members of the Smithereens?
What Else (70s, 90s); Richman T. & Taylor ('73-'75?); Pix ('76-77?); Empty Set (late 70s); Toby Mug  (probably 78); Snappy Hawaiians ('78-'79); The Sensational Coupons ('77 or '78); The Like ('78-'79?); Mark Mazur & the Targets '79-'80); Zoo Crew ('84-'85).
What Else was the name that Jimmy Babjak and I used when he and I played together. We actually did a track for a Sonny Bono tribute album in the early 90s under this name. Jimmy and I started playing together in high school.  The Like was a cover band with Pat Dinizio and Bill Rozar. Played one gig in New Brunswick.
Mark Mazur & the Targets had Mike Mesaros on bass, Mark Mazur on guitar, Dave Cogswell on keyboards.  We played NJ (including Shore gigs at the Stone Pony, etc) and the NYC club circuit (Kenny's Castaways, Max's Kansas City, Great Gildersleeves, Snafu, etc.)
Some of the first shows the Smithereens ever played were at the Stone Pony in Asbury Park opening for Lance Larson.  
It's funny, I remember being sick with a bad head cold or a flu for most of those shows! We played on a certain weeknight for several consecutive weeks.  Pat's good friend and former bandmate Sam Lindley was the drummer with Lord Gunner and I shared his kit. I recall he had blue Evans heads in his drums. Sam got us the gig.
Lance and Lord Gunner had a devoted following and he always gave a good show. We were and are grateful to him for letting us play not one, but numerous gigs with him when we were totally unknown and just

finding our way as a band.
Did you get the feeling that your music was a little different from the standard Jersey Shore music usually found at the club?
It did feel that we were the odd kids on the block. But we stuck with it. Through sheer persistence we made a go of it.
The Smithereens have lasted for over two decades.  Why do you think the band has been able to keep going for so long?
No matter what happens, we're dear friends. Our roots run real deep.  I've known Mike since 1966 and Jimmy since 1971. I've known Pat for 25 years. We are like a family. We virtually learned to play together and like playing together. People like our music and we make our living doing this. As long as there's an audience that comes to see us there's no reason to stop!
Although the Smithereens have had several songs get substantial radio airplay, the band is still kind of considered a cult band. Does that ever bother you?
Only if I let it. If there's anyone out in that big old world that responds to what's in your heart and soul at all then it's a blessing.
Is there a particular song that you never get tired of playing?
I don't tire of any of them. It's always a challenge to do the best you can and keep things as fresh as possible.
What's your personal favorite Smithereens records?
Especially For You and Green Thoughts.
In recent years, you have been an extremely busy guy. You've been part of several bands and recorded records with many, many artists.   How do you find time to play with everyone?
People ring me, I check my book and schedule the gigs in! I still get the charge I got when I received my first drum kit in January of 1968. Plus, there are always new things to learn so playing never gets boring. You get to tap into your kid heart and explore your adult mind.
How is working with Jim in Buzzed Meg?
Buzzed Meg is really a lot of fun. We get together so rarely but when we do it's a very no pressure situation. Jimmy's got a load of great songs and he keeps on writing them. It's a fun "boys club."
The Smithereens were recently included on a George Harrison tribute CD called Songs From The Material World. What did Harrison mean to you?
I always had a special spot in my heart for George as we share a birthday.  This was big deal when I was a kid.  When The Beatles Anthology came out it was reported that a mistake was made somewhere down the line and his actual birthday is 2/26. Well, to me it will always be 2/25!  I like a lot of his songs ("Don't Bother Me," "I Want To Tell You," "Long, Long, Long," etc.) on the Beatles albums and I always dug All Things Must Pass. I liked his vibe and spirit in the Beatles.
You've also been doing some writing. Tell me about the Encyclopedia of Record Producers and your work with liner notes.
I got a chance to write about some of my favorite musical figures like Bob Crewe and the late George Goldner. I also interviewed Mitch Miller who was 86 at the time and still working!
The most recent liner notes I've done were for two Lovin' Spoonful reissues, Daydream and Hums of The Lovin' Spoonful. They were always one of my very favorite bands. I didn't have nearly enough money to buy all the albums I wanted when I was a kid but I always had theirs when they came out. Their long-players are solid works and never got their due.
I was thrilled to make the acquaintance of Zal Yanovsky, who is one of my biggest rock'n'roll heroes. I was shocked and deeply saddened by his untimely passing.  I wrote some notes for a Del Shannon compilation and a piece on "The Amboy Bowler" for Weird NJ.  I've got several recording projects in the works, one of which is to finish a Sleeping Giant album.
After 9/11, the Smithereens participated in a benefit for the Alliance of Neighbors of Monmouth County at the Count Basie Theatre in Red Bank.  What do you remember about that show?
It was a very exciting time. The Smithereens were very well received and folks have been very kind with their praise of our sets at the show.  In addition, I met so many wonderful players and people.  One of my biggest thrills was to play with Felix Cavaliere. The Rascals were a big inspiration to me and still are. I was stoked to play the big drum fill at the end of "Shannon" with Henry Gross.  I always dug that moment on that record! And of course, hanging with DJ Fontana and Sonny Burgess was the most! I was very happy to get the call from Garry Tallent.
You played drums while Springsteen sang one of the most memorable songs of the night - "My City of Ruins."
It was a very special moment.  Remember, the show took place just five weeks after the attack in NYC so the whole event was pretty emotionally-charged and because of 9/11 that tune took on a special meaning.  I was mostly concentrating on remembering the song and doing a good job! I hadn't heard it 'til rehearsal for the show a few days earlier. Bruce gave me a big hug on the second night so I guess I didn't screw it up too bad.
Where were you when you heard the news about the 9/11 attack?
I was reading the paper and having my morning coffee. My Mother-in-Law called from Florida to give me the bad news.  I was shattered by the loss of thousands of fellow humans. We were all in those towers. By that I mean that it could have been any of us. My wife and I could see the NYC skyline from a few blocks  from our house. This happened in our backyard.
What does Asbury Park mean to you?
I've been going to Asbury Park since I was a young kid. The first trip I can remember was around 1963. It's always been a special place for me and has represented positive feelings and what is great about New Jersey. Thanks to Bruce it's a mecca for music fans around the world.  I'm hoping it can see the renaissance it deserves.
---
From the book Beyond The Palace by Gary Wien
---
---
Gary Wien has been covering the arts since 2001 and has had work published with Jersey Arts, Elmore Magazine, Princeton Magazine, Backstreets and other publications. He is a three-time winner of the Asbury Music Award for Top Music Journalist and the author of Beyond the Palace (the first book on the history of rock and roll in Asbury Park) and Are You Listening? The Top 100 Albums of 2001-2010 by New Jersey Artists. In addition, he runs New Jersey Stage and the online radio station The Penguin Rocks. He can be contacted at gary@newjerseystage.com.
---