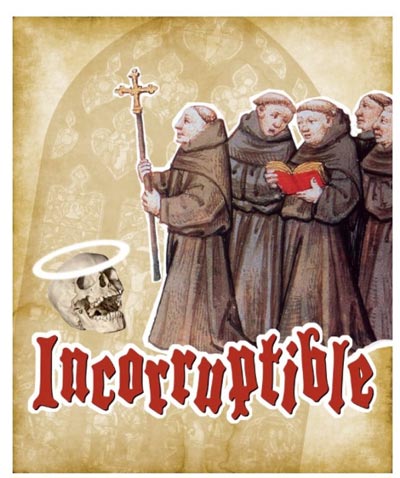 (HADDON TOWNSHIP, NJ) -- The fall season for The Ritz Theatre Company opens with the Michael Hollinger comedy, Incorruptible. The production, directed by Al Fuchs, runs from September 13-30.  American Theatre called it, "A lightning-fast farce, rich in both verbal and physical humor." 
The play is set in Priseaux, France, c. 1250 A.D.: The river flooded again last week. The chandler's shop just burned to the ground. Nobody's heard of the wheelbarrow yet. And Ste. Foy, the patron of the local monastery, hasn't worked a miracle in thirteen years. In other words, the Dark Ages still look pretty dark.
All eyes turn to the Pope, whose promised visit will surely encourage other pilgrims to make the trek and restore the abbey to its former glory. That is, until a rival church claims to possess the relics of Ste. Foy—and their bones are working miracles. All seems lost until the destitute monks take a lesson from a larcenous one-eyed minstral, who teaches them an outrageous new way to pay old debts.
Additional works by playwright Michael Hollinger include Under the Skin, Ghost-Writer, Opus, Tooth and Claw, Red Herring, Tiny Island, and An Empty Plate in the Café Du Grand Boeuf, all of which premiered at Philadelphia's Arden Theatre Company and have since enjoyed numerous productions around the country, in New York City and abroad. Awards include a Steinberg New Play Citation from the American Theatre Critics Association, a Los Angeles Drama Critics Circle Award, a Mid-Atlantic Emmy, an Edgerton Foundation New American Plays Award, four Barrymore Awards (including the F. Otto Haas Award for an Emerging Theatre Artist), nominations for Lucille Lortel and John Gassner awards, and fellowships from the Independence Foundation, Mid-Atlantic Arts Foundation and Pennsylvania Council on the Arts.  Michael is an Associate Professor at Villanova University, where he received his MA in Theatre, and a proud alumnus of New Dramatists.
---
The article continues after this ad
---
---
The Ritz Theatre Company recently announced its 2019 season which includes: A Gentleman's Guide to Love and Murder (January 10 through February 3); The Glass Menagerie (March 14-31); Big Fish (May 2-19); The Music Man (July 11 through August 4); The Ghosts of Ravenswood Manor (September 12-29); and The Wiz (October 31 through November 24).
"We introduce our 2019 Season of variety," said Bruce Curless, Ritz Theatre Company Producing Artistic Director. "We cross centuries and continents with our selections which contain fabulous stories, memorable music, stunning sets, and brilliant costumes. Come on in and make yourself comfortable in our 1927 Vaudeville Theatre. We celebrate our history by visiting shows of yesterday as we introduce this year's season. We hope to make your evenings, or afternoons, an event you will remember and want to share."
The Ritz Theatre Co. is located at 915 White Horse Pike in the Theatre District of Haddon Township, New Jersey.