By Gary Wien
originally published: 01/21/2017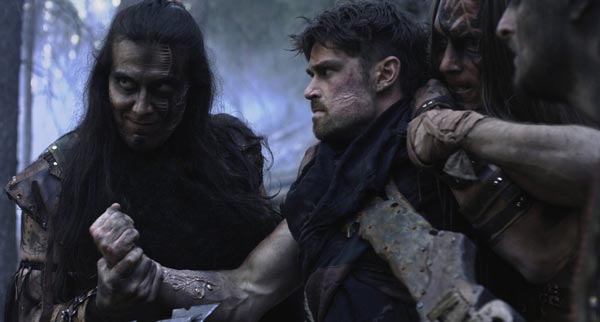 The Northlander is a science fiction film unlike anything you've ever seen.  In fact, as the first theatrical feature film in the sub genre of indigenous futurism, it's unlike anything anybody's ever seen.
Director Benjamin Ross Hayden (a Canadian Métis - part Aboriginal, part European) describes the genre as having a spiritual perspective against the colonial narrative of science fiction fantasy. Essentially the film is about a quest for identity, a search for answers, and a fight for survival. It's kind of like a Mad Max film with a higher purpose that features an all-First Nations cast.
The film takes place in the year 2961 in a post-apocalyptic setting.  A small remote village called Last Arc is being threatened by the Heretics, a merciless group of raiders. Food and water are growing sparce.  In a desperate attempt to save her people from annihilation, Nova, a matriarch and seer (played by Michelle Thrush), calls upon a lone and complicated hunter, Cygnus (Corey Sevier), to find the answers to their survival. As Cygnus leaves his wooded homeland, embarking upon a perilous journey through the desert, he encounters the vicious leader of the Heretics, Torki (Julian Black Antelope). A newfound ally, the lone huntress Mari (Roseanne Supernault) is revealed and together Cygnys and Mari begin an epic journey and a race against time to unlock some of earth's deepest secrets in a desperate attempt to save Last Arc and lead their people to a new way of life.
All of this takes place in an absolutely breathtaking landscape that adds to the film's authenticity.  The film was shot in Drumheller, the Bow Valley Ranch west of Calgary and Writing-On-Stone Provincial Park (a spiritually significant site) near the Alberta-Montana border.   
"It's an important valley for many indigenous tribes and people who crossed the land in the 1700s and 1800s," explained Hayden.  "Filming against the very setting where the history of the Métis happened is important for The Northlander."
---
The article continues after this ad
---
---
Once the guardians and stewards of the land understood what Hayden's film was about, they gave him permission to film on the land.  The story - and the film - not only showcase indigenous people in a positive light, it helps tell a story of Canadian history many may not know.
From the very first draft, Hayden says he set out to take Canadian history and turn it into a mythic fantasy - similar to the way Greek mythology has been used in all types of cinematic storytelling.
In addition to the beautiful backdrop, the film features an impressive cast of indigenous actors that you might recognize from the Canadian television show Blackstone, which can be found on Netflix.  The film also takes advantage of wonderful costumes and makeup accentuate the tribes.
"It all started with a very harmonized vision of what this future would look like," said Hayden.  "It involved fuzing indigenous regalia with the futurist designs of John Gerard (working as Moebish) of the 1960s."
Gerard played a role in science fiction films like Alien and Tron, and is said to have inspired filmmakers from George Lucas to Ridley Scott.  His influence can be seen in the costumes and weapon designs found in The Northlander.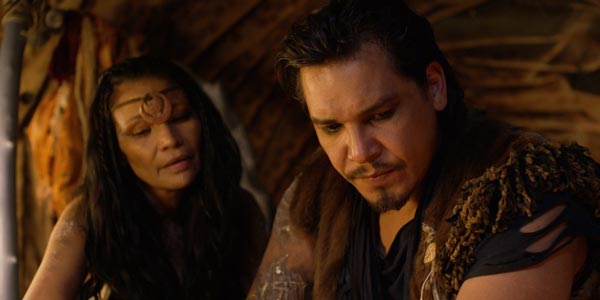 The film was part of Canada's Telefilm Micro Budget Program, but the final version looks anything but low budget.  Hayden took advantage of great actors, beautiful scenery, and wonderful costumes to fulfill his vision of this futuristic land.  He says he never felt constrained by the limited budget and actually preferred doing it this way.
"It was what I was used to," he said.  "Finding creative solutions felt very natural.  I felt good under that type of framework."
The budget hasn't stopped the film from being shown at prestigious film festivals around the world from Montreal to Mexico to the legendary Cannes Film Festival in France. The film is now being sold into international markets and will be broadcast on the Aboriginal People's Television Network. Hayden said a Canadian TV series based on Northlander is confirmed in development with Canada Media Fund.
Locally, the film will be screened in New Brunswick on Saturday, January 28 when it is part of the opening night for New Jersey Film Festival Spring 2017. This is Hayden's debut feature film, but a previous short of his called "Agophobia" was screened at the festival in 2013 and received awards for Best Short Film and Best Experimental Short Film.  An even earlier work called "Pick" also received an Experimental Short Film award.
Hayden is currently working on a script called Red River, which is set between the historical past and the present.  The film will be an international co-production.  He plans to continue directing films that he has written himself.  With the futuristic world created in his first feature film, many are looking forward to what his own future holds.
The New Jersey Film Festival is held annually on the Rutgers University campus in New Brunswick.
---
Gary Wien has been covering the arts since 2001 and has had work published with Jersey Arts, Elmore Magazine, Princeton Magazine, Backstreets and other publications. He is a three-time winner of the Asbury Music Award for Top Music Journalist and the author of Beyond the Palace (the first book on the history of rock and roll in Asbury Park) and Are You Listening? The Top 100 Albums of 2001-2010 by New Jersey Artists. In addition, he runs New Jersey Stage and the online radio station The Penguin Rocks. He can be contacted at gary@newjerseystage.com.
---