By Spotlight Central
originally published: 05/14/2016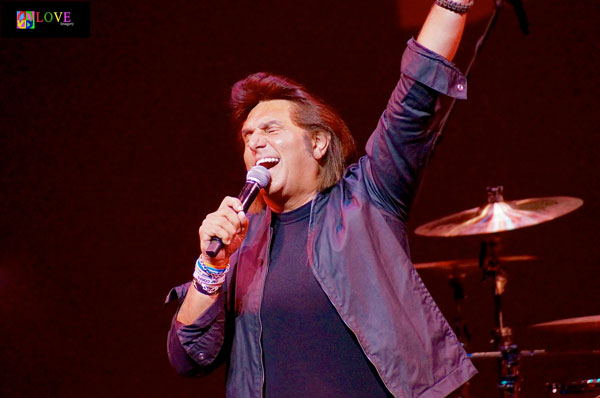 The Bronx Wanderers came home to New Jersey and packed the house on Saturday, May 7, 2016, at the Jay and Linda Grunin Center for the Arts in Toms River, NJ. Performing to a sold-out audience of family, friends, and fans, the group wowed the hometown crowd with an exciting selection of tunes ranging all the way from the 1950s to the present.
The Bronx Wanderers is a father and son (and other son!) band which includes dad Vinny on lead vocals; son Vinny Jr. on keyboards; and son Nicky on drums. Rounding out the group are friends and neighbors Joe Bonasorte on guitar, Joe Bari on sax, and Ethan Bill on bass.
According to Vinny Sr., even though he grew up in the Bronx — where, over the years, he became friends with such famous local residents as Chazz Palminteri, Danny Aiello, and Tony Orlando — once he was older, he decided to cross the river and raise his family in Demarest, located in nearby Bergen County, New Jersey.
Says Vinny Sr. now about having such a personal connection to New Jersey: "Hey… New Jersey is my home."
In addition to that, according to Vinny Sr., he also maintains a personal connection to every song he and the boys perform in their show. As such, it's no surprise they opened the evening at Toms River's Grunin Center with "The Wanderer" and "I Wonder Why," both hits by Dion, with whom Vinny Sr. used to work.
---
The article continues after this ad
---
---
In fact, according to Vinny Sr., Dion is the individual who introduced him to Columbia Records' Tommy West and Terry Cashman, a pair of music producers who made a name for themselves producing records by such acts as Jim Croce and The Partridge Family. Telling them he wanted to be a star, West and Cashman convinced Vinny to become a record producer instead, thus enabling him to stay home in New Jersey and raise a family. He did just that — for 35 years, in fact — producing records for the likes of Alabama, Reba McEntire, George Strait, The Spinners, and many more, all while working in a local band he founded, The Bronx Wanderers. Once his sons were old enough, they joined the band, and they have now been a part of the act for years.
And although the family now travels the world doing live performances — in fact, they just returned from a string of concerts in Florida and are about to embark on a recurring house gig in Vegas — they always love coming back to perform in their beloved home state. And is it any wonder why, when the audience is filled with people who know and love them?
For example, at the Grunin Center, Vinny Sr. made it a point to introduce many "celebrities" in the audience — his family doctor for many years, who, he claims, up until this evening had never seen him perform; the family who owned the restaurant which gave The Wanderers their start when Vinny Jr. and Nicky were just kids; and his wife, Carol, who runs the slideshow of movies and photos during the show which visually help to tell the story of Vinny and his lifelong love affair with music.
The audience at the Grunin Center was also treated to a very special surprise when Vinny Sr. introduced another guest in the house this evening — Joe Long, bass player for the Four Seasons from 1965–1975 — who had been quietly enjoying the show from the balcony. And one of many highlights of the evening followed when The Wanderers expertly performed a tribute to The Four Seasons which included a medley of their smash hits "Rag Doll," "Walk Like a Man," "Dawn," and "Who Loves You?"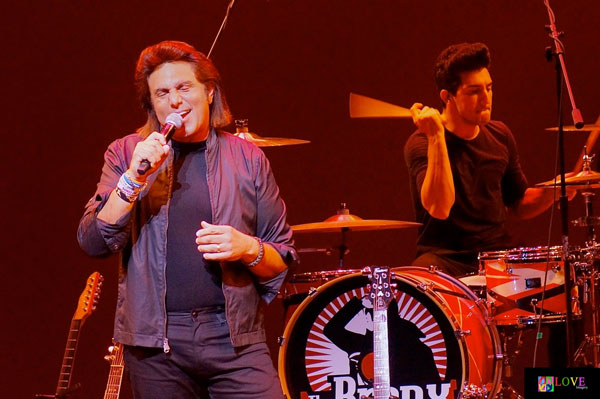 Another highlight of the show was The Wanderer's complete rendition of Billy Joel's "Scenes from an Italian Restaurant." As with many of their numbers, the multi-talented band members traded off singing lead vocals and playing instruments. For example, when it was brother Nicky's turn to sing lead vocals with Dad, brother Vinny Jr. took over the responsibility of keeping the beat by playing Nicky's drums.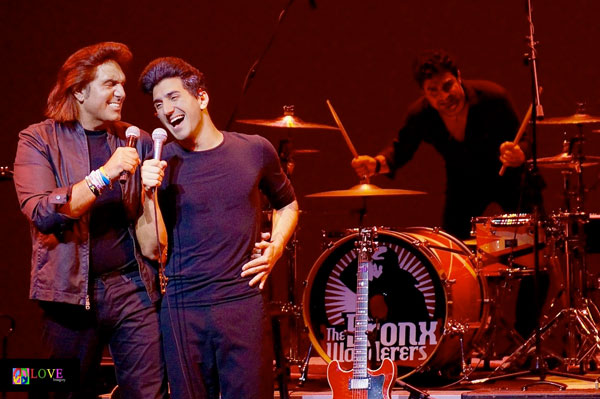 Yet another highlight was the Bronx Wanderer's medley of instrumental surf tunes which included exciting versions of "Wipe Out" and the theme from "Hawaii Five–0." Here, Vinny Sr. turned the spotlight over to the youngsters — Joe Bari on saxophone, Joe Bonasorte on guitar, Vinny Jr. now on guitar, Ethan on bass, and Nicky on drums — and simply played the part of the "proud papa" as his "boys" rocked the house to a fascinated crowd.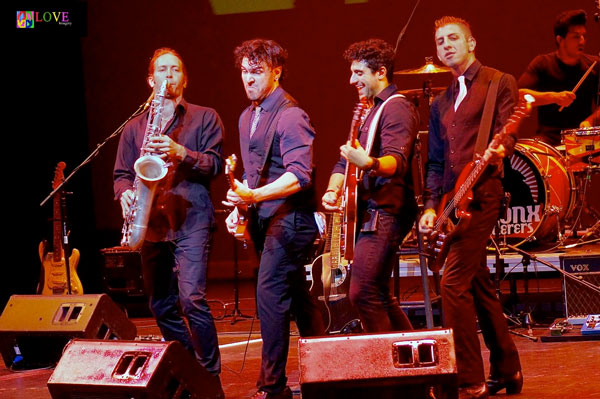 Following a short break, The Wanderers came back to invite the audience to sing along with them on Dion's "Teenager in Love" and then segued into one of their most impressive performances of the night — a stunning live version of Queen's "Bohemian Rhapsody" — so perfectly brought to life, it immediately brought the dazzled audience to its feet.
Vinny Sr. went on to introduce another guest star — Johnny T of The Mystics, a group who had a major hit with "Hushabye" — Johnny being a member of this group from the mid-1970s until 1990. Together, they treated the audience to a rollicking version of another Dion hit, "Runaround Sue."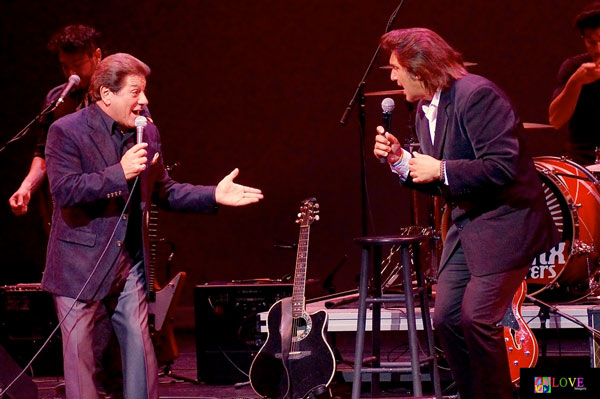 And if that weren't enough, Vinny Sr. went on to introduce yet another special guest star to the hometown crowd when he invited DJ Rockin Ray, The Doctor of Doowop, from Jersey's WBNJ radio to join him on stage. DJ Ray's excitement was obvious as he joined Vinny and the Wanderers for a second Four Seasons medley featuring "Sherry," "Let's Hang On," "Opus 17 (Don't You Worry About Me)," and "Bye Bye Baby (Baby Goodbye)."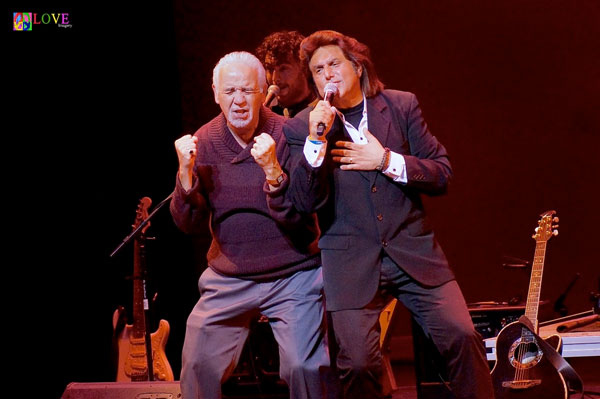 Following this memorable performance, DJ Ray excitedly spoke from the heart about his love for "oldies" music, explaining how he feels the music of today just isn't the same, and his admiration for The Bronx Wanderers, who consistently perform this classic music with all the love and respect it deserves. And to musically prove that point, for the band's grand finale, the Wanderers presented a live version of one of the classic music performances in rock history — The Beatles' Abbey Road "Medley" — one of the high points being when Joe Bari, Joe Bonasorte, Vinny Jr. and Vinny Sr. all joined Nicky in communally playing the riveting drum solo from "The End."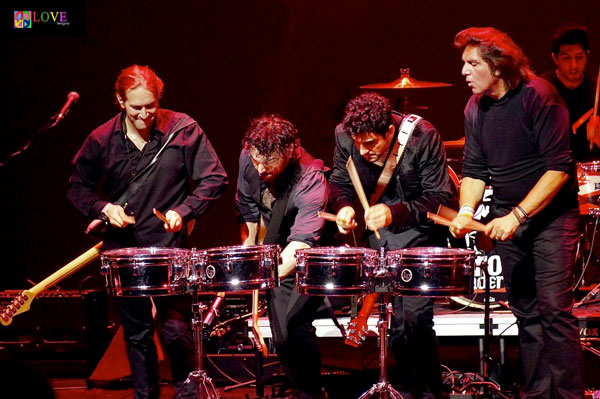 The Wanderers concluded their two-hour show by trading guitar solos and, lastly, by joyfully reminding all their friends, family members, and fans who came to cheer them on at their home for the evening, Jersey's own Grunin Center, "And in the end… the love you take… is equal to the love you make."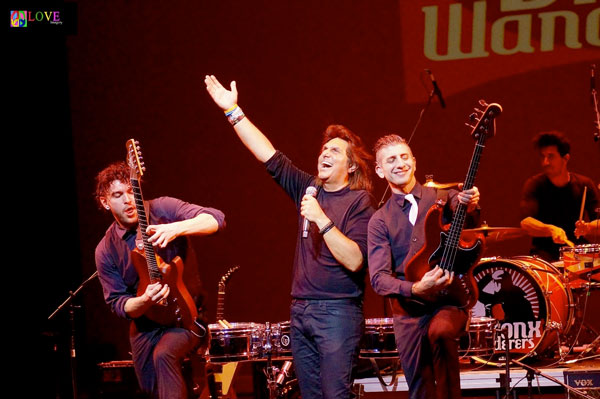 For more on The Bronx Wanderers, please go to bronxwanderers.com. For more information on upcoming programming at the Jay and Linda Grunin Center for the Arts — including Broadway's Adam Pascal and Daphne Rubin-Vega from RENT on June 3 and The 1910 Fruitgum Co. on June 4 — please go to grunincenter.org.
Photos by Love Imagery
Spotlight Central. Your source for Jersey entertainment news and reviews
Love Imagery Fine Art Photography. all you need. peace/love/flower/power