(RAHWAY, NJ) -- A local production of the 1970 Broadway musical comedy Company, written by American composer Stephen Sondheim, is scheduled to have a run beginning September 8 at the Union County Performing Arts Center's Hamilton Stage. The musical revolves around Bobby based on the life of a self confirmed bachelor and his married friends. He takes a deep look into his life while his married friends explain the pros and cons of marriage.
Bobby is young man living in New York City whose friends are coming together to throw him a surprise 35 th birthday party. The story is comprised of short vignettes presented in no particular order and explores the complications of adult relationships. Humor, honesty, and beautifully written music will create a personal space for each audience member to find similarities within their own lives.
This local production of Company is directed by Khy Garner and stars lead Tim Walton, last year's Fearless ICON Champion. ICON is an annual fall competition between New Jersey's best musical theater voices. Part of his prize was the opportunity to be the lead performer of his dream show (Company) put on at UCPAC. The time has come for Walton to cash in on his prize and give the performance of a lifetime.
The cast is made up of real-life teachers, a doctor, a computer technician, and salesmen just to name a few. It includes Alissa Valiante, AJ Meeker, Jenna Zielinski, Steven Leschanka, Molly Frieri Neff, Greg Perkins, Karen Pierson, Jason Cesar, Mimi Grancis, Kirk Lambert, Marisa Cucuzza, Jenne Carey, Cherisse Bonefont, Jessica Musolina, Hanna Wasserman, Debbie Miller Nelson, and Colleen Fritzen.
The show will open on September 8 at 8PM with repeat evening performances on September 9, 15, and 16. Two matinee performances will be held on September 10 and 17 at 2PM. General Admission tickets are available for $22 for each performance at www.ucpac.org. Tickets may also be purchased by visiting the Box Office located at 1601 Irving Street in Rahway, NJ, via email at boxoffice@ucpac.org, or by calling 732.499.8226. The Hamilton Stage is located at 360 Hamilton Street in Rahway, NJ. Both locations are easily accessible to majorroads and public transportation.
---
originally published: 2017-07-17 00:00:00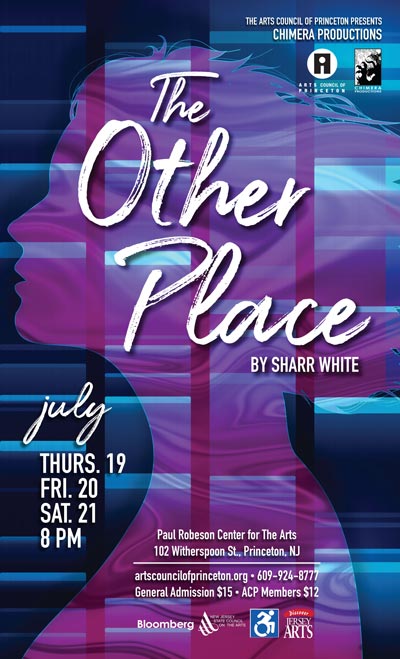 The Arts Council of Princeton and Chimera Productions present The Other Place
(PRINCETON, NJ) -- Chimera Productions presents its 13th production, The Other Place by Sharr White, in Princeton, New Jersey on July 19, 20 and 21, 2018, in conjunction with The Arts Council of Princeton. The play, presented in the intimate 60-seat theater inside Princeton's Paul Robeson Center for the Arts, is a fast-paced, witty, powerhouse of a drama about a scientist on the brink of a revolutionary discover, who's also contemplating divorce and trying to revive her relationship with her estranged daughter.




Tri-State Actors Theater Presents A Reading of "To Trample The Dragon"
(DOVER, NJ) -- Tri-State Actors Theater will present two readings of To Trample The Dragon, a new work by by Peter Mitsopoulos. The readings will take place June 28-29 at 8:00pm in the Dover Little Theatre.  This is a play that touches the loss we have all known, and the love that helps us survive.  Admission is by donation.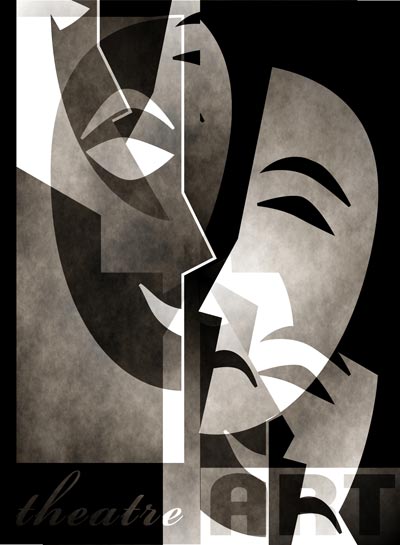 Two River Theater Presents Professional Development for Teachers: Examining the Work of T. Thomas Fortune and August Wilson
(RED BANK, NJ) -- Two River Theater, under the leadership of Artistic Director John Dias and Managing Director Michael Hurst, has announced a special one-day professional development program for educators on Tuesday, July 17 from 9:30am-4:30pm. "Examining the Work of T. Thomas Fortune and August Wilson" is being presented as a collaboration between Red Bank's T. Thomas Fortune Foundation and Two River Theater, in compliance with the New Jersey Amistad Commission. The program will focus on the work of T. Thomas Fortune (writer, journalist, social justice crusader, and editor of the New York Age Newspaper) and the theatrical work of playwright and poet August Wilson (August Wilson's American Century Cycle).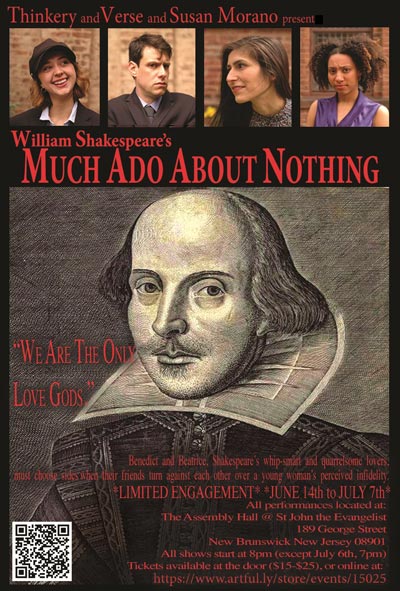 Thinkery & Verse Presents Shakespeare's "Much Ado About Nothing"
(NEW BRUNSWICK, NJ) -- Thinkery & Verse presents William Shakespeare's Much Ado About Nothing from June 14 through July 7th at Assembly Hall at St John the Evangelist in New Brunswick. In the play, Benedict and Beatrice, Shakespeare's whip-smart and quarrelsome lovers, must choose sides when their friends against each other over a young woman's perceived infidelity. They are presenting this classic play with a modern edge in a historic building. Following this run, the play will then tour throughout the tri-state region.