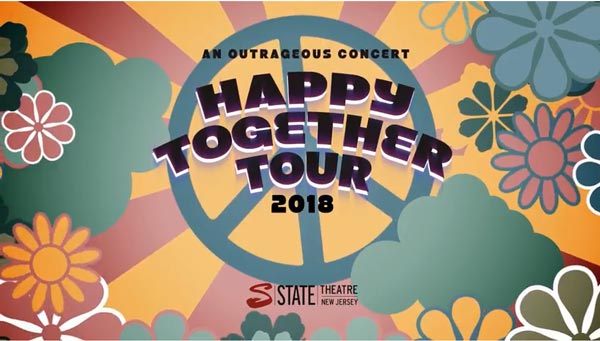 (NEW BRUNSWICK, NJ) -- State Theatre New Jersey presents the Happy Together Tour 2018 on Friday, June 15 at 8:00pm. This spectacular concert features The Turtles; Chuck Negron, formerly of Three Dog Night; Gary Puckett & The Union Gap; The Association; Mark Lindsay, former lead singer of Paul Revere & The Raiders; and The Cowsills. Tickets range from $35-$95. 
The Turtles have sold over 40 million records worldwide. Their hits include: "Happy Together," "She'd Rather Be With Me," "Elenore," "It Ain't Me Babe," "You Showed Me," and many more.
The Turtles continue to be the signature headliners of the Happy Together Tour. As always, founding member and singer Mark Volman will bring his infamous antics to the stage, however, for medical reasons, Howard Kaylan will not be performing. Filling in for Kaylan will be Ron Dante from The Archies. Dante's youthful sound is best known on hits such as "Sugar, Sugar" and "Jingle Jangle."
Chuck Negron, formerly of Three Dog Night, is back on the Happy Together Tour due to popular demand! Negron brings Three Dog Night's biggest hits to the stage, including "Joy To The World," "Mama Told Me Not To Come," "Shambala," "One," and "Easy To Be Hard," among others.
Gary Puckett & The Union Gap are excited to sing their trademarks hits once again. Fans will affectionately remember "Young Girl," "Over You," "Woman, Woman," "This Girl Is A Woman Now," Lady Willpower," "Don't Give In To Him," and more.
---
The article continues after this ad
---
---
The Association is one of the most popular and successful bands to have come out of the 60s. They have sold millions of records, and have seven Grammy Award® nominations. They are best known from their number one hits, "Never My Love," "Windy," "Cherish," as well as "Along Comes Mary" and "Everything That Touches You."
Mark Lindsay, former lead singer of Paul Revere and the Raiders made his mark with "Kicks," "Hungry," "Him Or Me (What's It Gonna Be?),"  "Steppin' Out," "Good Thing," "Indian Reservation," "Arizona," and many others. Lindsay was the co-founder and lead singer of this seminal act from its inception in 1963 through 1975. His voice is heard on all of the Raiders' 16 Top 20 Hits.
The Cowsills have been dazzling crowds the last three years on the Happy Together Tour with their effervescent brand of contagious pop magic. Best known for songs "The Rain, The Park, and Other Things," "Hair," "Indian Lake," and "Love American Style." The Cowsills appeared on numerous TV shows including The Ed Sullivan Showand The Tonight Show with Johnny Carson.
The Happy Together Tour began in 1984 with mainstays The Turtles. It started up again in 2010 with 2018 being its ninth consecutive year. The overwhelming response and love for the music has endured and The Happy Together Tour 2018 brings that magic back to fans, night after night!
STATE THEATRE NEW JERSEY is located at 15 Livingston Ave in New Brunswick, New Jersey.