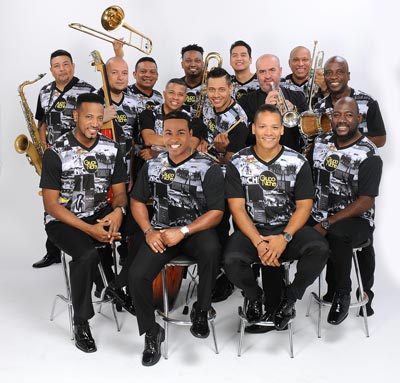 (NEW BRUNSWICK, NJ) -- State Theatre New Jersey presents Grupo Niche in their State Theatre debut performance on Friday, April 13, 2018 at 8:00pm. Grupo Niche's hits include "Cali Pachanguerno,"  "Cali Aji," "Sin Sentimientos," "Una Aventura," and "Gotas de Lluvia." Tickets range from $29-$85.
Founded in 1980 by Jairo Varela and Alexis Loano in Cali, Colombia, salsa group Grupo Niche is one of Latin America's most popular acts. Grupo Niche's first major success was the release of Querer es Poder and the single "Buenaventura y Caney." In 1984, the band produced its signature song "Cali Pachanguerno," a hit tribute to the world salsa capital.
Grupo Niche is referred to as the "Salsa Experience" with its vigorous, up tempo dance music as well as slower-paced romantic numbers. Among its best known hits are "Cali Aji," "Del Puente Pa'llá," "Sin Sentimientos," "Una Aventura," "Etnia," "Gotas de Lluvia," "Han Cogido la Cosa," "Mi Pueblo Natal," "Hagamos Lo Que Diga Corazon," "Duele Mas," "Nuestro Sueño," and "Canoa Rancha."
STATE THEATRE NEW JERSEY is located at 15 Livingston Ave in New Brunswick, New Jersey.
---