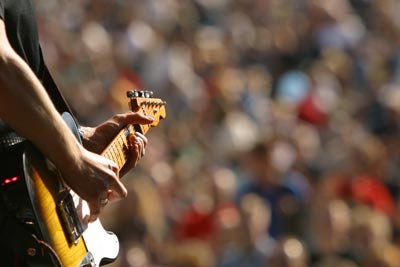 With the amount of drug references that pepper the artwork on the latest Chris Robinson Brotherhood live album there's no doubt what you're going to get is stoner music. It's also very loose, laid back and potentially, lazy. Betty's Self-Rising Southern Blends, Vol. 3M captures highlights from the band's November 2015 tour through Atlanta, Raleigh, and Charleston. While the recording is crisp and the band sounds tight throughout there's nothing here that got our feathers shaking. It seems the singer is content with mailing it in rather than giving his fans the gut-wrenching blues rock that helped him lift off in the first place. I guess we just prefer the Grammy award winning singer as a dark pigmented bird. Perhaps he should patch things up on the family front and get back together with his real brother Rich Robinson so he can soar once again.
 Dan Sheehan is putting the finishing touches on his ambitious project called Tales From Earth, Inc. This bold political and social statement is one rocker's attempt to raise awareness and social consciousness about issues like climate change, sweat shop labor, drug cartels, for-profit prisons and the like. To get the job done he tackles these subjects and more propelled by his capable rock band augmented with world instruments from South America, Africa and Asia, as well as horns and strings. Dan is currently conducting a crowd funding campaign to raise what is needed to wrap up the loose ends. If you would like to support their effort to tell real stories of real people around the globe who are adversely affected by others' personal, corporate and/or political greed – then hit him up at the website above!
In addition to being a great and dynamic musician, Dan Sheehan is also an occasional music reviewer. Here's his take on the latest from the Rich Lynch Band. "Take Me To Your Liter" is another fine example of Lynch's clever songwriting and arranging skills. Rich's recent move from the Northeast to Nashville is evident on the track which mixes tremelo guitar and Hammond organ swirls with rock riffs and some psychedelic touches, resulting in a country/rock hybrid track setting a perfect vibe for humorous but poignant lyrics about the need to drown one's sorrows in alcohol in these times. Hopefully the track can provide the listener enough relief from life's challenges that they can hold off on actually hittin' the sauce!
Bobby Kimball has released the sonically pleasing We're Not In Kansas Anymore. Wait, was he in Kansas? Oh, that's right Kimball was the voice of TOTO when they ruled the radio in their heyday. We're a bit confused. What's not confusing is the fact that the album's 11 tracks add up to one fine platter of music from one of rock's brightest lights. Bobby says, "As artists and musicians we live our lives chasing a dream … the dream of expressing ourselves through the songs we create and sing. I surrounded myself with some of the best session players and songwriters in the business, and I feel you can hear and sense that when you listen to the music." It's all there in unmistakable, trademark form overflowing with melodious rock and polyphonic arrangements. Kimball sounds like he's walking down the yellow brick road mostly on the opener "Too Far Behind" but it's the help he gets along the way that makes this release extra special. He shines best vocally on the slow tempo "Hold On" that is also very musically rich. Kimball emerges as a wizardly frontman on this courageous release that is full of heart and brains and sure to please no matter where you find yourself.
Echotest have released their new concept album From Two Balconies that features special guest King Crimson drum legend Pat Mastelotto on one track. The brainchild of acclaimed bassist Julie Slick the record features the unusual configuration of two bass guitars and drums. Overall, the release is a modern-sounding, yet classic record that defies genres, showcasing music that is truly progressive in nature. With vocals on seven out of the ten tracks there are a few radio friendly cuts that rise to the top including the opener "Supersell" that sells the group as pop ready. But, don't be fooled the overall vibe is bottom heavy prog soundscapes with jazzy meanderings. It's been said before, and we'll say it again – EchoTest featuring Julie Slick, Marco Machera and Alessandro Inolti – is a unique musical experiment that is hard to categorize.
---
The article continues after this ad
---
---
Hailing from Great Britain TEN is on a goth-rock quest with their latest melodic rock masterpiece Gothica. Each track is a single chapter as they explore dark and brooding landscapes that mine history, romance and horror in equal parts. The deftly crafted adventure is often heavy yet retains an accessibility that will find this appealing to a wide swath of fans across several genres from metal to prog to pop and classic AOR. There are a lot of players on this project notably singer, songwriter and vocalist Gary Hughes who leads the charge with a trio of axe men – Dann Rosingana, Steve Grocott and John Halliwell – to help him find success on this journey. A stunning search for "The Grail" opens the set while "Jekyll And Hyde" finds TEN to be a band living with their own two natures – to either really rock it out or explore their softer side. This is done on "In My Dreams" a teenage fantasy about all the famous beautiful women who made a child's rite a passage a little easier to travel. Gothica is an epic adventure and you'll want to go with them – guaranteed.
One-time Paul Gilbert collaborator Freddie Nelson shakes things up on his debut solo album Shake the Cage. The artist pays tribute to that other famous Freddie on "The Light" that shines like a slice of classic-era Queen. "Hey Doll" the first single on the 11-track record is a melodic and crunchy pick up line with a memorable lick. The Pittsburgh-based guitarist, singer, and songwriter is off and running as he forges a career with this first platter of hook driven rock songs. Steel Town once played a part in building America. With a crumbling music industry not what it once was we'll have to see if Nelson can erect something lasting with his riveting blend of punk, pop, and blues that are all welded together by the fiery guitar he wields. Someone buy that man an Iron City – cheers to a fine start.
Amanda Colleen Williams is an entrepreneur and musician whose songs have been recorded by Garth Brooks, George Jones and more. A Story of Love as the title implies is a concept album about dreaming of love, finding it, losing it and all the steps along the way. With just an acoustic guitar Amanda engages her listeners with a blend of insightful spoken and sung words. Amanda's live version of the record has been described by arranger/pianist Ron Oates as, "a quite welcome relief from the Nashville norm. Each show is a delightful vignette. Your attention is captured from Amanda's spoken introduction, and you remain riveted for the duration." For us, Williams' poetic prose is very relatable running the range from sentimental to sexy. We enjoyed her storytelling from start to finish but of particular note is the opening melodic "Muse", the truth of "Love Hate" followed by the fun "Love Holiday," later the racy rap of "Asstastic" requires attention as does the hopeful closer "Make It A Night." In the CD's liner notes Amanda astutely states "love it's the sound track of our lives from the moment we're born until the day that we die." On A Story of Love she shares that journey in songs that are sassy and smart.
The band Coast was founded by brothers Paul Eastham and Chris Barnes who are from the Western Scottish Isle of Benbecula. Their music is a nod to growing up in that dramatic landscape and distinctive culture. Coast's latest record Windmills In The Sky should appeal to fans of Celtic, folk and alternative rock as the pair blends contemporary with traditional instruments. The ten-track CD opens with a majestic yet melodic instrumental that flows into "River" a nostalgic and nuanced reflection of their childhood home. Although Coast's music is catchy their subject matter is heavy looking at life through historical and personal perspectives. "The Old Atlantic Sky" is a compelling song of bravery and compassion based on a story about two fighter pilots on opposing sides during WW2, whereas "Let It Rain" shows the brothers learning to carry on when everything appears to be falling apart. The title track which is also the climatic closer circles back to the mighty sounds and strong storytelling that is prevalent throughout this album. Windmills In The Sky is insightful, intelligent music that may not have pop potential but is geared towards a more serious listener.
From the somewhere out of left field category comes Indubious who return with their much anticipated From Zero album. Drop the figurative needle on the grooves and what emerges is a form of traditional island reggae – but surprise – the duo are Caucasians from Ashland, Oregon. Even more surprising is the pair of brothers Evton and Skip Burton were both born with Cystic Fibrosis and presented with a grim diagnoses of a life expectancy that wouldn't exceed 18 years. However, they have persevered – and, now 30 and 32 respectively – when they sing about mercy and spiritual matters you know it's coming from an authentic place. In these hard times the duo have emerged as a powerful force and voices for change as they carve out a strong following with their conscious music. Together with their base of loyal fans, affectionately called "Indubians", they have achieved worldwide acclaim as the originators and ambassadors of the Rootstronica genre (a high energy blend of Reggae, Rock and EDM). The album opens with a memorable one-two punch of "He Who Has Ears" and "Rocketship" that is sure to gain Indubious many more listeners as they soar to new heights that are set to take them – as the album closer says with horns and a sultry groove – "Sky High."
Cris Jacobs emerges from the dismantled Baltimore-band The Bridge. While there he honed his craft with a decade of work, five records and a demanding performance schedule of 200 shows per year. In his role as principal songwriter and frontman he honed his craft as a versatile performer. Now he's hoping for a little of the luck that Chris Stapleton found when he broke away from The Steeldrivers. He might just find it, too. Vocally, Jacobs at times sounds like theTraveler with equal parts Gregg Allman and Michael McDonald thrown in for good measure. On Dust to Gold Cris kicks it up a notch on the opener "The Devil or Jesse James" which features ample amounts of his virtuous guitar playing and soulfully transcendent voice. It shouldn't be hard for him to mine out the riches with this fine collection of music that is pure gold throughout.
You never know where your next favorite artist is going to come from as in the case of Rahul Mukerji. He hails from India but now lives in the D.C. region of the United States. At least we can say something good is coming out of Washington at the moment. Mukerji is an amazing guitarist and instrumentalist who is drawing comparisons to players as diverse and acclaimed as Joe Satriani, John McLaughlin, Al DiMeola, and Steve Vai on his 13-track debut Ma De Re Sha. The album's tracks are rooted in a progressive rock approach and takes an overall spiritual direction paying homage to both the forces of dark and light. The music can be at times as gentle and expressive as a Ravi Shankar piece and others the mood veers to that of a hellacious heavy metal riff you might expect from Sabbath's Tony Iommi. Rahul's "Fingerprints" are all over this instant masterpiece as his notable fretwork runs the gamut from blazing speed to focused finesse. Give this one a spin and you'll have a holy cow moment – guaranteed!
EVEN MORE NOTABLE RELEASES! We get notifications from hundreds of new acts every month alerting us to their latest releases. Going through the list for this edition of SSON was pretty heartening because the quality and diversity of these acts points to a bright future for music even as the industry as a whole remains in flux. Let's take a look…
Swedish heavy metalers Night are set to have their day yet again with the release of their third full length album Raft of the World containing 9 ravishing rock hymns that point to a musical progression of the band towards a more rock-based sound. Bring it on! Vampire, Trap Them).
Fortune's Folly are an alternative rock band out of Eugene, Oregon, who plan to paint the town, country, and world "Red" with their new EP of the same name. Their lead single "Shake It Out" is shaping up to be a colorful, jubilant hybrid of their jazzy, jam pop sound.
Thirsty Curses is an eclectic four-piece rock 'n' roll band from Raleigh, NC. Like a tall glass of water they satisfy on their latest single "Holy Moly" that is an infectious blend of rock and punk infused with southern charm – we swear!
Kingston, New York's The Grape and The Grain are stomping out a potent brew of gimmick-free rock and roll for a good times celebration. Perhaps influenced by their proximity to Woodstock their song "Holy Rollin" is an almost religious experience as it fuses a psychedelic, swampy blues message into a communal movement that you will want to join.
Toronto's Altar Eagles take flight with their bold and brash founder Erik Alcock leading the charge. Their debut EP is called a nice gooey psychedelic affair, with real sentiments and emotions, excellently written songs, ear worms and hooks galore. They just might be ready to soar!
Hailing from the United Kingdom Tree is set to take root and grow as they build their musical empire on the strength of their fine new full-length album The Bridge and The Mountain. The powerful lead track "Hold My Hand" is heartfelt and absorbing as it addresses the little discussed trauma of adult loneliness and disconnection from society. They are set to connect with the masses with this one and their massive arena rock sound.
Another Canadian with a rather presidential sounding name, Andrew Johnson delivers a policy statement on "Redheads" the lead single from his latest album he calls his Damn the Torpedoes and Born to Run. Question is – will it get your vote?
See ya next month!
Click here to read part 1 of this month's double sized column.
---
Richard J. Lynch and Laura Turner Lynch are the founders of
MusicCityNashville.org
, an Internet-based music industry magazine and review site, online since 1999. Laura is a published author of the inspirational (
Positive Power Secrets From A to Z
). Rich regularly interviews famous rock stars for the site's radio show and he has recently launched his own recording career at (
www.richlynchband.com
)
---