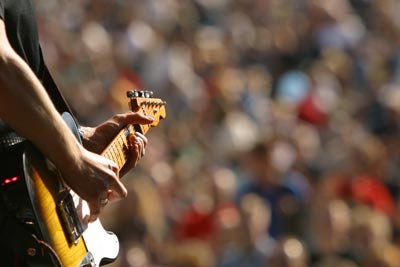 Hello world! For the first time in almost three years we didn't publish a monthly edition of SSON so this time around we present you with our first big summer double issue. We had a good excuse though. We went on our first real vacation in a long time to the beautiful states of South Dakota and Wyoming. It's there that we met a legendary man and a true rock god featured in the first item on the next page!
Frank Sanders is an extraordinary human being and we had the pleasure of staying with him for a few days at his B&B called The Devil's Tower Lodge. It was here that we got an immersion into the world of rock climbing and we learned that Frank is a mentor and guru of sorts who has climbed and topped the iconic National Monument over 2000 times. People flock to his hard to find hideaway to ascend the geologic curiosity that was prominently featured in the Steven Spielberg movie Close Encounters of the Third Kind. We heard him tell many visitors the rock will tell you where to put your hands. As an accomplished piano player he also puts his hands all over the ivories on Dreams Come True – a delightful collection of a dozen covers that he calls his take on the dinner lounge music theme. It's not unusual to find Frank entertaining his guests with some relaxing melodies after a day of basking in the Power of the Tower. Now, everyone can enjoy the same experience – with or without a 900 foot ascent to the top of the world.
Frank told us that people visit his lodge and climb Devil's Tower often to overcome some trouble in their life. Perhaps the girls in Heart should book a visit there since they've fallen on hard times recently. Much better days for the band are represented on Heart Alive In Seattle. This DVD is a re-issue of the band's 2002 homecoming concert film that finds the reformed group in stellar form in front of diehard fans, family, and friends. Since 1975, Heart has had an amazing career selling over 35 million records, topping the Billboard Album charts and being inducted into the Rock and Roll Hall of Fame. This 19 song concert celebrates the Wilson sisters at the top of their game in the early 2000's. Nancy is strong on guitar and vocals while Ann aptly sang the difficult Heart catalogue with ease while demonstrating her proficiency on a number of instruments during a showcase of ballads and ballsy rockers. The concert opens with a vibrant version of the classic "Crazy On You" flowing into "Sister Wild Rose" - a song which would have been considered the latest at that time. The set-list featured a number of newer tracks proving that the ladies still had the knack for lyrics. "Straight On", "These Dreams", "Magic Man" along with a blazing "Barracuda" were potent crowd pleasers as was the group's take on Led Zeppelin's "Battle Of Evermore" and "Black Dog." Ann's wide vocal range shined on "Alone" as Nancy accompanied her on an acoustic guitar. Their career spanning set concluded where it all began with a delightful "Dreamboat Annie." Heart Alive In Seattle also included bonus interviews so it is a definitive addition to the Heart cannon.
To coincide with Peter Cetera's recent induction into the Songwriters Hall of Fame and last year's induction into the Rock and Roll Hall of Fame comes The Best Of Peter Cetera. Many may remember that this bassist, singer and songwriter was a founding member of the band Chicago. During his tenure with that popular group he penned some of their biggest hits before setting sail for a successful solo career. Since then Cetera has scored six Top 40 singles, including two that reached number one on Billboard's Hot 100 chart in 1986, "Glory of Love" and "The Next Time I Fall" (a duet with Amy Grant). The Best Of Peter Cetera features these tracks and also his #1 AC hits "After All (Love Theme From Chances Are)", "One Good Woman", and "Restless Heart." Many of Peter's songs have been featured in film and TV productions including "The Glory Of Love" in The Karate Kid II, "Daddy's Girl" in Three Men And A Baby, "Save Me" which appeared in an episode of Baywatch in 1989, and "Stay With Me" from the Japanese film Princess Of The Moon, all are showcased on this 14 track CD. Cetera has mastered the art of writing well-constructed catchy tunes that have a strong appeal to the adult contemporary audience. This CD captures Cetera's artistry in a comprehensive collection appropriately called The Best of Peter Cetera.
Seminal rock band King Crimson has been on tour in 2017. To coincide with a run of dates Crimson has released Heroes. The EP is a nod to the late David Bowie and a reminder to fans that King Crimson member Robert Fripp played guitar on the original. The five song CD is bookended by two versions of "Heroes." It's a great song played by a great group of musicians so we did not mind hearing the track twice. "Easy Money" travels through varied soundscapes running the range from rocking, stark and strange. "Starless" is atmospheric heavy on keys and complemented by horns flowing into "The Hell Hounds of Krim" featuring a dramatic drum solo. The EP is a teaser for a full length live album of King Crimson in Europe (2016) which is scheduled to be released September of 2017. In the meantime fans can enjoy a Crimson fix of Heroes while waiting to catch their prog-rock heroes on the road.
---
The article continues after this ad
---
---
The recently passed one-time King Crimson member John Wetton went on to find wider fame in the supergroup ASIA. Together with his partner from that band Geoff Downes the duo formed a downsized duo called iCon that created further collaborations between the two and sometimes they took the project on the road. Such was the case when the pair presented a show at the iconic St Mary-le-Bow church in London. The set featured a unique mix of iCon songs, heritage tracks and the greatest hits of ASIA. Coming together with the pair on the two CD plus DVD offering called Urban Psalm is Dave Kilminster on guitars, Pete Riley on drums, Panic Room's Anne-Marie Helder on vocals and ELO's Hugh McDowell providing cello. This is a rare chance to observe two larger than life musical icons get down to business in an intimate setting. The pleasing musical production is made ever more poignant by the knowledge that it can't ever happen again.
Dare we say that the hard rocking The Dead Daisies are a super group? The quartet features Brian Tichy (Ozzy Osbourne, Foreigner) – drums, David Lowy (Red Phoenix, Mink) – guitars, John Corabi (Mötley Crüe, The Scream) – vocals and Doug Aldrich (Whitesnake, Dio) – guitars. Live & Louder says it all. This 16-track collection available in various formats consolidates recordings from the band's 2016 European tour. The whole high energy affair testifies to the expertise of the individuals and the group as a whole. The opening number "Long Way To Go" paired with a mighty "Mexico" kicks things into high gear setting the relentless pace for the entire record. Even the so called ballad "Mainline" is hard hitting flowing into a "Helter Skelter" medley that dives into Zeppelin and Hendrix, too. Also of interest on this whole noteworthy collection is "Make Some Noise" an appropriate anthem in a live setting. Their cover of "American Band" works well for a party vibe but The Dead Daisies also get political with the still so relevant "Fortunate Son" (CCR) and their own call to action "With You & I." Lead singer John Corabi adds: "We're extremely excited and proud of our new album Live & Louder. A lot of the fans have been writing to us and saying how much they loved our records but were even more blown away by the band live! So this documents our last U.K./European tour, and also shows the world how truly loud and supportive The Dead Daisies fans are! Thank you and Turn It Up!
Legendary rock vocalist Graham Bonnet is back with a new live album and home video captured during his acclaimed performance at Frontiers Rock Festival III in Milan, Italy on April 24, 2016. Titled Live… Here Comes the Night the recording finds Bonnet masterfully delivering a thrilling "Best of" career-spanning set which included songs from his stints with bands such as Rainbow, MSG, Alcatrazz, Impellitteri, and of course his solo material too. The collection opens with "Eyes Of The World" and what is immediately eye-opening is how amazingly strong the nearly 70 year old singer presents the material. If there was ever any question of whether a hard rock catalogue can hold up at an age when most people are heading for the retirement homes – Bonnet puts it to rest. He sounds so good you have to wonder why his former bandmate Richie Blackmore didn't reach out to him for his ill-conceived reboot of Rainbow. Bonnet's presence surely would have added a bit of legitimacy to that poorly reviewed project. Graham led Rainbow as they transitioned to a more commercial sound and his two big hits "All Night Long" and "Since You Been Gone" are still staples of his live shows and they stand up well here as do the album's 13-other tracks. Like a bee in a bonnet Graham is still making hard rock that stings and this effort should create a nice little buzz for him, too. Well done, sir!
After an impressive debut studio album (Hard Road) Tom Killner is back with a new live record. Tom is a British blues guitarist and singer. Live was recorded at The Old School House in Barnsley, England where Killner with his band killed it at the venue with a dozen creative covers. The set starts off strong with "Like It This Way" and a regal take on Muddy Waters' "King Bee." Later they honor Hendrix with vibrant versions of "Crosstown Traffic" along with "Foxy Lady." Live is diverse diving into The Allmans, The Band, Clapton and closing with The Beatles' "With A Little Help From My Friends." Killner and Company are up to the task of performing these legendary songs yet passionately put their own spin on them in jubilant jams. Tom is still in his 20's but plays as if possessed by an old blues man. The CD captures the energy and spontaneity of a Killner concert. As he explains "I try to add as much energy to the live show as I can each night. No two shows are the same, and no song is played the same. Every night, I try and mix as many influences in as possible-blues, soul, southern rock, funk… and it seems to be keeping everyone happy!" So check out Tom Killner's Live you'll be happy that you did.
Click here for the second half of this month's Sights and Sounds where we take a look at a ton of new releases.
---
Richard J. Lynch and Laura Turner Lynch are the founders of
MusicCityNashville.org
, an Internet-based music industry magazine and review site, online since 1999. Laura is a published author of the inspirational (
Positive Power Secrets From A to Z
). Rich regularly interviews famous rock stars for the site's radio show and he has recently launched his own recording career at (
www.richlynchband.com
)
---