By Gary Wien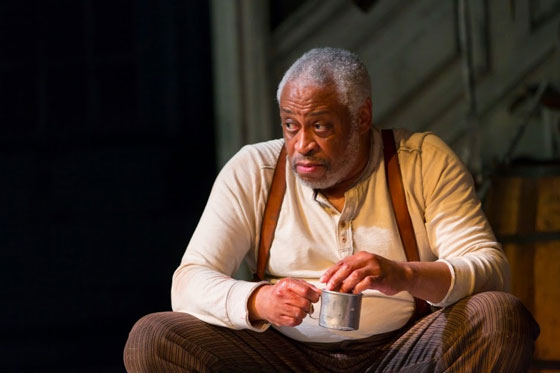 Matthew Lopez's The Whipping Man is a powerful, emotionally-draining drama that is brilliantly produced by George Street Playhouse. Running now through February 15, George Street has outdone itself with this production. It's a play about the choices we make in life; how they define us, and what they say about the people we are. Featuring an outstanding cast and crisp direction from Seret Scott, the play should definitely be on your radar as a must see production.

The Whipping Man was first produced by New Jersey's Luna Stage in 2006. Since then, it has become one of the most widely produced new works in recent years. This production stars Ron Canada as Simon, Luke Forbes as John, and Adam Gerber as Caleb. Set in Richmond, Virginia shortly after the end of the Civil War, the play takes place in Caleb's home — or what's left of it since looters have taken just about everything. As the play begins, Caleb, a Jewish Confederate soldier, returns home wounded from battle. The horse he rode home with has died on the front yard and he stumbles into his house. There he meets Simon, once a slave owned by his family, and the barrel of Simon's shotgun.

The elderly Simon has been waiting for Caleb's family and his own to return home. He has spent time helping out the wounded in the hospital and instantly realizes that Caleb's leg has gone gangrene and needs to come off. Caleb refuses to go to the hospital, insisting that Simon take the leg off at home.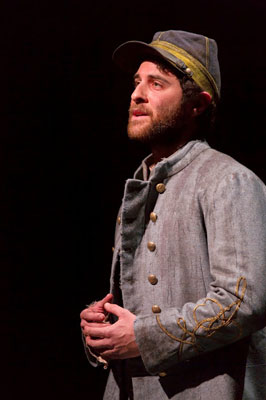 "All these things you're telling me to do, by rights you have to ask," Simon reminds him.
Not soon afterwards, John appears. John too was a slave in Caleb's family. Much younger than Simon, John is roughly Caleb's age and the two grew up together much like brothers. While Simon believes that helping Caleb is the right thing to do, John wonders, "How is this our problem anymore?"
John ultimately helps Simon remove Caleb's leg in a scene that is incredibly tense and not for the feint of heart. Adam Gerber lies on a makeshift bed, writhing with pain as the audience watches in suspense. It's unlike anything I've ever seen on stage before, yet it only foreshadows the true pain in the story.
While Simon wants to enjoy his freedom, John wants revenge. Luke Forbes is terrific as a young adult with a world of demons in his past. Growing up, John was often a problem child and regularly made trips to the whipping man. He was beaten for his desire to be educated. John read book after book and asked questions of the world — questions that still remain, even after being set free. His character has so much anger inside of him, you wonder if he will literally explode on stage.
Meanwhile, Ron Canada is brilliant as Simon, an ex-slave who has earned his right to be angry yet keeps his anger in check. In many ways, Simon's character has more pain inside him than the other two combined. It is a tremendously nuanced performance that will stun you in the end.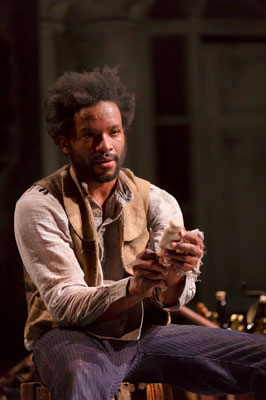 Along the way, the three's Hebrew heritage is something they still have in common, even though Caleb says he lost his faith on the battlefield. When John a datebook he "found" says it's around Passover, Simon plans to hold a Seder. Caleb accuses him of stealing the datebook to which John replies, "Look who's accusing who of stealing time."
Simon is proud to have served in a Jewish household all these years, believing that Caleb's family treated them as one of the family. He reminds John of how he and Caleb were like two peas in a pod, best friends forever.
"It's not a friendship when one friend owns the other and sends him off for a whipping," says John. The whipping man was the devil himself to John and he never forgave Caleb for that day. "That was the last time we were as close as you remember, Simon."
Simon remains hopeful though. Caleb's father once promised him that he would give him enough money to start a life if he was ever set free. For Simon, that money is the key to his dream of owning his own house (and maybe a chair if there's enough money left over). He tells Caleb that he would still be able to work for the family but for a real wage.
"It's good that you're staying," said Caleb. "It'll be like it was before."
"No, it will not be like before," Simon replies.
The Whipping Man is a gripping tale of the period immediately following the war when America changed dramatically overnight. Simon and John show how different generations handled their newfound freedom, while Caleb is a reminder of how many slave owners would forever be haunted by the actions of their past. The play includes many twists and turns — not real shockers, but highly believable pieces to the puzzle which lead up to a simply breathtaking ending. The Whipping Man is simply an amazing play. It reminds me of the first time I read August Wilson. I can't wait to see more from Matthew Lopez.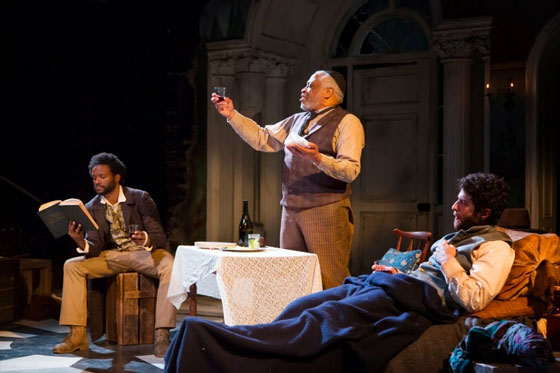 ---

The Whipping Man is running now through February 15, 2015 at George Street Playhouse (9 Livingston Avenue) in New Brunswick, NJ. For more information visit www.GSPonline.org





PHOTOS by T. Charles Erickson



---
Gary Wien has been covering the arts since 2001 and has had work published with Jersey Arts, Elmore Magazine, Princeton Magazine, Backstreets and other publications. He is a three-time winner of the Asbury Music Award for Top Music Journalist and the author of Beyond the Palace (the first book on the history of rock and roll in Asbury Park) and Are You Listening? The Top 100 Albums of 2001-2010 by New Jersey Artists. In addition, he runs New Jersey Stage and the online radio station The Penguin Rocks. He can be contacted at gary@newjerseystage.com.
---