By Gary Wien

(FEBRUARY 5, 2012 -- NEW BRUNSWICK, NJ) -- I'll put it as simply as I can… Red is the best play I've seen in years. Written by John Logan, Red won the Tony Award for Best Play in 2010 and George Street's production certainly does it justice. Set in the 1950s, the play takes a look at the Russian-American painter, Mark Rothko, as he undertakes the most ambitious project of his career -- a set of murals designed exclusively for the new Four Seasons Restaurant in the Seagram's Building. While the play provides an amazing insight into the creative process of Rothko and a fascinating look into modern art, it's also a wonderful coming of age story that deals with Rothko's assistant and his quest to become an artist in his own right.

You don't have to know a lot about art to appreciate Red, but those who recognize the names of modern artists like Jackson Pollak, Jasper Johns, Andy Warhol, and Roy Lichtenstein might get a little more out of it. Regardless of your level of expertise, you'll witness two exceptional performances by the performances of Bob Ari (Rothko) and Randy Harrison (Ken) and will most likely leave knowing more about art than when you arrived. It's become a bit of a cliche to point out the quality of acting at George Street, which consistently fields tremendous casts, but the theatre once again brings quality Broadway actors and a great director (Anders Cato) to the region.

Red takes place entirely inside the studio of Rothko. As the play opens, Ken enters, hoping to be hired as Rothko's assistant. The interview basically consists of Rothko quizzing Ken on his thoughts on the painting before him. The color red is the first thing to pop into Ken's mind. From early on, it's clear that Rothko is going to serve as Ken's mentor -- both in art and in life itself. Rothko advises Ken on books he should read, the finer techniques of art, philosophy, and the meaning of colors. For Rothko, art is a bit of a contradiction. He believes art is based on movement, but the process also involves patience -- sometimes even staring at a painting for weeks on end before doing anything else.

"How do you know when they're done?" Ken asks.

"When there's tragedy in every brush stroke," replied Rothko.

Rothko isn't just intent on being a great artist, he wants to create something the world has never seen before. He believes his audience doesn't fully appreciate the pain that goes into each work. Annoyed with fame, he struggles with the idea that his work is simply becoming a piece of furniture. The Four Seasons project will change all of that, Rothko believes because it's the ideal location for his work. To Rothko, it will be a place with the perfect lighting, the perfect arrangements, and a place where people could take the time to study his paintings with as much care as he does. In his mind, it will be a temple for his work.

"But it's a restaurant," said Ken.

"I will make it a temple," said a determined Rothko.

The play transpires over a period of two years in which Ken learns much about Rothko but the temperamental artist never peers inside his assistant's life, choosing to keep the student/mentor relationship in one piece. In David Saint's pre-play announcement, George Street's Artistic Director said he chose this play to be part of the season dedicated to the late Arthur Laurents because it reminded him of the relationship he had with Arthur.

As Ken becomes more comfortable around Rothko, he begins to challenge him more and more -- especially around the topic of the emerging pop art world. Rothko onced bragged that artists like Pollak and himself helped crush the cubist movement after first being inspired by it, sort of like the child killing the parent. Ken notices how Rothko appears threatened by artists like Andy Warhol and Roy Lichtenstein, barely considering them art at all and says that their mistake is making art that everyone will love rather than art that is real.

"When someone tells me one of my pictures is beautiful, I want to vomit," explained Rothko. "I'm here to make you think, I'm not here to make pretty pictures."

One day Rothko passes by his house and overhears a couple say, "I wonder who lives here that owns all those Rothkos" and he realizes that his fame is taking over. He believes fame ruined Pollak and worries that it will destroy him as well. "Just like that I've become a noun… An 'over the mantle' -- just a piece of furniture that's cheaper than a Pollak."

For as much as Ken admires Rothko, he also sees through the phonyness in the artist's beliefs, specifically that the Four Seasons Restaurant will be a temple for his work. He tells Rothko that he's no different from Pollak; both have sold out. During one heated debate, Ken believes he may have crossed the line. "I'm fired aren't I?" Rothko surprises him by saying, "Fired? This is the first time you've ever existed." -- it's clear that Rothko desperately wants to have someone he believes is on the same level as him around. He needs a foil to verbally debate.

Rothko decides to visit the restaurant for himself. What he finds will forever change him and how he views his assistant.

Red shows the greatness of theatre. For 90 minutes straight (no intermission), we become wrapped in an intellectual discussion of art and life itself. The dialogue is simply amazing, rapidly firing back and forth in a way that locks the audience's attention. It's a powerful drama that will leave your mind buzzing.

Bob Ari's performance is brilliant and Randy Harrison reminded me of the late River Phoenix, a comparison I do not make lightly because I still believe River would have been one of the greatest actors of my generation. Red is scheduled to run until February 26. I cannot recommend this play enough!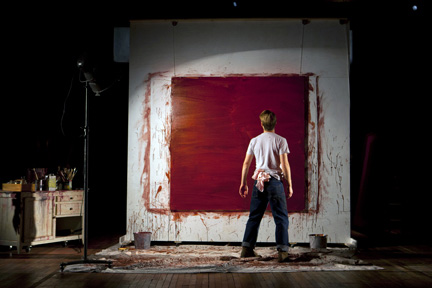 ---
Photos by T. Charles Erickson
---
Gary Wien has been covering the arts since 2001 and has had work published with Jersey Arts, Elmore Magazine, Princeton Magazine, Backstreets and other publications. He is a three-time winner of the Asbury Music Award for Top Music Journalist and the author of Beyond the Palace (the first book on the history of rock and roll in Asbury Park) and Are You Listening? The Top 100 Albums of 2001-2010 by New Jersey Artists. In addition, he runs New Jersey Stage and the online radio station The Penguin Rocks. He can be contacted at gary@newjerseystage.com.
---