By Gary Wien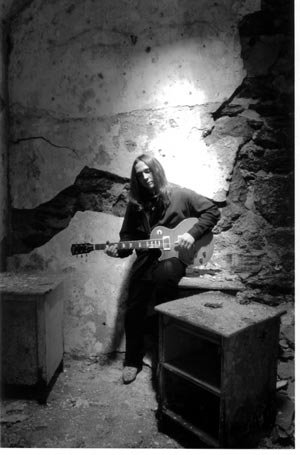 (ASBURY PARK, NJ) - On July 27th, the Saint in Asbury Park welcomed back the newly crowned "King of the Blues" - Matt O'Ree - with a great night of blues and power rock performances.

Robert from the band Crash started off the night with a nice mix of singer-songwriter tunes ending with a good cover of "Here Comes The Sun" by The Beatles. He was solo tonight due to a bit of a medical emergency. The band is normally a trio that just started playing out about a month ago. Keep an eye out for Crash because it seems like they've got some intelligent and lyrically strong songs.

The Bruce Wacker Band was up next. I had heard this band's name around so I was glad to be able to catch them live. And they did not disappoint! They came out guitars blazing like a late 60s power trio. If you like classic rock bands like Cream you should check these guys out. Their set was a cool blend of heavy blues-infused rock and roll with tasteful solos and straight-ahead in-your-face guitar playing. While watching them I started wondering why power trios always seem to rock harder than full bands?

Bruce Wacker and his band showed they could easily turn it up and down during a bluesy number that roamed from mellow blues to power rock and back featuring the work of Bruce Wacker on guitar. This guy can definitely play! I liked how his solos were strong but always stayed within the song - complimenting it rather than dominating the music. It's a fine line that many bands cross too often in my opinion.

After a stellar set of originals the Bruce Wacker Band closed with a nice cover of "Tomorrow Never Knows" by the Beatles. A great ending to a great set.

Following Wacker was Matt O'Ree, the headliner of the night, who started off with "Coming Home" from his CD. With recent wins in the Acoustic Showdown and Guitar Center's "King of the Blues" competitions, Matt seems to have confidence bursting out of every cell in his body right now. If you ever wish you had seen someone like Stevie Ray Vaughn on the way up you have to see Matt live. He's beyond being the real deal. He's proof that music is still an art form; proof that music can still make you gasp in wonder; and proof that genius can still come from Jersey!

The blues just come so naturally for Matt. He makes it look easy even during the most intense guitar solos. He's a natural. It's great to see him starting to make a name on the national stage and things like winning the "King of the Blues" competition may lead him to bigger and bigger things. Catch him in a local bar while you still can. Someday you'll be able to impress someone by telling them you remember seeing Matt O'Ree back when he started.

Watching the crowd love Matt's set (and the entire night) made me wonder why it is that the Jersey Shore loves the blues but has always had so much of a difficult time keeping blues clubs alive. Maybe the idea of having clubs like the Saint feature a blues night once a week would work out better than a pure blues club. Regardless, the blues and summer go hand and hand and tonight was a great night of blues music.


---
Gary Wien has been covering the arts since 2001 and has had work published with Jersey Arts, Elmore Magazine, Princeton Magazine, Backstreets and other publications. He is a three-time winner of the Asbury Music Award for Top Music Journalist and the author of Beyond the Palace (the first book on the history of rock and roll in Asbury Park) and Are You Listening? The Top 100 Albums of 2001-2010 by New Jersey Artists. In addition, he runs New Jersey Stage and the online radio station The Penguin Rocks. He can be contacted at gary@newjerseystage.com.
---