By Gary Wien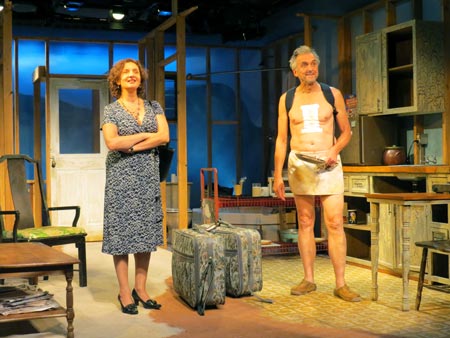 (LONG BRANCH, NJ) -- New Jersey Repertory Company continues its long history of premiering new works with the East Coast premiere of "Annapurna" by Sharr White. This is the 85th new play produced by NJ Rep in the company's 15th year -- truly a remarkable achievement in an era in which people have a tendency to go only to plays that already know or which have a big name star involved. Some of their debuts are brilliant, some not so much; "Annapurna" is somewhere in between. It's a play with a lot of potential, but could use some tightening.

The play begins when Emma shows up unexpectedly at the mobile home of Ulysses (her former husband) twenty years after she walked out on him. A series of quick scenes -- starting at the present and then flashing two minutes later, three minutes later, and five minutes later -- take place before the play settles in the time of a few hours after her arrival. To me, these quick scene changes seemed like an unnecessary gimmick. The scenes don't really tell much other than show just what a surprise it was for her to be there. One would imagine someone showing up unexpectedly after 20 years would be such a surprise, we really don't need four quick scenes to get that point across. I think all the quick scene cuts did was make it difficult for the actors (Gina Bonati as Emma and Peter Galman as Ulysses) to really get into a groove.

Thankfully, after this rather rocky start, "Annapurna" settles into a pretty interesting portrayal of how one moment can change the lives of people forever. In this case, it was an incident that led Emma to leave Ulysses (her husband) and take their young child away, never to return nor contact him at all until she shows up at his mobile home in Paonia, Colorado on this day.

Ulysses is a former college professor, famous poet, and former alcoholic who hasn't had a drink in several years. His mobile home is a disaster zone with ants, roaches, and five pounds of bad sausage that he bought from the dollar store. When Emma shows up, Ulysses is frying some sausage, wearing nothing but an apron and the oxygen tank across his back that is keeping him alive. Emma begs him to put some clothes on, but he replies, "If you show up unexpectedly, you take what you get."

Everybody in his mobile home community wears as little clothing as possible due to the heat and the altitude. The community is full of people in situations like Ulysses is in. He describes the residents as having a bad case of CDS - can't do shit. "It's like the ugliest, saddest nudist camp you ever saw," said Ulysses.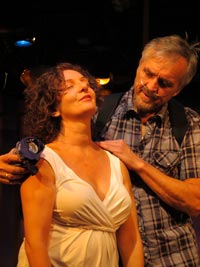 Emma knows Ulysses is dying from advanced emphysema and lung cancer because her son Sam hired a private investigator to find his father. The investigator found recent records of Ulysses in the hospital, which inspired Sam to visit his father before he passed on. At first, she tells Ulysses that she is just passing through, but soon reveals that she actually left her husband three days earlier.
Ulysses is living off disability, food stamps, and is waiting for a royalty check of $12 from his first poetry book. Emma goes out and purchases some groceries for him with money she stole from her husband. She's actually got over $17,000 in cash with her -- enough to help him until he dies.

Ulysses has little memory of the night his wife left him, but assumes he must have done something horrible. In essence, his mobile home has been like a self-imposed form of purgatory for him.
"If the punishment fits the crime, I must have been some kind of monster to you," he says while he tries to piece together what happened to the last 20 years of their lives -- the letters he sent each week to his son, where the two of them went after that night, where his son grew up, and the biggest missing piece of all -- what really happened on the night she left.
Life for Ulysses pretty much fell apart after Emma and his son left, but her life wasn't much better. It seems the past has a funny way of catching up to us all at one point or another. For Emma, that happened when she read through the letters sent by Ulysses over the years. She realized just how much she loved him and how great of a writer he was, and saw her own version of purgatory within the world she always thought would be better for her and her son. In the years since, he's written just one poem -- an epic he calls "Annapurna" about his wife and son. He brings out the various pieces of paper and napkins that formulate his poem for her just in case he dies.
The play has much good going for it, but a little tightening would help it greatly. In addition to the opening scenes previously mentioned; a dog (as with the famous story of Ulysses), which is part of the opening minutes and then barely referenced ever again, probably could be either enhanced or simply dropped. Likewise, the incident that took place on the night that changed both of their lives is never really explained well. It's sort of left as a bit of a mystery, but considering how much effort went into the lead up to that point, it's left as a rather unfulfilling explanation for the audience. Nevertheless, the play's best moments far outshine these weaknesses. Before the play began, Gabor Barabas discussed how NJ Rep is always interested in plays that explore the human condition. This play certainly fits that bill. It's wonderfully touching in parts, humorous in others, and, in the end, shows just how precious time really is.

---
"Annapurna" is playing now through November 18 at New Jersey Repertory Company (179 Broadway, Long Branch, NJ). For more information visit http://www.njrep.org
PHOTOS BY SuzAnne Barabas.

---
Gary Wien has been covering the arts since 2001 and has had work published with Jersey Arts, Elmore Magazine, Princeton Magazine, Backstreets and other publications. He is a three-time winner of the Asbury Music Award for Top Music Journalist and the author of Beyond the Palace (the first book on the history of rock and roll in Asbury Park) and Are You Listening? The Top 100 Albums of 2001-2010 by New Jersey Artists. In addition, he runs New Jersey Stage and the online radio station The Penguin Rocks. He can be contacted at gary@newjerseystage.com.
---