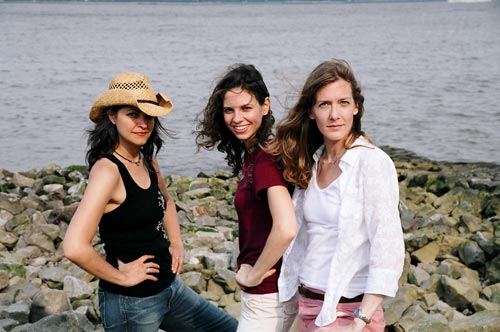 Just as with Pink Floyd, there really isn't a Molly in the band Red Molly. But there are three incredibly talented artists who discovered that together they have something truly special.
Red Molly was formed innocently enough during one late night of campsite singing at the 2004 Falcon Ridge Folk Festival. It was during those early songs that Laurie MacAllister, Abbie Gardner, and Carolann Solebello came together as a band.
"We'd all been buddies, listened to each other's music, and appreciated what each other was doing, but it never occurred to us for several years to sing together," said Carolann Solebello. "That night we sat up late and sang when everybody else was asleep and hit ourselves in the head and said why didn't we do this sooner?
"We were just sitting around playing songs. I think we played Gillian Welch to start with and then Abbie brought out this bluegrass fake book and we started singing bluegrass and gospel harmonies and it just kind of fell into place. Abbie naturally fell into the top place and Laurie naturally fell into the middle and I fell into the bottom part. It was fate."
It didn't take long before the three began playing shows together even if it did take hundreds of names before they knew what to call themselves.
"To us Red Molly says vibrancy, it says life, it says fire, Americana, passion, and girl next door all at the same time," explained Solebello.
These days Red Molly is the main focus for the three artists. This summer the band will be playing all over the tri-state area plus dates in Connecticut, Maryland, and Massachusetts. The band's success doesn't leave them much time for their solo work, but the three don't seem to mind since Red Molly is really taking off.
Red Molly released the band's first full-length record ("Never Been To Vegas") last summer. The record includes 14 songs by songwriters like Hank Williams, Gillian Welch, Billy Edd Wheeler, Patty Griffin, as well as songs by Abbie Gardner.
"We're kind of a hybrid of bluegrass, country, folk, and even jazz," explained Solebello. "We're like a hybrid of American music.
"When you blend three voices, it can become sort of transcendent," she added. "Occasionally, you get that tingling feeling on stage. Even a song that you've sung hundreds of times can still bring that tingly feeling when the three voices hit all at the same time."
The band is proof that everything old becomes new again. Their sound is so refreshing yet it's a sound your great grandparents would probably love. Red Molly's wonderful musicians and harmonies make every song something special. They're as Americana as they come.
Red Molly will be performing at the Black Potatoe Music Festival on July 15th. For all of their upcoming shows in the area visit www.redmolly.com or
http://www.myspace.com/redmollyband