originally published: 05/26/2017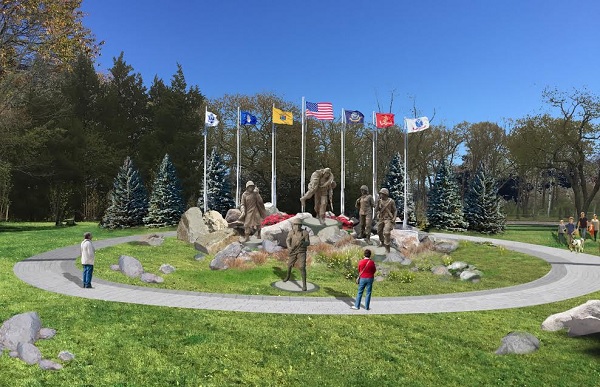 (TOMS RIVER, NJ) -- On June 26, 2017 at 12:00 noon, the Jay and Linda Grunin Foundation will unveil the Protectors of Freedom monument on Route 571 East in the Bey Lea Park of Toms River. The monument, reflecting every conflict from 1917 to today, will be depicted through six, eight-foot bronze sculptures, including a woman nurse serving in the Vietnam War. With figures representing World War I, World War II, the Korean War, Vietnam and the Middle East, this exceptional work will touch the hearts and souls of multiple generations.
Veterans and esteemed military members from Joint Base McGuire-Dix-Lakehurst will be in attendance to unveil each of the six sculptures along with Congressman Smith and Congressman MacArthur. With one of the largest population of veterans in the state, Toms River was the natural choice for the home of Protectors of Freedom. This monument is dedicated to the courageous men and women who have given their all in the defense of mankind. For all those who served and lost their lives, and the survivors who returned carrying the scars of war as medals of honor, this memorial stands as an acknowledgment of their selfless benevolence.
The monument, funded by the Jay and Linda Grunin Foundation with the land and facilities provided by Toms River Township, is a tribute to the heroism of each and every soldier. Jay Grunin, Co-Founder and Co-Chairman of the Jay and Linda Grunin Foundation said, "It is a great honor and privilege for our Foundation to be able to underwrite this wonderful and deserving tribute to the millions of men and women who have served in our Armed Forces over the past century and have helped keep our world safe and prosperous."
The honorary vision and design will be sculpted in striking bronze by world-renowned artist and Toms River native, Brian Hanlon. Hanlon said, "It's extremely rewarding to be able to honor and commend bravery and sacrifice through art with each sculpture in my hometown.  This tribute and memorial represents such tremendous stories of each generation of war in such simplicity."
Toms River Township Mayor, Thomas F. Kelaher, who will be in attendance at the event said, "What a wonderful way for Toms River to show its appreciation to all of the men and women who have served our country.  This is something all Americans can stand behind."
---
The article continues after this ad
---
---
There will be a few surprises in store for the unveiling and dedication ceremony on June 26, 2017 at noon and all are welcome to attend.
 ABOUT HANLON SCULPTURE STUDIO
Brian P. Hanlon is a classically trained master sculptor and founder of Hanlon Sculpture Studio; a full-service art studio that designs, creates, and installs awe-inspiring and signature monuments featuring bronze, aluminum, stainless steel and granite sculptures, illustrative and informational graphics, and interactive kiosks.
The Studio provides complete site design services from sculptures to hard and softscapes, and offers total project management from design to installation and unveiling.  In collaboration with administrative staff at colleges, universities, corporations, non-profits, and municipalities, the Studio develops the scope of artwork projects that are designed to enhance the spirit, pride, and tradition of the local community.
With over 400 public and private art pieces, Hanlon is a world-renowned artist from Toms River, and is the Official Sculptor for the Naismith Memorial Basketball Hall of Fame.
ABOUT THE JAY AND LINDA GRUNIN FOUNDATION
The Jay and Linda Grunin Foundation uses philanthropy to increase citizen activity and economic development opportunities through the arts, healthcare and education. The Foundation is a proactive grant maker heavily active in the communities it has targeted to make an impact in, and is committed to identifying leaders and teams who it feels can bring their organizations to the next level, and beyond. Since 2013, it has invested over $12 million in the community, with an additional $16 million committed.  For more information on the projects and impact the Foundation has made, please visit www.jayandlindagruninfoundation.org.