originally published: 02/02/2017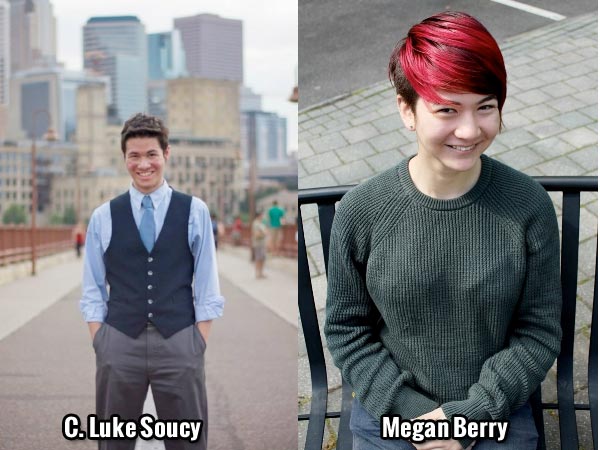 (PRINCETON, NJ) -- Princeton Summer Theater is pleased to welcome Luke Soucy and Megan Berry as the company's new leadership team for the 2017 season. Minneapolis, MN native Luke Soucy will serve as PST's Artistic Director, with Megan Berry of Cambridge, MA as Executive Director. Both are theater certificate students in Princeton University's Class of 2019.
"This fall, we had more applications from Princeton students than ever," said Geoff Rich, President of the Board of Trustees of PST. "We chose Luke and Megan because they truly understand the ideals of artistic integrity and theatrical community that is PST.  Our subscribers and patrons can look forward to a compelling and entertaining 2017 as we approach our 50th Anniversary."
Since 1968, Princeton Summer Theater has provided the Mercer County community with high-quality works of theater produced by young artists, and continues to be dedicated to training and fostering the talent of the up-and-coming leaders of the theater world. This summer will mark the company's 48th season.
Berry is returning to Princeton Summer Theater, having worked as an associate last season, while Soucy comes to PST following his tenure as director of the ArtSHARE program with Blue Water Theatre Company in Wayzata, MN. Both have recently worked on productions with the Lewis Center for the Arts, and serve on the boards of Princeton Shakespeare Company and Theatre Intime.
Soucy and Berry said of their new positions: "It is an honor and a gift to be chosen. We hope you'll join us for the upcoming summer as we look forward to collaborating on an exciting, entertaining, and thought-provoking season of theater."
C. Luke Soucy is honored to be serving as Artistic Director for Princeton Summer Theater's 48th Season. A Minneapolis-based director, Soucy's previous work at Hamilton Murray includes his staging of California Suite by Neil Simon and his appearance as Elwood P. Dowd in Harvey. For the past two years, he has also served as a director at Blue Water Theatre Company, most recently leading their productions of Oklahoma!, Assassins, Lord of the Flies, and This Is Our Youth - the latter two as part of the Southern Theater's ArtSHARE residency program.
Megan Berry is delighted to be returning to Princeton Summer Theater for a second year, having served as the 2016 company's Executive Associate. A current Princeton undergraduate, Megan is pursuing a degree in Molecular Biology, with certificates in both Theater and Gender and Sexuality Studies. She is also actively involved with the Program of Theater at the Lewis Center for the Arts, as well as working as Production Manager on Theatre Intime's executive board. In addition to theater administration, Megan is involved with technical theater, primarily lighting design. Recent design credits include A Dream Play and Lobby Hero with the Lewis Center and Agamemnon and Oleanna with Theatre Intime.
Preparations are currently underway for PST's 2017 season. More information regarding specific productions, directors, and ticketing will be announced early this spring. Performances will run from June 22nd to August 20th.
For more information, visit www.princetonsummertheater.org, or call 732-997-0205.
About Princeton Summer Theater:
Since its inception over forty years ago, Princeton Summer Theater has provided the Princeton community with great works of theater produced by the stars of tomorrow. PST is dedicated to training the up-and-coming leaders of the theater world and offers students and young professionals experience working in every area of theater production, from performance, to design, to marketing, and everything in between.  Housed in the charming, intimate Hamilton Murray Theater on the Princeton campus PST is a 501(c)3 non-profit organization committed to bringing high-quality, affordable theater to the Princeton and Central New Jersey community. 
PST has helped launch the careers of hundreds of young artists. Some of PST's notable alumni include Tony Award-winning actress Bebe Neuwirth (Damn Yankees, Chicago), Broadway and off-Broadway actor/director Mark Nelson (Picasso at the Lapin Agile), TV and Broadway playwright Winnie Holzman (Wicked, My So-Called Life), theatrical producer Geoff Rich (Avenue Q), and Hollywood veteran William Hootkins (Star Wars, Batman).
---