---
Did you know NJ Stage offers FREE Event Listings? Nearly 100,000 listings were viewed in January. Be sure to add your events to our calendar and get your shows noticed!
---
Premier Theatre Company and Pegasus Theater Present Disney's The Little Mermaid
originally published: 06/08/2018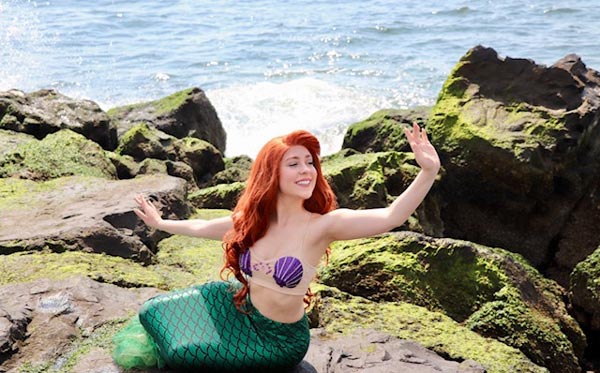 (LINCROFT, NJ) -- The Premier Theatre Company in association with Pegasus Theater, NJ, an educational partnership with the alumni theatrical program of Christian Brothers Academy, present Disney's The Little Mermaid. Performances take place June 15, 16, 22, 23 at 8:00pm, June 17 and 24 at 2:00pm in the Henderson Theater in Lincroft.
Take a stroll down  memory lane as Premier and Pegasus bring one of the most beloved, classic Disney films to life, live on stage! The Little Mermaid was originally produced by Disney Theatrical Productions and is based on the Han's Christian Anderson story and the Disney film produced by Howard Ashman & John Musker and written & directed by John Musker & Ron Clements. Music by Alan Menken, Lyrics by Howard Ashman and Glenn Slater, Book by Doug Wright.
The partnership with Christian Brothers Academy, now in it's second season, provides students the opportunity to learn about various aspects of producing theater by working with Premier in a hands on approach.  
"We couldn't be more excited about about this partnership," says Marcos Orozco, Director of Pegasus and CBA alumnus. "At Christian Brothers Academy, we strive to be a student run organization where students are responsible for everything from construction to design to PR and more.  We can now provide our students an internship-like experience over the summer where they will learn the skills needed to fully take over during the school year and bring our program to the next level." 
Premier President John Sabatos adds, "Premier is thrilled to be able to continue to reinforce their commitment to education with this on going partnership. By giving students the chance to work with both theater and education professionals, we hope to not only share our skills and knowledge, but having the pleasure of working as a community to advance the living arts".
---
The article continues after this ad
---
---
The Little Mermaid is  presented through special arrangement with Music Theatre International (MTI). 


Centenary Stage Presents Henrik Ibsen's "Enemy Of The People"
(HACKETTSTOWN, NJ) -- Randall Duk Kim and Anne Occhiogrosso headline Centenary Stage Company's production of Henrik Ibsen's An Enemy of the People, February 15 through March 3 in the Sitnik Theatre of the Lackland Performing Arts Center, Hackettstown, New Jersey. Adapted by John Alan Wyatt and directed by Anne Occhiogrosso, the production will feature Randall Duk Kim as Doctor Thomas Stockmann supported by an acting company of professional and local talent from the tri-state area and Centenary University. The full-scale production marks the culmination of the 2018 Gates Ferry Lecture Series: "What is Truth?"
---
South Street Players Presents "Sylvia"
(SPRING LAKE,NJ) -- The South Street Players presents A.R. Gurney's "Sylvia" on two weekends - February 1-3 and February 8-10. The place is New York City, the time is the present.  Middle-aged, upper-middle class Greg finds Sylvia, a dog (played by a human), in the park and takes a liking to her. He brings her back to the empty nest he shares with Kate.  
---
American Girl Live: An Interview With Laila E. Drew and Shelby Miguel
Please note: Due to the potential of a major winter storm on Saturday, both performances of American Girl Live at Mayo Performing Arts Center in Morristown have been postponed and rescheduled for President's Day, Monday, February 18 at 2 pm and 5:30 pm. All tickets will be honored on that date. If you cannot attend the new date, please contact the box office at 973-539-8008.
---
"Kinky Boots" Comes To Hard Rock Hotel & Casino Atlantic City
(ATLANTIC CITY, NJ) -- Hard Rock Hotel & Casino Atlantic City in conjunction with TROIKA Entertainment is will present KINKY BOOTS, the smash-hit musical that brings together four-time Tony® Award-winner Harvey Fierstein (Book) and Grammy® Award-winning rock icon Cyndi Lauper (Tony Award-winner for Best Score for KINKY BOOTS), at Sound Waves in Hard Rock Hotel & Casino Atlantic City from April 30 until May 5 with two performances on Saturday and Sunday. Tickets starting at $35.00.
---
The Panto Company Presents "Beauty and the Beast" at The Newton Theatre
(NEWTON, NJ) -- When you think of a dying rose and a clock, candlestick andteapot who talk... you are thinking Beauty and the Beast. One of this season's spellbinding family shows from The Panto Company USA stars Dame Dotty Potty, Loopy Louie, Gaston, Belle and of course The Beast!  The company brings their show to The Newton Theatre on Sunday, March 3 at 3:00pm.
---


Laiona Michelle Talks About "Little Girl Blue: The Nina Simone Musical"
This might be the right time for Nina Simone—15 years after her death. That's what Laiona Michelle thinks, and, in a way, Michelle will be testing that idea by bringing the singer-activist to life in a world-premiere musical show at George Street Playhouse. Michelle wrote the show—"Little Girl Blue: The Nina Simone Musical"—and she will appear in the title role at the New Brunswick theater from January 29 through February 24.
---
It's "Apple Season" at NJ Rep
Every family has stories. Some are funny. Some are sweet. Some are sad. And some are never shared. Those are often the most powerful.
---
Rise of the Goatman
Theater For The New City presents Beltsville/Rockville, Part 1: Rise of the Goatman, an original play by Englewood resident Matt Okin (Artistic Director of Black Box Studios), from December 27 through January 13. In this pseudo-Southern Gothic dark comedy, a vibrant group of teens from two very different suburban neighborhoods clash over class differences, drugs, and sex - and the existence of the legendary 'Goatman' in 1986. Cut to 2013, and the adolescent kids of those very same teens are struggling to make sense of their family histories - and the same "mythological" creature - that could be holding them back in life.
---
PHOTOS from "The Winter's Tale" at Shakespeare Theatre of New Jersey
(MADISON, NJ) -- The Shakespeare Theatre of New Jersey's concludes its 56th season with its sixth and final Main Stage production, The Winter's Tale. Last seen at The Shakespeare Theatre in 2008, Artistic Director Bonnie J. Monte directs this production of Shakespeare's tragicomedic romance. Veteran company members Jacqueline Antaramian, Jon Barker, Erin Partin, John Keabler, Raphael Nash Thompson,Seamus Mulcahy, Patrick Toon, and Ames Adamson are among a cast of 20 actors. Performances run now through December 30. 
---
REVIEW: "It's A Wonderful Life" At Mile Square Theatre
Nestled in a corner of Hoboken, on the second floor, lies the studios of radio station WMST.  It's a wonderful art deco studio, replete with fine wooden walls, embedded with colorful lights an applause sign.  On stage, we've got a few chairs, several microphones and a whole corner wedged with all the necessary props – piano, men's shoes, sheet metal – to create the audio effects for the production of "It's a Wonderful Life."
---
Event calendar
Saturday, Jan 19, 2019
---
MUSIC

---
ALABAMA

@ Hard Rock Live Etess Arena at Hard Rock Hotel and Casino Atlantic City, Atlantic City - 8:00pm
---
---
---
Jennifer Holliday

@ Mainstage @ Union County Performing Arts Center (UCPAC), Rahway - 8:00pm
---
---
THEATRE

---
---
---
Annie Jr.

@ The Oakes Center, Summit - 2:00pm and 7:30pm
---
Some Girl(s)

@ Studio Playhouse Upper Montclair, Upper Montclair - 8:00pm
---
---
COMEDY

---
---
---
FILM

---
---
KIDS

---
---
View all events
---