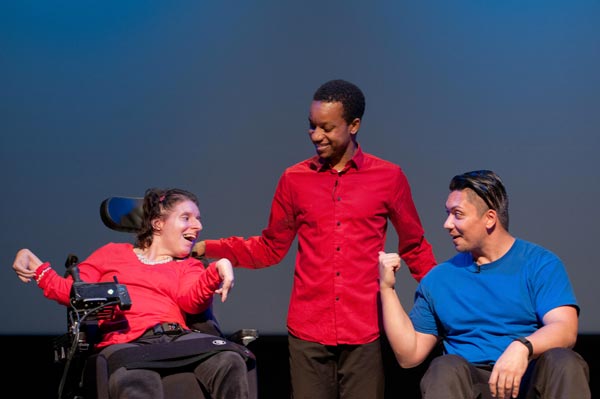 (PEAPACK, NJ) --- New Jersey Theatre Alliance presents staged readings from plays written by five playwrights in the Matheny Medical and Educational Center's Arts Access Program, which empowers individuals with disabilities to create art without boundaries. The readings will be presented on Saturday, March 3 from 3:00pm-4:30pm at the Robert Schonhorn Arts Center on the Matheny campus.  This event, titled "Plays by People," is part of the Alliance's Stages Festival, the state's largest annual theatre festival that provides free and discounted theatre events for all ages throughout the month of March. 
The five original plays featured will be: Brad's Story, an autobiographical play by Brad Goldman; Rock Opera, a romantic musical comedy by Chris Saglimbene; Adventures Waiting to Happen, a whimsical comedy by Jessica Evans; My Life and Matheny, a quick glimpse into the creative world of playwright Michael Arin; and Hospital Bed, a series of medical mishaps by Rasheedah Mahali.
The Stages Festival offers dozens of performances, workshops, classes, and events at theatres, art centers, libraries, schools, senior centers, and other community venues throughout the state. The program was developed to encourage New Jersey's residents to attend their local professional theatres by making the experience affordable, accessible, and fun. Since its inception 20 years ago, the program has served over 190,000 people.
For more information or to make a reservation for this free performance, click here call (908) 234-0011, ext.412; or email heather@artsaccessprogram.org. To receive a full schedule of events for The Stages Festival, please visit www.stagesfestival.org.
"The Alliance is grateful that Arts Access is participating in the 2018 Stages Festival," said John McEwen, Executive Director of the Alliance. "We are especially excited to be celebrating the 20th anniversary of Stages, which has provided theatrical experiences for thousands of residents, regardless of age, across New Jersey. These efforts would not be made possible without the wonderful help of our partners such Arts Access."
---
The article continues after this ad
---
---
Coincidentally, 2018 also marks the milestone 25th anniversary of the Arts Access Program, making the event even more special. Matheny's Arts Access Program was created in 1993, asking the question, "Can people with disabilities create fine art?" The answer was a resounding "yes!" Through this fine arts program, people with complex physical disabilities become playwrights, poets, visual artists, and dance choreographers, working with professional artists who act as their facilitators.
Says Eileen Murray, Arts Access Director: "We provide the creative freedom for the artists to express themselves, but it is the artists who bring this work to life." and Arts Access will celebrate its 25th anniversary at Full Circle 2018: Then & Now. Full Circle is Arts Access' signature event, and will take place on Saturday, November 3 from 3:00pm-6:00pm in the Robert Schonhorn Arts Center at Matheny. 
PHOTO:  Pictured are Jessica Evans and 2 Performers from Premiere Stages at Kean University. Photo credit: Narratography by Anthony Johnson.