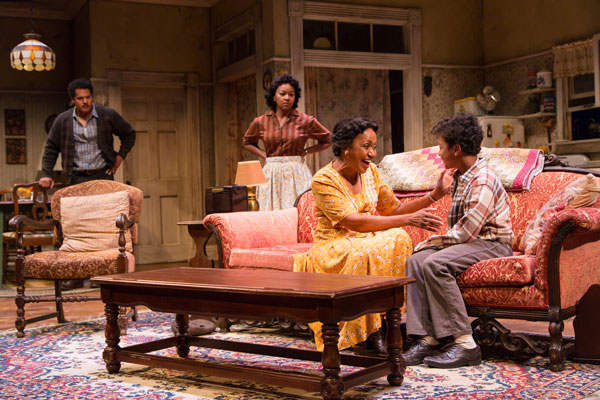 (RED BANK, NJ) -- Two River Theater presents A Raisin in the Sun by Lorraine Hansberry, directed by Carl Cofield from September 9 through October 8 in Two River's Rechnitz Theater in Red Bank, NJ.  Here are some photos from the play courtesy of T. Charles Erickson. 
A Raisin in the Sun is a play by Lorraine Hansberry that made its debut on Broadway in 1959. The title comes from the poem "Harlem" by Langston Hughes. The story tells of a black family's experiences in the Washington Park Subdivision of Chicago's Woodlawn neighborhood as they attempt to "better" themselves with an insurance payout following the death of the father.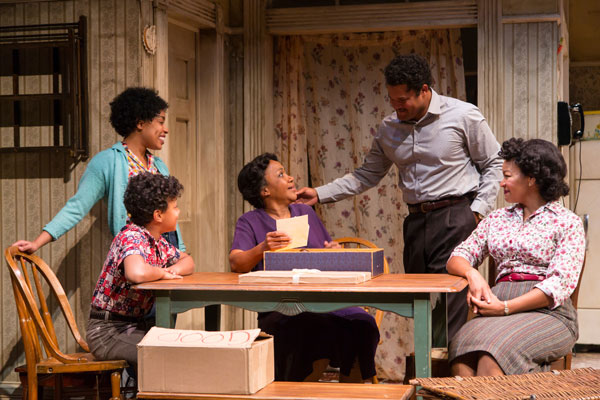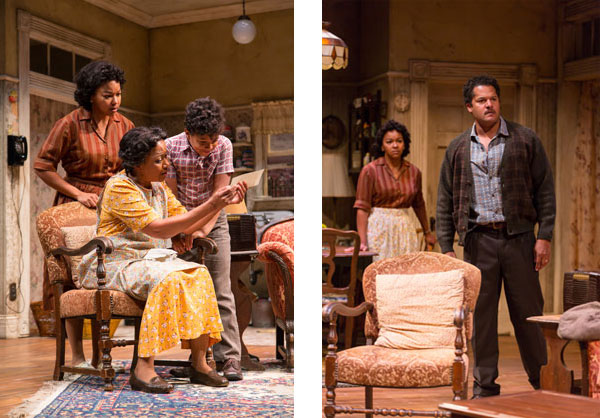 The cast for Two River's production includes Jasmine Batchelor (Beneatha Younger), Nat DeWolf (Karl Lindner), Crystal A. Dickinson (Ruth Younger), Brandon J. Dirden (Walter Lee Younger), Willie Dirden(Bobo), Charlie Hudson III (Joseph Asagai), Brenda Pressley (Lena Younger), Owen Tabaka (Travis Younger), and York Walker (George Murchison). Andrew Binger and David Joel Rivera play the Moving Men.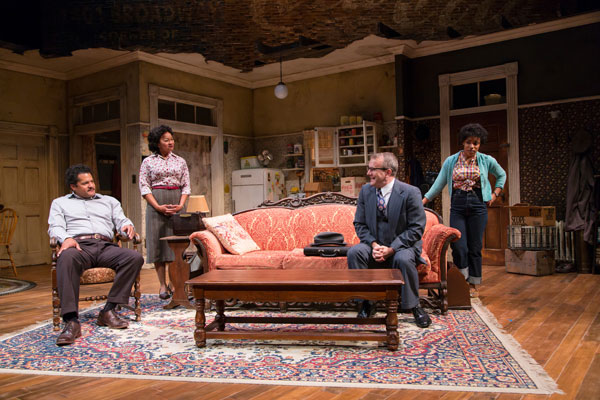 The creative team includes scenic designers Christopher Swader & Justin Swader, costume designer Elivia Bovenzi, lighting designer Kathy A. Perkins, sound designer Karin Graybash, and wigs designer Valerie Gladstone. The casting is by Jack Doulin + Sharky, and the stage manager is Lloyd Davis, Jr. 
Two River Theater is located at 21 Bridge Avenue in Red Bank, New Jersey.
All Photos by T. Charles Erickson   
---
The article continues after this ad
---
---
Tickets are available from 732.345.1400 or tworivertheater.org.
originally published: 2017-09-12 00:00:00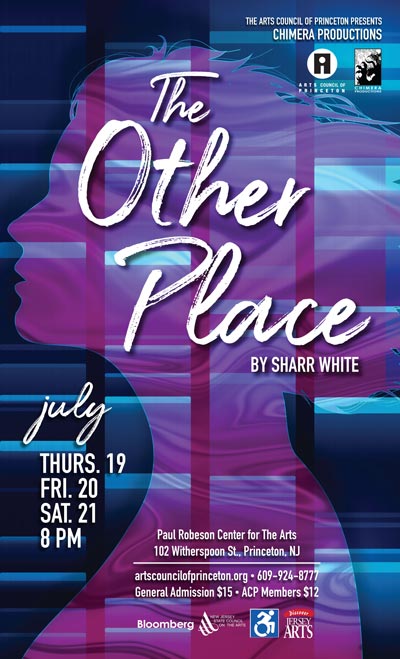 The Arts Council of Princeton and Chimera Productions present The Other Place
(PRINCETON, NJ) -- Chimera Productions presents its 13th production, The Other Place by Sharr White, in Princeton, New Jersey on July 19, 20 and 21, 2018, in conjunction with The Arts Council of Princeton. The play, presented in the intimate 60-seat theater inside Princeton's Paul Robeson Center for the Arts, is a fast-paced, witty, powerhouse of a drama about a scientist on the brink of a revolutionary discover, who's also contemplating divorce and trying to revive her relationship with her estranged daughter.




Tri-State Actors Theater Presents A Reading of "To Trample The Dragon"
(DOVER, NJ) -- Tri-State Actors Theater will present two readings of To Trample The Dragon, a new work by by Peter Mitsopoulos. The readings will take place June 28-29 at 8:00pm in the Dover Little Theatre.  This is a play that touches the loss we have all known, and the love that helps us survive.  Admission is by donation.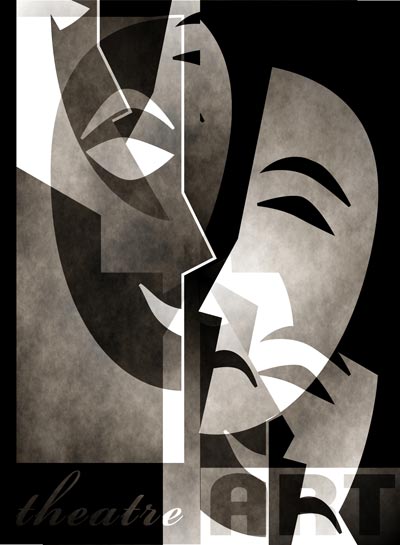 Two River Theater Presents Professional Development for Teachers: Examining the Work of T. Thomas Fortune and August Wilson
(RED BANK, NJ) -- Two River Theater, under the leadership of Artistic Director John Dias and Managing Director Michael Hurst, has announced a special one-day professional development program for educators on Tuesday, July 17 from 9:30am-4:30pm. "Examining the Work of T. Thomas Fortune and August Wilson" is being presented as a collaboration between Red Bank's T. Thomas Fortune Foundation and Two River Theater, in compliance with the New Jersey Amistad Commission. The program will focus on the work of T. Thomas Fortune (writer, journalist, social justice crusader, and editor of the New York Age Newspaper) and the theatrical work of playwright and poet August Wilson (August Wilson's American Century Cycle).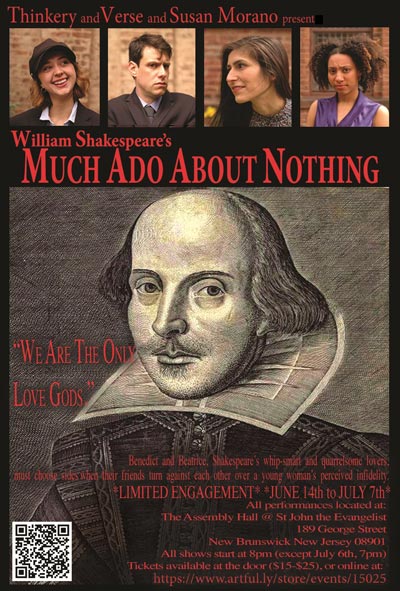 Thinkery & Verse Presents Shakespeare's "Much Ado About Nothing"
(NEW BRUNSWICK, NJ) -- Thinkery & Verse presents William Shakespeare's Much Ado About Nothing from June 14 through July 7th at Assembly Hall at St John the Evangelist in New Brunswick. In the play, Benedict and Beatrice, Shakespeare's whip-smart and quarrelsome lovers, must choose sides when their friends against each other over a young woman's perceived infidelity. They are presenting this classic play with a modern edge in a historic building. Following this run, the play will then tour throughout the tri-state region.