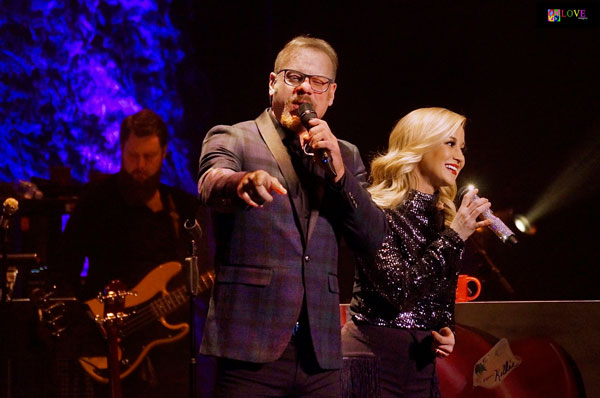 It's chilly and damp this Wednesday, December 20, 2017 evening outside New Brunswick, NJ's State Theatre. Inside the venue's historic auditorium, however, warmth and excitement are building for a special A Christmas Tourholiday concert featuring country music stars Phil Vassar and Kellie Pickler.
As we wait for the show to begin, we chat with several Phil Vassar and Kellie Pickler fans in the crowd about tonight's show.
First, we meet Diane and Pete from Monroe Township.
"We're both country music fans," explains Diane. "And I've been a fan of Kellie Pickler since she was on American Idol."
Notes Pete, "We've seen Phil Vassar and Kellie Pickler individually, and we've also heard their new country Christmas duet, 'The Naughty List' on country radio."
---
The article continues after this ad
---
---
Next, we chat with Billy and Grace from East Windsor.
"I love Kellie!" acknowledges Grace. "She's funny and cute and I'm a fan of her Country Music Television show, I Love Kellie Pickler."
Billy notes, "She's a great singer and a nice person — she was America's sweetheart when she competed on TV's American Idol. And what better place to see her than here at the State Theatre? It's a venue we really enjoy."
Lastly, we talk with Eileen and Pete from Old Bridge.
Reveals Eileen, "Our tickets for tonight's show with Phil Vassar and Kellie Pickler were a gift from our daughter, who knows how much we like country music," adding, "We loved Kellie Pickler when she was on American Idol and followed her when she was on the show."
Pete agrees, commenting, "And Phil Vassar is a great musician and entertainer. He's extremely talented. I've seen him in concert with my daughter and he is excellent!"
As the house lights dim, cheers and whistles emanate from the crowd as Kellie Pickler and Phil Vassar make their way out on to the stage to greet the audience.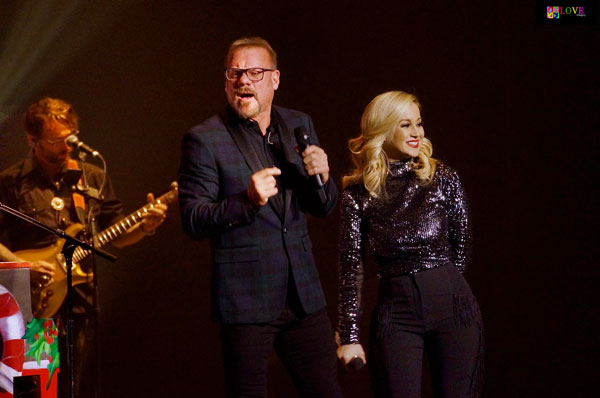 Dressed in a sparkly, glittering top with fringed black pants, Pickler performs a rollicking country rendition of "Rockin' Around the Christmas Tree" — her crystal clear voice ringing out throughout the State Theatre auditorium. As she sings, she's accompanied by Vassar on an acoustic upright piano which has been wrapped like an enormous Christmas present and decorated with a huge red bow and a large candy cane.
Smoothly segueing into "Jingle Bell Rock," Vassar takes over the lead vocals, accompanied by a live band. Altogether, over the course of the evening, the group features Chris Hurst on keyboards, Jeff Smith and Dave Baker on guitars, Steve Cook and Jack Gorman on electric bass, and Jake Caldwell and Robert Blair on drums.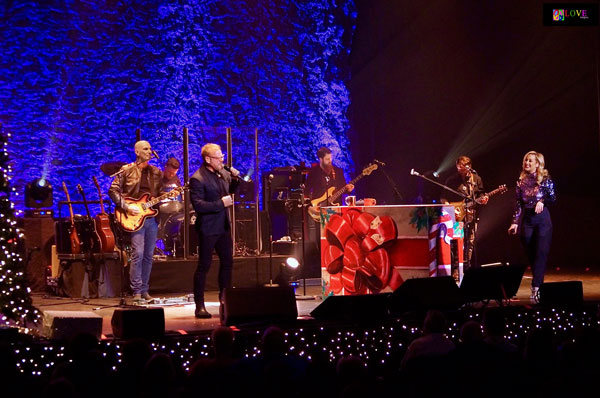 "Give it up for the band!" exclaims Vassar, who invites the audience to sing along on the holiday classic's famous chorus, "Jingle bell, jingle bell, jingle bell rock."
Following cheerful applause, Vassar asks the crowd, "How you all doin'?" to which the fans in the house shout and whistle.
"Right back at you, baby!" exclaims Pickler, as Vassar leaves the stage. Pickler then launches into a solo rendition of "Santa Baby," the spotlight shining on her radiant holiday performance.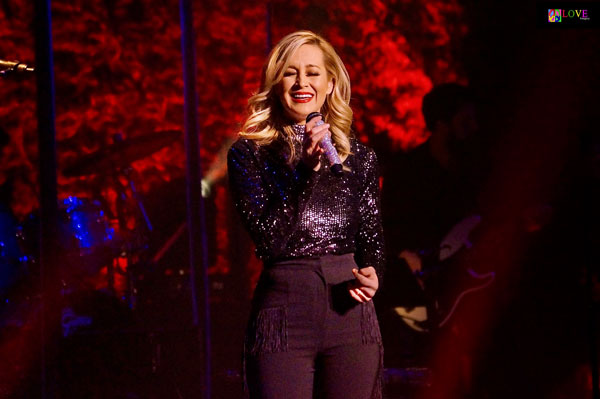 "My husband, Kyle Jacobs, is here tonight," announces Pickler. "He's a songwriter and a producer who co-wrote this next song, 'My Christmas Caroline' with me." Calling the number "a tribute to my grandma — and to my home state of North Carolina," Pickler performs the touching tune with feeling.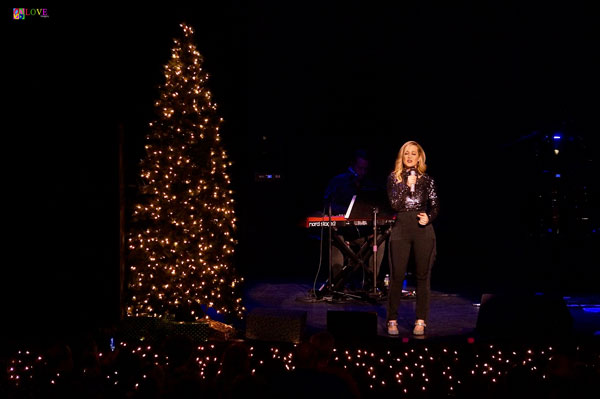 Flanked by a massive Christmas tree, as she sings, Pickler takes listeners on a tour of holiday celebrations growing up — from snow-covered pines and mountains to time spent listening to her grandfather's stories — leaving audience members feeling nostalgic for simpler times.
Revealing she wrote her next tune, "with my husband at the kitchen table," Pickler performs a poignant version of the title track from her latest album, The Woman I Am. With her appealing country twang, Pickler delights the audience with her tone and style, but — perhaps, most of all — inspires them with an emotional honesty which shoots straight to the heart through her impassioned vocal performance.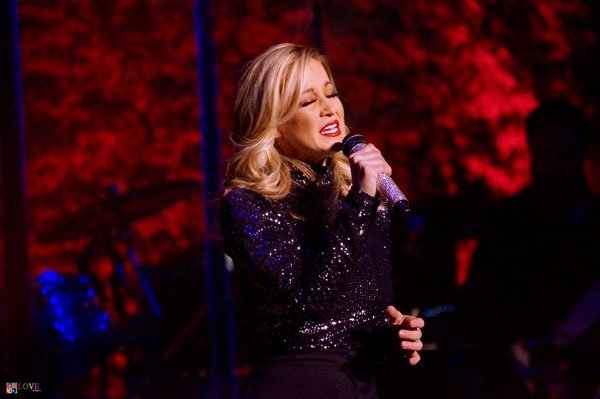 Pickler follows that up with a jazzy country rendition of "White Christmas," as audience members softly clap, keeping time to the music.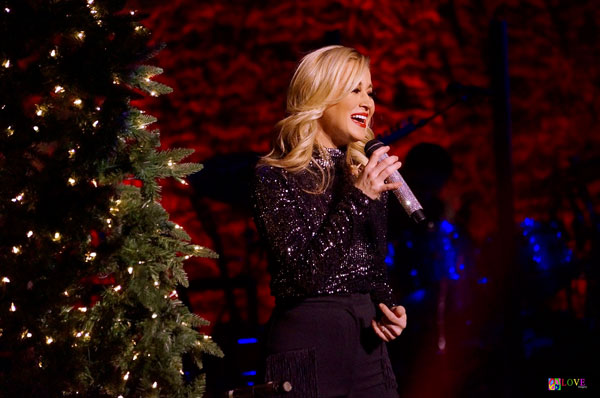 After avid applause, Vassar retakes the stage saying, "Thanks for being here — on a school night and everything!" Moving on to a boogie-woogie version of "Santa Claus is Coming to Town," Vassar plays the piano standing up, putting on a show for all to enjoy.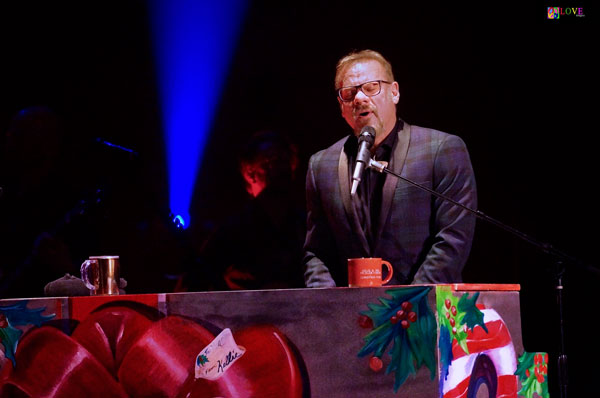 The crowd responds with cheers, to which Vassar responds, "Are you feeling all right? Are you feeling naughty?" Performing a bluesy, jazzy version of "Please Come Home for Christmas," Vassar impresses with his skillful vocal talents while a guitar solo wails above the band.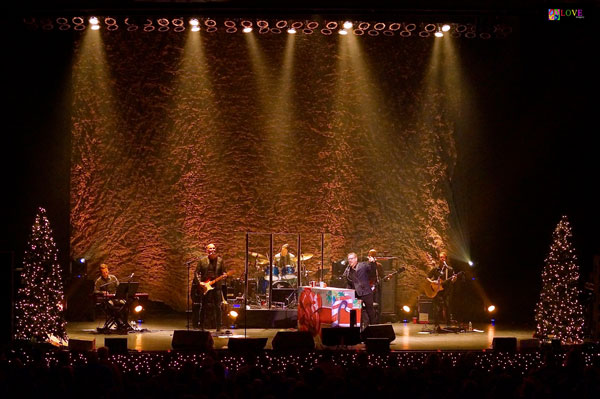 The audience sings along with Vassar as he performs his country hit, "Just Another Day in Paradise." Crooning, "Well, it's ok/It's so nice/It's just another day in paradise," Vassar electrifies the crowd with this show-stopping tune.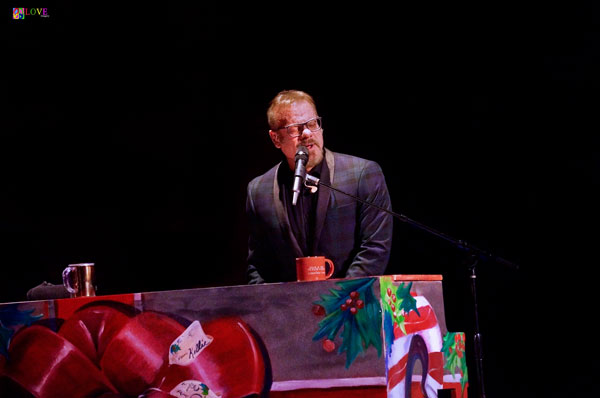 Launching into a special surprise for this Jersey audience, Vassar says, "We're in Jersey, so how about some Jersey Boys?" before performing a lively rendition of Frankie Valli and The Four Seasons' "Oh, What a Night (December, 1963)."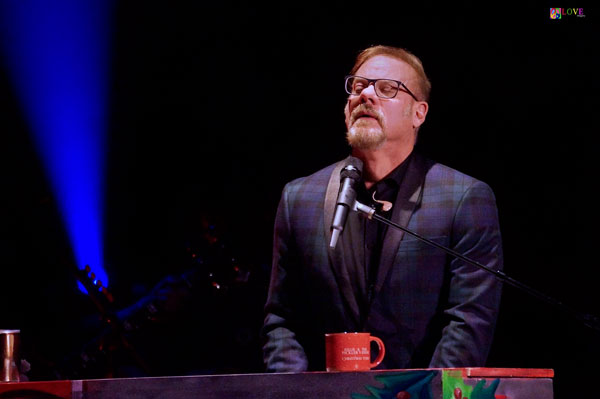 Moving on to a rockin' rendition of his hit, "Six Pack Summer," Vassar interlaces the tune with the vocal refrain from The Four Seasons' "Stay (Just a Little Bit Longer)." With the song's chorus impeccably sung in a falsetto voice by guitarist Jeff Smith, a pair of "Jersey Girls" in the crowd stand to express their approval.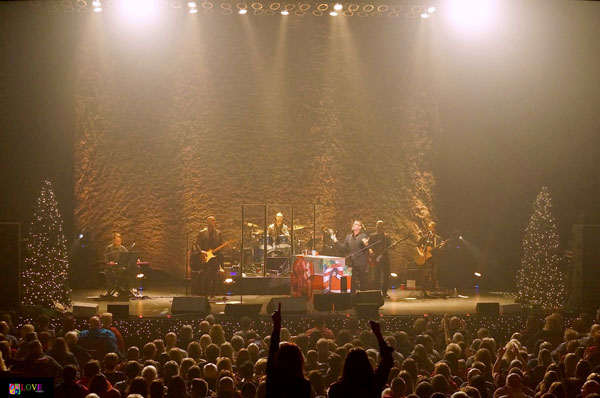 "We love these musicians!" announces Vassar. "We call them The Mistletoe Orchestra."
At this point, the band performs an instrumental medley of holiday songs including "Carol of the Bells" and "God Bless Ye Merry Gentlemen." Echoing the sound of the Trans-Siberian Orchestra, flashing lights punctuate the musicianship of these instrumentalists who rock out on electric guitar, keyboards, bass, and drums.
Vassar follows up with a sing-along version of "Winter Wonderland," and then Pickler joins him on a swinging duet rendition of their "brand new Christmas single, 'The Naughty List.'"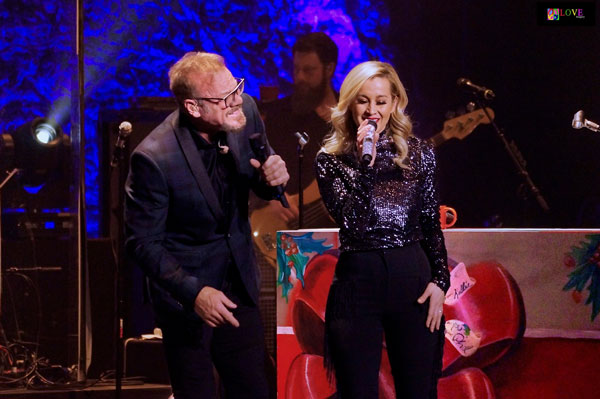 Following huge applause for this catchy new Christmas ditty, Vassar exits the stage so that Pickler can be featured on an exciting rendition of the up-tempo country rocker she co-wrote with singer Taylor Swift, "Best Days of Your Life."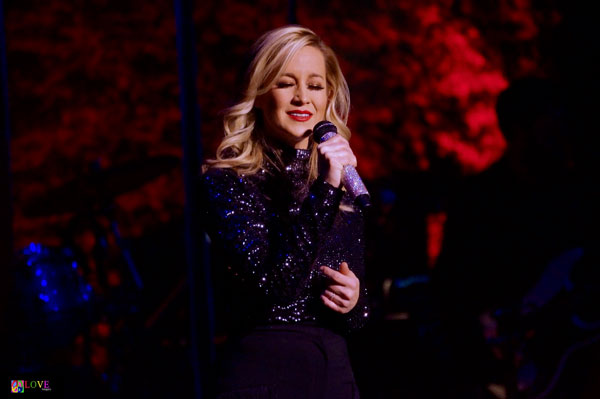 Revealing, "This is the first song I ever co-wrote," Pickler energizes the crowd with a bouyant rendition of her monster country hit, "Red High Heels."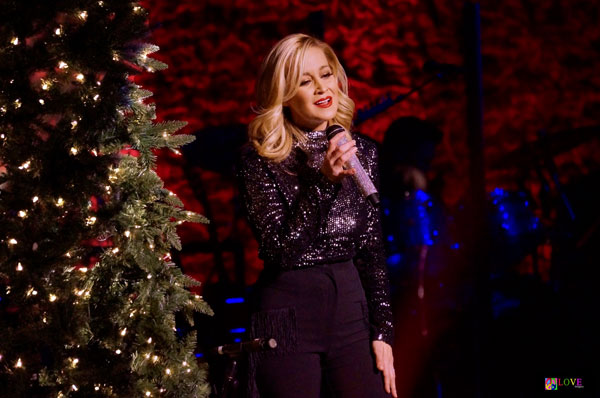 While Pickler and the band take a short break, Vassar plays both piano and harmonica on a solo rendition of Billy Joel's "Piano Man." Clearly demonstrating his virtuosic piano skills, the entire audience sings along on the song's refrain before standing and cheering for Vassar's one-man-band performance of this classic tune.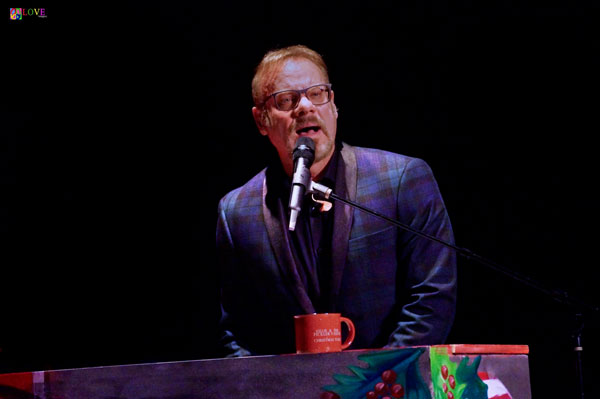 When the band returns, Vassar tries to tell a story about a Christmas song he wrote but is interrupted several times by screaming fans.
Responding simply by smiling and stating, "I love New Jersey!" Vassar then asks the animated crowd, "What would Santa do if he won 100 million dollars in the lottery?" before answering, "He'd move to Hollywood!"
Here, Vassar performs his delightful tune, "Santa's Gone Hollywood," a humorous number which the crowd adores, skillfully accompanied by guitarist Jeff Smith and members of The Mistletoe Orchestra.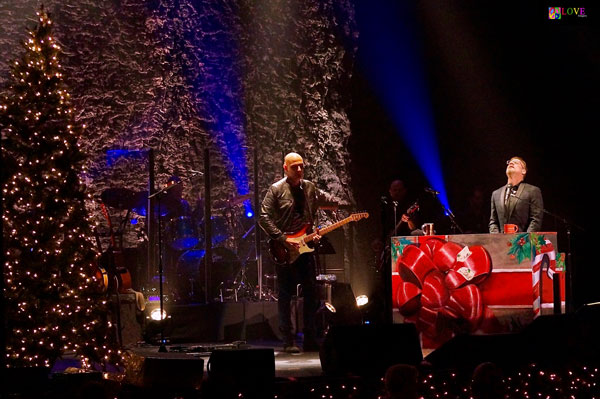 Vassar follows that up with one of the highlight performances of the evening with his hit, "Carlene." Singing, "Oo-la-la-la-la-la lookin' good Carlene," the audience smiles, claps, and sings along on this infectious country smash.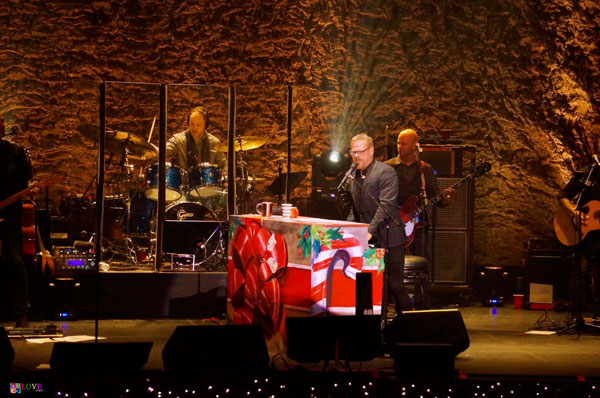 At the end of the song, a fan makes her way down to the stage to hand Vassar a bouquet of beautiful red roses.
Then, Vassar and Pickler take the stage together to perform a sparkling duet version of the classic Christmas song, "Let it Snow! Let it Snow! Let it Snow!"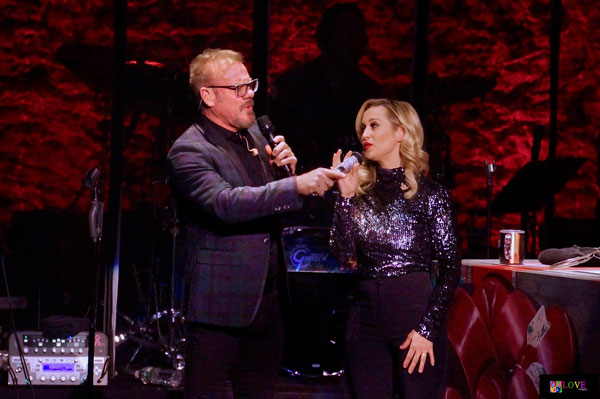 After huge applause, Vassar asks, "One more song?" to which an audience member screams out, "Two more songs!"
Pickler and Vassar respond with a potent duet performance of Dolly Parton and Kenny Rogers' 1983 pop and country smash, "Islands in the Stream."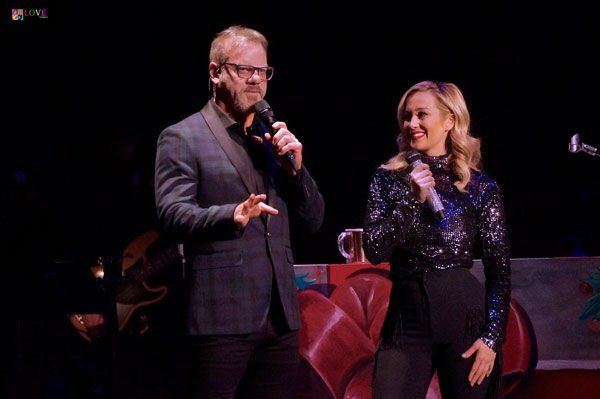 As she sings, Pickler takes selfies with fans at the foot of the stage while Vassar fist bumps fans in the audience.
As the crowd stands whistling and cheering for this dynamic country duo, Pickler concludes by announcing, "Happy holidays!" Here's hoping 2018 is the best year ever!"
After the show, we chat with several audience members who share their thoughts on tonight's A Christmas Tour concert with Phil Vassar and Kellie Pickler.
Kim, who traveled to New Jersey from Derry, NH just for this concert, remarks, "It was incredible! Phil is so high-energy and Kellie is so charming and beautiful."
Her friend, Barbara from Haverhill, MA, agrees commenting, "I loved this show! Phil Vassar and Kellie Pickler have such great voices, and I especially enjoyed it when they sang together."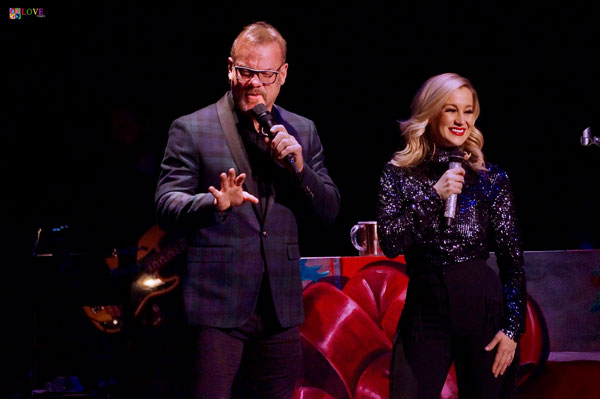 Isabel, age 7, from White House Station tells us she is "a big Phil Vassar fan," disclosing, "I like his songs." When asked how she became familiar with his music, Isabel explains, "I always hear my mom play it, and I also listen to him on the radio."
Isabel's mom, Marianne, tells us, "I've seen Phil Vassar 20 times." Explaining why she's such a fan, Marianne says, "He can play any genre of music. His piano skills are amazing, and I love that he plays songs by Billy Joel."
We also chat with Katie from Boston, MA whose husband, Nick, gave her tickets to tonight's show as an early Christmas gift.
"I'm a Kellie Pickler fan!" exclaims Katie, explaining she's followed Pickler since her appearances on American Idol, noting, "This was my first time seeing Kellie in person and I especially enjoyed hearing her sing 'Red High Heels."
Nick, a self-described "Phil Vassar fan," says the highlight of the show for him was hearing Vassar perform "Carlene," before adding, "and the State Theatre is a really nice venue for enjoying concerts," helping to make the couple's trip from Boston to New Jersey a worthwhile experience.
Lastly, we chat with Mitch and Carla from Tenafly.
Remarks Mitch, "I loved this show! Phil Vassar has an amazing voice and, as a pianist, he's right up there with the best of the best — like Billy Joel or Elton John."
His wife, Carla, agrees noting, "And Kellie Pickler has that classic country-sounding voice reminicent of Dolly Parton. When she sings, you can really feel it in your heart."
"This show really put us in the Christmas spirit!" comments Mitch, before adding, "I hope they'll make it an annual event — I already can't wait 'til next year to see Phil Vassar and Kellie Pickler's A Christmas Tour 2.0!"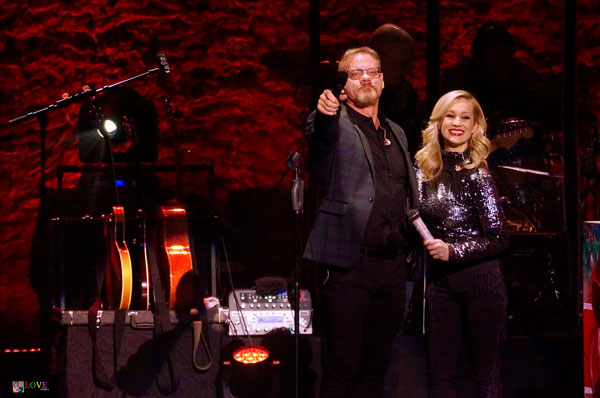 For more on Phil Vassar, please go to philvassar.com. To learn more about Kellie Pickler, please check out kelliepickler.com. For information on upcoming concerts at The State Theatre — including America on February 23, 2018, Tony Bennett on April 5, 2018, and Patti LaBelle on April 8, 2018 — please go to stnj.org.
Photos by Love Imagery
Spotlight Central. Your source for Jersey entertainment news and reviews
Love Imagery Fine Art Photography. all you need. peace/love/flower/power