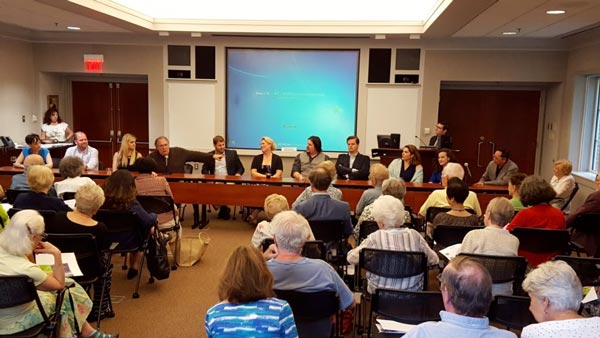 (PRINCETON, NJ) -- Performers and production crew from Puccini's Madama Butterfly, this year's Princeton Festival opera, will share their personal experiences with the public during the annual Princeton Festival Guild Artists' Round Table on Wednesday May 30 at 6:30pm in the Cooper Conference Room of the Erdman Center for Continuing Education, Princeton Theological Seminary (20 Library Place, Princeton, NJ).
Attendees at this refreshing and stimulating forum will hear stars and staff alike recount the pleasures and perils faced on stage and off as the artists bring the opera to life for its opening performance. The Artists' Round Table offers a rare opportunity to meet the artists up close and hear in their own voices how they develop their roles, interpretations and insights.
Marian Burleigh-Motley, renowned interviewer and lecturer at the Metropolitan Museum of Art, will moderate. Richard Tang Yuk, Artistic Director of The Princeton Festival, and Stephen LaCosse, Stage Director of The Princeton Festival's production of Madama Butterfly, will participate, along with principal artists from the production.
The event is free and open to the public. Visitor parking is available in the Seminary's Library parking area. A reception follows.
The Princeton Festival production of Puccini's Madama Butterfly will be presented Saturday June 16 at 7:30pm and in matinée performances at 3:00pm on two successive Sundays, June 24 and July 1, at the Matthews Theatre, McCarter Theatre Centre, 91 University Place, Princeton, NJ.  
---
The article continues after this ad
---
---
The Princeton Festival is New Jersey's premier performing arts festival, featuring nationally-renowned professional artists in more than 10 different types of performances plus a dozen free lectures and special events each June. We produce fully-staged musical theater and opera productions and present a varying offering of jazz, chamber music, a cappella and symphonic concerts; piano, organ, choral and dance recitals; world music, a piano competition, a conducting master class, lectures, educational programs … and more! The Princeton Festival is an independent 501(c)(3) organization.