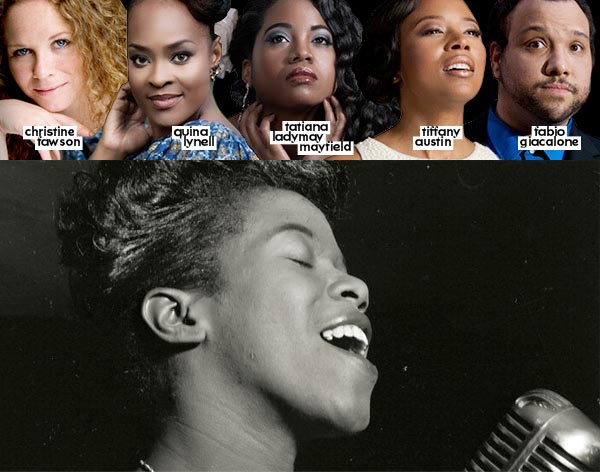 (NEWARK, NJ) -- On a Wednesday night in 1942, Newark teenager Sarah Vaughan went to the Apollo Theater to compete in an amateur singing contest. It was the chance to win $10 and a weeklong engagement performing on the Apollo stage. Instead, Vaughan's win launched a career and forever changed the art of jazz vocal music.

Now in its sixth year at the New Jersey Performing Arts Center (NJPAC), the Sarah Vaughan International Jazz Vocal Competition, also known as the SASSY Awards in a nod to Vaughan's nickname, announced the five jazz singers who will perform for the top prize honor on Sunday, November 12 at 3:00pm in NJPAC's Victoria Theater. This international jazz vocal competition honors the talent of its namesake by giving one outstanding performer a platform to embark on a career in the music business. This year's competition also marks the first time that entries have been open to male, as well as female, singers. The competition was established in 2012 by NJPAC and legendary jazz music visionary Larry Rosen.

The 2017 finalists of this international competition are Tiffany Austin (Berkely, CA), Christine Fawson (Albquerque NM), Fabio Giacalone (Brooklyn, NY), Quiana Lynell (New Orleans, LA), and Tatiana "LadyMay" Mayfield (Fort Worth, TX). The five finalists will perform before a panel of judges on the final day of the TD James Moody Jazz Festival (November 4-12) at NJPAC.

Last year's SASSY Award winner was Deelee Dubé from London, England, and who performed this summer at the Festival International de Jazz de Montréal. Other previous SASSY Awards recipients include Arianna Neikrug (2015), Ashleigh Smith (2014); Jazzmeia Horn (2013) winner of the Thelonious Monk Institute International Jazz Competition in 2015 and who recently released her debut album on Concord Records; and Cyrille Aimée (2012), the competition's first winner, who now performs all over the world and has several critically-acclaimed recordings to her name.

The panel of judges includes award-winning vocalists Vanessa Rubin, Ann Hampton Callaway, and Will Downing; WBGO radio personality Gary Walker; and, bandleader and composer TS Monk.

The grand prize winner is offered an exclusive recording contract with Concord Records and a $5,000 cash prize. The second-place winner will receive a $1,500 cash prize and the third-place winner will be awarded $500.

Through three public rounds, public voting on the IndabaMusic.com, the field was narrowed to the five vocalists. Contestants were judged on vocal quality, musicality, technique, performance, individuality, artistic interpretation, and the ability to swing, with more than 600 submissions from men and women around the world.

The TD James Moody Jazz Festival's title sponsor is TD Bank. The festival also is generously supported by the Geraldine R. Dodge Foundation. Special program support is provided by the National Endowment for the Arts.
---
Meet the Finalists
Vocalist Tiffany Austin's tradition-rooted yet modern style has established her as one of the fastest rising jazz stars in Northern California. Before earning a law degree at U.C. Berkeley, she performed on three continents; instead of taking the bar exam, she decided to devote her life to music. Austin's artistry draws on such influences as Sarah Vaughan, Ella Fitzgerald, Nina Simone and Aretha Franklin; her nuanced delivery and fearless improvisation have caught the attention of eminent musicians she has joined onstage, like Roy Ayers and John Handy. Her debut recording, Nothing But Soul, received a four-star review from DownBeat magazine and a feature on NPR's Fresh Air. Austin's upcoming sophomore album was recorded with Cyrus Chestnut, Rodney Whitaker and Carl Allen.
Both a vocalist and trumpet player, Christine Fawson has performed all over the world - at festivals, on educational recordings, and as a sideman on several artists' recordings. From 2002-2012, she was a member of the vocal jazz group Syncopation, which released three CDs and appeared regularly in the Boston area with Phil Wilson's Berklee Rainbow Band, the Capitol Center Jazz Orchestra and the Boston Pops. Fawson played trumpet with the DIVA Jazz Orchestra at such venues as Carnegie Hall, the Apollo Theater and Lincoln Center, and with artists John Pizzarelli, Maurice Hines and many others. A faculty member at Berklee College of Music for 14 years, she has three albums: Happy Talk (2003), My Side (2013) and Here Now (2016).
Captivated by music since childhood, Fabio Giacalone studied violin, piano technique and music theory at an early age. After participating in the Berklee College of Music Clinics at the Umbria Jazz Festival, he won a full scholarship to Berklee and graduated with a degree in vocal jazz performance. Last year, Giacalone took third prize in the world-renowned Shure Montreux Jazz Voice Competitionin Montreux, Switzerland. He recently participated in the Montreux Jazz Academy 2017, where he worked side-by-side with outstanding musicians like Marcus Miller, Yaron Herman, Ziv Ravitz, Kurt Rosenwinkel and Elina Duni. Giacalone lives in New York City, where he continues to gig, explore jazz, and collaborate on many projects as a vocal producer and background vocalist.
---
The article continues after this ad
---
---
Singer and songwriter Quiana Lynell has performed as a soloist with jazz and symphony orchestras alike. Whether performing for a few or many, Lynell "takes the listener on a journey with the emotion of the blues, accompanied by the discipline of classical, topped off with the elegance of jazz," noted a journalist in Europe. Studying vocal performance at Louisiana State University outfitted Lynell with the skills to store an impressive repertoire and to showcase her multi-octave instrument. She's worked alongside masters of jazz and the American Songbook, such as Terence Blanchard, the Preservation Hall Band and Aaron Neville. "I see music as the soundtrack of life and I enjoy each opportunity to share memories and moments in the lives of those around me," she says.
A jazz vocalist, musician and educator from Fort Worth, Texas, Tatiana "LadyMay" Mayfield has been singing and playing jazz music since the age of 13. In 2010, she was one of 12 semi-finalists to compete in the prestigious Thelonious Monk International Jazz Vocals Competition, and has opened for well-known artists such as Randy Brecker, Dave Valentin, Will Downing, and The Main Ingredient. LadyMay has performed with the legendary Cincinnati Pops Orchestra and upcoming is an appearance with the Hilton Head Symphony Orchestra. She has recorded two albums -- From All Directions and A Portrait of LadyMay -- and is at work on a third. In addition to her vocal skills, she plays piano and trombone, composes, and teaches voice and music theory.
NJPAC is located at One Center Street in Newark, New Jersey.